Stand up paddle boarding (SUP) is an increasingly popular sport that offers something for everyone. Whether you're looking for a relaxing day of paddling on a calm lake, catching waves in the ocean or doing SUP yoga, or getting a workout, it's important to make sure you have the right board for your needs. In this blog post, we'll review the main points you need to consider when choosing a stand-up paddleboard.
The Key Decision Points When Choosing an Stand Up Paddle Board>>>
Here are some things to keep in mind as you shop around:
1.Shape
The shape of your board will determine how it handles various conditions. Generally speaking, longer boards are better suited to touring while shorter boards do better with surfing.
Wider boards are more stable but less maneuverable than narrow boards. Some shapes feature multiple fins which can help with tracking and reduce drag while others feature no fins at all which makes them ideal for surfing waves or whitewater rivers.
2.Volume & Capacity
Volume is measured in liters and tells you how much weight the board can hold before it begins to sink underwater. It's important to find a board with enough volume that can safely support your weight and any gear you might be bringing along on your paddle trips.
The capacity is expressed as a range of weights (often between 80-200 lbs) that the board can support without compromising performance or taking on water.
3.Length & Width
Length affects both speed and stability while width affects stability only. Longer boards tend to be faster but less stable than shorter ones, while wider boards offer greater stability at the cost of being slower and less maneuverable than narrower ones.
Generally speaking, if you're mainly paddling lakes or flatwater rivers then look for something between 10-14 feet long; if you plan on spending time in choppy waters or smaller surf then go for something between 8-10 feet long; if you plan on tackling larger waves then look for something between 6-8 feet long.
As far as width goes look for something around 28-32 inches wide if you want greater stability or 24-28 inches wide if you want more maneuverability.
4.Solid vs Inflatable
A solid construction will typically provide better performance but also adds significantly more weight making transportation more difficult; inflatable models provide portability at the cost of some performance capabilities compared to their solid counterparts - especially when surfing waves or whitewater rivers due to their increased flex characteristics which make them less responsive than solid models when turning sharply in these conditions.
We Outlined Some of the Top Rated Paddle Boards>>>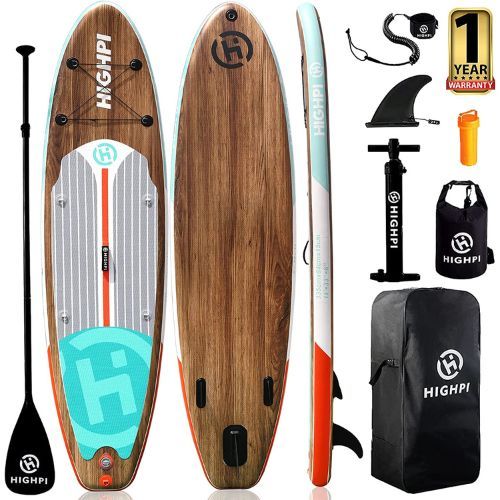 Highpi Inflatable Stand Up Paddle Board
BUY ON AMAZON
Why We Like This Paddleboard>>>
Discover your upcoming paddle boarding adventures with the Highpi Inflatable Stand Up Paddle Board! This board is designed to accommodate all skill levels, from beginner to the most experienced paddler. With its extra wide design, it is easy for beginners to stand up and keep their balance. It is stable enough for larger riders due to its military grade high quality material, capable of supporting up to 350lbs.
Don't let the size fool you - despite its compact form, it remains lightweight yet sturdy. Plus, you don't have to carry a bulky board from place to place; since it is easily inflatable and deflatable within 5 minutes, you can transport the board with ease! And its soft anti-slip EVA deck pad makes long hours of paddling comfortable and safe.
Whether you are a boat enthusiast or looking for family summer fun - look no further than the Highpi Inflatable Stand Up Paddle Board! Get ready for a great adventure ahead and explore our outdoor waterways today!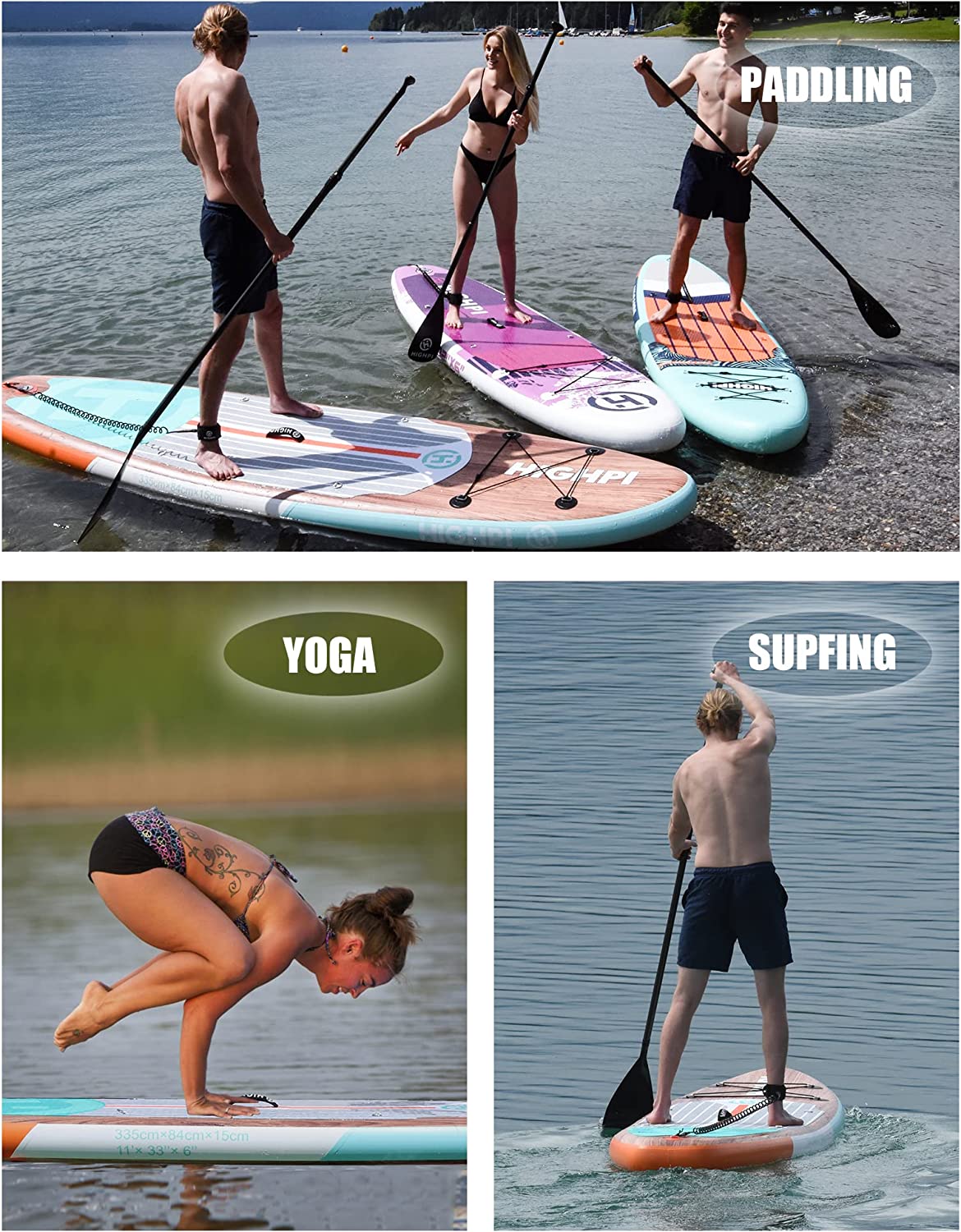 ---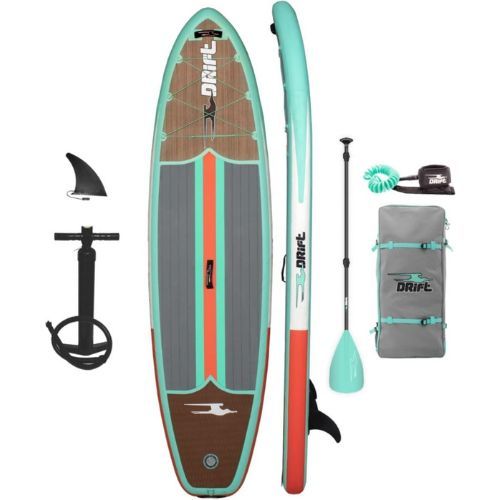 Drift Aero Inflatable Stand Up Paddle Board
BUY ON AMAZON
Why We Like This Paddleboard>>>
If you're looking for an inflatable stand up paddle board that's both stable and maneuverable, look no further. Drift Aero Paddleboard showcases a wide deck and performance shape making it perfect for all skill levels. Whether you're in the wild or gliding through a serene tropical paradise, this reliable SUP travels comfortably in its durable carrying bag backpack.
It's even ultra-quick to inflate and deflate and pack. This paddleboard is highly durable and weighs less than 20 pounds! Military-grade PVC into a strong, rigid platform that won't let you down when you need it most. So come explore with your trusty Drift Aero Inflatable Stand Up Paddle Board - you'll be glad you did!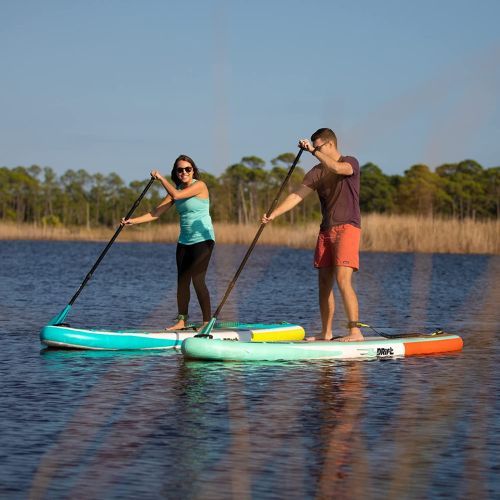 ---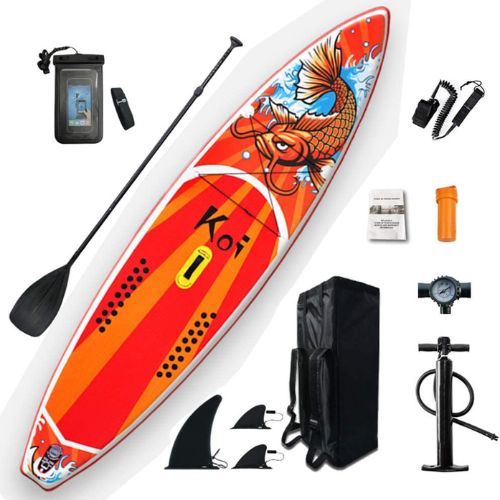 YUANYI SUP Blow Up Paddle Boards Adults Kids
BUY ON AMAZON
Why We Like This Paddleboard>>>
YUANYI SUP blow up paddle boards are made from some of the highest quality materials available, making them both durable and abrasion-resistant. Plus, their 3-layer PVC construction with overlapping seams provides improved stability, strength, and durability that will keep you afloat even in rough waters.
And no matter what age you are, these paddle boards can be used by all ages they even come with an extendable paddle which makes them suitable for both adults and kids alike.
Forget dealing with possible damage or worry about inferior performance with other brands—YUANYI SUP blow up paddle boards are here to make sure your time out on the water is always relaxing and enjoyable!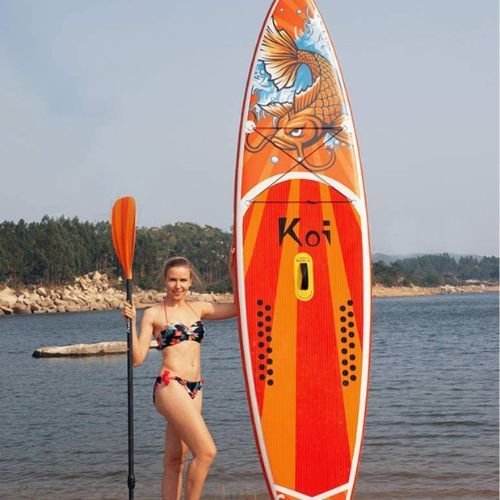 ---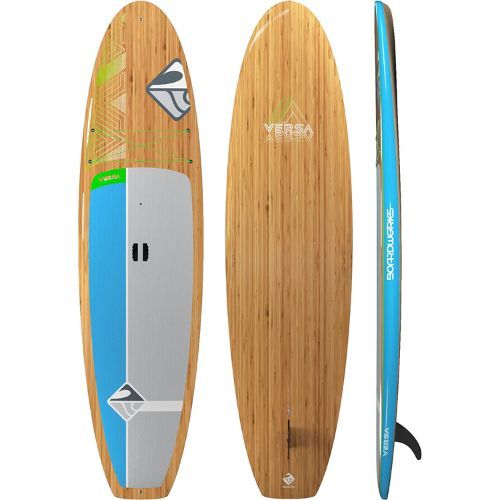 Boardworks Versa Recreational Stand Up Paddleboard Bombshell Hardboard
BUY ON AMAZON
Why We Like This Paddleboard>>>
Boardworks Versa Recreational Stand Up Paddleboard Bombshell Hardboard is the perfect board to get you there! This all-purpose SUP is designed with family adventures in mind, guaranteeing a relaxing smooth water trip. With an extra wide nose and tail, as well as a honeycomb heat embossed deck pad, you are sure to experience excellent performance in any water.
To make your life easier we've integrated an lifts up handle for easy carry and even a locking capacity. Four front d-ring tie downs with bungee cordage for storing those essential water bottles and other gear that you might need during your journey.
Once you reach your destination, just pop in the center fin connects dolphin fin for an easy toolless install and superior performance no matter what kind of conditions you face! And this board is built to last with its bombshell molded composite construction - EPS core laminated with layers of fiberglass, ABS/polycarbonate, Kevlar and PCV rails.
Don't miss out on this opportunity to make memories out at sea with Boardworks Versa Recreational Stand Up Paddleboard Bombshell Hardboard!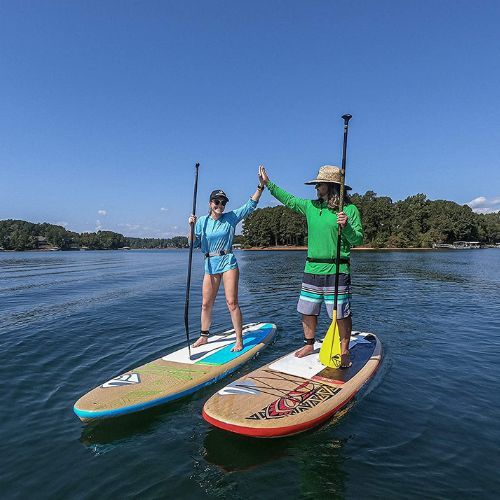 ---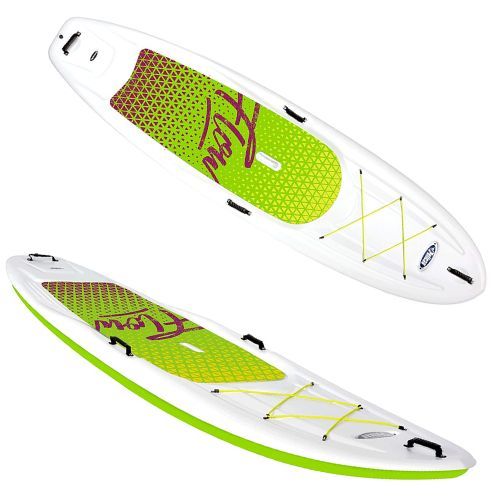 Pelican Hardshell Stand-Up Paddleboard
BUY ON AMAZON
Why We Like This Paddleboard>>>
Pelican Flow Collection offers the perfect paddle board for all those longing to explore their favorite spots on the water. With its 106-inch length and anti-slip cushioned deck pad, the flow combines function with performance. Whether you're paddling down a river, canoeing over a lake or simply cruising along the shoreline, its multi-handle design makes carrying this board an effortless task.
If serenity is what you seek, then reach no further than our patented RAM-X material; it will resist any damage while keeping you safe out in the open waters. What's more? This board also comes with a bottle holder and bungee cord so you can easily strap down your gear, whatever that may be!
The time to plunge into paddle boarding has come – grab your Flow 106 today and start creating stories worth sharing plus plenty of lasting memories with friends and family.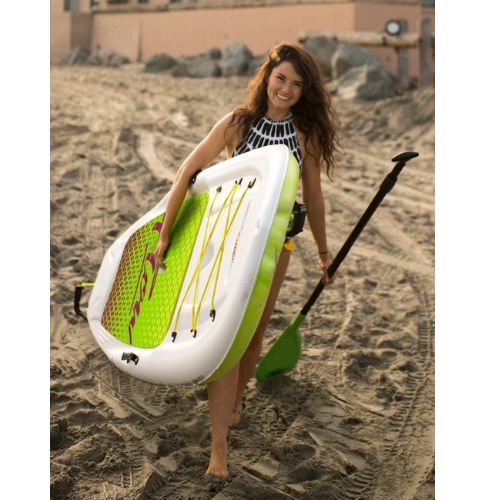 ---
Conclusion
Choosing the right stand-up paddleboard involves considering how you want to use it, how it will fit your body type, and how it should handle in different water conditions; shape, volume/capacity, length/width/thickness are all important factors when picking out an SUP board.
Finally, decide whether a solid construction or an inflatable model works best for you depending on what type of activities you plan on doing with it as well as portability considerations such as transporting it from place to place easily.
With this guide in hand, we hope that website owners and SUP newbies alike have everything they need now to pick out their perfect stand up paddleboard!
Happy Paddling!
Check Out Our Relevant Reads>>>