Going fishing in saltwater requires special considerations, especially when it comes to choosing a rod. A good saltwater fishing rod needs to handle the ocean's tough conditions while still providing you with the performance you need to make your angling successful. This blog post will explore the different types of rods available and how they can help you choose the right one for your needs.
Types of Salt Water Fishing Rods>>>
The material of your saltwater fishing rod is an important factor to consider. The three most common materials are fiberglass, graphite, and composite.

1. Fiberglass is known for its strength and durability; however, it can be heavy and lacks sensitivity compared with other materials.
Why fiberglass saltwater fishing rods are the most popular?
Fiberglass saltwater fishing rods are definitely the most popular rods amongst fishers, and for good reason. For starters, they are strong yet flexible enough to handle a wide variety of species in various fishing scenarios.
Unlike other materials like bamboo or graphite, fiberglass is highly durable and corrosion resistant since it is made up of several layers of glass cloth encased in a protective outer layer such as epoxy resin.
This makes them ideal for saltwater fishing because they can resist the elements which could potentially cause damage to your rod if it were composed of another material.
Furthermore, fiberglass rods also have a much greater range than other types due to their taper design which eliminates line noise when casting and retrieving lures. The heavier weight allows them to be used from shore or boat, with either baitcasting reels or spinning reels so you never have an issue finding one that fits exactly what you need for any excursion - no matter how experienced you may be!
Lastly, fiberglass is much more affordable than its graphite counterparts making it easier for all budgets to enjoy the best rod available without breaking the bank!

2. Graphite is lightweight, sensitive, and easy to cast with; however, it can easily snap or break if not handled properly.
What are the pros and cons of graphite fishing rods?
Graphite fishing rods are becoming increasingly popular in the angling world due to their light weight, sensitivity, and dur ability. As a lightweight material, graphite fishing rods offer an excellent feel that helps anglers detect little vibrations from fish at depth.
Graphite is also considered to be more durable than other materials such as fiberglass because it allows for a higher power-to-weight ratio while minimizing torque on the line.
However, graphite rods can be more expensive than other types of fishing rods and require special care when handling them since they are prone to breakage when not handled properly or stored in less than ideal conditions.
In terms of pros and cons, one of the main advantages of using graphite fishing rods is that they tend to be significantly lighter compared to other types of materials like fiberglass or bamboo which makes them easier for long casting distances or fighting strong fish offshore.
Additionally, graphite has greater flexural strength which makes it resistant to breakage under extreme stress from heavy loads along with greater sensitivity for detecting small bites from timid species like trout and walleye. On the other hand, their lightness also means that users must provide extra attention in maintaining their rigs by cleaning off any dirt regularly after each trip out on the water so saltwater corrosion does not set in prematurely diminishing performance over time.
Furthermore, damaged sections cannot typically be repaired easily after being dropped as opposed to cheaper alternatives such as fiberglass where broken sections can often times just get taped up until you can make it back home safely without breaking your wallet!
All things considered though, if you need a rod that offers exceptional feel combined with superior durability then opting for a good quality graphite rod may end up being worth all extra costs associated with purchasing one since its advantages far outweigh any negative aspects inherent with its design features by far!

3. New-generation composites are becoming increasingly popular due to their balance between strength and sensitivity; however, they tend to be more expensive than fiberglass or graphite rods.
What are the new generation composite fishing rods?
New generation composite fishing rods are the latest innovation in the sport of fishing. They offer a number of advantages over their predecessors, including improved durability and strength, greater accuracy, and better sensitivity.
These rods utilize a combination of materials to achieve these features that make them more reliable for deep-sea anglers. Composite fishing rods are composed of multiple layers of different materials such as graphite, fiberglass, and carbon fibers which is wrapped around an inner core made from resin or plastic.
The outer layer is designed to be extremely strong yet lightweight so it can withstand extreme pressures on the water without breaking or warping. This allows anglers to cast farther distances with accuracy while putting less strain on the arms than traditional fishing tools would require.
The inner core adds additional flexibility and sensitivity by absorbing vibrations that travel through line and lure when fish strikes enabling you to detect even the slightest nibbles from your target species which will increase your chances of catching them.
Furthermore, these materials also make it possible for manufacturers to customize rod design characteristics depending upon specific fish species as well as where they are being used (i.e., saltwater vs fresh water).
Lastly, new generation composite rods are now being equipped with advanced technology such as split butt grips which help reduce weight but maintain balance; ergonomic handles; extra long eva foam handles which provide superior grip plus comfort;
double-locking hoods into reel seat construction for security; advanced guides designs like titanium framed SIC guides which increase casting distance while reducing line abrasion thus increasing the overall lifespan of equipment;
proprietary resins solutions available only with certain brands offering tremendous strength while still maintaining superior performance properties etc making them ideal tackle options for professional anglers seeking maximum performance out there on the waters!
Top Picks Salt Water Fishing Rods 2022/2023>>>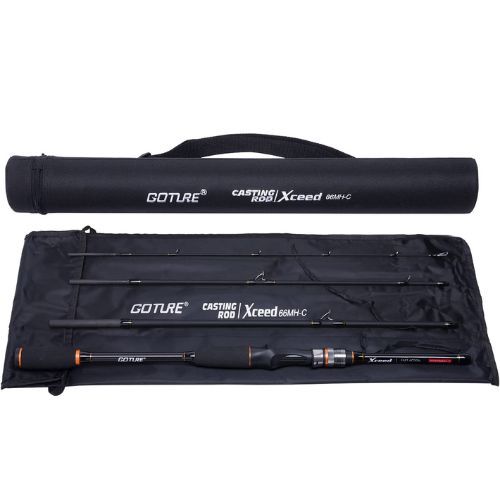 Goture Travel Salt Water Fishing Rods
BUY ON AMAZON
Why We Like This Salt Water Fishing Rod>>>
If you're looking for a travel-friendly fishing rod that won't sacrifice on performance, then the Goture Travel Salt Water Fishing Rod is the perfect choice for you. Crafted from 30-ton carbon matrix, this versatile rod is designed to provide an optimal balance between sensitivity, strength and power--making it ideal for a variety of different fishing conditions. Plus, the solid construction and sturdy ABS reel seat will ensure that the rod provides more durability than your standard model.
The lightweight design of the 4 piece rod offers greater portability and it's balanced weight makes sure that you'll be able to fish comfortably for hours on end. Reel in your catches effortlessly with 7+1 corrosion-resistant guides featuring ceramic inserts that are perfectly spaced out to maximize casting performance without creating any uncomfortable snags.
Experience a perfect blend of convenience and reliability with this travel-friendly Goture Salt Water Fishing Rod! It's lightweight design and incredible strength are sure to be an excellent companion on all your next fishing trips.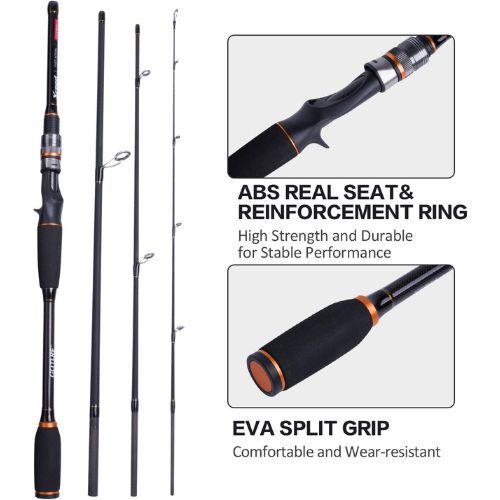 ---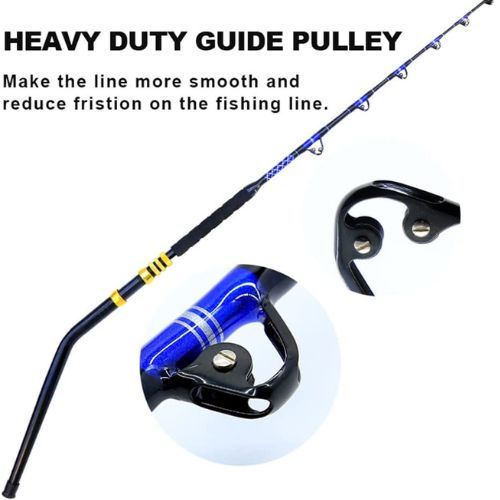 Topline Tackle Deep Sea Trolling Rod Offshore Heavy Duty Boat Fishing Pole
BUY ON AMAZON
Why We Like This Salt Water Fishing Rod>>>
For all your deep-sea trolling needs, Topline Tackle is there to help. It offers a high-quality heavy-duty boat fishing pole made of solid fiberglass that can stand up to even the toughest conditions. The classic design combines an EVA handle grip and an aluminum bent butt for increased control and comfort when pulling in impressive catches.
Topline Tackle deep sea trolling rod also features an advanced roller guide structure with bearing components that reduce friction and provide smooth line operation, as well as a corrosion-resistant reel with power control features.  You can depend on this rod to get you through any situation, no matter the size or agility of the fish you're trying to land.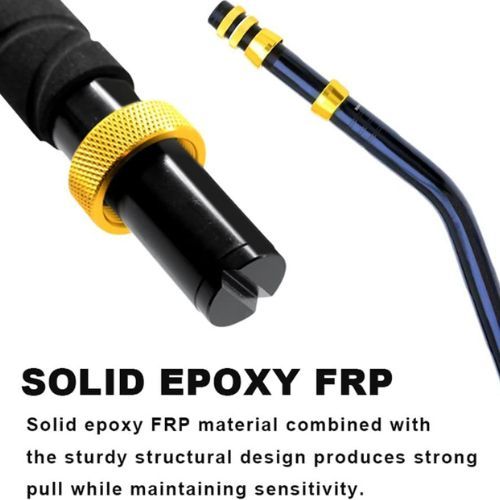 ---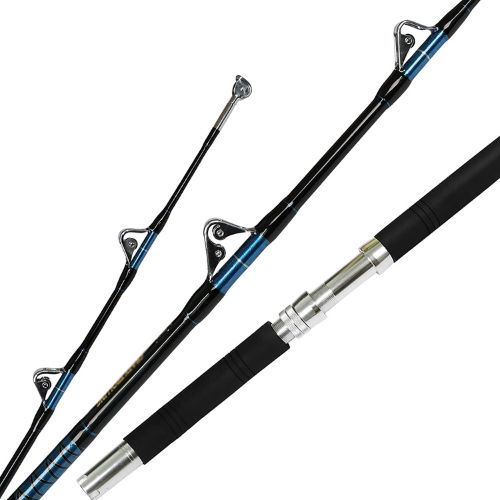 Fiblink Saltwater Offshore Heavy Trolling Fishing Rod
BUY ON AMAZON
Why We Like This Salt Water Fishing Rod>>>
Introducing the Fiblink Saltwater Offshore Heavy Trolling Fishing Rod, the perfect tool for big game anglers looking to take on intense battles. This rod exudes toughness and power – from its extra-tough 1-piece tubular E-glass graphite composite blanks to its heavy stainless steel roller guides to minimize strain and ensure a smooth line flow.
Plus, its machined aluminum alloy reel seat keeps your reel in place without corrosion while the reverse knurling nut makes the bonding stronger. And, at 5'1'' in length, this short rod offers great portability as it is easy to transport - ideal for salt water trolling, atuns, mahi and so much more! The Fiblink Saltwater Offshore Heavy Trolling Fishing Rod is sure to equip any big game angler with a strong and reliable tool.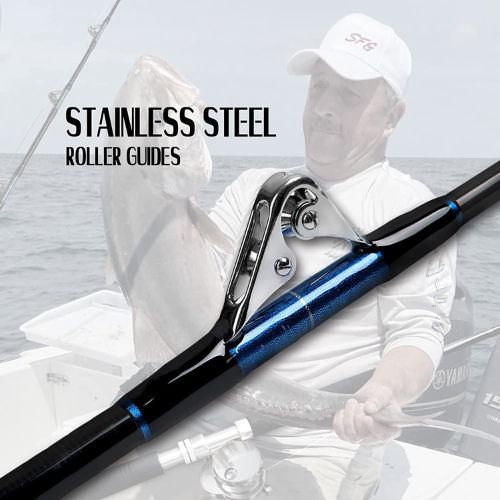 ---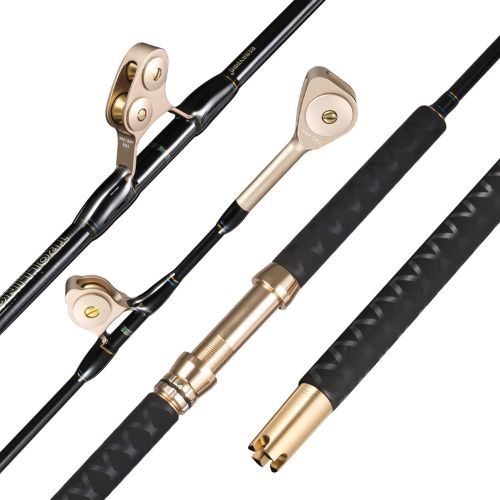 BerryPro Bent/Straight Butt Trolling Rod Saltwater Offshore Fishing Rod
BUY ON AMAZON
Why We Like This Salt Water Fishing Rod>>>
Do you want power, durability and sensitivity all in one? Look no further than the BERRYPRO Bent/Straight Butt Trolling Rod Saltwater Offshore Fishing Rod Big! This heavy-duty rod is perfect for taking on any salty offshore challenge.
Its Pac Bay Heavy Duty ER Roller Guides provide saltwater-approved corrosion resistance with power control, while the Teflon-coated stainless steel sleeve bearings deliver ultra-smooth performance.
Not only does this rod offer exceptional strength, but its solid E-glass graphite composite blanks provide incredible pulling power. With unparalleled strength, durability and sensitivity, you can't go wrong with the BERRYPRO Bent/Straight Butt Trolling Rod!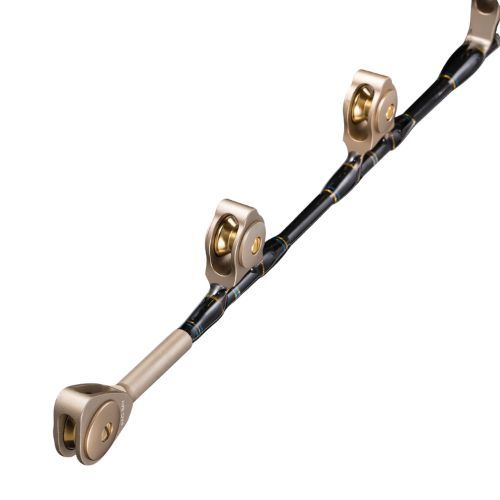 ---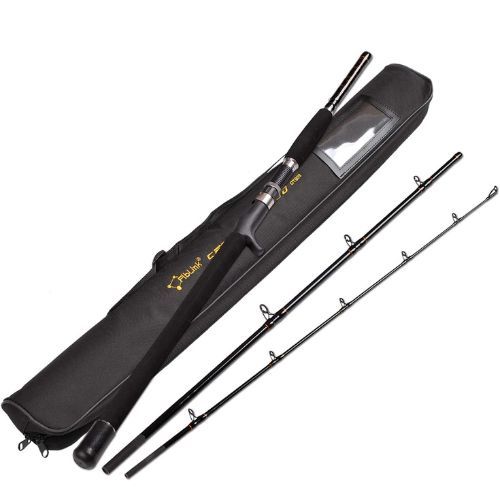 FIBLINK Graphite Baitcasting Saltwater Fishing Pole
BUY ON AMAZON
Why We Like This Salt Water Fishing Rod>>>
Are you looking for a fishing experience like no other? Look no further than Fiblink Graphite Baitcasting Fishing Poles! These eye-catching rods are perfect for both novice and experienced anglers alike. Crafted from high-density carbon fiber and fiberglass, these rods are incredibly sturdy yet lightweight for easy handling.
Portability is key when it comes to fishing - that's why these rods come with a free rod case for easy and secure transportation. Plus, you can easily fit the rod case in an airplane, boat hatch or car trunk in order to make your fishing adventures even more epic!
With its stainless steel and ceramic heavy-frame double foot guide features, as well as three convenient sections, you'll love every moment of casting while using Fiblink Graphite Baitcasting Fishing Poles.
For the ultimate long-lasting saltwater offshore heavy 3-piece travel graphite baitcasting experience, let Fiblink Graphite Baitcasting Fishing Poles take you to new heights of successful catches!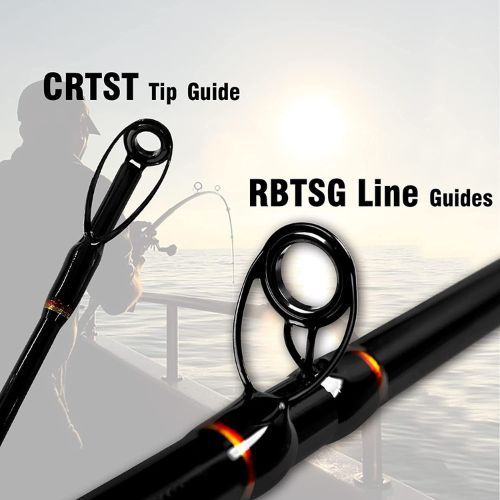 ---
Conclusion
When looking for a new saltwater fishing rod there are many factors that come into play—materials such as fiberglass, graphite or composite; a power which determines how much pressure you can put on a fish before it breaks your line; length which affects both casting distance and control and understanding these dynamics allows you to choose those that enhance your style of angling so that you can get the most out of your time spent out on the water!
With this knowledge in hand, you'll now have all the information necessary to select a saltwater fishing rod that best suits your needs!
Good Luck!
Check Out Our Relevant Reads>>>