When it comes to fishing, having the right gear is essential. But with so many options on the market, choosing the best fishing kayak for your needs can be a daunting task. Whether you're looking for a kayak to take out into saltwater or one that's great for freshwater ponds and streams, there are certain factors you should consider before making your purchase. Keep reading to learn more about choosing the right fishing kayak for your needs.
Types of Fishing Kayaks
The two main types of fishing kayaks on the market are sit-on-top (SOT) and sit-in (SIK). SOTs have open decks that allow you to stand up while paddling or fishing. They also provide plenty of room for gear. SIKs are enclosed vessels with more efficient hull designs that offer better tracking capabilities and greater stability in choppy waters. Both types can be outfitted with accessories such as rod holders, fish finders, bait buckets, and cup holders.
Sit-it-in kayaks provide better protection from wind and waves but can be cumbersome to get in and out of if you plan on launching from shore. Sit-on-top models are easy to get in and out of but don't offer as much protection from wind and waves as sit-in models. Inflatable kayaks are lightweight and portable but aren't as stable as their hard shell counterparts.
Size & Weight Considerations
Next, consider size and weight when selecting a fishing kayak. If you plan on paddling long distances or carrying lots of gear, then a larger model will be more comfortable than a smaller one. On the other hand, if you plan on transporting your boat frequently or storing it in tight spaces, then a lighter model may be more practical.
Also keep in mind that most fishing kayaks come with built-in storage compartments, so if you plan on bringing along extra equipment like tackle boxes or coolers, make sure that the storage capacity meets your needs before purchasing a boat.
Features & Accessories
Finally, consider features such as rod holders, paddle holders, seat adjustments, rudder systems (for easier turning in windy conditions), anchor systems (for holding steady while casting), fishfinders (for locating fish), bait wells (for storing live bait), fish measuring tools (for releasing undersize fish) , and even sail rigs (for trolling).
Many manufacturers also offer accessories such as camera mounts and LED lighting kits that can make your time out on the water even safer and more enjoyable!
Let's Take a Look at Some of the Best Fishing Kayaks 2023>>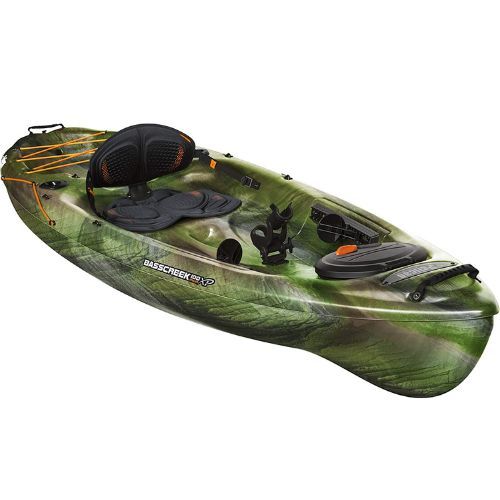 Pelican Sit-on-top Fishing Kayak Kayak 10 Feet Lightweight
BUY ON AMAZON
What You Should Know About This Fishing Kayak>>>
The Pelican Sit-on-top Fishing Kayak is perfect for the angler looking for a stable and comfortable kayak. With a multi-chine flat bottom hull, this kayak offers excellent stability, making it easy to cast lines and reel in fish.
The ERGOFIT G2 seating system is specially designed with thicker ergonomic padding to provide targeted cushioning and better airflow, while the adjustable seat ensures a comfortable ride. With additional flotation inside the hull, the Pelican Sit-on-top Fishing Kayak meets or surpasses ABYC standards, ensuring a safe ride.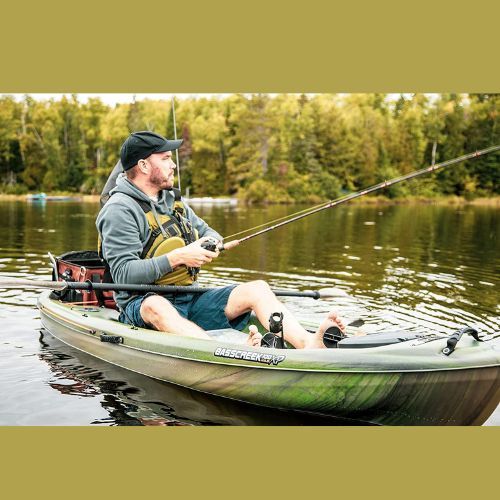 ---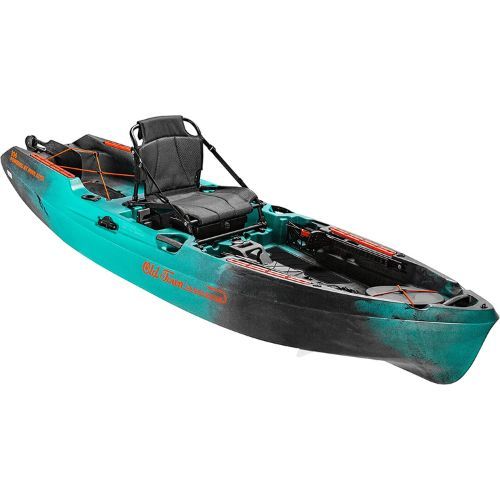 Old Town Sportsman 106 Powered by Minn Kota Motorized Fishing Kayak
BUY ON AMAZON
What You Should Know About This Fishing Kayak>>>
Introducing the Old Town Sportsman 106 Powered by Minn Kota motorized kayak! This new and improved kayak is specifically designed for serious anglers looking for an upgrade in their on-water experience.
Equipped with a 12-volt Minn Kota trolling motor, the Old Town Sportsman offers 45 pounds of thrust to help you get around on the water with ease. It also comes with customizable accessory tracks, as well as cushioned floor pads to provide both better comfort and grip. Plus, it has a custom tackle box and plenty of rod holders so you can store all your gear in one convenient place!
In addition, the Old Town Sportsman features three through-hull wiring kits and a universal transducer mount for simple installation of fish finders without having to drill into your kayak. And when out on extended fishing trips, the premium dual-layer Textilene mesh seat helps keep you cool and comfortable all day long, while adjustable foot braces offer ideal maneuverability and an extra-large rudder provides extra control when needed.
The Old Town Sportsman 106 Powered by Minn Kota Motorized Fishing Kayak is the perfect fishing companion for any angler looking for top performance on the water. Get ready for an upgraded fishing experience – get yours today!
---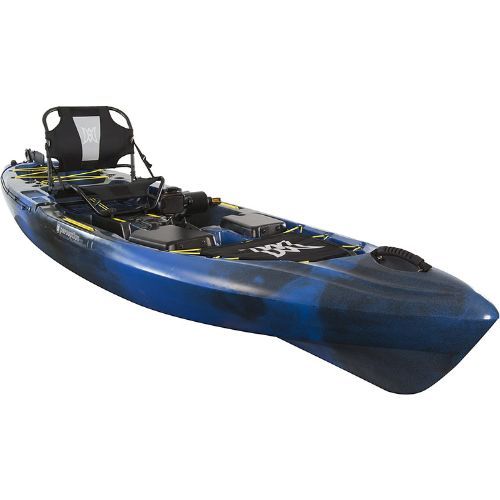 Perception Pescador Pilot 12 Kayak
BUY ON AMAZON
What You Should Know About This Fishing Kayak>>>
This pedal-driven kayak is perfect for flat, slow-moving, and calm coastal waters. Measuring 12' 5" in length, with a 16-inch deck height, this excellent kayak allows easy access to the water and increased visibility while on it. But more importantly, this kayak has all the features you need to go fishing—at an unbelievable price!
Peddle drive kayaks are a great way to fish or explore on the water but not all are created equally the Pescador pilot by perception kayaks delivers pedal-driven performance and an unbelievable price unfortunately other kayaks in this price range do not and we're here to show you what you should look for in a quality pedal drive kayak the perception.
Pescador pilot features the perfect balance of stability speed maneuverability and tracking the impressive stability of the pilot makes it the easiest kayak to enter or exit and provides a steady on-water feel for the most secure experience available our superior stability even allows anglers to cast from a standing position not only is the shape of the pilot tuned for performance.
You'll be equipped with plenty of storage space; use it to store all your fishing gear such as rods, bait, tackle boxes, and other items. Not only is the Perception Pescador Pilot 12 Kayak perfect for leisurely excursions and angling adventures alike – but also provides superb performance whilst helping you save money too!
---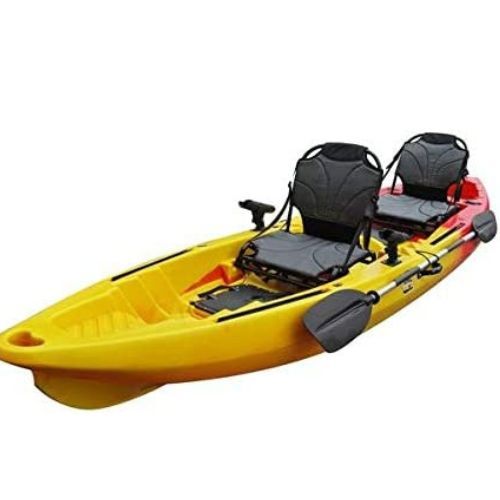 BKC TK122U 12' 6" Tandem 2 or 3 Person SIt On Top Fishing Kayak
BUY ON AMAZON
What You Should Know About This Fishing Kayak>>>
Make your next outdoor adventure an enjoyable one with the Brooklyn Kayak BKC TK122U 12' 6" Tandem 2 or 3 Person Sit On Top Fishing Kayak. With extra space, this tandem kayak fits 3 and is perfect for family trips or fishing expeditions. You will also get all the accessories you need so you can be sure that you're fully prepared for the next trip.
The Roto-Molded single piece high-density polyethylene material ensures that your kayak is built to last while providing excellent stability in lake, ocean, or river conditions. Its 34-inch beam offers superb balance even in choppy waters, and it can accommodate up to 770 lbs, giving you plenty of room to bring along whatever is necessary.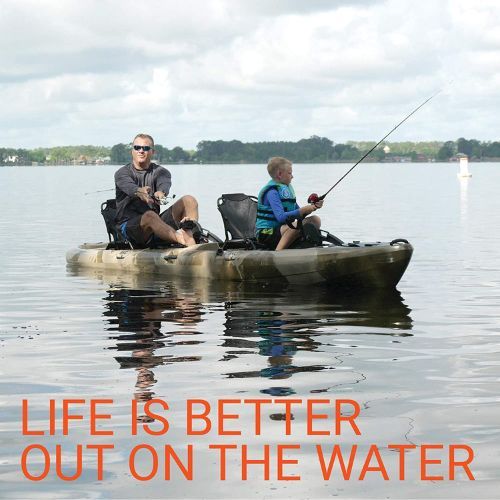 The BKC fishing kayak comes with two ergonomic aluminum frame seats, two adjustable aluminum paddles as well as two waterproof hatches for storing important items safely and securely.
To make things even better there are also four built-in rod holders and two paddle parks so you can take in all the beauty around you without worrying about leaving something behind. There's even a bungee cargo tie too - perfect for making sure your load stays safe and secure during your expedition!
Whether it's a fishing trip with friends or an outdoor adventure with the family, trust the Brooklyn Kayak Company BKC TK122U 12' 6" Tandem 2 or 3 Person Sit On Top Fishing Kayak to help make it an enjoyable experience!
---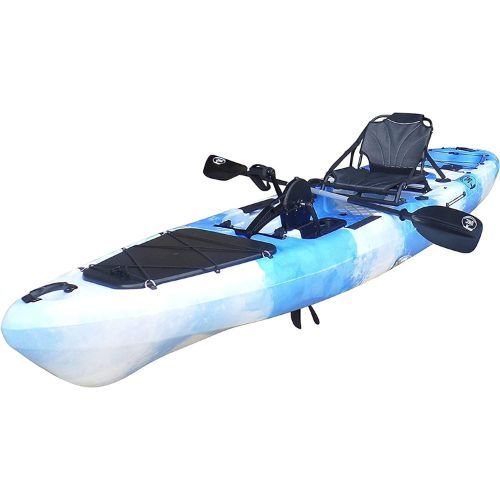 BKC PK13 13' Pedal Drive Fishing Kayak
BUY ON AMAZON
What You Should Know About This Fishing Kayak>>>
The BKC PK13 13' Pedal Drive Fishing Kayak is your perfect go-to for pedal drive fishing experiences. This kayak is 13 feet long, 33 and a quarter inches wide, weighing only 80 pounds but with a weight capacity of 550 pounds, you know it packs a punch!
It comes equipped with all the accessories you need for your next fishing adventure including a front carry handle so transporting it is super easy, a triangle storage area that can double as a cooler, self bailing scupper and bungee ttie-downsystem plus an instant reverse pedal drive that can take you up to three to five miles an hour while controlling how hard you exert yourself.
On top of all these incredible features, the PK13's doesn't stop there! It also include the splash card which doubles as a cup holder and tackle tray - perfect for all those catches and drinks on the go. With nine scuppers in total (six in cockpit two at rear and one in front storage), you have plenty of space to store whatever else you may need.
---
Conclusion
Choosing the right fishing kayak doesn't have to be an overwhelming task; just remember to take stock of where and how you plan to do most of your paddling and fishing before making any decisions.
Consider factors such as type, size/weight capabilities, features/accessories available—as well as any special requirements you may have—before purchasing a vessel that meets all your needs!
With this advice in mind, you can confidently find the perfect fishing kayak for all your angling adventures!
Happy Kayak Fishing!
Check Out Our Relevant Reads>>>