Jet skiing is a popular water sport that is enjoyed by many people around the world. The key to staying safe while jet skiing is having the right safety gear, including a lifejacket. But with so many different types of lifejackets out there, how do you know which one is best? In this blog post, we'll explore how to choose the best lifejackets for jet skiing.
What to Consider When Shopping for Jet Skiing Lifejacket>>>
1.The first step in choosing a good life jacket is to understand what types are available. Generally speaking, there are four main categories of lifejackets designed specifically for jet skiing activities: "offshore" lifejackets, "inshore" lifejackets, personal flotation devices (PFDs), and inflatable lifejackets. Each type has its own advantages and disadvantages depending on where you plan to jet ski and what type of activity you'll be doing.
>>> Offshore lifejackets are designed for use in rough waters and offer more buoyancy than other types. They typically feature an attached harness so that they can be easily secured if needed in an emergency situation.
>>>Inshore lifejackets are less buoyancy but are more comfortable than offshore jackets; they're also generally lighter and easier to move around in while jet skiing.
>>>PFDs are lightweight and often come with several pockets or compartments for carrying supplies; however, they don't provide as much buoyancy as offshore or inshore jackets.
>>>Inflatable lifejackets offer extreme comfort since they don't have straps or buckles; however, they require additional maintenance since they must be regularly inspected for damage or leaks.
Other Important Factors to Consider When Shopping for Jet Skiing Lifejacket>>>
Material Matters
The first thing to consider when selecting a life jacket for jet skiing is the material it's made out of. Look for jackets that are made from neoprene or nylon, as these materials are lightweight and comfortable while still providing plenty of buoyancy. Additionally, look for jackets with mesh panels or ventilation systems to ensure you stay cool and comfortable even in warm weather.
Safety Features
When selecting a lifejacket for jet skiing, make sure to look for models with additional safety features such as reflective tape or bright colors that make you more visible in the water. This will help ensure that other boaters can see you clearly even in low-light conditions. Additionally, many lifejackets now feature pockets and straps so you can store your keys, phone, or wallet safely while riding on your jet ski.
Style & Fit
Finally, consider style and fit when choosing a lifejacket for jet skiing. Make sure to select one that fits comfortably but snugly against your body; if it feels too loose then it won't be able to provide adequate support in an emergency situation. Additionally, look for styles that fit your personal aesthetic; after all, why not make a fashion statement while staying safe?
Top 5 Life Jackets for Jet Skiing>>>
---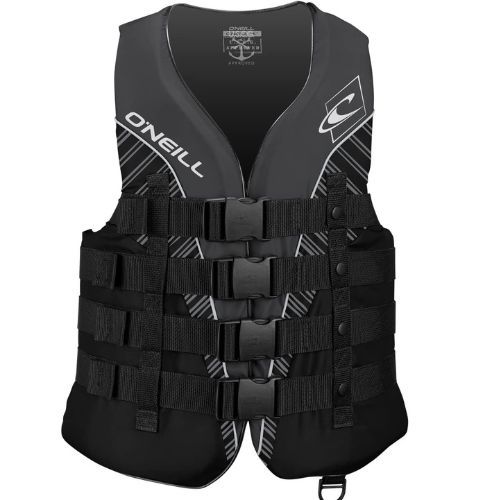 O'Neill Men's Superlite USCG Life Vest
BUY ON AMAZON
Why We Like This Lifejacket>>>
O'Neill Men's Superlite USCG Life Vest. Rest assured that you and your family will stay safe while enjoying time on the water, as this life vest is designed to get you through any dangerous situation. Since it is designed with U.S Coast Guard requirements, you are guaranteed a quality fit for your body type.
The lightweight coated nylon outer shell provides not only comfort but also peace of mind when facing unknown waters. Its anatomically cut closed cell marine foam flotation ensures the best possible safety measure along with the four heavy-duty 1.5-inch wide webbing belts with quick-release Delrin buckles which help to ensure an adjustable fit and easy fastening for many adventures ahead.
Don't leave home without this must-have item for your next summer outing! Try out the O'Neill Men's Superlite USCG Life Vest today - because nothing should come between you and a good time!
---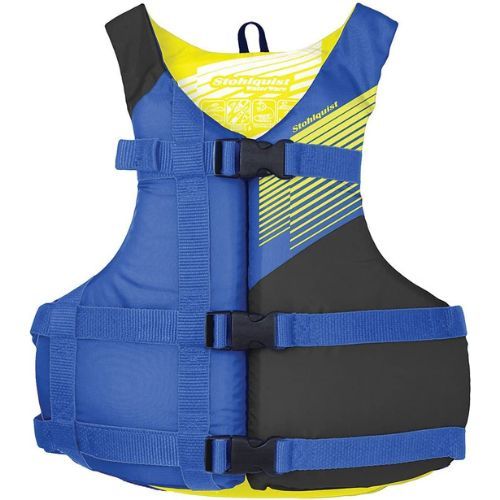 Stohlquist Fit Youth Life Jacket Coast Guard Approved High Mobility PFD Light
BUY ON AMAZON
Why We Like This Lifejacket>>>
Explore your open-water dreams in superior style and safety with the Stohlquist Fit Youth Life Jacket! This Coast Guard-approved, high-mobility personal flotation device (PFD) is the perfect addition to any paddling or boating adventure. You'll feel safe knowing that this life jacket is designed with maximum mobility to ensure you have a full range of motions while on the water.
The sculpted foam paneling makes it non-restrictive, while the thinner back panel eliminates interference with high seat backs. Plus, get easy entry with three buckles up front to quickly get you in and out. You're sure to stay safe while looking stylish thanks to its light 1.6 pounds weight and sleek design featuring box-stitched webbing for durability—making this PFD a must for all your explorations!
---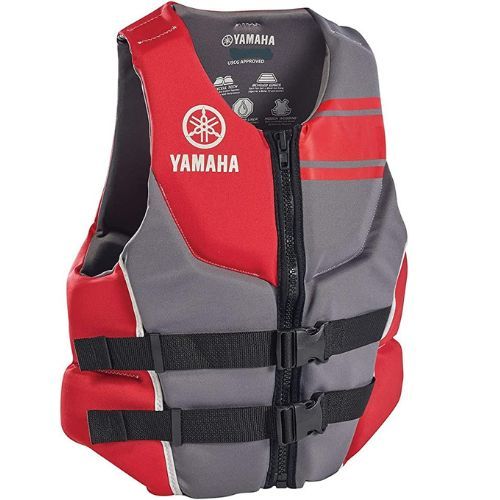 Yamaha Men's Red Neoprene Two-Buckle PFD Life Jacket Vest
BUY ON AMAZON
Why We Like This Lifejacket>>>
This stylish, durable Yamaha Men's Red Neoprene Two-Buckle PFD Life Jacket Vest is an essential piece of equipment for your outdoor adventures! Crafted from high-quality neoprene, this PFD has fully segmented foam panels to create a comfortable and secure fit.
Experience ultimate support and security with two adjustable straps complete with side-release buckles, so you can customize the fit exactly to your needs. And taking it off and on is a breeze, thanks to its convenient front zip entry.
Whether you're out on the lake or just lounging by the pool, you know that safety comes first with this incredible combination of comfort and support. Get ready for your next adventure with Yamaha's Red Neoprene Two-Buckle PFD Life Jacket Vest!
---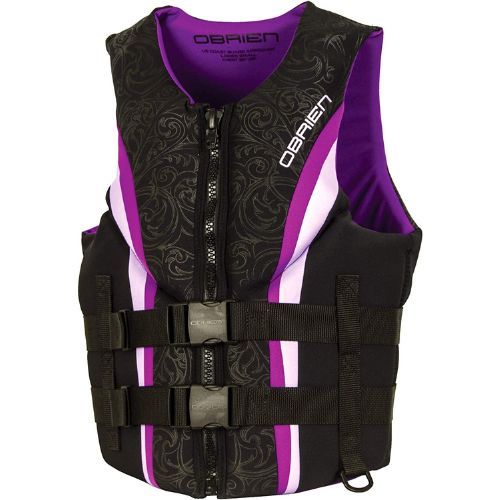 O'Brien Women's Impulse Neo Life Vest
BUY ON AMAZON
Why We Like This Lifejacket>>>
Stay safe on the water this summer season with the O'Brien Women's Impulse Neo Life Vest. This comfortable, neo-style life jacket provides exceptional comfort and performance to women who love spending time on the waves. The innovative BioLite material is lightweight and breathable for faster drying, meaning you can transition from active water sports to relaxing in the sun without any extra hassle.
Plus, segmented panels and wide armholes help maximize your range of motion so you can make the most of each moment spent by the dock or out in open waters. A convenient front zipper and two adjustable belts are included to offer a snug fit that will keep you secure as you explore. Make this summer season one to remember with the O'Brien Women's Impulse Neo Life Vest!
---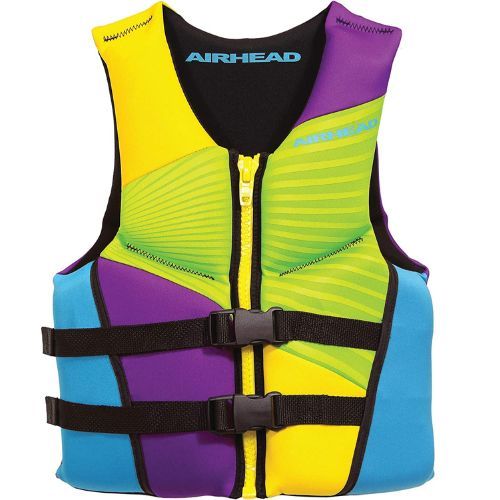 Airhead GNAR Kwik-Dry NeoLite Flex Life Vest
BUY ON AMAZON
Why We Like This Lifejacket>>>
Ready for some serious water fun? Reach for the Airhead GNAR Kwik-Dry NeoLite Flex Life Vest. Not only is it US Coast Guard-approved, but it also offers less bulk so that you can get an extra range of motion with every stroke. Go ahead and tackle those more challenging water sports!
Closed-sided construction, this vest provides a more secure fit that'll keep you snug and safe while out on the water. Fastening is quick and easy with side-release buckles and a zipper—just what you need when time is of the essence. Plus, its super soft fabric feels gentle against your skin and dries in no time Flat!
Stay dry, stay safe, and never let fear hold you back from having fun out on the waves. With the Airhead GNAR Kwik-Dry NeoLite Flex Life Vest, your life on the water just gets better!
---
Conclusion
Selecting a quality lifejacket is essential for anyone who enjoys jetskiing — especially if you plan on taking your adventures out on open waters! When shopping around for a new jacket, make sure to consider all four types of available options so that you can choose one that fits your jetskiing style perfectly.
Think about comfort first — no one wants a stiff jacket during their ride — then look at features like built-in pockets, adjustable straps/buckles, reflective strips, and quick-release mechanisms before making your final decision! With these tips in mind, finding the right jet ski lifejacket will become much easier — so get out there and enjoy yourself while staying safe!
Ride the Tide in Style and Safety!
Check Out Our Relevant Reads>>>