Selecting the right surfboard can be daunting. With so many options available, it's hard to know which one is best for you. That's why we've put together this guide to help surfers of all levels find the perfect board. Here, we'll discuss the types of waves you'll be surfing, your skill and fitness level, and your surfing objectives. Read on to learn more about how to select your surfboard.
1.Types of Waves You'll Be Surfing
The type of waves you'll be surfing is an important factor when selecting a surfboard; it will greatly affect the length and shape of your board. For instance, if you plan on riding big waves, you should choose a longer board with a wider nose and tail.
Longboards are also better suited for small waves since they provide more stability than shortboards. If you're looking for something that can handle both big and small waves, then a mid-length board may be a good option for you.
2.Level of Skill & Fitness
Your level of skill and fitness should also be taken into account when picking out a board. If you're just starting out, it's best to go with something shorter in length that's easy to maneuver in the water. A beginner-level shortboard or funboard is usually ideal for those new to the sport as they offer great stability while still allowing for some performance capabilities as your skills improve.
On the other hand, if you have some experience under your belt but aren't quite ready for an advanced board yet, then a hybrid board could be just what you need it offers the stability of a longboard with the maneuverability of a shortboard.
3.Surfing Objectives
It's also important to consider what your surfing objectives are when selecting your surfboard. Are you looking to improve your skills and elevate your performance? Maintain your current performance. Or have more fun without pressure?
Whatever goals you set out to achieve should influence which type of board will best suit your needs—a shorter one for more speed or control; a longer one if stability is what matters most; or perhaps even something in between!
The Different Types of Surfboards>>>>
The first step in choosing the perfect surfboard is figuring out what kind of board is best for your individual needs. Longboards, shortboards, fish boards, and alaia boards all differ in shape and size and serve different functions. Here's a brief overview of each type:

• Longboards are the most popular type of surfboard among beginners because they provide stability and are easy to paddle on. They generally range in length from 8ft-10ft long with rounded noses, which gives them lots of surface area to float on top of the water.

• Shortboards are best suited for more experienced riders who want to challenge their skills by riding smaller waves with more speed and power. They typically range from 5 ft-7 ft long with pointed noses that allow them to cut through the water easily.

• Fish boards are great for small or weak waves because they have wide bodies and swallowtails that help them stay afloat better than other boards. They usually range from 5 ft-7 ft long with rounder noses that give them extra buoyancy in small waves.

• Alaia boards are traditional boards made from wood that don't have fins or leashes like modern surfboards do, making them perfect for riding larger waves without the fear of them drifting away from you. They range from 6ft-9ft long with thick rails that help keep them steady as they ride over larger swells.
---
Check Out Our Selections of the Best Surfboards>>>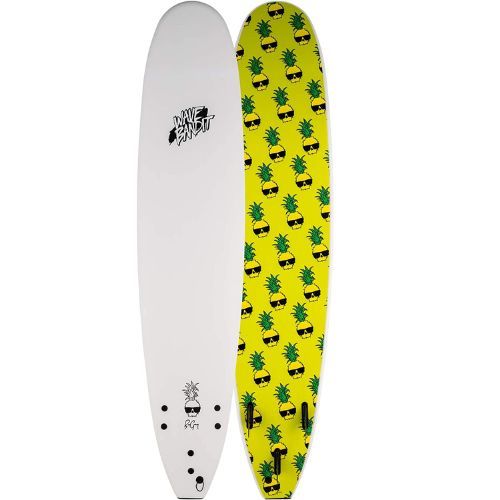 Wave Bandit Ben Gravy Pro EZ Rider Surfboard
BUY ON AMAZON
What We Like About This Surfboard>>>
Dream of hanging out at the beach and surfing like a pro? Look no further than the Wave Bandit Ben Gravy Pro EZ Rider Surfboard! Created by professional surfer Ben Gravy himself, this surfboard is perfect for tackling any and every wave. Get ready for maximum stiffness with dual wood stringers and a composite core made of high-pressure construction. It's so easy to ride that you'll wonder why you waited so long to try it!
For hassle-free performance, it requires wax and comes with one free leash plug to keep your board from drifting away. So if you're in need of a new piece of hardware and want to keep turning heads on the beach, then get your hands on the Wave Bandit Ben Gravy Pro EZ Rider Surfboard today!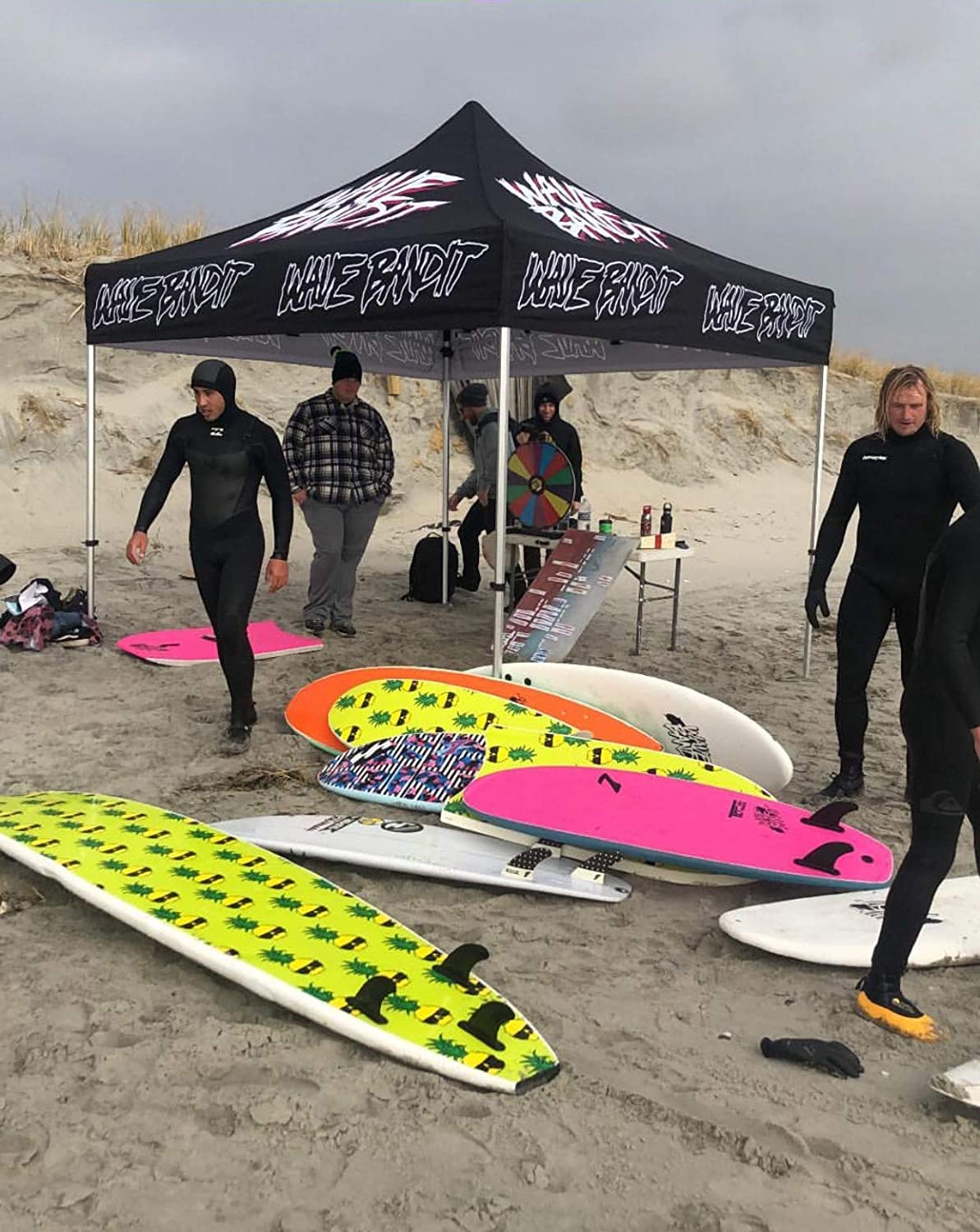 ---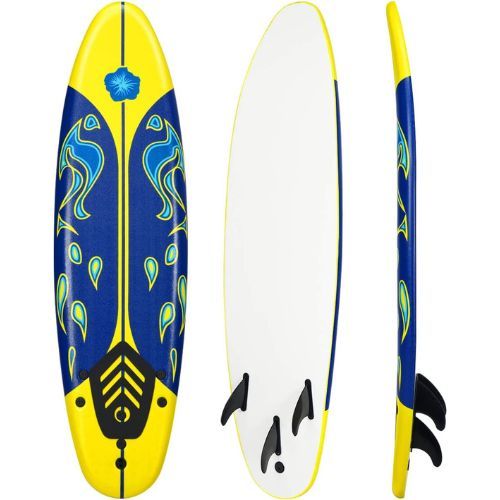 Giantex Beginner's Surfboard Foamie Board
BUY ON AMAZON
What We Like About This Surfboard>>>
Giantex Surfboard is the perfect choice for those just starting out in surfing, as well as experienced surfers looking to have some fun. The core of this sturdy surfboard is crafted with durable EPS foam and features a hard slick bottom made of powerful HDPE to ensure lasting performance.
This surfboard includes a removable fin, perfect for altering its speed or maneuverability according to your surfing skills or style. Furthermore, it comes equipped with an ergonomic transaction pad and leash that provide extra comfort when paddling and wave riding.
What's more, the fishtail design adds more grip and helps provide a better planning speed lift. Invest in the high-quality Giantex Surfboard today for an unforgettable surfing experience!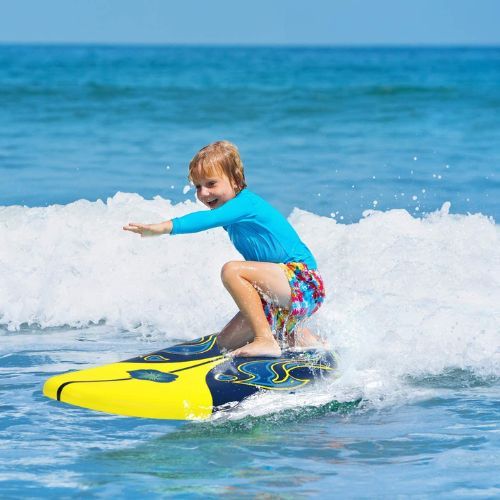 ---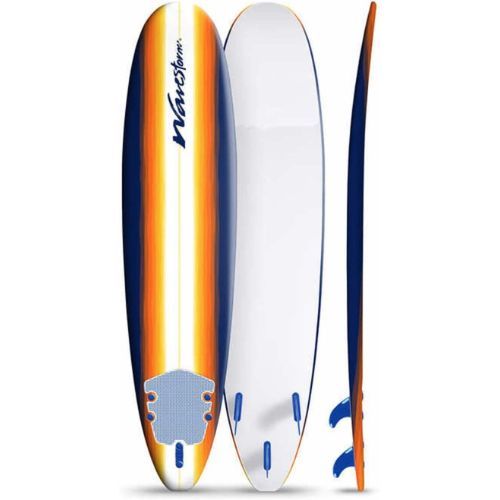 Wavestorm Surfboard
BUY ON AMAZON
What We Like About This Surfboard>>>
The Wavestorm Surfboard is the ideal choice for any surfing enthusiast. With an 8ft classic design and years of extensive manufacturing experience, this surfboard is both light and soft while still offering reliable performance characteristics.
This board has a strong EPS core with 3 marine-ply stringers and a resilient Water Barrier Skin (WBS-IXL) top graphic deck skin for improved control and a textured grip to keep you stabilized all ride long. At the bottom, there is a HDPE slick that adds just enough stiffness to achieve maximum performance in any wave conditions.
Whether you're just starting out on your surfing journey or have been shredding waves for years, you can trust the Wavestorm Surfboard to provide the best riding experience possible. Not only will it amplify your time in the ocean, but also promote a new healthy lifestyle and everlasting memories with friends and family. Catch those waves today with the Wavestorm Surfboard!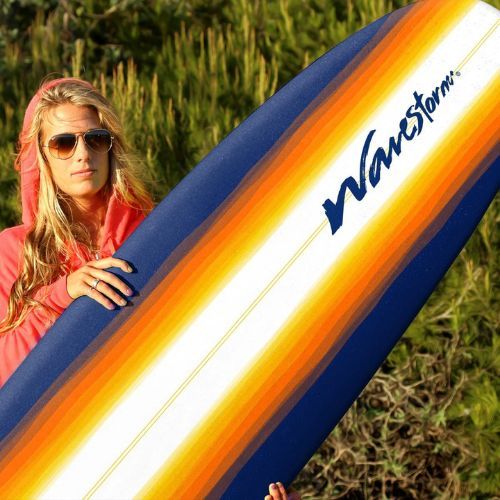 ---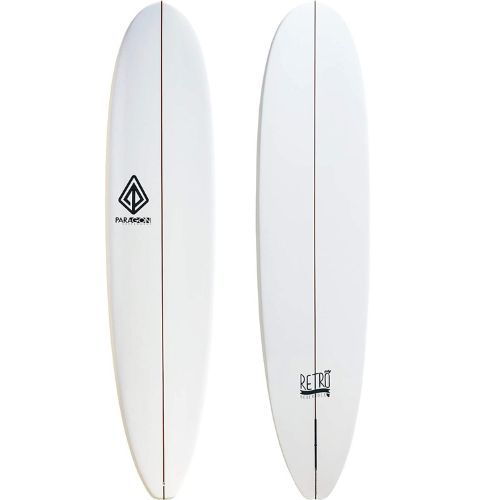 Paragon Surfboards Retro Noserider Longboard
BUY ON AMAZON
What We Like About This Surfboard>>>
Surf the waves with style and confidence with Paragon Surfboards' Retro Noserider Longboard. Crafted from competition-level materials, this board provides high-performance in a wide variety of wave conditions.
Its single-bottom concave, 6oz top and bottom glass and gloss finish ensure a smooth ride without compromising on durability or speed. With its generous volume, this longboard is perfectly suited for surfers of any skill level from novice to pro.
Thanks to its retro shape, it offers enhanced glide and stability that make noseriding a breeze. And its 9" center fin (included) adds further control and maneuverability that give you the edge in any situation. Whether you're carving up the line or cruising along in your own paradise, the Paragon Surfboards Retro Noserider Longboard empowers every wave rider to take their skills to the next level.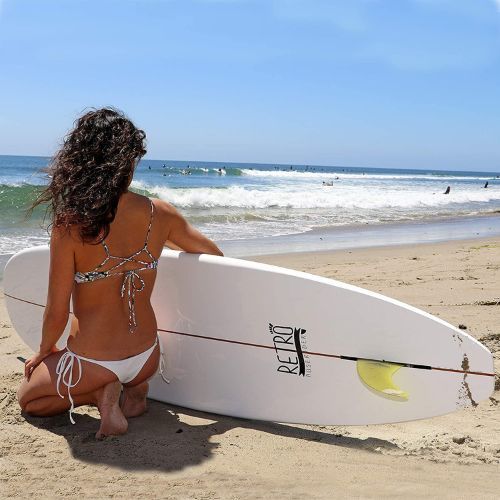 ---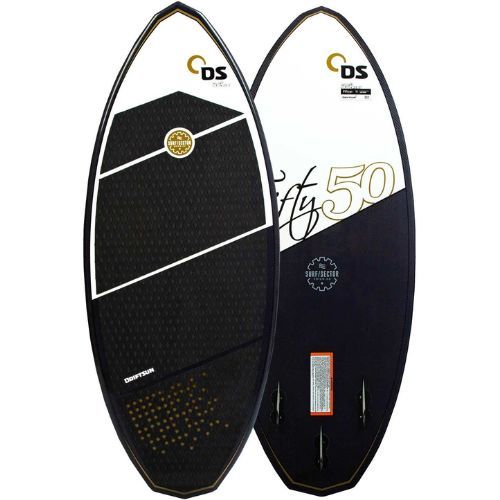 Driftsun Fifty50 Wakesurf Board
BUY ON AMAZON
What We Like About This Surfboard>>>
The Driftsun Fifty50 Wakesurf Board is the perfect choice for beginner to intermediate level riders. This board is designed to provide a fast and responsive ride due to its flat bottom base with minimal rocker line, as well as its sharp rails for maximum stability and hard cutting.
EVA foam fills most of the board for a versatile and flexible riding experience. With this skim-style wakesurfing board, adults, kids, and even teens can enjoy hours of fun on the water. Whether you're looking to take your wakesurfing skills to the next level or just have some fun in the waves, the Driftsun Fifty50 Wakesurf Board is the perfect choice!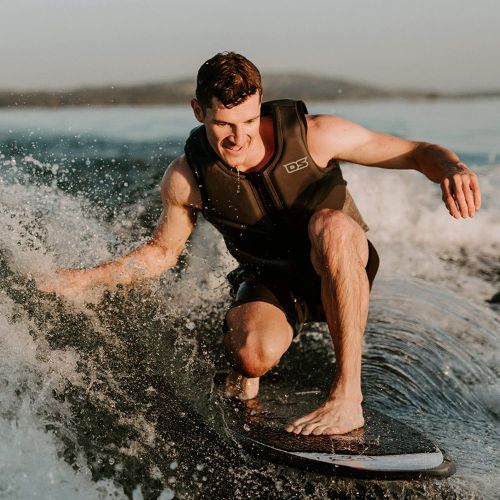 ---
Conclusion
Selecting the right surfboard requires careful consideration depending on what kind of waves you'll be riding and at what level of skill/fitness you're currently at—not to mention any goals or objectives that may sway your decision as well!
With this guide though, we hope that now it's easier than ever for anyone from beginner-level up through experienced surfer alike can find their ideal board quickly and confidently. Now get out there and enjoy yourself!
Happy Surfing!
Relevant Reads>>>