Ice fishing is an incredibly enjoyable outdoor activity, but it can be pretty cold! To ensure a cozy and comfortable experience on the ice, you'll need to invest in a quality ice fishing tent. There are lots of different types of tents available designed for different use cases.
Brands like Clam, Eskimo, Ice Runner, and Otter Outdoors offer great designs that will help keep you warm and dry while you fish. In this post, we'll outline what to consider when shopping for an ice fishing tent as well as the best brands available.
What Should You Look For When Shopping for an Ice Fishing Tent?
The first thing to consider when shopping for an ice fishing tent is size. If you plan to fish with just one or two people, then a smaller shelter should suffice. However, if you plan on bringing more anglers along for the ride, then a larger shelter may be necessary—the last thing you want is overcrowding!
Additionally, make sure your shelter has enough vents and windows to prevent condensation buildup inside. This will help ensure your shelter stays warm enough while also keeping out unwanted moisture and drafts.
Another important factor to consider is insulation; look for shelters with insulated walls and floors so that they retain heat better than non-insulated models.
Finally, consider the type of material used in construction; most shelters use nylon fabric with PVC coating for waterproofing but some models have added features such as UV protection and fire retardant coating which can extend their lifespan considerably.
Check Out Our Selection of the Best Ice Fishing Tents>>>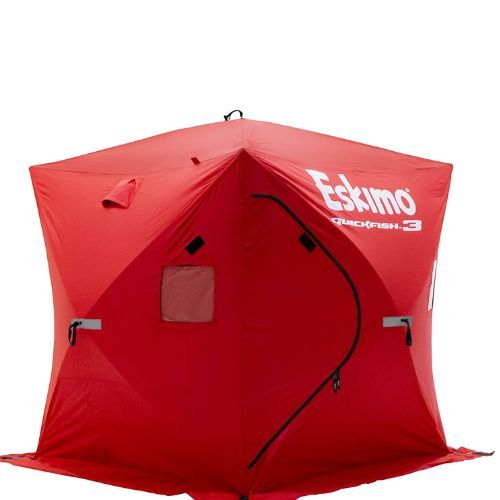 Eskimo Quickfish Pop-Up Portable Ice Fishing Tent 3 Person
BUY ON AMAZON
What We Like About This Fishing Tent>>>
This shelter fits up to three people with a generous set-up size o protected by Eskimo's 300 deniers ice-tight fabric. It features a higher thread count for a tighter weave meaning a wind and water-tight performance that is lightweight and won't bend under pressure.
This fishing tent is perfect for the portability you need when out on the ice, as everything fits easily into the included cinch carrying bag which can be carried comfortably on your back. And don't forget two self-tapping ice anchors and in-skirt ice anchor grommets that make attaching easy and reduce hassle as you search for separate grommet tabs.
Once inside there are storage pockets made from mesh material so you can keep all your fishing necessities organized and at hand! Don't wait to get out on the ice - grab your Eskimo 69143 Quickfish 3 Pop-Up Portable Hub-Style Ice Fishing Shelter today to make sure you have an unbeatable experience that makes time spent out there worth every minute!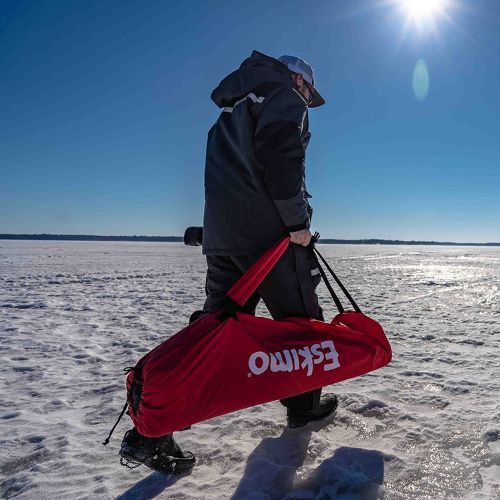 ---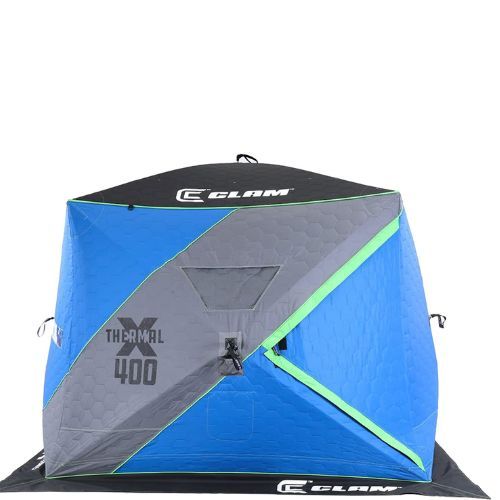 CLAM X-400, X-500 or X-600 Portable Pop Up Ice Fishing Angler
BUY ON AMAZON
What We Like About This Fishing Tent>>>
Make time for the one thing that really matters - fishing. Whether you're an experienced angler or a casual hobbyist, the CLAM X-400, X-500, or X-600 Portable Pop Up Ice Fishing Angler Thermal Hub Shelter is a MUST-HAVE during this winter season!
Being able to fit 4 to 6 people in 64 square feet of fishable area, you can enjoy a well-deserved day with friends and family catching your desired catch of the season! Take it anywhere with a comfortable carrying bag and the packed size of only 5.3 feet long and 12 inches tall.
This hub is designed with your warmth in mind—featuring 90 grams per square meter of insulation and full thermal trap technology; which helps keep heat from escaping while reducing condensation buildup. Plus, invest in quality on this one - expect extreme cold weather conditions out of durable 900 denier fabric.
It comes equipped with flex-tested extra large 11mm poles for maximum stability against windy encounters plus an oversized skirt for ample snow banking. Additionally, it includes 4 anchors for secure setting up even on the most frigid days.
---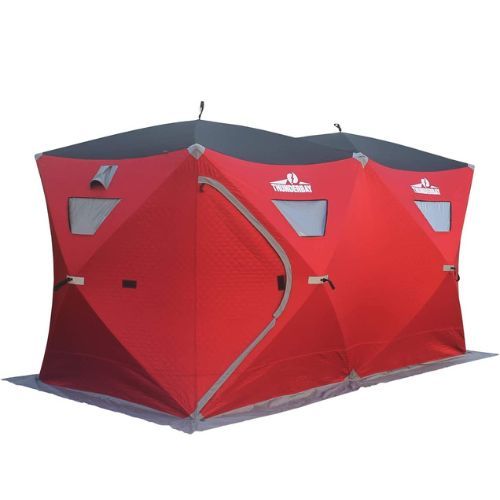 THUNDERBAY Ice Cube Series Pop-Up Hub-Style Ice Fishing Shelter
BUY ON AMAZON
What We Like About This Fishing Tent>>>
Fish in comfort, convenience, and style with the ThunderBay Ice Cube Series Pop-Up Hub Style Ice Fishing Shelter! With an incredibly spacious interior of 138" x 70", this shelter is perfect for a two-person fishing excursion! The unique hub to hub design offers even more elbow room of 160" x 90", giving you extra space to move around.
The 300 denier polyester fabric has thermal insulation of 60 grams which keeps the heat in and the wind out. The extra heavy duty fiberglass poles, zippers and wide skirt ensure durability and sturdiness without compromising on aesthetic. It also features two air vents as well as two zipped doors for easy entry, plus six Frigostabile PVC windows for great visibility while fishing.
For added security on windy days, 12 heavy duty ice anchors are included along with reinforced tie downs; or carry it around using the convenient bid carry bag that comes with a backpack strap for easy transport!
Take your ice fishing experience up a notch — upgrade to the ThunderBay Ice Cube Series Pop-Up Hub Style Ice Fishing Shelter now and enjoy comfortable, secure trips to your favorite spot!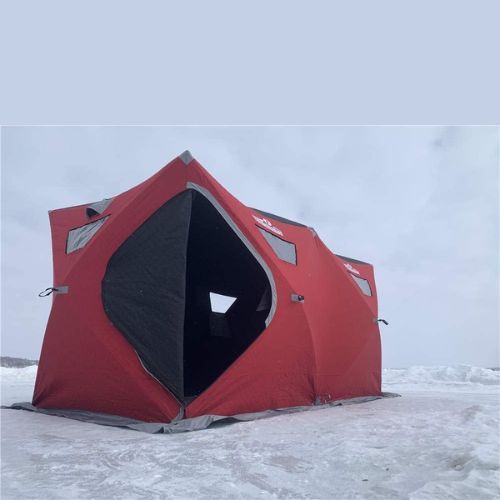 ---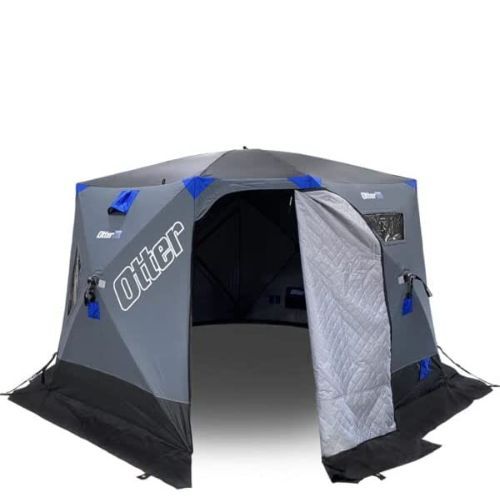 OTTER Vortex Pro Resort Thermal Hub Ice Fishing Tent
BUY ON AMAZON
What We Like About This Fishing Tent>>>
The OTTER Vortex Pro Resort Thermal Hub is a one-of-a-kind ice house designed to keep your angling day long and comfortable. With its light-blocking, wind-stopping outer shell and quilted thermal inner shell, the triple-layer shell provides optimal durability, warmth, and reduced condensation for worry free fishing all day.
Paired with full door stabilizing poles for extra strength and stability as well as 11 MM cobalt poles for added reinforcement at the corners, this ice house can brave anything Mother Nature throws at it!
The wide base allows for plenty of room to work with while maintaining the flexibility to travel anywhere you'd like. Dual coil zippered entry doors on the front make entering quick and easy while removable TPU windows provide interior ventilation.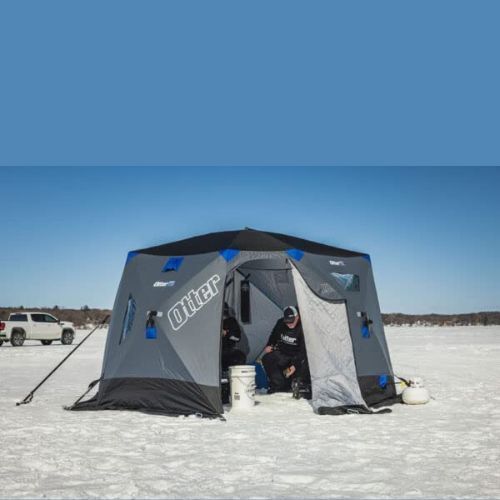 Inside you'll find a myriad of convenient storage pockets perfect for securely holding your gear including rod/tool holders for added convenience along with overhead cargo storage net. Plus with an exclusive Ice Lock Anchoring System, an anchor tie-down kit with HD nylon wind anchor straps, and adjustable quick release buckles, setting up shop isn't an issue either!
---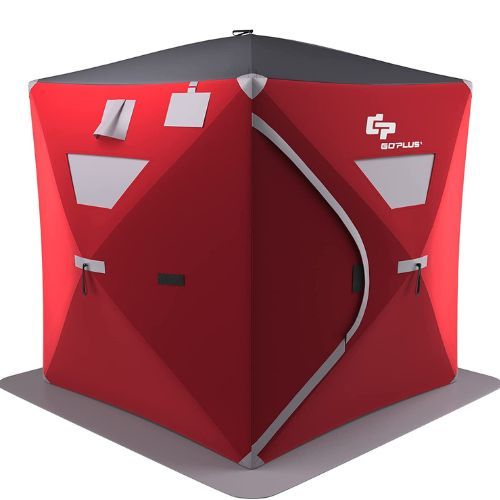 Goplus Ice Fishing Shelter Pop-up Portable Ice Fishing Tent
BUY ON AMAZON
What We Like About This Fishing Tent>>>
Are you eager to get out on the ice this season? Or do you often take your friends along on your fishing trips? If so, the Goplus 2-4 People Ice Fishing Shelter is the perfect shelter for you!
This pop-up tent is made with high-quality 300D Oxford fabric to keep the cold out and provide comfortable fishing. Moreover, this tent is waterproof and has frost resistance up to -30℉ so that you can enjoy outdoor activities without worrying about the weather!
On top of that, this lightweight shelter has a compact size when folded, making it easy to carry and store. With its capacity of 2-4 people, this shelter leaves you with plenty of space for a pleasant fishing experience with your companions.
You can even choose whether you would like to have ventilating or the hermetic environment according to your own preference; two layers of windows consisting of an Oxford and transparent PVC layer provides both options!
So don't miss out on all the fun - get yourself the Goplus 2-4 People Ice Fishing Shelter today and be ready for endless outdoor adventures!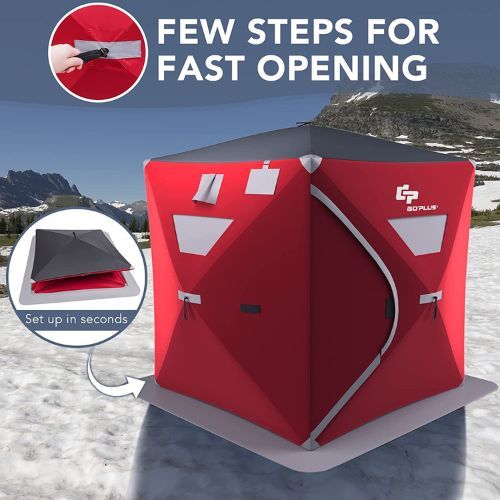 ---
Conclusion
Whether you're looking for a transportable tent like the Clam Nanook XL Thermal Hub Shelter or need something more permanent such as the Otter Outdoors XT Pro Lodge X-Over Ice Shelter, there are plenty of options available to suit your specific needs when it comes to ice fishing shelters.
With our helpful guide above outlining some of the top brands in ice fishing tents today, finding the perfect shelter should be easier than ever before! So what are you waiting for? Grab your gear and hit the lake—it's time to go ice fishing!
Have Fun and Enjoy Your Ice Fishing Experience!
Check Out Our Relevant Reads>>>