When it comes to creating shade and protection from the sun's harsh rays, both sun sail shades and window/door awnings offer practical and stylish solutions.
Whether you're looking to enhance your outdoor space or shield your windows and doors from direct sunlight, understanding the differences between these two options can help you make an informed decision. In this article, we will compare sun sail shades and window/door awnings, exploring their features, benefits, and considerations.
What are Sun Sail Shades:
Sun sail shades, also known as shade sails, are versatile and visually appealing shading structures that provide a wide range of benefits.
Here are some key aspects to consider:
Design and Installation
Sun sail shades feature a modern and sleek design that can enhance the aesthetic appeal of any outdoor space. They are available in various shapes, such as triangles, rectangles, and squares, offering flexibility in design and installation options.
Sun sails are typically attached to posts, walls, or other supporting structures using tensioning mechanisms or hardware kits. They can be easily installed and adjusted to provide shade in specific areas.
Customization and Flexibility
Sun sail shades come in a wide range of colors, sizes, and fabric options, allowing for customization based on personal preferences and the specific needs of your space. The fabric used in sun sail shades is typically durable, UV-resistant, and breathable, providing shade while allowing air circulation.
Versatility and Portability
One of the advantages of sun sail shades is their portability. They can be easily removed, repositioned, or even taken down and stored during certain seasons or when not in use. This versatility makes them suitable for both residential and commercial spaces.
Whether you go with Sun shade Sail or Awning depends entirely upon which features work best for what you're trying to achieve when shading your outdoor space. Both offers exceptional protection against UV rays while providing eye-catching aesthetics - so take some time deciding which is right for your lifestyle and enjoy many years of worry free sun protection!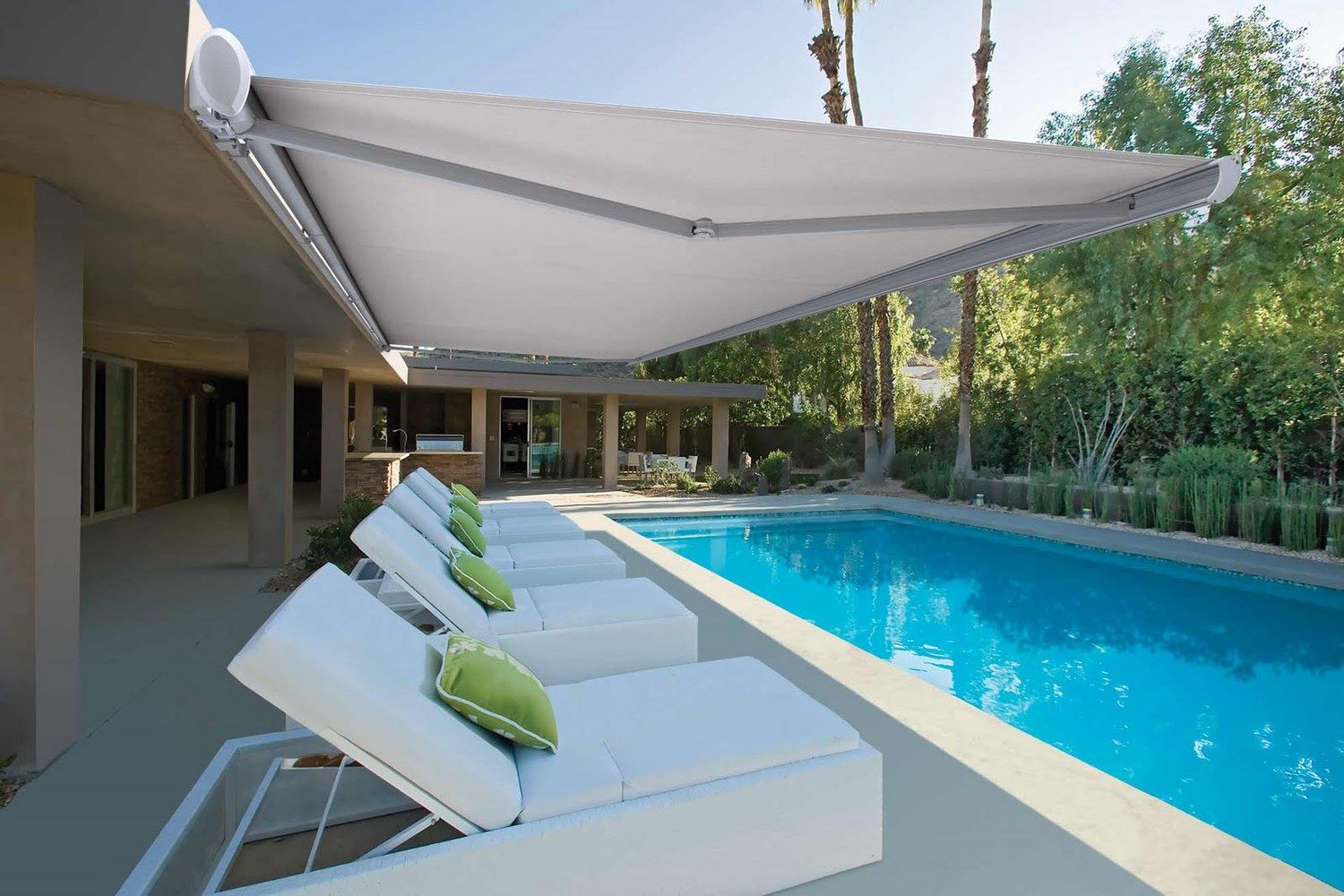 ---
Sun Shade Sails
Sun shade sails are great for larger-size applications as they can be constructed out of multiple pieces that join together in different ways to provide maximum coverage. They also tend to be less expensive than most awning options, making them an attractive choice if you need easy-to-install sun protection on a budget.
One downside to sun shade sails is that they are not as wind resistant as awnings, so you may need to take extra precautions in windy areas or locations where storms are common.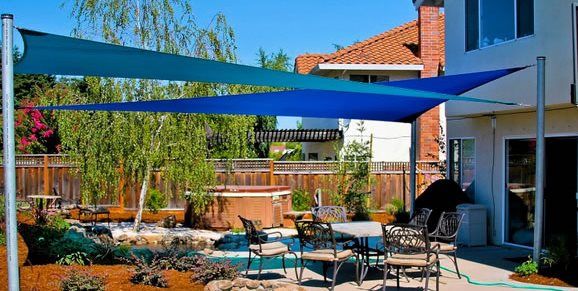 Top 5 Best Sun Shade Sails on Amazon: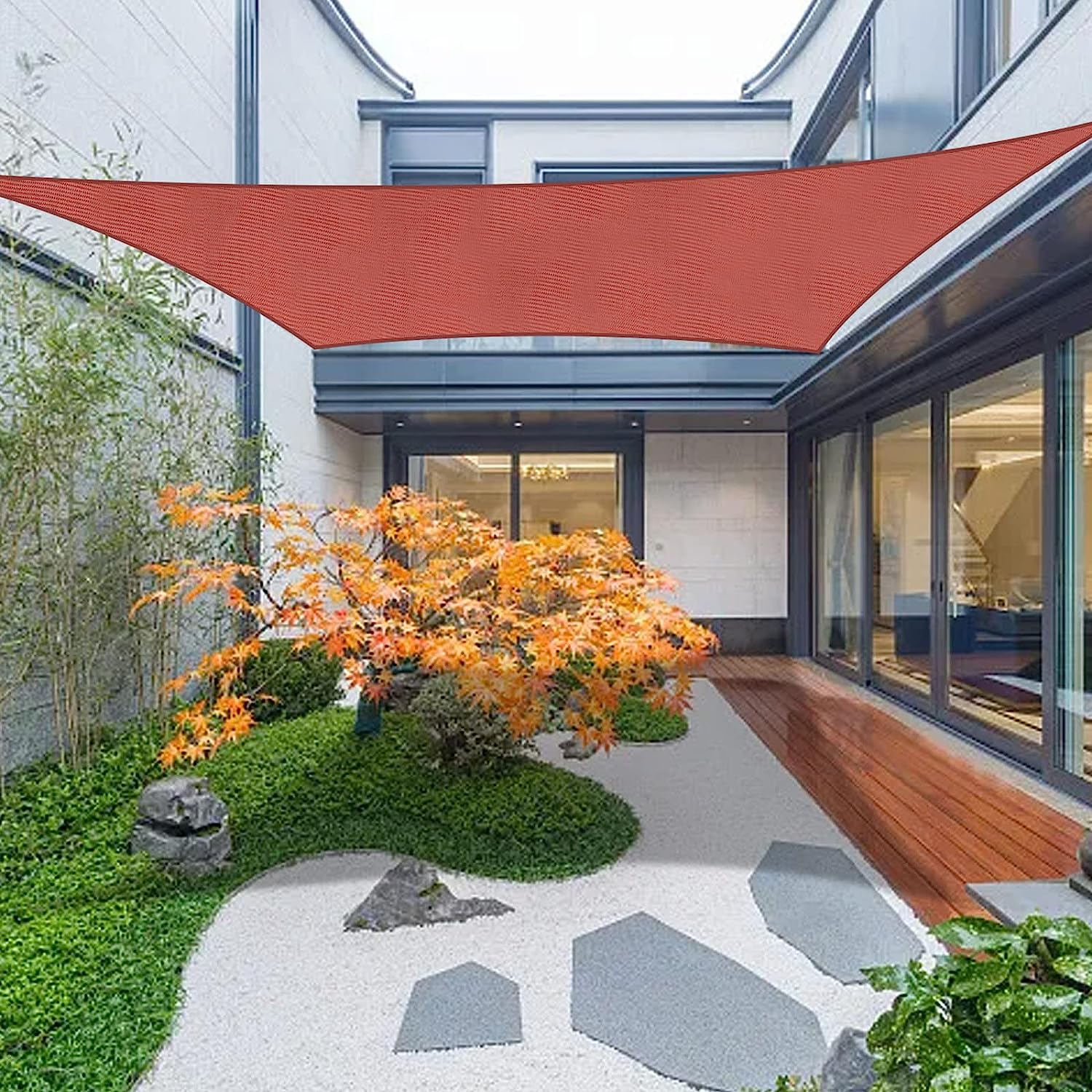 Premium Material - Shade sail is made from high density polyethylene material, UV treated block 95% harmful rays protect the direct sunlight while cool breezes and rain drops permeate the knitted mesh. Covered area temperature lower at least 10 degree.
The fabric is cut from a complete net, and finish with double strong stitching seam. 4 anti-rust D-rings on each corner and include 4 pieces ropes.
Occasions - Sun Sails are excellent used for garden, patios, yard, backyard, porch, pool, BBQ area, driveway, entryway, lawn, plant shading. It could be used individually for smaller areas or several may be combined to cover larger areas.
Special Curved Designed - Edges are made slightly curved based on precisely calculated radian, helps shade sail to stay tight and neat after installation, prevent shade sail from sagging in the middle for best appearance and performance.
Build to last - This rectangle sail shade is a made to last for 5 years under regular weather.
---
2. Sun Shade Sail Square 16'x16' Sail Shade Canopy for Patio Garden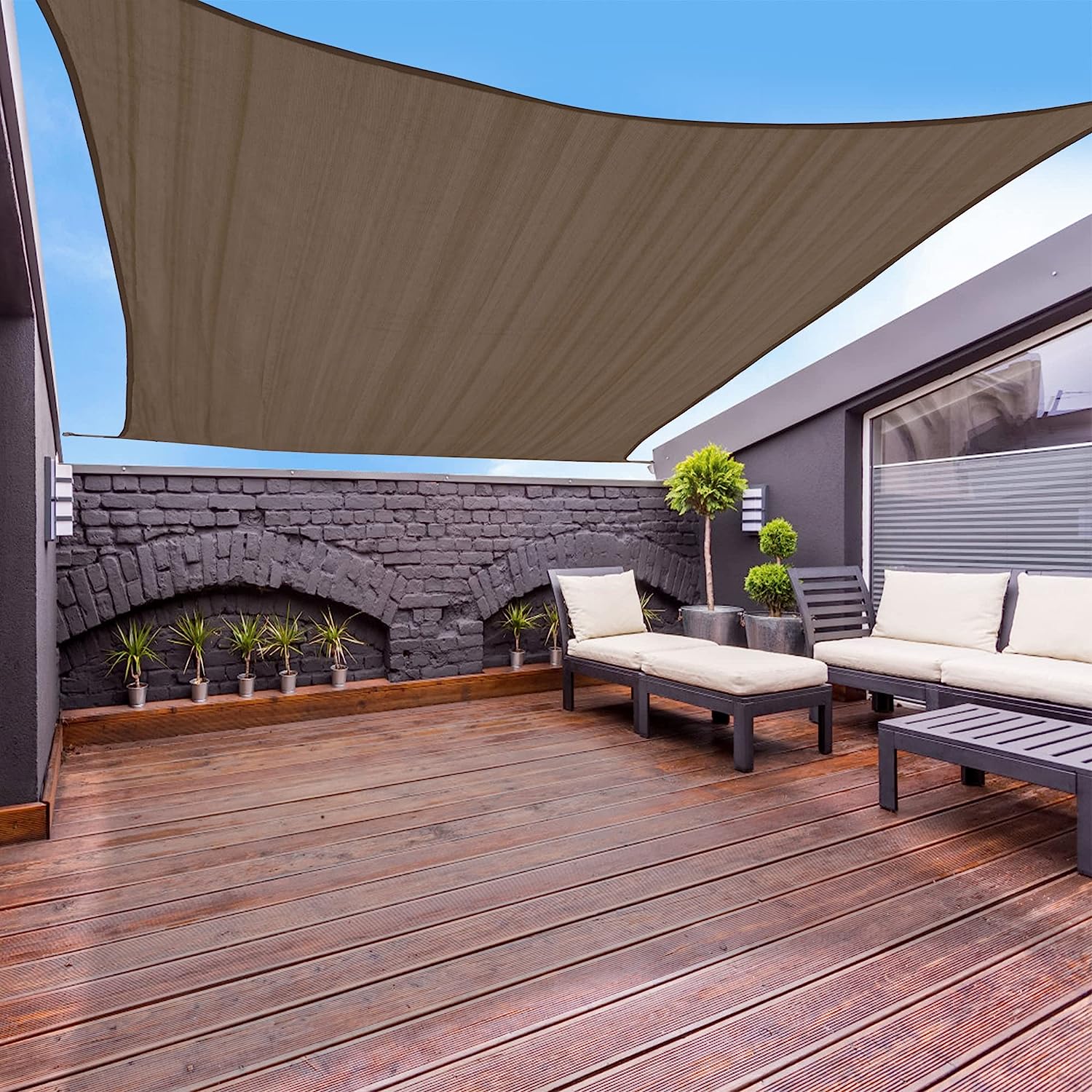 High Quality Guarantee - Made of 100% 185GSM HDPE (high-density polyethylene), Improved stitched seam and knitting technology, more durable
Breathable - The breathable fabric allows cool breezes to pass through to makes the shaded area cooler and more comfortable
Ease to Install - Stainless steel D-ring on each edge and 4 durable ropes are strongly guarantee fastness of installation. Leave 1.5-2 foot space for the hardware kit between D ring and fixing points, all edges are finished slightly curved so it can be stretched tightly
Eye Catching - vivid colors are perfect for your children playground covers, lawn, pond, deck, driveway, patio, carport, pergola, backyards, courtyards, swimming pool, or other outdoor area.
---
3. SUNNY GUARD Sun Shade Sail 12'x16' Rectangle Terra UV Block Sunshade for Backyard Yard Deck Patio Garden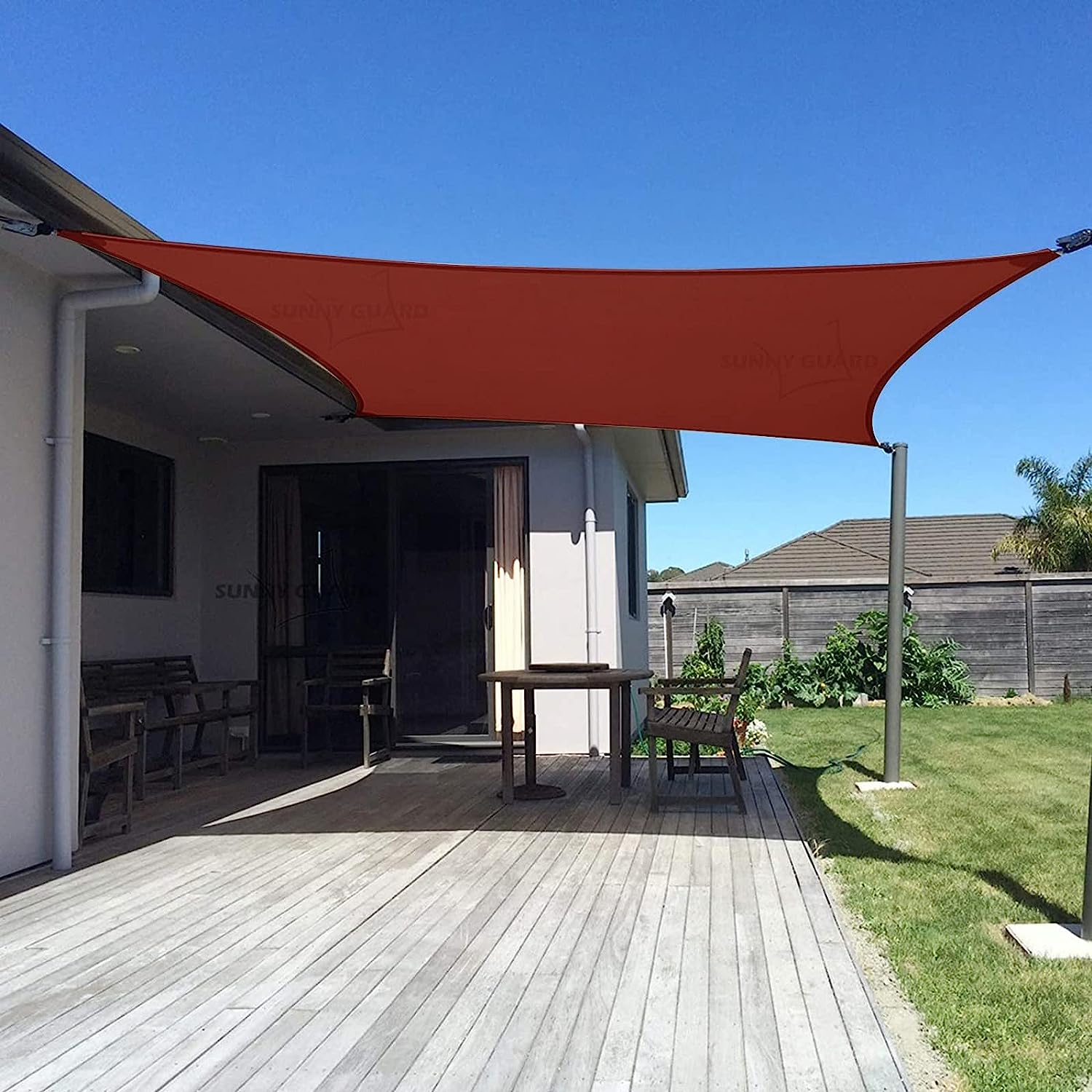 Made of 95% UV-resistant high-density 100% brand new HDPE (high density polyethylene) material and rejecting recycled materials, more healthy and safety.
Eliminate the use of splicing fabrics.  There is no splicing gap in the middle, which is more durable, more beautiful, and better sunshade performance. It also offers 3-4 pieces of thickened rope as gifts.
It is widely used in courtyards, lawns, gardens, terraces, swimming pools, ponds, decks, courtyards, backyards, courtyards, parks, garages, awnings, sandboxes, driveways or other outdoor areas. It can provide effective sunshade to keep your yard private, safe, cool and beautiful at all times.
Measure and clean the area where the shade sail is to be installed. Leave an allowance of 1.5-2ft between the fixing point and the shade sail to fit hardware's/ hooks or ropes. Clean with mild detergent or water, do not scrub it with a stiff brush, do not put it in your washing machine, clothes drier.
---
4. ShadeMart 10' x 20' Beige Sun Shade Sail Rectangle Canopy Fabric Cloth Screen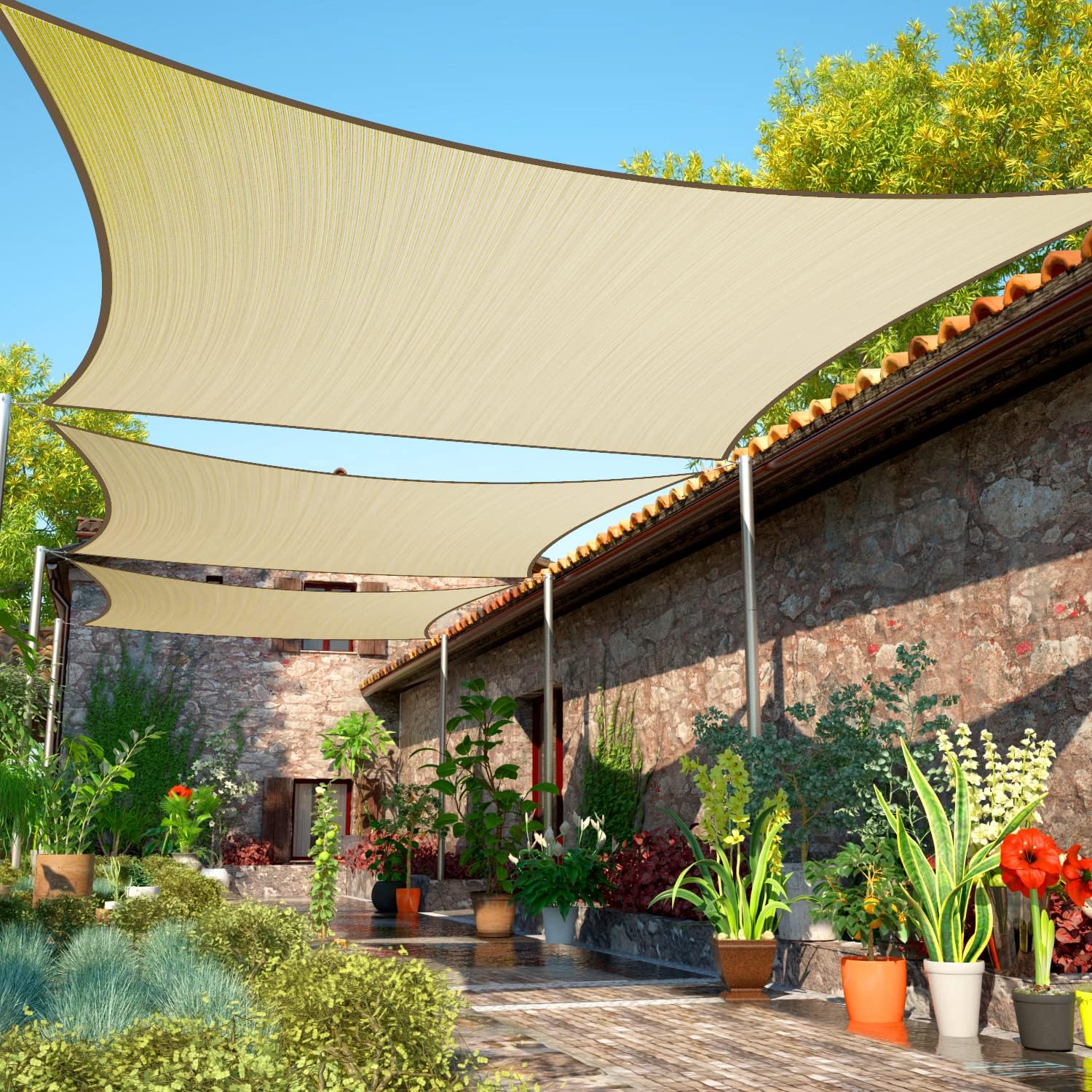 Permeable woven fabric, allows water and air to go through, no matter if it is a rainy or windy day.
Blocks up to 95% harmful UV and sunlight, significantly reduces temperature by at least 10 - 15 degrees, saving you on A/C costs.
Fabric is made of woven HDPE ( High Density Polyethylene), corner D rings are made of stainless steel, which are attached to the heavy duty white webbing surrounding the perimeter.
Shade sails don't just provide shade, they are also a versatile decorative piece that can integrate with your existing design and elevate your outdoor space.
With the proper hardware kits, sun shade sails can be attached to almost any structure such as poles, trees, wall, roof, etc. Great for the patio, carport, pergola, tent, pool, yard, even window.
---
5. Artpuch 10' x 13' Shade Sails 185GSM Rectangle Shade Sail UV Block for Patio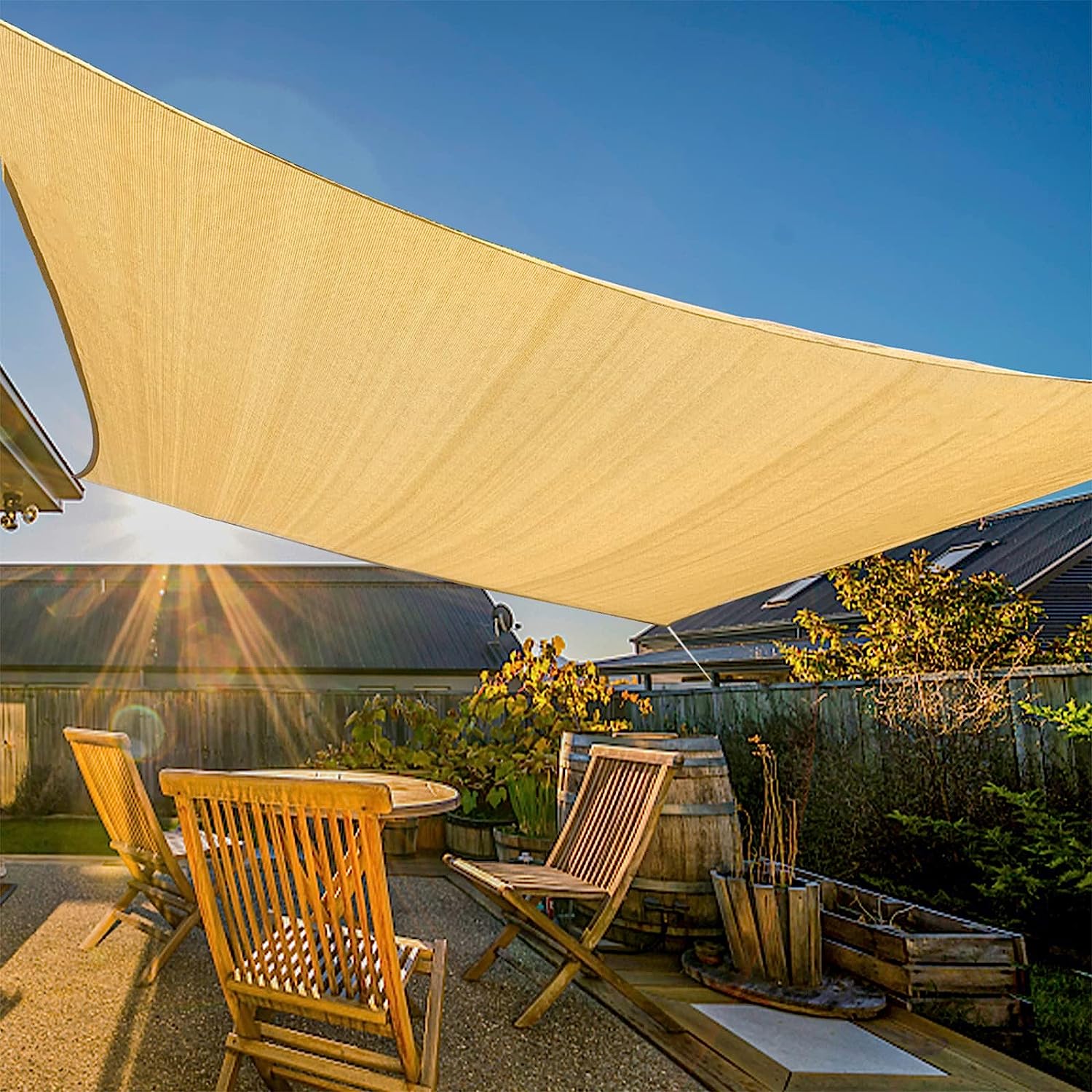 The sun shade sail is made of 185 gsm UV protected high density polyethylene (100%HDPE) shade fabric with strong stitched seam. With Durable Stainless Steel D-rings in each corner make the sun sails easily attached to any sturdy connection point to provide sun protection and personal design where you need it.
Protects from harmful UV rays and direct sunlight exposure. Blocks harmful rays of the sun without trapping hot air beneath. Fabric has high density breathable blockage, while effectively reducing heat, blocking up to 95% of UV rays, and protecting skin.
Allows cooling breezes and light to pass through for better airy and comfortable space, allows rains to pass through, so there's no pooling water( So it is not waterproof)
Measurement is taken from D ring to D ring, leave 1.5 - 2 foot space for the hardware kit between shade sail D ring and mounting points, all edges are finished slightly curved so it can be stretched tightly.
Widely used for a patio, lawn, garden, pool, bbq areas, pond, deck, kailyard, courtyard, backyard, dooryard, park, carport, pergola, sandbox, driveway or other outdoor occasions.
---
Awnings
Awnings offer more wind resistance when compared to sun shade sails, plus greater versatility when it comes to design choices.
Each awning can be custom made for your exact needs, allowing you to tailor everything from color and material selection down to usability features like remote control operation or automated sensors that can detect when the sun is out and automatically open or close the awning accordingly.
However, because of all this customization available, awnings tend to be more expensive than sun shade sails and may require professional installation depending on the complexity of your chosen design.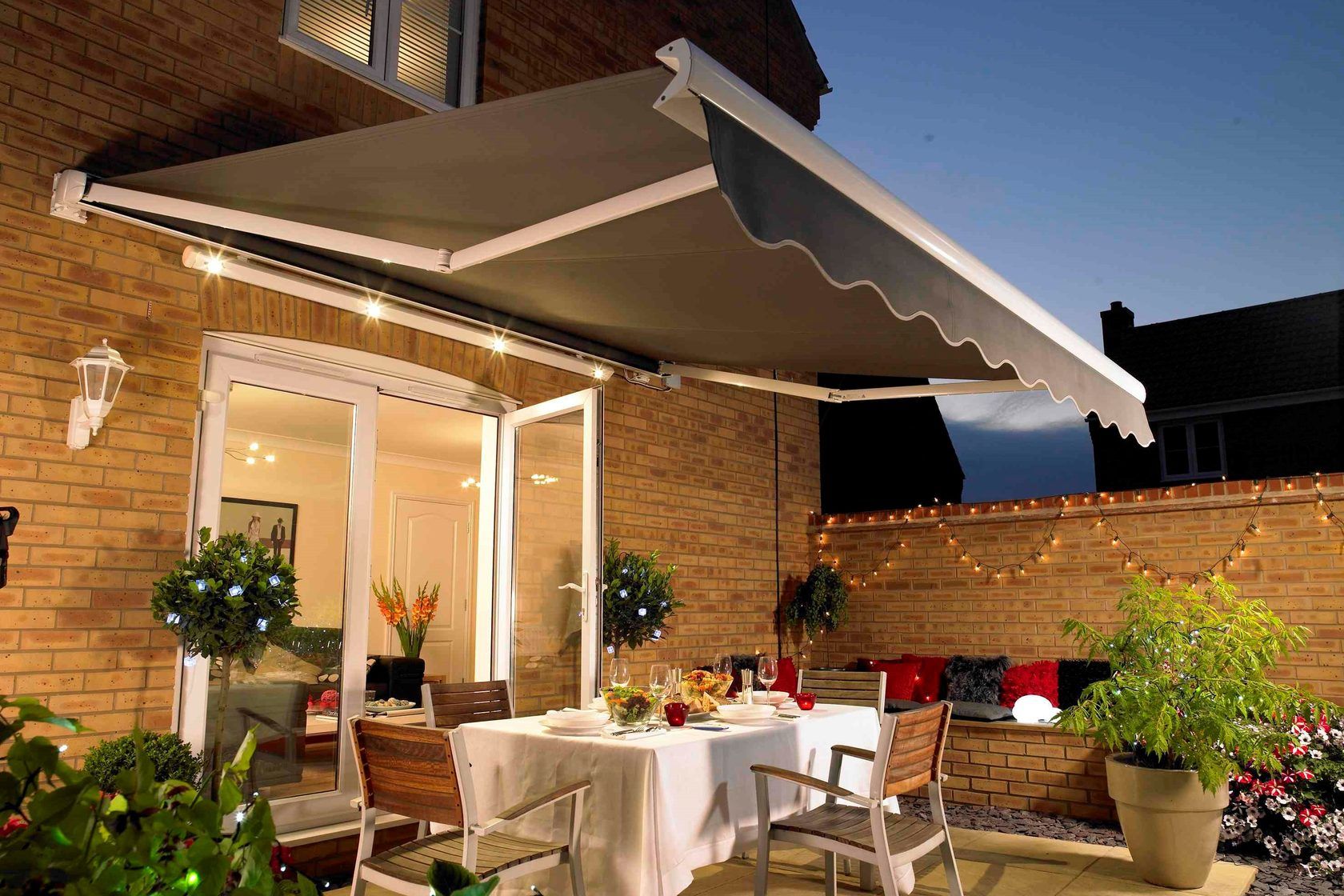 Here's what you need to know about them:
Functionality and Protection
Window and door awnings are designed specifically to shield windows and doors from direct sunlight, reducing heat gain and glare inside the building. They can effectively block UV rays, helping to protect interior furnishings and reducing energy consumption by keeping the space cooler.
Durability and Weather Resistance
Awnings are constructed using materials such as aluminum, fabric, or polycarbonate, depending on the design and desired level of durability. High-quality awnings are weather-resistant, and capable of withstanding wind, rain, and other outdoor elements.
Fixed Structure
Unlike sun sail shades, window and door awnings are typically fixed in place and cannot be easily adjusted or moved. Their installation involves attaching the awning to the exterior wall above the windows or doors using brackets or frames.
---
Top 5 Best Awnings for Your Backyard or Shop on Amazon: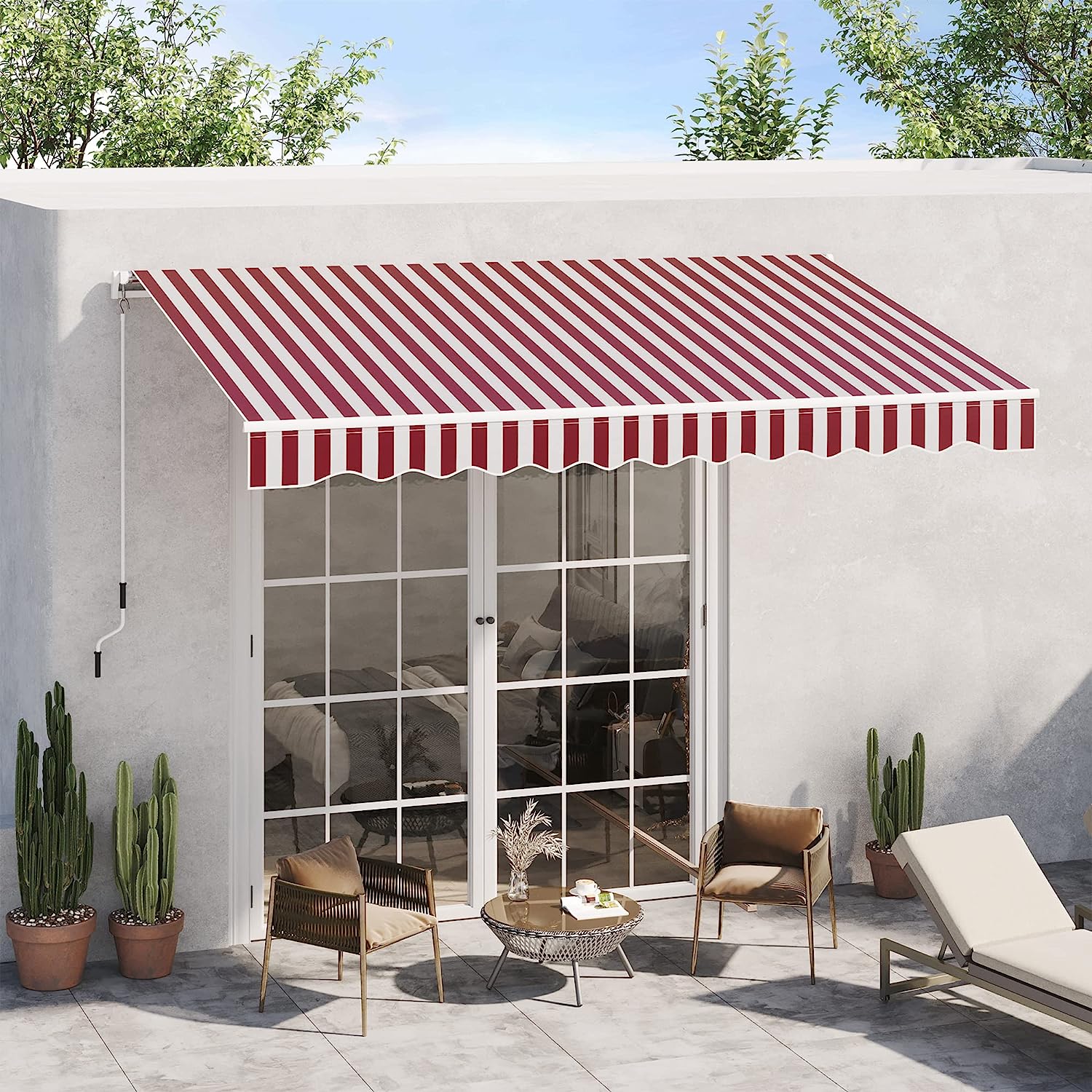 These patio awnings can be attached to a variety of surfaces such as siding and stucco. All hardware included for attachment to a concrete surface. Mounting screws for wood-framed homes are included.
The retractable sun shade features a hand crank that opens the awning smoothly and quietly. Easily adjustable to meet your sun or shade needs.
Protect your home from the sun's damaging UV rays with the deck awning and actually reduce the heat inside your home.
This retractable awning is perfect for placement above windows, doors or both, which is recommended to be installed 8.2' - 11.5' above the ground. Color coordinate awnings for a clean and consistent look.
Aluminum and steel frame make this porch awning superior in strength. The thick polyester fabrics with PU coating make the awning durable for years to come.
---
2. Manual Retractable Awning AECOJOY 10'×8' Sun Shade Patio Awning Cover Outdoor Patio Canopy Sunsetter Deck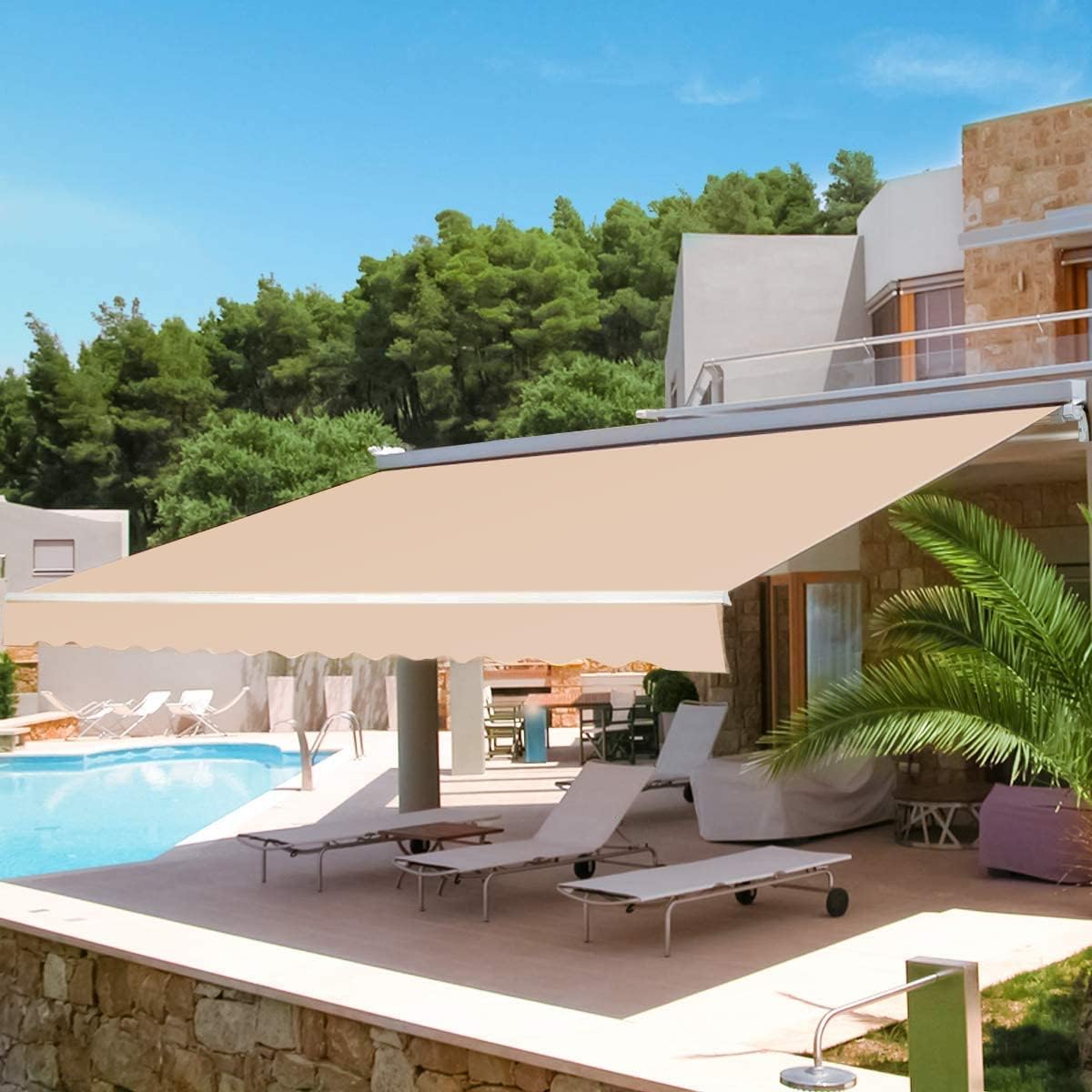 The patio awning is ideal for shading of windows, in balcony, courtyard, patio, cafes and restaurants with back porches, providing protection from UV rays and make the space looks elegant.
The retractable awning is made of 280g polyester and PU coating fabric, which is water resistant, anti ultraviolet, resistant to sun fading, also has 30UV+ solar protection."
Build with rust-resistant, powder-coated aluminum frame, lightweight design but solid structure can resist a certain scale wind (under level 5), retractable mounting brackets have double strand steel rope, more durable.
The patio awnings with simply open and close operation manually by a hand crank, swift it to raise or low front pitch bar.
The patio retractable canopy can be installed on a concrete, solid brick wall and even on a wooden wall.
---
3. Patio Awning Retractable Diensweek Fully Assembled Motorized Electric Commercial Uses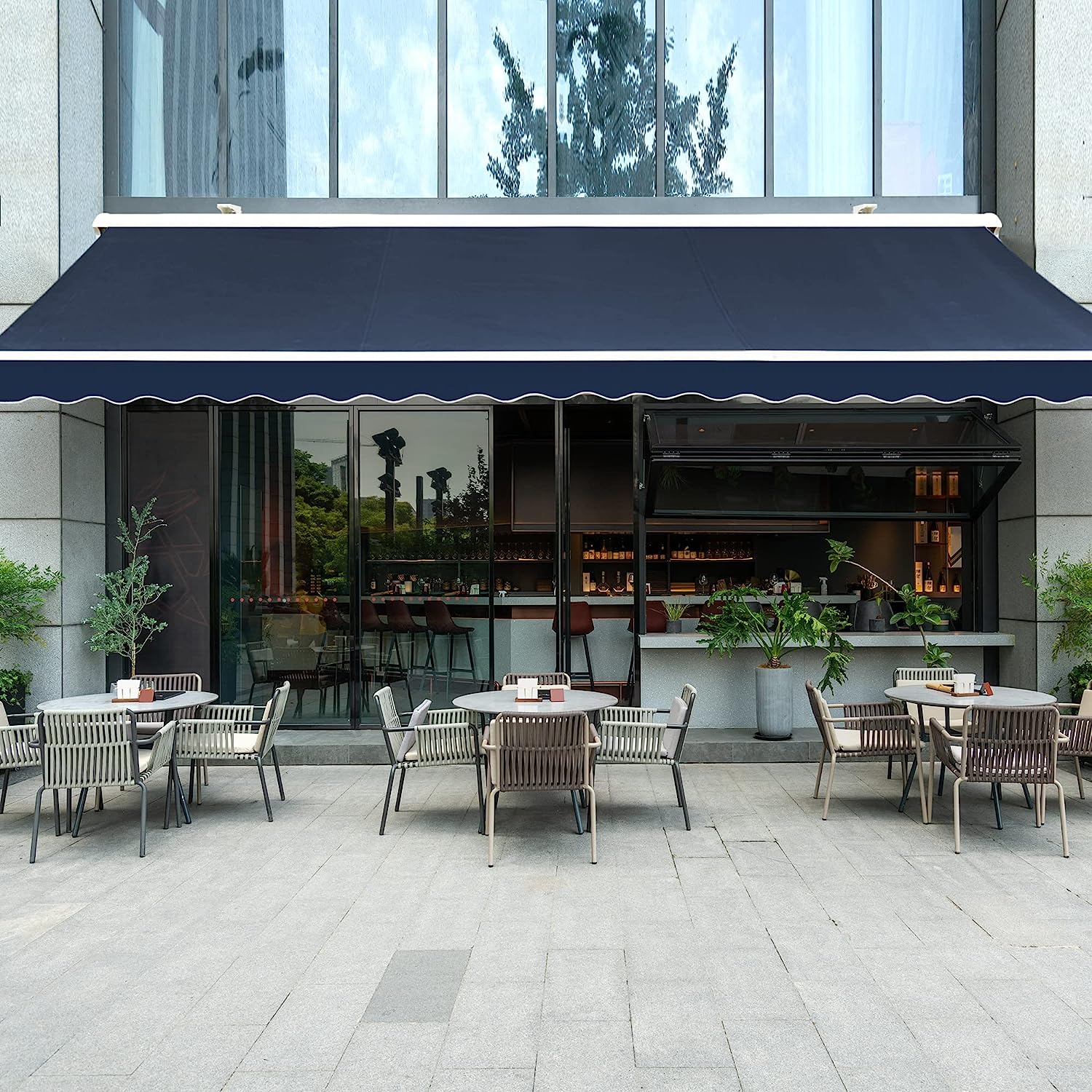 15feet long 10feet width awning backed with a 1 years warranty and certified CE, GS, and RoHS, this awning is built and tested to be simple to use and durable to last. Residential and commercial use. Most accurate fully extend product dimension: 14.6'x9.84'.
Build with an entire corrosion resistant 3430 grade steel frame, and arm - It keeps this electric motorized mechanism safe, easy to adjust, light and robust again structure stress with a wind resident Beauport scale 5.
Awning, remote controller, mounting bracket, instruction manual and additional mounting hardware - electricity required, open/close by remote controller.
Dope-dyed acrylic fabric +PU coating fabric is water resistant, resistant to sun fading, has 80UV+ solar protection and also tested for a wind resistance Beauport scale 5.
Total height needed 3.1m that include 0.6m for the drop. Concrete wall or massive brickwork wall recommended. Please ask a professional for different types of walls
---
4. Retractable Patio Awning Sun Shade Cover MUPATER 12'x10'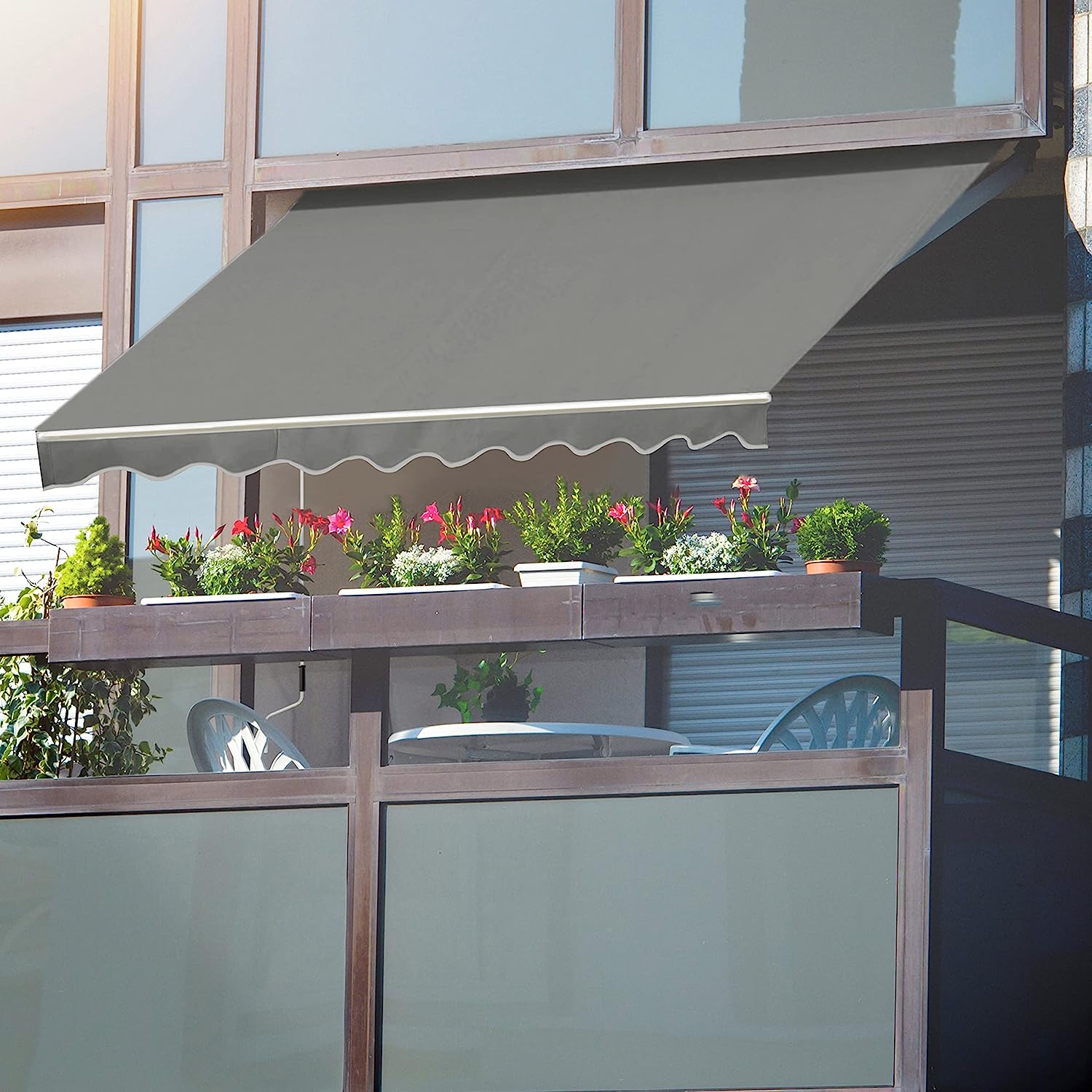 Feel the flexibility of sun shading with this patio awning for its featured upgrade on slope adjustment! You can adjust the slope of the awning up and down up from 45° to 85° and retract flexibly by using the manual crank based on your customized projection needs.
With powder-coated aluminum alloy frame and rust-resistant steel supporting tubes, this patio retractable awning is weatherproof and supposed to obtain the wind resistance up to 30MPH.
The strong polyester fabric is UV-resistant, waterproof and color-fading-resistant that provides you better shading experience in summer. This awning is not suggested to stay fully extended in extreme weather for safety concern.
No worry about the assembly of this awning because we will offer you detailed instruction as well as assembly video to make it easier for you. All hardware for wall mounting is included so that you won't need to make the purchase separately.
This outdoor retractable awning can be mounted to vertical walls such as stucco, wood siding and vinyl. Mounting to ceiling or RVs is not suggested and extra hardware may be required.
Love this patio retractable awning for its short valance design with decorative edging! This awning could be a perfect solution to your shading needs in summer and can be used in many outdoor scenarios such as deck, garden, front porch and balcony, and even commercial areas such as restaurants, shops and cafes.
---
5. Motorized Patio Retractable Awning ADVANING 14'x10'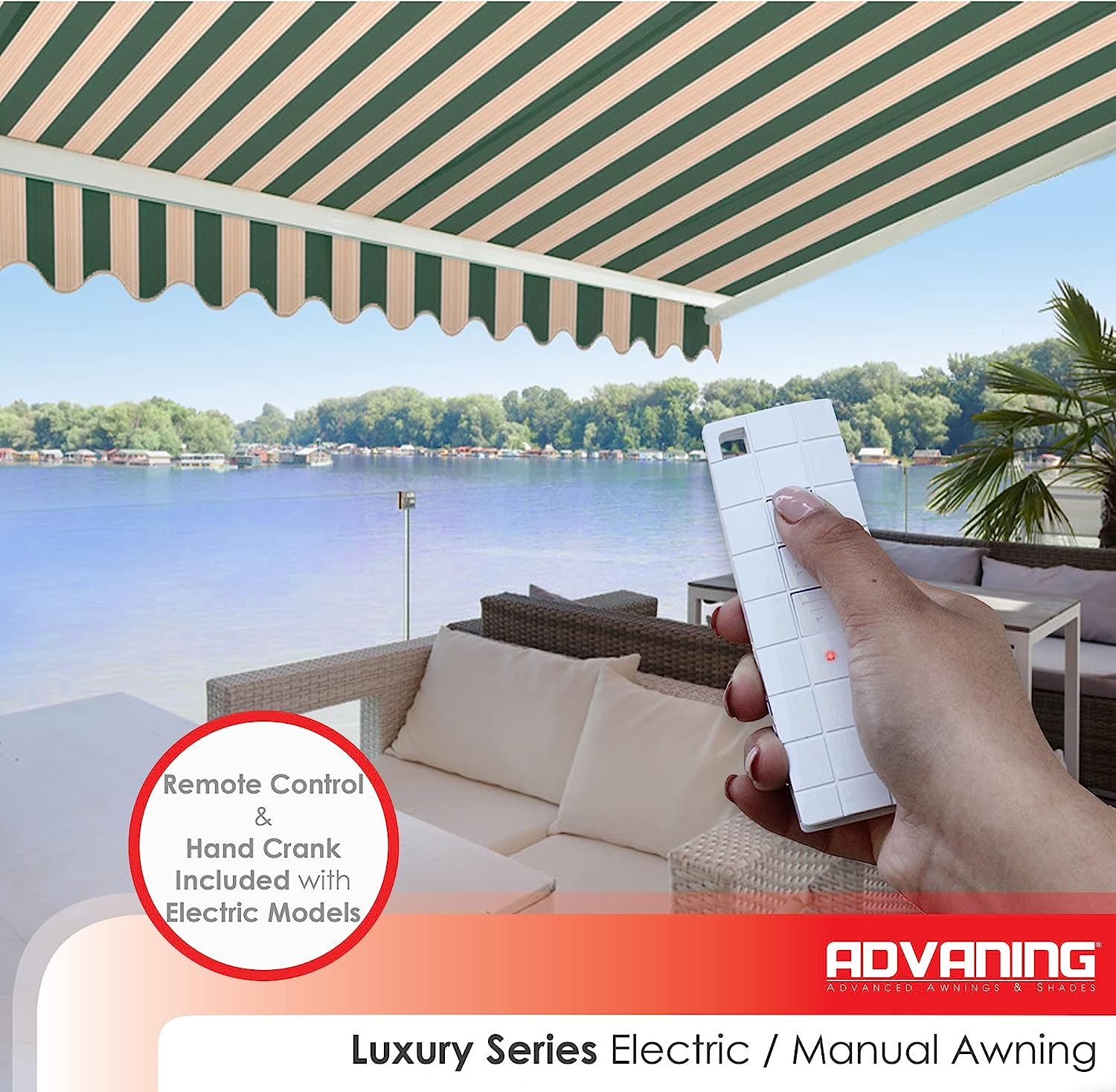 Advancing's Product Selection Features Top-Tier Design, Functionality, and Complete Hardware Kit. Our Retractable Awnings are Shipped Fully Assembled and Ready for Installation. Luxury Series Collection features a 100% Solution Dyed European Fabric with UV80+ Sun Protection.
Construction Grade Hardware and Top Tier Components. Advaning Retractable Awnings are the Perfect Choice for Your Outdoor Spaces and Business.
The 2-Loop System Includes Two Easy Pitch Tilt Loops. Using the Two Easy Pitch Loops, the Awning's Pitch/Tilt Angle can be Adjusted to Block the Sun at Different Times of the Day for a fully Customizable Shade Experience. Electric/Manual Awnings will also Include a 3rd Loop to Crank the Awning Open or Close if Desired or in Case of a Power Outage.
Built with an Industry Surpassing 40x40 mm Powder Coat Steel Frame Torsion Bar & 70mm Diameter Aluminum Roller Tube for a Strong and Safe Structure. All Stainless Steel Hardware with Excellent Corrosion Resistance, Longevity, and Strength.
---
Considerations for Choosing Purpose and Usage
Consider whether you primarily need shade for an outdoor space or protection for windows and doors. Sun sail shades are more versatile and portable, while window and door awnings are specifically designed for sun protection.
Aesthetic Appeal
Evaluate the visual impact and design compatibility of each option with your overall space. Sun sail shades offer a contemporary and customizable appearance, while awnings can provide a more traditional and permanent look.
Space and Installation
Assess the available area and the feasibility of installation. Sun sail shades require supporting structures or posts, while awnings need sufficient space above windows or doors for mounting.
Maintenance
Consider the maintenance requirements of each option. Sun sail shades may need occasional cleaning and re-tensioning, while awnings may require periodic inspection and cleaning to ensure they remain in good condition.
Conclusion
When it comes down to choosing between sun shade sails and awnings for your outdoor shading solution, there is no one size fits all answer it really depends on what you need from your shading solution and what type of budget you have available. Sun shade sails are perfect for larger-size applications and provide great coverage while keeping costs low.
Awnings offer greater wind resistance combined with versatile design choices but may require more investment upfront due to customization options and potential installation costs.
Stay Cool on the Hot Summer Days!
Check Out Our Relevant Reads: