When it comes to summertime, there's nothing better than soaking up the sun in your own backyard. Whether you have a patio, pool area or a garden, sprucing up your outdoor space with the best outdoor furniture can be an easy and affordable way to make sure you enjoy your outdoor space this summer. Before you start shopping for outdoor furniture, there are a few things to keep in mind.
Types of Outdoor Furniture
There are many types of outdoor furniture available these days. It's important to pick the right type of furniture that will fit into both your design style and budget. Some popular types of outdoor furniture include plastic chairs and tables, metal benches and chairs, wicker chairs and tables, wooden Adirondack chairs and more.
Before you decide on what type of furniture works best for your space, consider factors such as durability, comfort level and how much maintenance is needed for each type of material.
Style & Design Tips
It's also important to think about the overall look that you want for your backyard patio or pool area. If you're looking for something stylish yet functional then consider purchasing items such as rattan armchairs or teak dining sets.
For something modern or industrial-style look for items such as aluminum bar stools or steel lounge chairs with plush cushions for ultimate comfort. You may even want to consider adding some colorful accessories such as throw pillows or a fun patterned rug to give your space some extra coziness!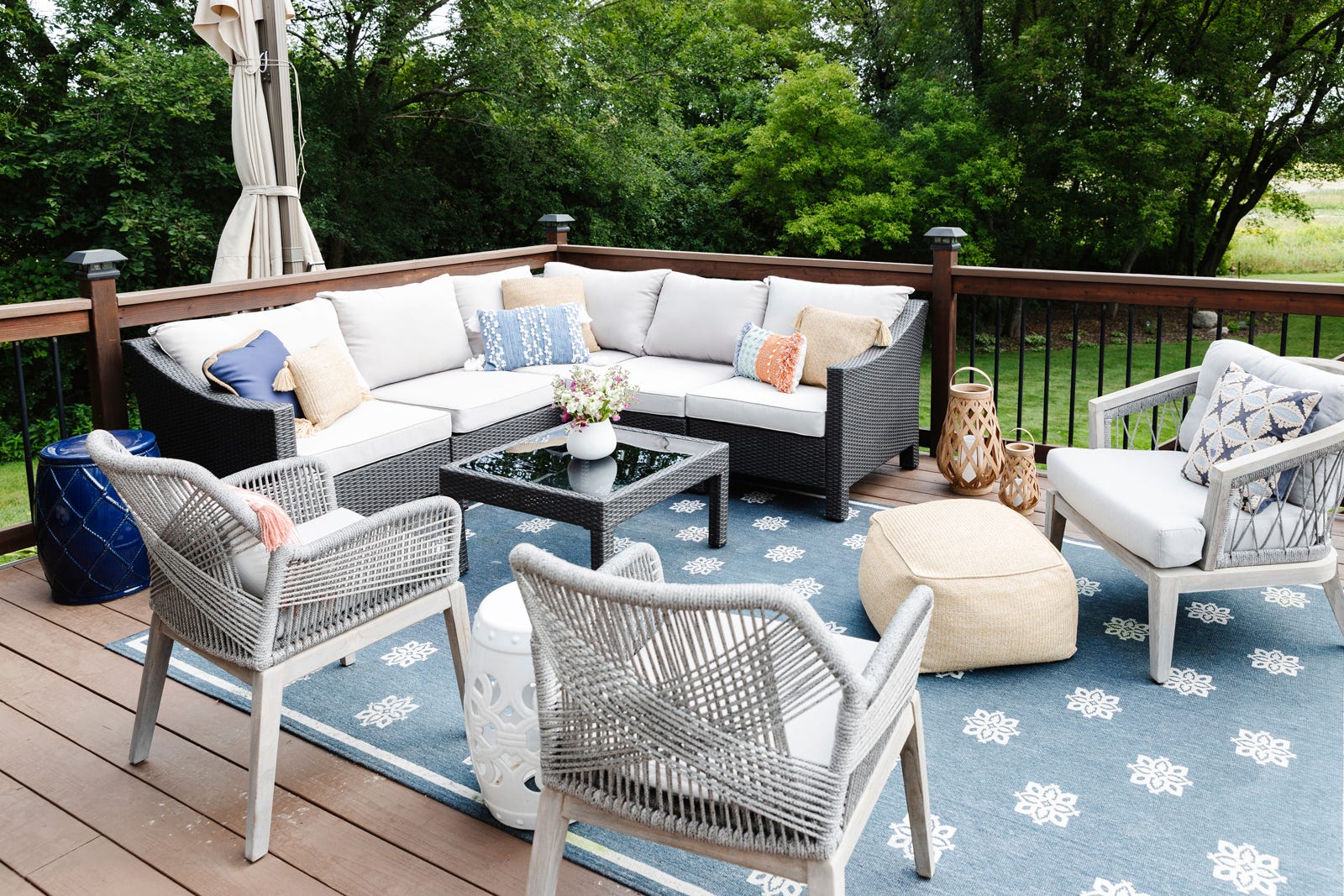 Maintenance & Care Tips
Finally, when it comes to caring for your new outdoor furniture it's important to remember that different types of materials require different levels of care and maintenance.
For example, wood needs more upkeep than plastic whereas wicker needs more protection from weather elements than metal does. To keep your outdoor pieces looking like new year after year make sure you follow the manufacturer's instructions on cleaning and protection from UV rays when applicable. A little bit of extra effort now can help your furniture last longer!
Be Aware of the Materials Used
Depending on your needs and budget, different materials will work better for different people. For example, if you're looking for lightweight pieces that won't require a lot of maintenance, aluminum or plastic may be the way to go.
If you want something that looks more natural and is more durable, wicker or teak may be the way to go. Do some research so you can find out what works best for your lifestyle and aesthetic preferences.
How to Choose Outdoor Furniture
Choose weather-resistant pieces. Make sure whatever material you choose is resistant to rusting and fading from sun exposure and water damage due to rain or snowfall during winter months. Look into fabrics, which offer superior quality against sunlight fading as well as moisture protection even after many years of use outdoors!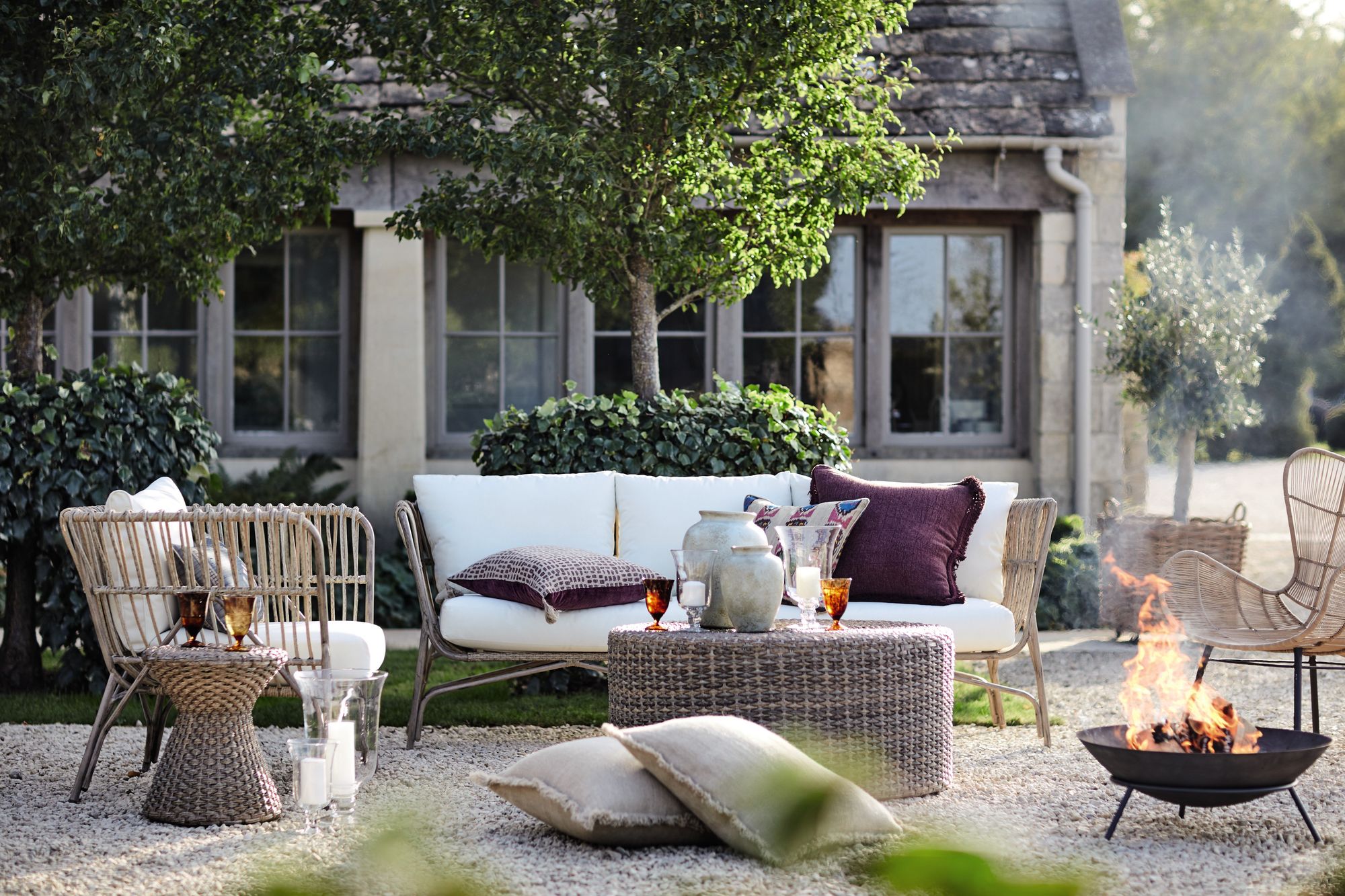 Measure Twice Before Buying
When purchasing furniture online it can often be difficult to get an accurate representation of how certain pieces will look in person take extra care when measuring because bulky items like sectionals may come too large while smaller items like accent chairs may turn up much smaller than expected!
Having exact measurements on hand gives you a better idea of what kind of space each piece needs so that everything fits properly once it arrives at your home! Make sure all cushions fit comfortably on seating before ordering them specifically for an outdoor set up; this includes checking their shape (rectangular/square) versus round/oval backings that might not fit perfectly with other pieces in the set!
Consider Adding Outdoor Accessories
Don't forget about those special finishing touches: think about adding umbrellas, area rugs & decorative pillows to create cozy atmospheres outside just like inside! For example, if there is no roof overhang nearby providing shading from direct sunlight then consider investing in an umbrella stand with durable fabric choices which won't fade after long days under bright ultraviolet rays (UV).
Add some color with area rugs & cushion covers- they help ground any lounge space while also protecting against pesky insects when needed especially useful during summer BBQs!.
You could also implement potted plants around tables or pathways near seating areas creating visual continuity throughout entire garden areas making them look richer in texture & depth- particularly beneficial when entertaining guests outdoors during holidays/special occasions... Get creative!
By keeping these tips in mind before heading out shopping , hopefully now its easier than ever to find perfect outdoor furniture sets that cater specifically towards individual preferences while being both stylishly coordinated but still genuinely practical too!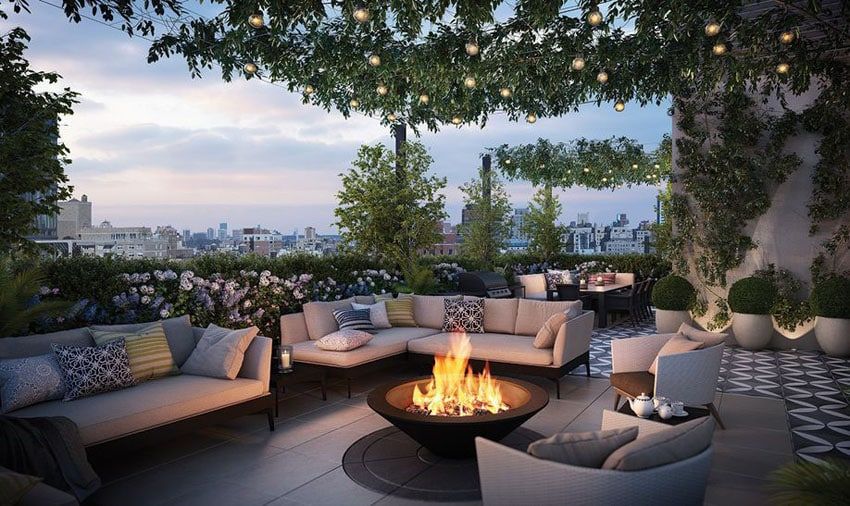 ---
Top 5 Best Outdoor Furniture on Amazon: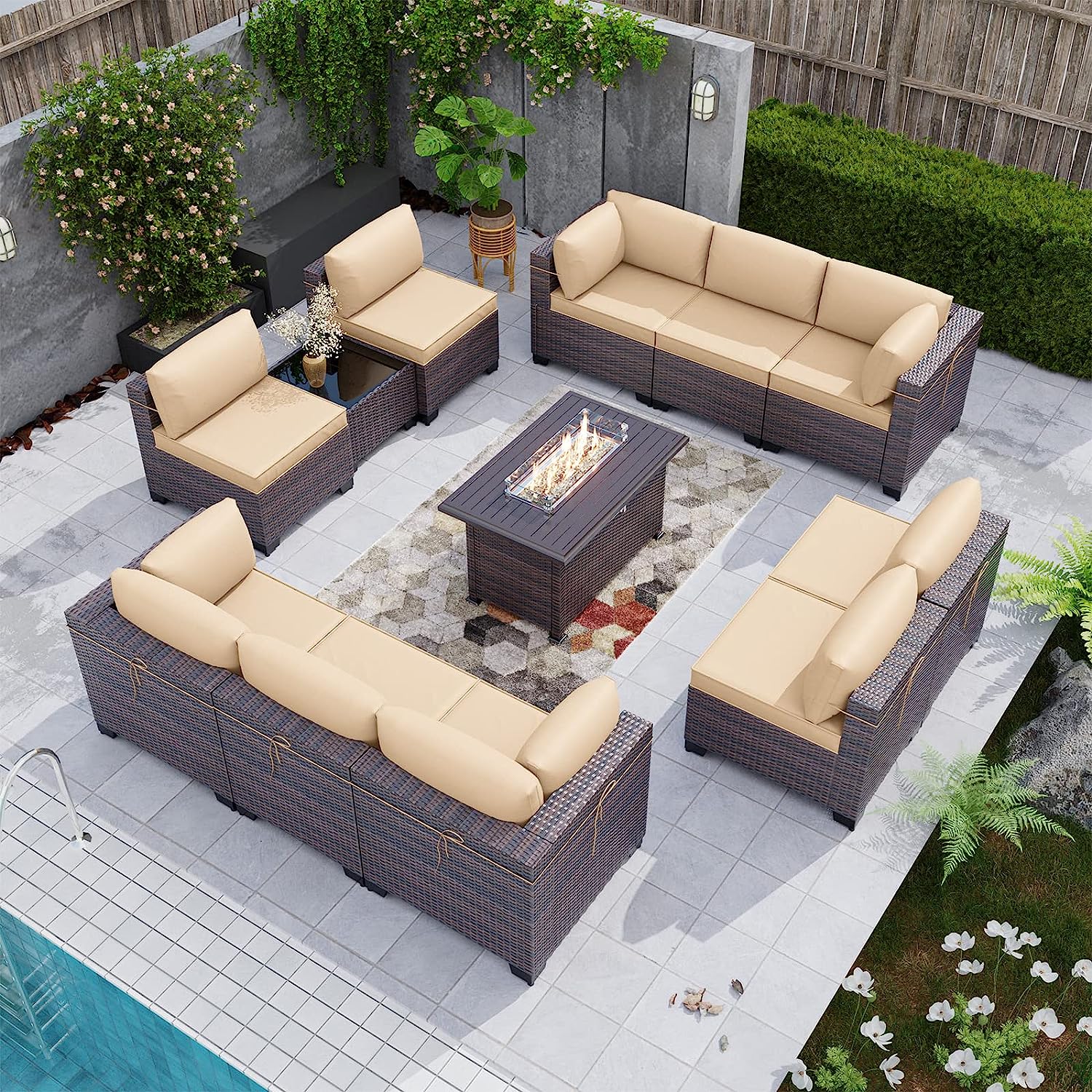 Why We Selected This Outdoor PE Wicker Rattan Furniture
DURABLE AND STURDY MATERIAL: Kullavik's patio conversation set features a new brown wicker made of high-density polyethylene with a thickened stainless steel frame, making it more stylish, more durable and suitable for all weather.
LUXURY COMBINATION: Kullavik patio conversation set includes 4 corner sofas ,6 middle sofas with cushions , a tempered glass table, a set of cushions, a fire pit table with glass wind guard, fire glass, slide out tank holder, lid, table cover.
You can easily put them together according to the instructions with all included necessary tools and hardware.
CSA APPROVED AND SAFETY: Kullavik's gas fire pit table has passed the most dynamic safety certification in North America. It not only has an upgraded version of dual pipe burner to make combustion more uniform, but also has the highest safety standard of 55000 BTU stainless steel burner rated power to provide the most sufficient flame.


2. PE Rattan Wicker Chair Conversation Set Greesum 3 Pieces Patio Furniture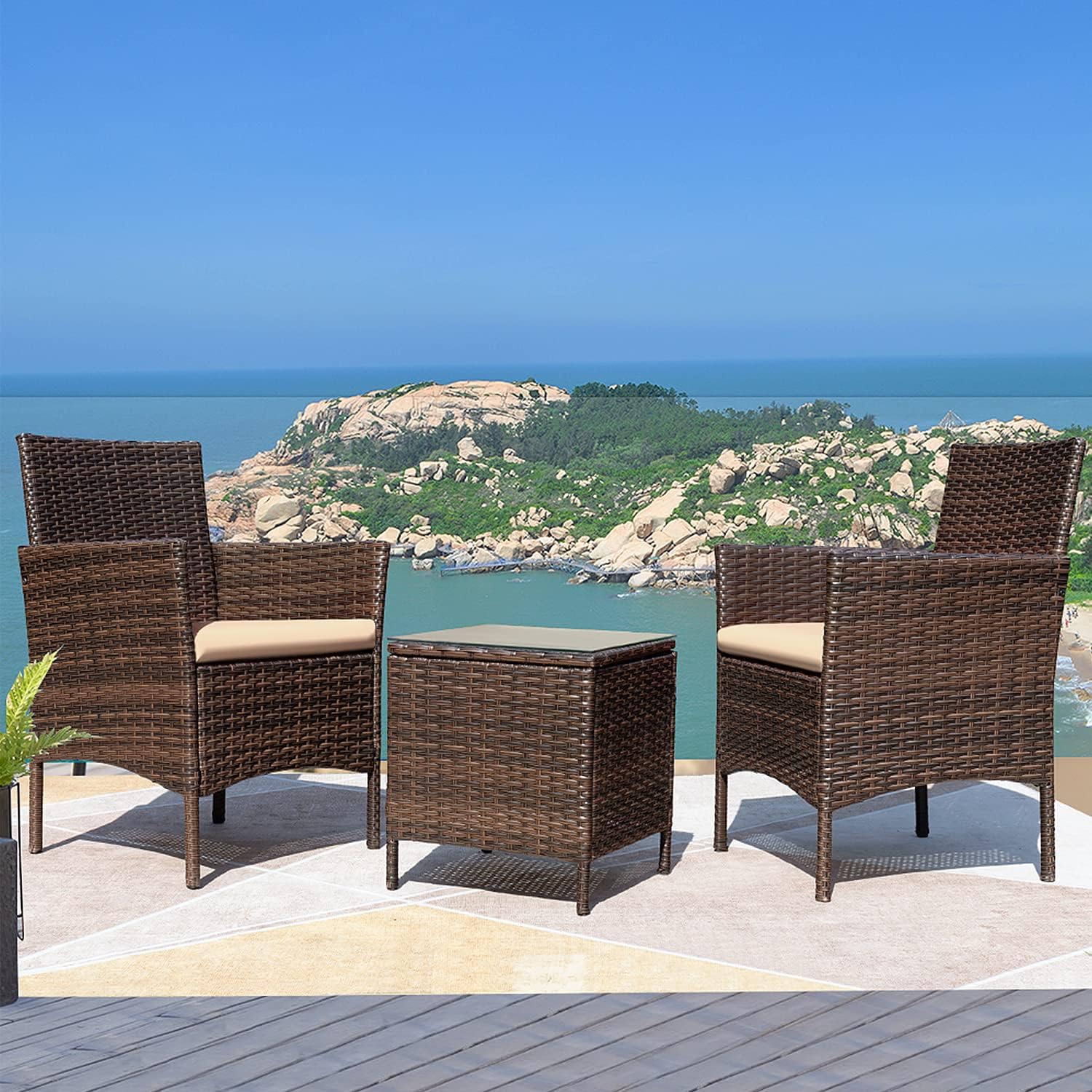 Best Rated on Amazon for Small Outdoor Furniture
Comfortable & Convenient: The sturdy rattan equipped with the soft cushion can offer you a perfect using experience. And the rattan is light, so the set whole weight is also light, you can move it to any suitable place easily.
Friendly Design: Soft cushion, spacious seat, strong chair frame and light material construct an user friendly design. It's fashion due to its look and light material-Rattan. It's comfortable due to its soft cushion and suitable backrest.
Widely used: The item includes 2 single seats and a glass table, you can use it to have a chat with you family in garden or put it in porch. ALL in all, it is suitable for you to decorate the yard and not takes up a lot of space.
Sturdy & Durable: The chair set adopts high quality rattan wicker which can face all weather because the rattan had been treated with anti rust and anti-corrosion, these reasons ensure its longer service life.
3. Modular Outdoor Sectional Wicker Patio Furniture Conversation Sofa Set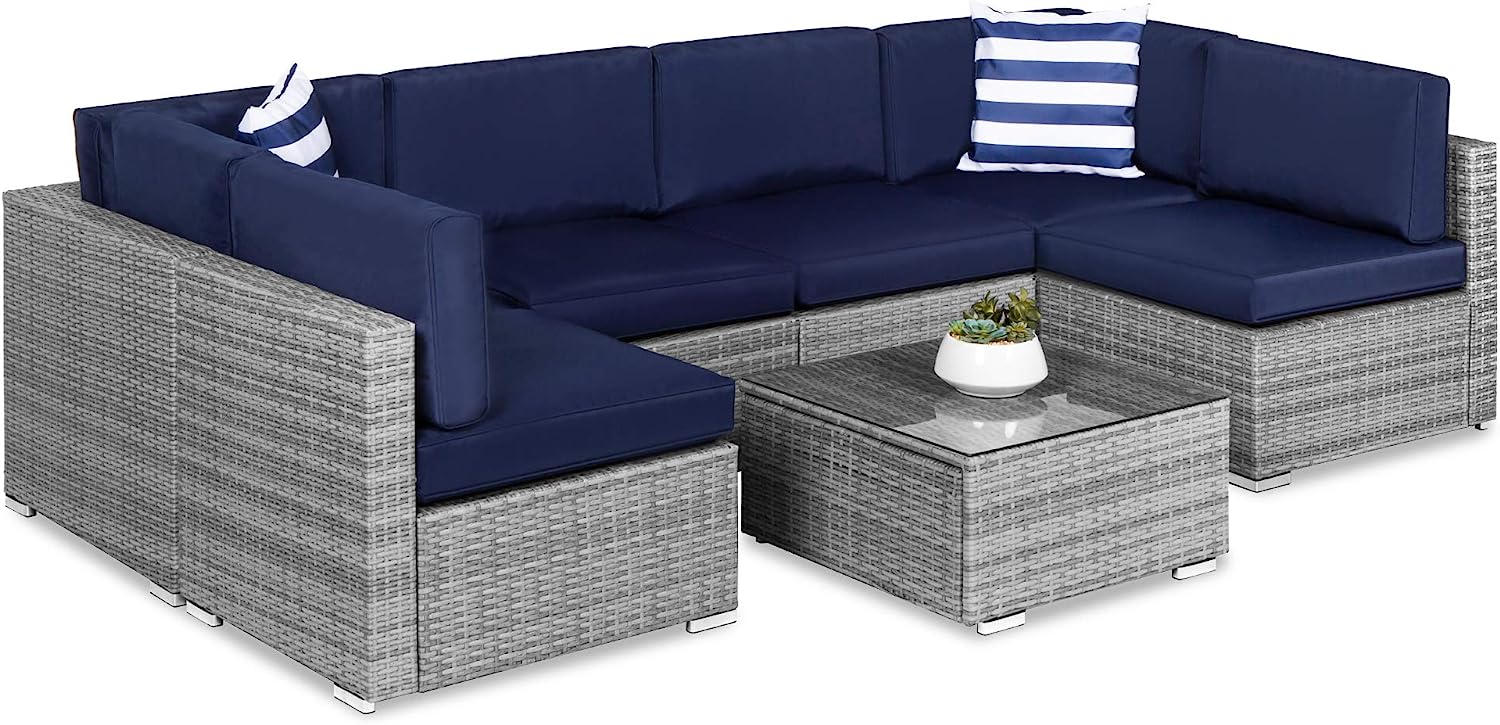 What You Should Know About This Outdoor Sectional Furniture
MODULAR WICKER SECTIONAL: Customize it to match your patio or deck and change it whenever you want! The set includes 4 single chairs, 2 corner chairs, 1 table with a tempered glass top, cushions, 2 accent pillows, protective cover, and seat fastener clips
DURABLE DESIGN: High-quality wicker is tightly woven around a sturdy, powder-coated steel frame, with 10 seat-fastener clips already in place to keep the chairs tightly secured
PROTECTIVE COVER INCLUDED: Made with water-resistant coating, durable stitching, adjustable hem cords, and ergonomic padded handles, while reducing condensation and helping to prevent wind lofting
COMFORTABLE CUSHIONS: Padded, extra-plush back cushions provide a comfy way to relax. Additionally, all of its cushions have removable, machine-washable covers that are easy to clean and maintain
4. Oversized Adirondack Chair with Cup-Holder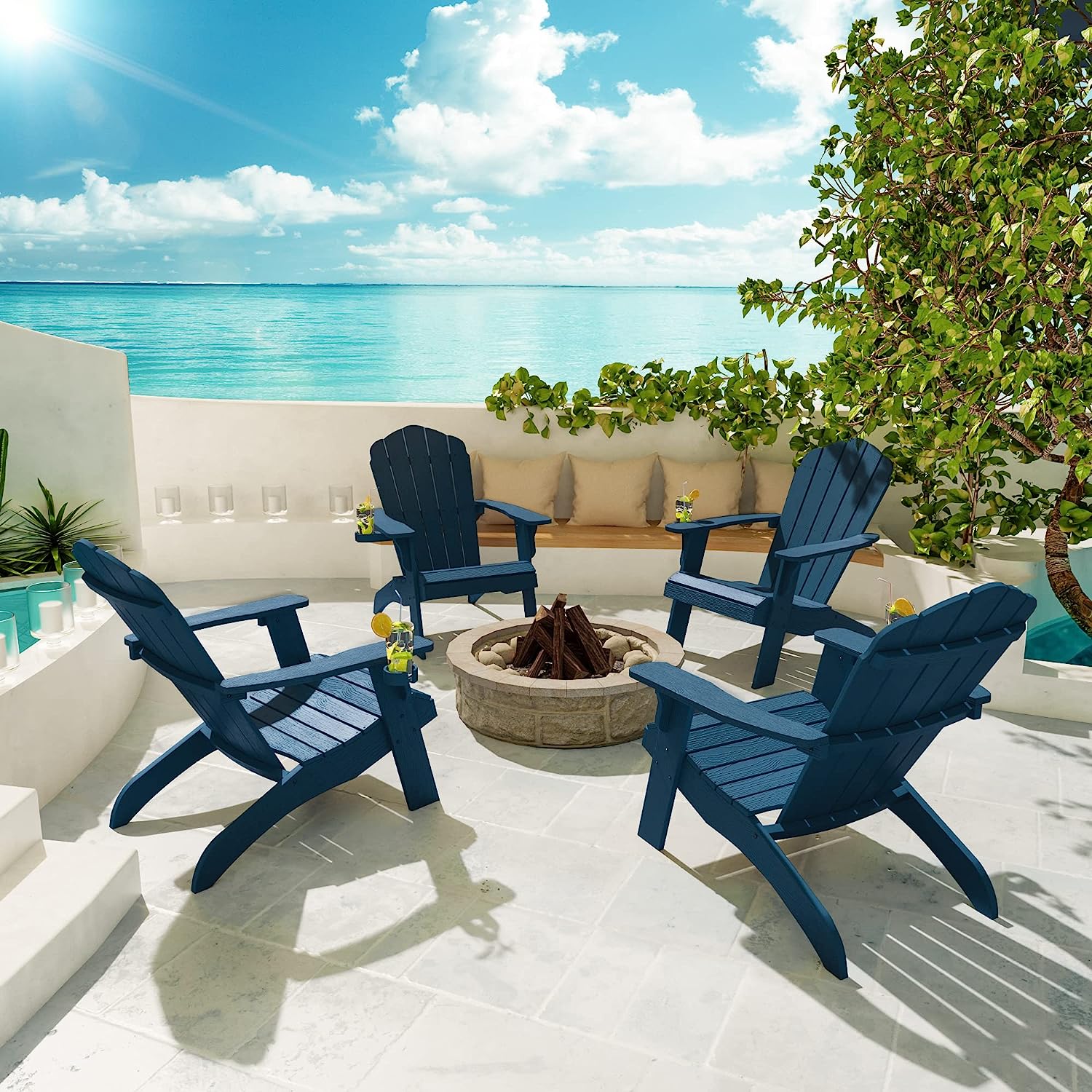 Rustic Look with Modern Comfort
LUXURY OVERSIZED ADIRONDACK CHAIR - EXPERIENCE OF SITTING ON THE THRONE
The sitting width is up to 22inch, which is wider and more comfortable. The thickness of the plate is nearly twice that of YEFU classic Adirondack chair.
The diameter of the large cup holder is 3.5inch, which solves the problem that common cups cannot be put down. The slotted design can stably put goblets and some larger cups, adding more choices for Party drinks.
5. Patio Furniture Set All Weather Outdoor Conversation Set for Lawn Garden Backyard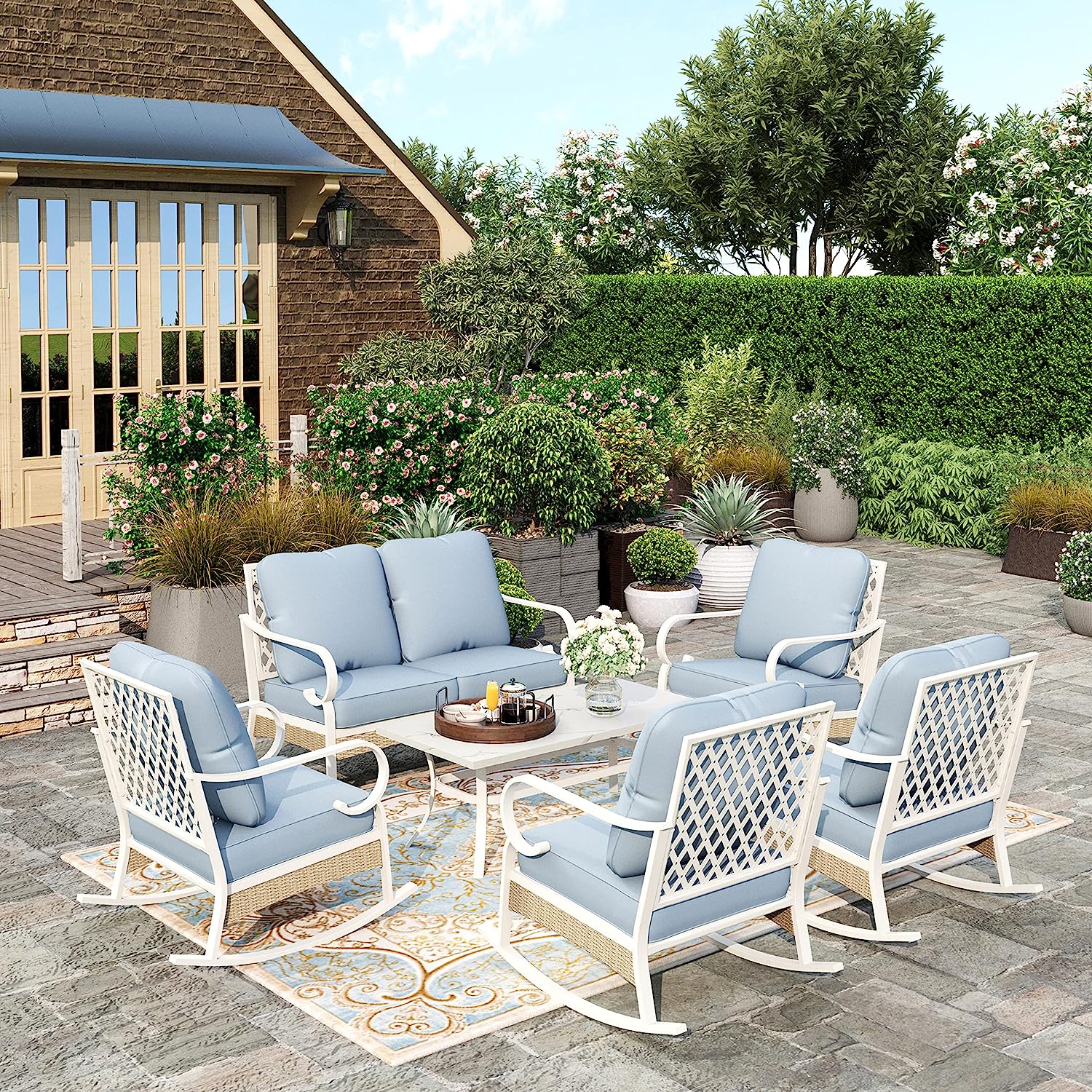 Weather Resistant Outdoor Patio Set
A PRACTICAL ROCKING PATIO FURNITURE SET Including 1 x coffee table, 4 x Rocking cushioned chair, 1 x 2 seat lover sofa. Perfectly fitting with your backyard, poolside, balcony, garden and deck to create an outdoor comfort zone. Conversation set perfectly meet the requirement of enjoying outdoor leisure time like a meal or family gathering.
Comfortable 5.75" extra thick seat cushions with soft back cushions, slightly rocking provides a wonderful seating experience - you will like it. With heavy duty wrought iron metal frame, the single rocking chairs could support up to 350lbs weight and the sofa supports 900lbs.
Special CUSHION PRO technology applied on the fabric. It makes the dirt's be easily wiped down. Water-proof and oil-proof perfectly for all seasons use.
Metal frame of conversation sets are processed by high-performance E-COATING and POWDER-COATING technique which provides extended protection against rust, scratches, rain, and UV harm. All weather resistant, anti-rust, easy to clean, no special care needed.
---
Conclusion
Refreshing your backyard patio or pool area with outdoor furniture is a great way to enjoy the warm summer months ahead! From choosing the right type of material that suits both budget and design style to keeping up with maintenance tips there are plenty of ways that will help get the most out of any pieces purchased this season! With these tips in mind, we hope you'll find joy in creating an inviting living space outdoors this summer!
Happy Shopping!
Check Out Our Relevant Reads: