Summer is the perfect time for outdoor gatherings, and what better way to enjoy the season than with a delicious barbecue. Whether you're hosting a backyard party or simply spending quality time with your family, having the right barbecue can make all the difference.
With plenty of options available in the market, choosing the perfect barbecue can be a time-consuming task. In this article, we will guide you through the essential factors to consider when selecting a barbecue that suits your needs, ensuring memorable summer parties and delightful family moments.
What You Should Know Before Buying a BBQ
Determine Your Cooking Style
Before diving into the world of barbecues, it's important to assess your cooking preferences. Are you a charcoal traditionalist who enjoys the smoky flavor, or do you prefer the convenience of gas grilling? Understanding your cooking style will help narrow down your options and make an informed decision.
Consider Size and Cooking Capacity
The size of the barbecue is an important factor, especially when considering the number of people you typically cook for. If you often host large gatherings, a barbecue with ample cooking surface and multiple burners might be suitable. For smaller family gatherings, a compact grill may suffice. Ensure that the barbecue has enough cooking capacity to accommodate your needs.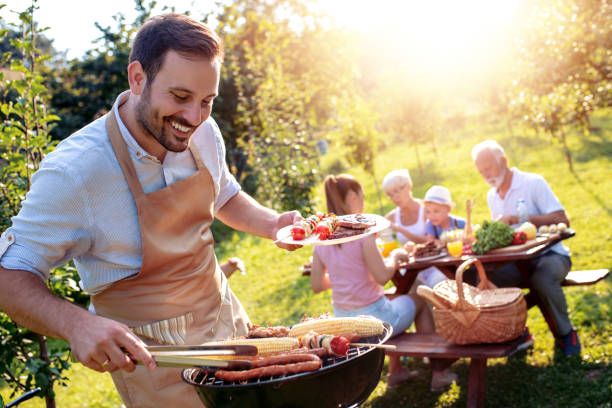 Quality and Durability
Investing in a high-quality barbecue is crucial for its longevity and performance. Look for sturdy construction, durable materials such as stainless steel or cast iron, and reliable craftsmanship. A well-built barbecue will withstand the test of time, ensuring many seasons of delicious grilling.
Heat Control and Versatility
Controlling the heat is essential for achieving perfectly cooked meals. Opt for barbecues that offer precise temperature control, such as adjustable burners or vents. Consider the versatility of the barbecue. Some models come with additional features like side burners, rotisserie attachments, or smoker boxes, allowing you to expand your culinary repertoire.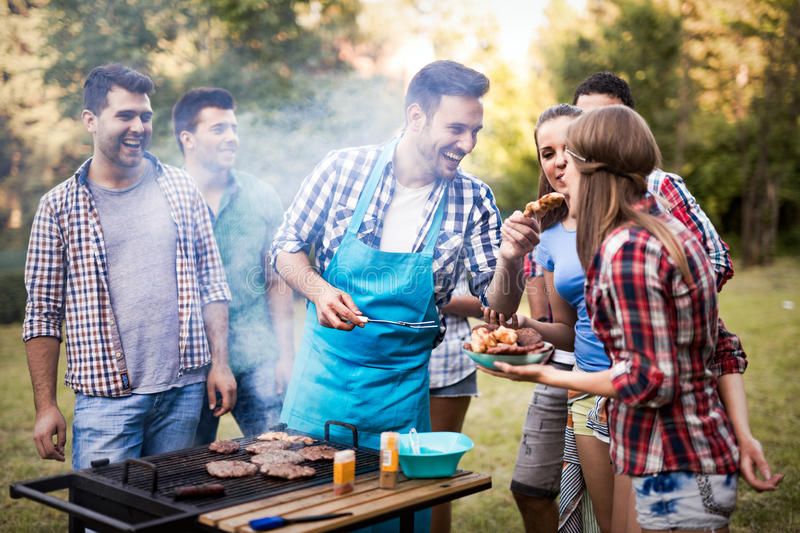 Easy Maintenance and Cleaning
Barbecue maintenance can be a chore, so choose a model that is easy to clean and maintain. Look for features like removable grease trays, dishwasher-safe grates, and accessible parts for effortless upkeep. A barbecue that is simple to clean will encourage you to use it more frequently without the hassle of extensive post-grilling cleanup.
Portability and Storage
If you enjoy outdoor adventures or have limited space, consider the portability and storage options of the barbecue. Look for models with wheels or compact designs that are easy to transport. Assess if the barbecue comes with foldable shelves or collapsible features to save space when not in use.
Safety Features
Safety should always be a priority when choosing a barbecue. Look for models that incorporate safety features like a reliable ignition system, sturdy handles, and secure lids. Additionally, ensure that the barbecue is placed on a stable surface and is well-ventilated to prevent accidents.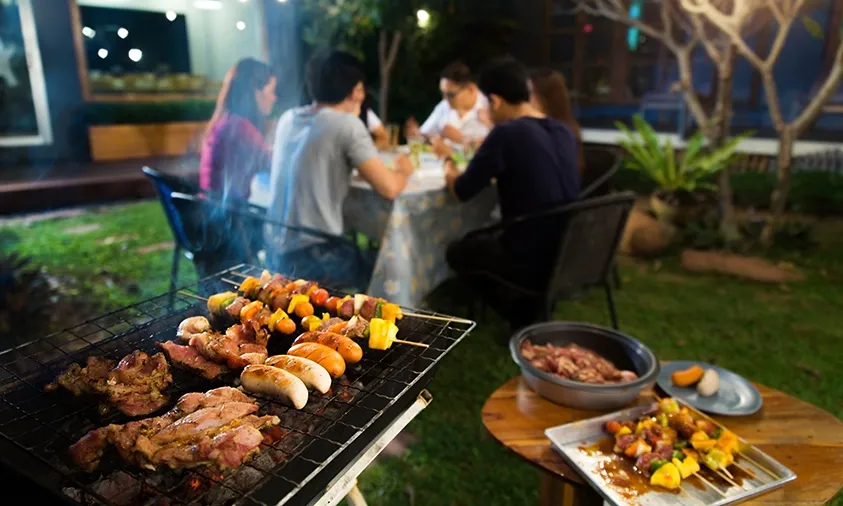 Budget Considerations
Last but not least, consider your budget when selecting a barbecue. Determine how much you are willing to spend and find a balance between quality, features, and affordability. Remember that a well-chosen barbecue is an investment in creating memorable experiences with your loved ones.
---
Propane Barbecues
Are easy to use and require minimal setup, making them great for beginner grillers. Gas grills are great because they heat up quickly and provide even heat throughout the cooking surface. However, they tend to be more expensive than their charcoal counterparts. Since gas tanks must be refilled on a regular basis, they may not be the best choice if you plan to grill often or take your grill with you on trips.
Top 3 Best Propane BBQs on Amazon: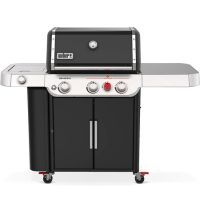 Make food never thought possible in a grill with the Weber Crafted Outdoor Kitchen Collection. Sear, roast, bake, steam, and even stir-fry by simply replacing the grate with a variety of custom-fit grillware (grates and frame included; grillware sold separately).
Grill multiple steaks at once on the extra-large sear zone, so that everyone is eating those perfectly seared steaks at the same time.
Expandable top cooking grate creates a large, second level of grilling capacity so that you can execute an entire meal at one time.
Prep dinner and serve apps outside, where the party is, on the extra-large prep & serve table. It fits multiple serving trays and cutting boards, so that everything is within arm's reach.
Sauté veggies, boil corn, or heat up sauces on the side burner.
A solution to all of your storage needs. The grill locker fits Weber Crafted Outdoor Kitchen Collection grillware, as well as your large grilling tools.
---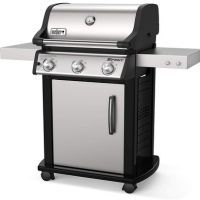 The three-burner Spirit S-315 gas grill is ideal for entertaining a crowd. Use the convenient side tables for placing serving trays, while grilling tools hang from the tool hooks. Designed with a sleek stainless-steel finish and ample cooking area. The porcelain-enamel cast-iron cooking grates are durable, easy to clean, and retain heat for the perfect sear. It's the perfect answer to any meal.
Porcelain-Enameled Cast Iron for superior heat retention and distribution while preventing sticking that creates for an easy clean up.
Three stainless steel burners with 32,000 BTU per hour input are durable and deliver powerful and even heat to every inch of cook space.
Preheat grill on high for 15 minutes and brush grates with stainless steel grill brush. Grease is funneled away from the burners and into an easily accessible drip tray, located within the catch pan under the cookbox.
The warming rack keeps food warm, or toasts buns, while the main course finishes grilling on the grate.
Designed to catch drippings, adding a smoky flavor to your food, and protect your burners from excess grease.
The easy-to-read fuel gauge located next to the gas tank lets you see how much fuel is left in the tank.
---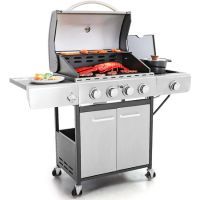 Porcelain-Enameled Cast Iron Grill Grates main cooking area grates into porcelain-enameled cast iron grates, which combines tradditonal cast iron and enamel grates advantages - heavy duty, non-stick, rust resistant and crack resistant. They will bring the cooking area more even heat when worked with the 4 stainless steel burners and enameled flame tamers.
Stainless Steel Burners 4 stianless steel burners and side burner are individually controlled by 5 swith knobs, you can adjust the flame combined with the Quick-Start battery electronic ignite system. 42,000 BTU output in total including 32,000 BTU for main cooking area and 10,000 BTU for side burner.
Large Cooking Area 397 sq.in. porcelain-enameled cast iron primary cooking area plus 145 sq.in. porcelain-enameled warm rack secondary cooking area consist in 542 sq.in, bbq cooking area for family and friends parties.
Thoughtful Designs Stainless steel finish increased the durability and look; Built-in temperature gauge make heat control easily; Double-layer lid can keep warm better when cooking food;4 galvanized casters(with 2 lockable) make move easily.
---
Charcoal Grills
Offer more flavor and heat than propane grills but require more effort to set up and clean up afterward. Charcoal grills offer excellent flavor, but they require more effort to maintain than other types of grills.
You'll need to wait for the charcoal briquettes to heat up before you can start cooking, and once you're done cooking, there's usually quite a bit of clean-up involved. On the plus side, charcoal grills are usually cheaper than gas or electric models.
Top 3 Best Charcoal Grills on Amazon: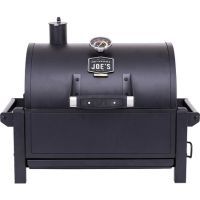 Heavy-duty Steel construction ensures durability you can trust
Thick cast-iron grates produce a perfect sear
Height-adjustable charcoal tray lets you grill with high heat or cook Low and slow
Large air dampers allow for accurate airflow controlFull-size, removable ash pan makes clean-up easy
---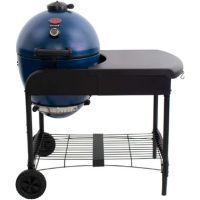 Insulated design means more heat uses less charcoal and less airflow means insulated heat for juicy meat
314 Square inches of primary cooking space, 133 Square inches of warming rack
Tubular steel cart construction, 26" X 26" Of prep/serving space
Dual adjustable dampers for maintaining specific temperatures
Cast iron cooking grates enhance flavors and heat evenly
---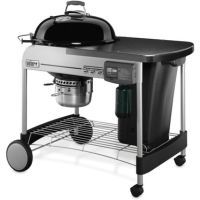 Electronic Touch-N-Go with Propane Gas powered ignition system
Dimensions - Lid Closed: 43.5"H x 48"W x 30"D | Weight: 91 lbs
22-inch diameter porcelain-enameled bowl and lid with a cooking area of 363 square inch
Aluminized steel One-Touch cleaning system with removable, high-capacity, aluminum ash catcher
Removable LCD cook timer and built-in lid thermometer
---
Electric Grills
Offer convenience since they don't require fuel or charcoal briquettes; all you need is an electrical outlet nearby your grill spot and you're good to go! They also have very few moving parts so they're relatively easy to maintain over time.
However, electric grills don't always provide that smoky taste that many people associate with outdoor barbecuing. Also keep in mind that electric grills usually cost more up front than gas or charcoal models but less in ongoing costs due to not needing fuel or briquettes.
Top 3 Best Electric Grills on Amazon: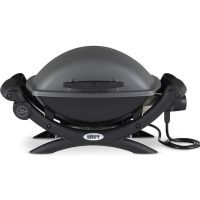 1560-watt electric heating element to heat 189 square-inch total cooking area
Porcelain-enameled cast-iron cooking grates and cast aluminum lid and body
Fully assembled out of box
Infinite control burner valve settings
---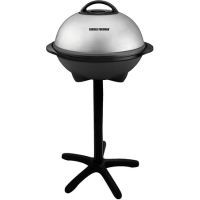 George Tough Nonstick Coating - There's a lot to love about this nonstick coating; it's durable, easy to clean, and removes the need for butter and oil
Indoor or Outdoor Removable Stand - Don't let the weather keep you from the glory of grilling; the easy-to-remove stand takes you from patio to countertop in no time
Adjustable Temperature Control - The temperature probe lets you choose from five heat settings to get the best results on any kind of food
Apartment-Approved - the fully electric system gives you high-quality grilling with no charcoal, no propane, and no flare-ups
---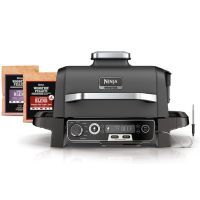 All In one with 100% authentic woodfire flavors.
Get all the performance of a full-size propane grill with the same char and searing.
Create authentic BBQ bark and flavor fast and easy with just 1/2 cup of pellets.
Add woodfire flavor to your air fried favorites and cook all your side dishes outdoors.
Powered by electricity, flavored by real burning wood pellets. Create rich woodfire flavor you can see and taste with any cook function.
Comes with 2 blends of 100% real hardwood Ninja Woodfire Pellets that pair great with anything you make. Used for flavor, not fuel, so you only need 1/2 cup.
Monitors your food's progress and alerts you when done so you can enjoy the cookout while food cooks to perfection.
---
Wood Pellet Grills
Offer even more flavor than charcoal grills and can be controlled easily from an app on your phone.
Top 3 Best Wood Pellets Grills on Amazon: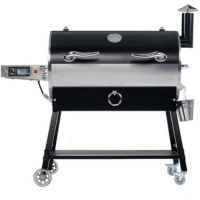 Wood Pellet Grill and Smoker With Gas Grill Combined
Smoke, Grill, Sear, Bake, Braise, & even Dehydrate on your RT-700, all while imparting delicious wood-fired flavor.
With a smart grill technology, connect to your RT-700 from anywhere, anytime. Rest easy, as our PID algorithm will maintain the temperature within 5℉ at all times.
High-quality stainless steel and incredibly durable construction, your RT-700 will last a lifetime, and then some.
The RT-700 offers 702 square inches of cooking space, a temperature range of 180°F-700°F, 40hr. of non-stop cooking with a full hopper, PID Temperature Control, and digital capabilities through the recteq app
---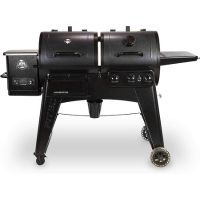 Wood Pellet Grill and Smoker With Gas Grill Combined
More Than 1,000 Sq. inch. Of Cooking Surface
Porcelain-Coated Cast Iron Cooking Grates
Dial-In Digital Control Board With Led Read-Out
Pellet Cooking Temperature Range Of 180° To 500°F
Simple Slide-Plate Flame Broiler For Direct And Indirect Heat Cooking
Open Flame Searing up to 1,000° F
---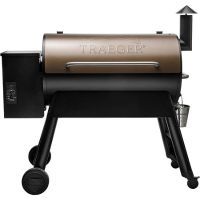 Never use gas or charcoal again: cooking with wood just tastes better. Traeger created the original wood-pellet grill as the ultimate way to achieve wood-fired taste
Versatile barbecue cooking: hot and fast, or low and slow, the Traeger Pro Series 34 pellet grill offers 6-in-1 versatility to grill, smoke, bake, roast, braise, and BBQ food to juicy perfection
Precision temperature control: The Digital Pro Controller rocks Advanced Grilling Logic, which maintains a +/- 15 degree F temperature control to guarantee precision grilling. 450 °F Max Temp
Sturdy and Durable: Powerful steel construction and durable powder coat finish, easy to clean porcelain grill grates and all-terrain wheels
Large cooking capacity: 884 sq. in. cooking capacity that can accommodate 8 chickens, 7 racks of ribs or 40 burgers
---
Features To Look For In A Barbecue Grill
No matter which type of grill you decide on, there are certain features that every good barbecue should have; these include adjustable temperature control settings so you can easily adjust from low-and-slow cooking to high-heat searing, removable ash catcher for easy cleaning, removable grease tray to collect fat drippings, adjustable vents to control airflow and an even cooking surface so food cooks evenly.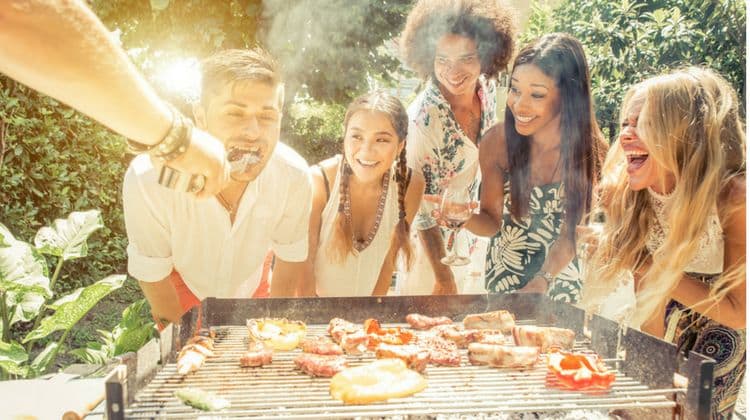 ---
Conclusion
Choosing the perfect barbecue for your summer parties and family time is an exciting endeavor. By considering your cooking style, size requirements, quality, heat control, maintenance, portability, safety features, and budget, you can find a barbecue that aligns with your needs and enhances your outdoor cooking experience.
Whether you opt for a charcoal grill, gas-powered model, or a versatile hybrid, the right barbecue will elevate your summer gatherings, creating lasting memories and delicious meals that will be savored for years to come.
Happy Grilling!
Relevant Reads>>>