Finding the right outdoor umbrella for your backyard, patio or pool area is no small task. Not only do you want it to look great, but you also need it to be made from sturdy materials that can stand up to all kinds of weather. To help you pick out the perfect outdoor umbrella, we've put together this comprehensive guide so you know what factors to consider and which type of umbrella will best suit your needs.
Factors to Consider When Choosing an Outdoor Umbrella
Size and Coverage: The size of the umbrella is an important factor when choosing an outdoor umbrella. If you have a large seating or dining area then a larger-sized cantilever umbrella may be a better choice than a traditional stand-alone model. If you are looking for coverage for a smaller area then a regular stand-alone umbrella should suffice.
Materials and Design: Make sure that your outdoor umbrella is made from sturdy materials such as aluminum poles with powder coating so they won't easily rust in rain and windy conditions. You should also check out the fabric used on the canopy itself - make sure that it is UV and water resistant so it won't fade over time due to exposure to sunlight or become soggy if exposed to rain.
Styles: There are many different styles of umbrellas available on the market today, ranging from classic wooden designs to modern cantilevers with adjustable mechanisms that allow them to tilt and rotate as needed. Choose a style that will fit in with your existing décor and provide shade in just the right areas of your outdoor space.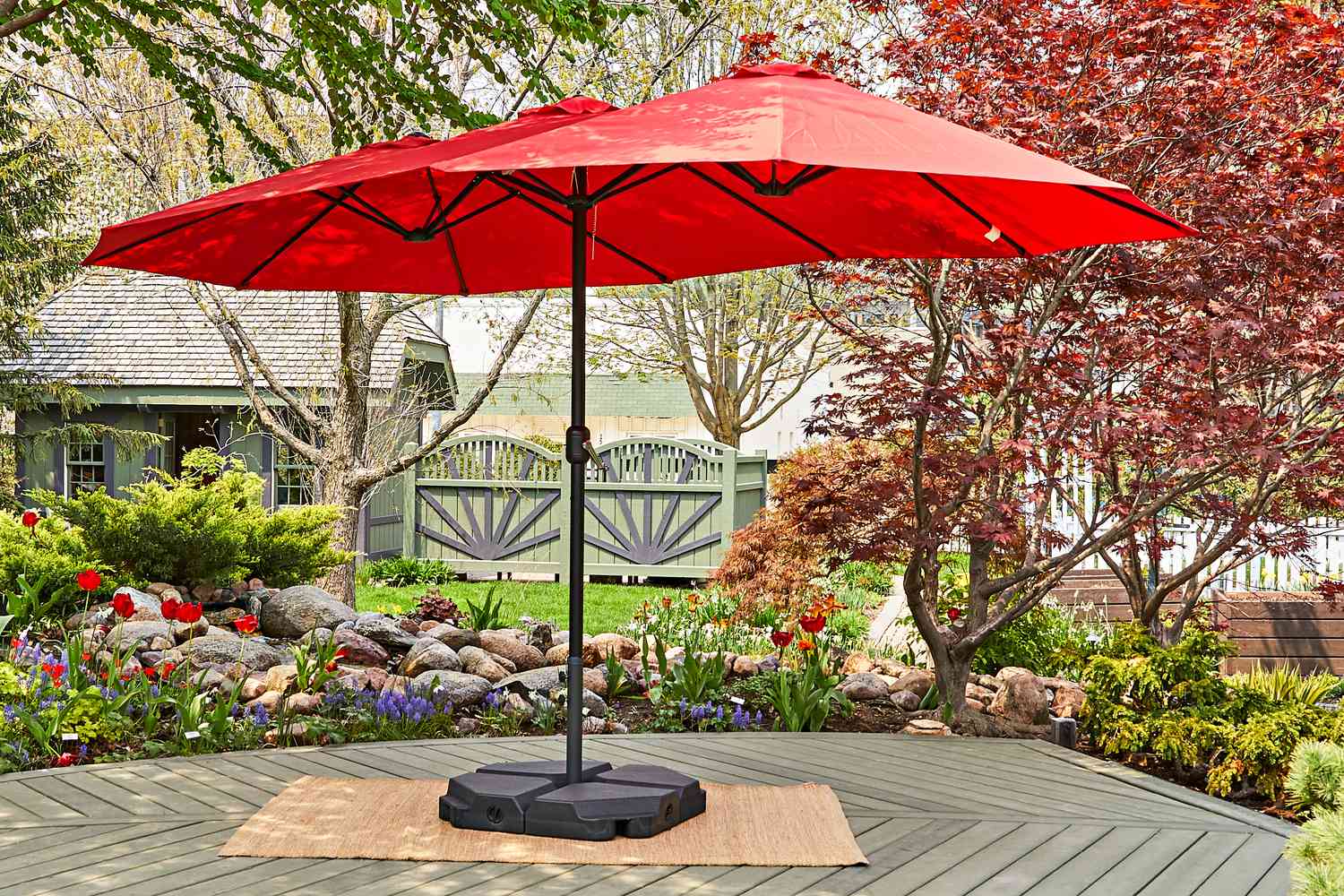 ---
What are the Different Types of Outdoor Umbrellas:
Market umbrellas are a must-have for vendors looking to offer protection from the elements. Durability and convenience make them perfect, with an octagonal or rectangular shape supported by a strong metal or wood pole needed either as its own stand or cart in combination with weighted base anchoring it securely.
Top 3 Best Market Umbrellas on Amazon: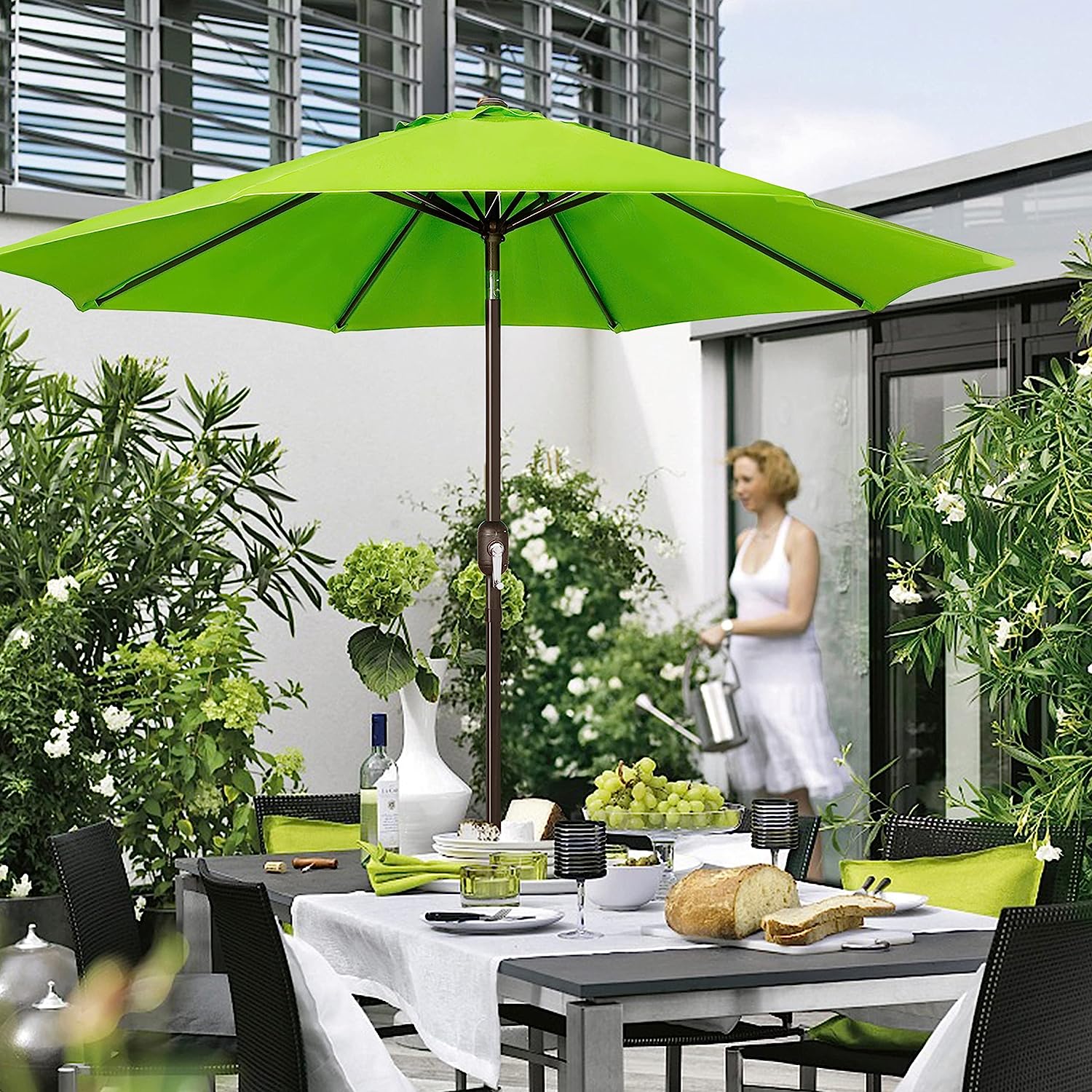 Aluminum poles and 8 aluminum ribs for easy and compact storage, in prevention of rust and lighter than the steel pole, easy for operation. With air vented at the top, cool and can withstand sudden gust.
This market umbrella is designed with crank open system for easy and quick use. Push button tilt for more angles of shading, keep the sun at your back.
This outdoor umbrella with 9 ft. diameter shade your 42"- 54" round, square or rectangle table with 4 to 6 chairs, Ideal for both residential and commercial locations.
Blissun 9 feet patio umbrella with elegant design, is a perfect and essential for summer or sunny days to shade sunshine, apply to the yard, beach, square, garden and patio shops like cafe, restaurant, swimming pool.
---
2. Outsunny 9' x 7' Patio Umbrella Outdoor Table Market Umbrella with Crank, Solar LED Lights, 45° Tilt Push-Button Operation for Deck Backyard Pool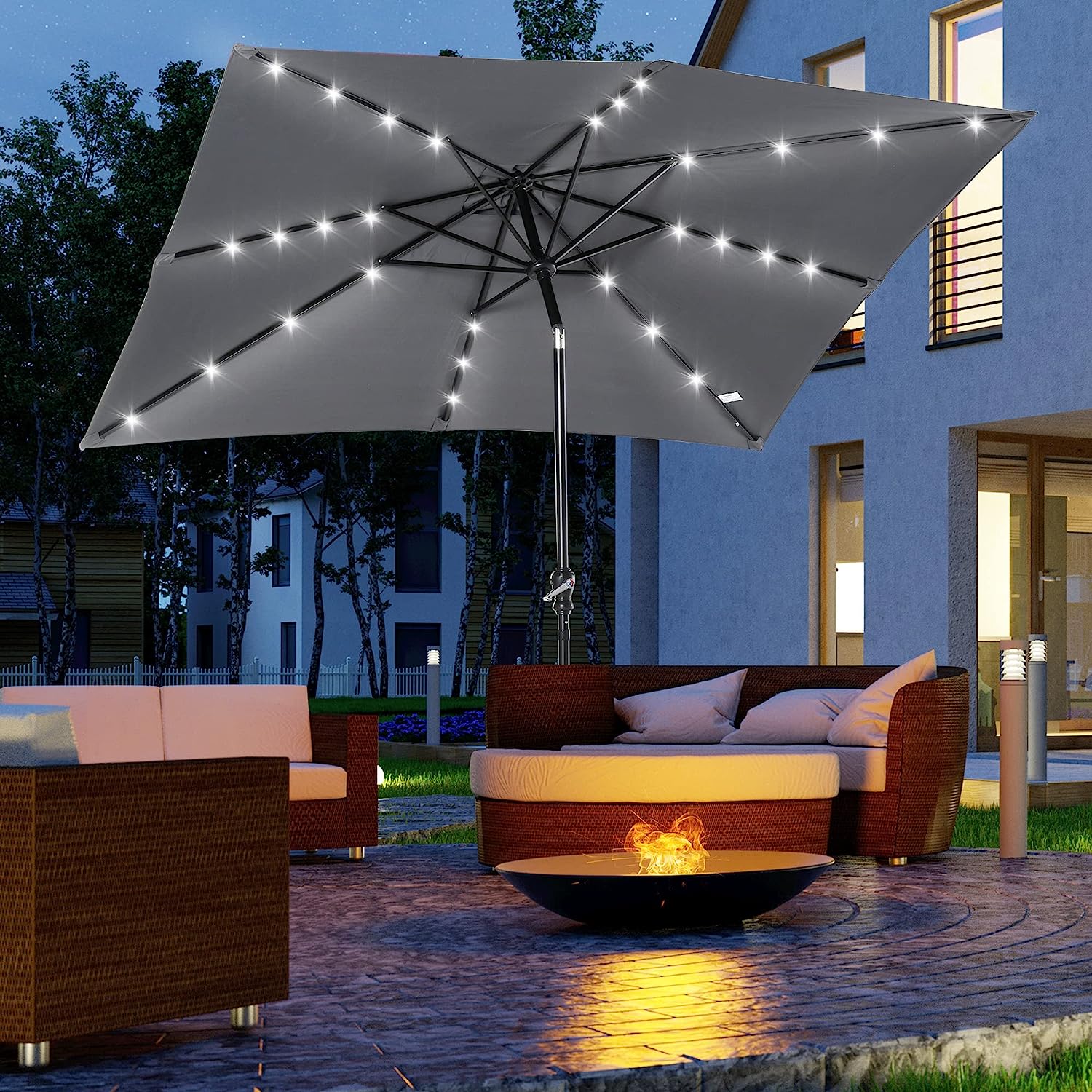 The solar patio umbrella is powered by energy-efficient solar panels, the built-in LED lights in each patio parasol rib can light up your night, a switch on a rib for easy control
With a simple push-button, the lighted patio umbrella pole can be quickly adjusted and bent 45° to control the angle of the garden umbrella and better shield the sun
The solar light patio umbrella is designed with a hand cranking device, this balcony umbrella is easy to open and close. Disassembly structure makes this parasol balcony more convenient to assembly and storage
This solar umbrella is very suitable for use in various areas like in the garden of the house, on the terrace or poolside
---
3. Best Choice Products 10ft Outdoor Steel Polyester Market Patio Umbrella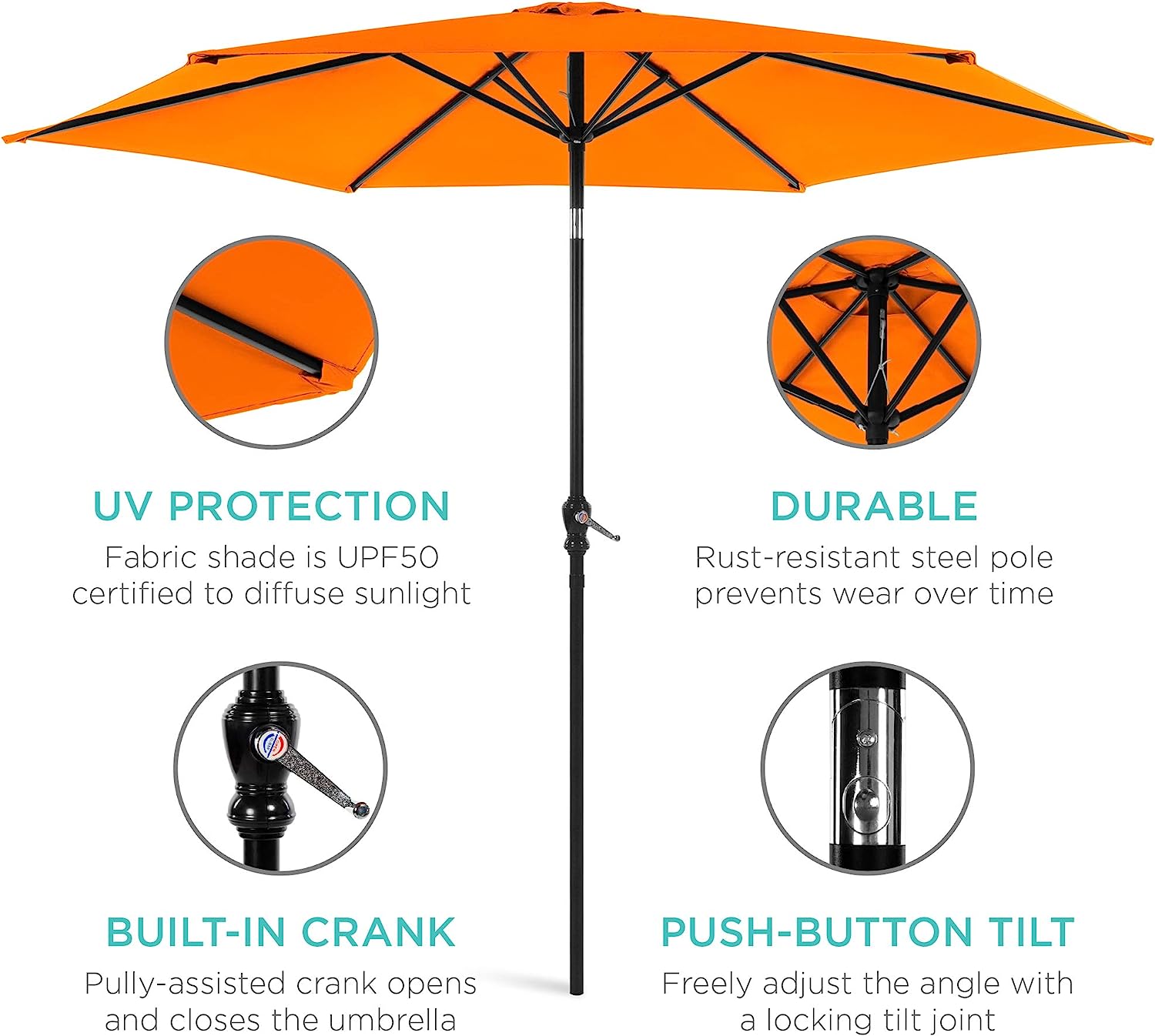 Solid 6-rib steel frame to support the umbrella's large, 10-foot canopy
Water- and UV-resistant 180G polyester fabric and a powder-coated steel frame for maximum durability
Features a crank handle for easy opening/closing, while its adjustable easy-tilt system allows for optimal protection from the sun
Air flows freely through an open space at the top of the canopy and creates a cooling cross breeze while adding extra stability against heavy winds
10-foot diameter umbrella adds a cooling and colorful addition to every outdoor sitting area
---
Patio umbrellas also share similarities but offer additional comfort features like tilting abilities through poles that slip through tables or their provided weighted bases.
Cantilever/offset umbrellas can take this further still providing both shade and style since they're propped up at the side rather than below.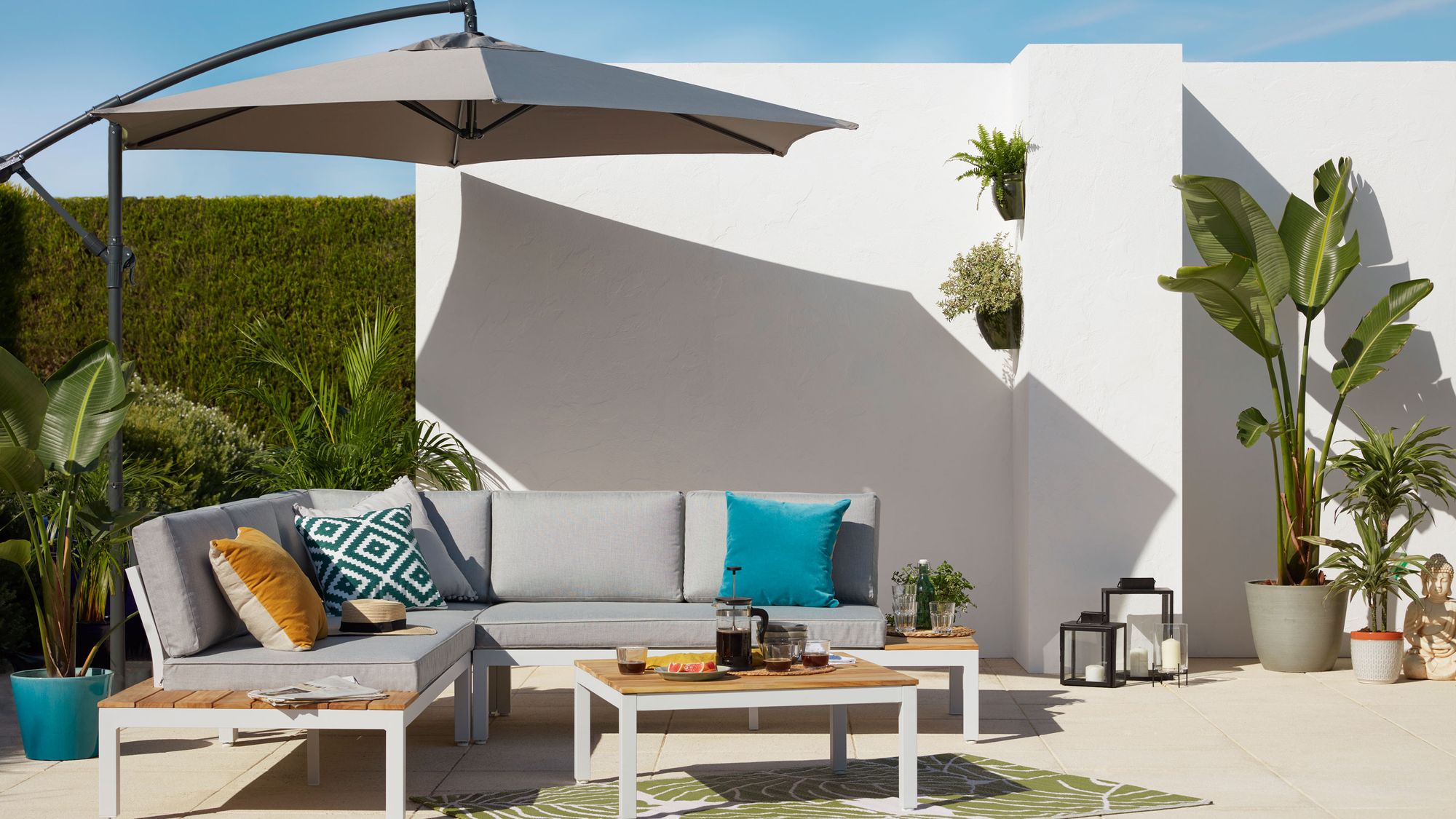 Top 3 Best Cantilever Umbrellas on Amazon: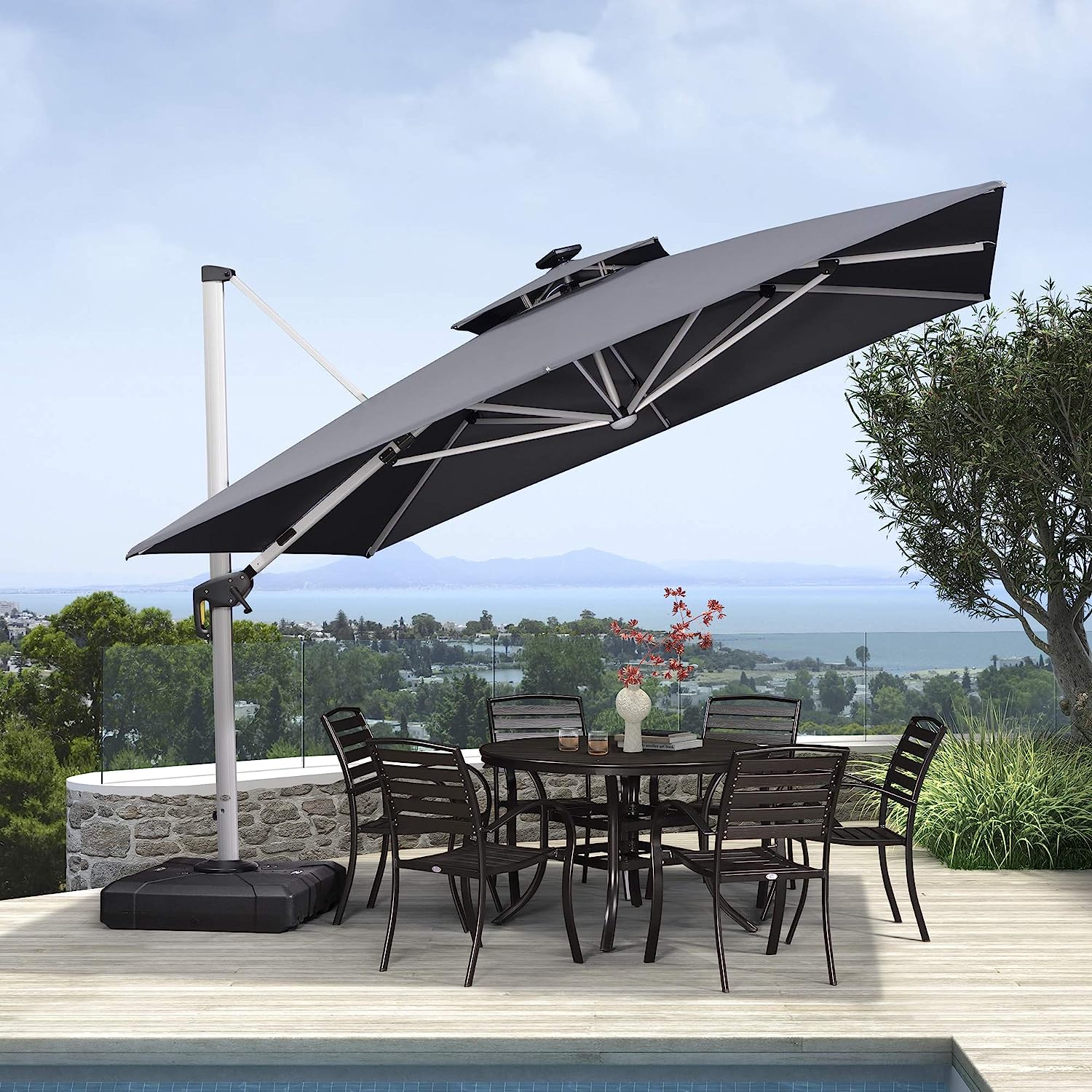 Purple Leaf patio umbrella offers you enough coverage to shade round
The alloy steel we use for this offset umbrella makes it strong and durable, the anti-oxidation spray painted gives it a long period life
The hand-crank system makes this offset umbrella easy to use, even if a child can handle it easily. With 240/gsm polyester as the fabric of this offset umbrella, which means it is fade resistant and water-repellent, also makes it be easy to clean.
With Purple Leaf patio umbrella you can enjoy your outdoor life no matter it is raining or on sunshine days. Start your wonderful outdoor life!
---
2. Round Deluxe Patio Umbrella  12 Feet Double Top Offset Hanging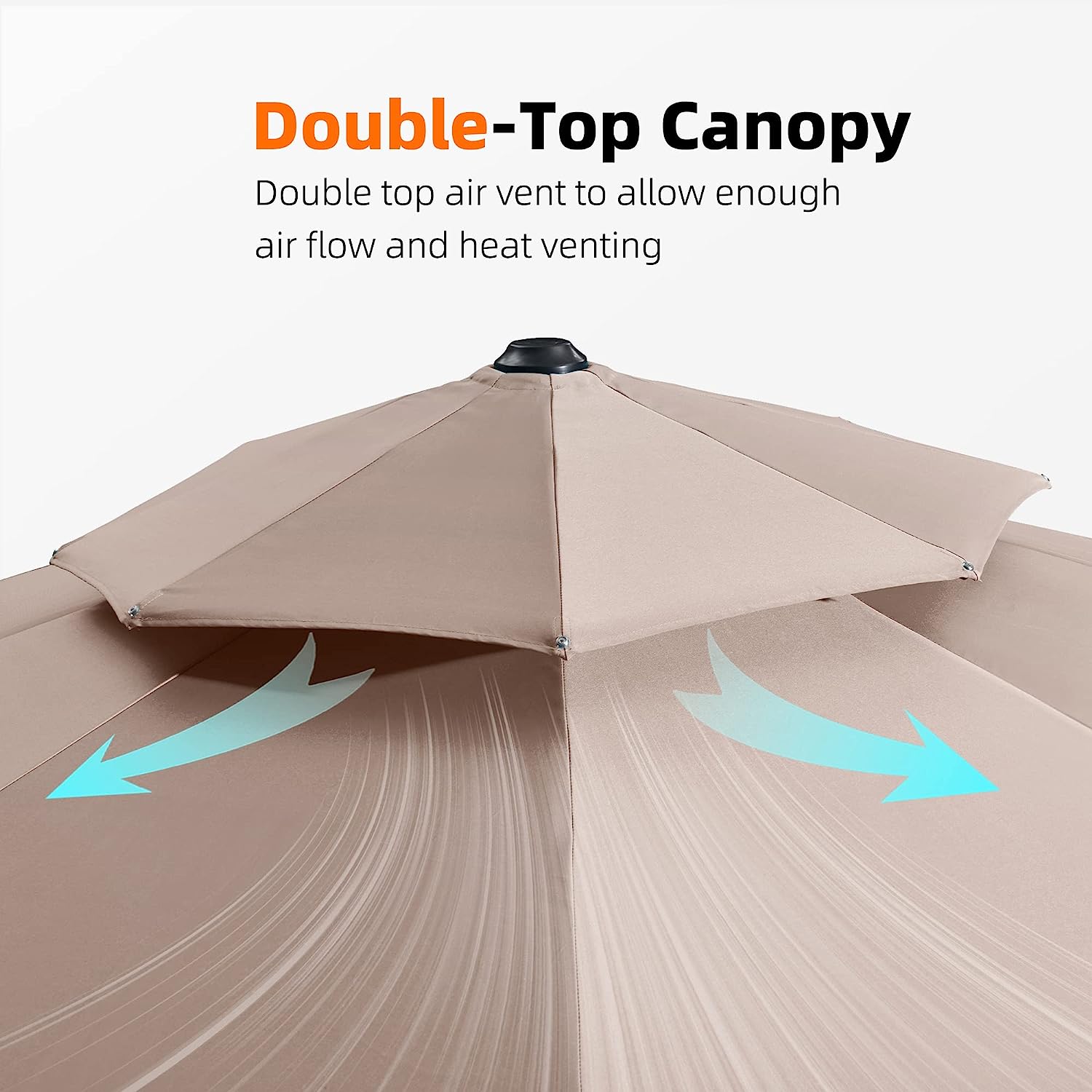 The diameter of this cantilever umbrella is 12ft , unique double-top canopy design for commercial and residential use
This patio umbrella has unique handle design and crank system, 6 height and angle to choose, 360-degree rotation for easier shading area control
High quality 240/gsm yarn-dyed polyester fabric, UV resistant, water-repellent and colorfast fadeless, 3 years warranty
All-aluminum umbrella bones and 8 heavy-duty ribs, anti-oxidation spray painted, maintain a long period life
---
3. Patio Umbrella Outdoor Square Umbrella Large Cantilever Umbrella Windproof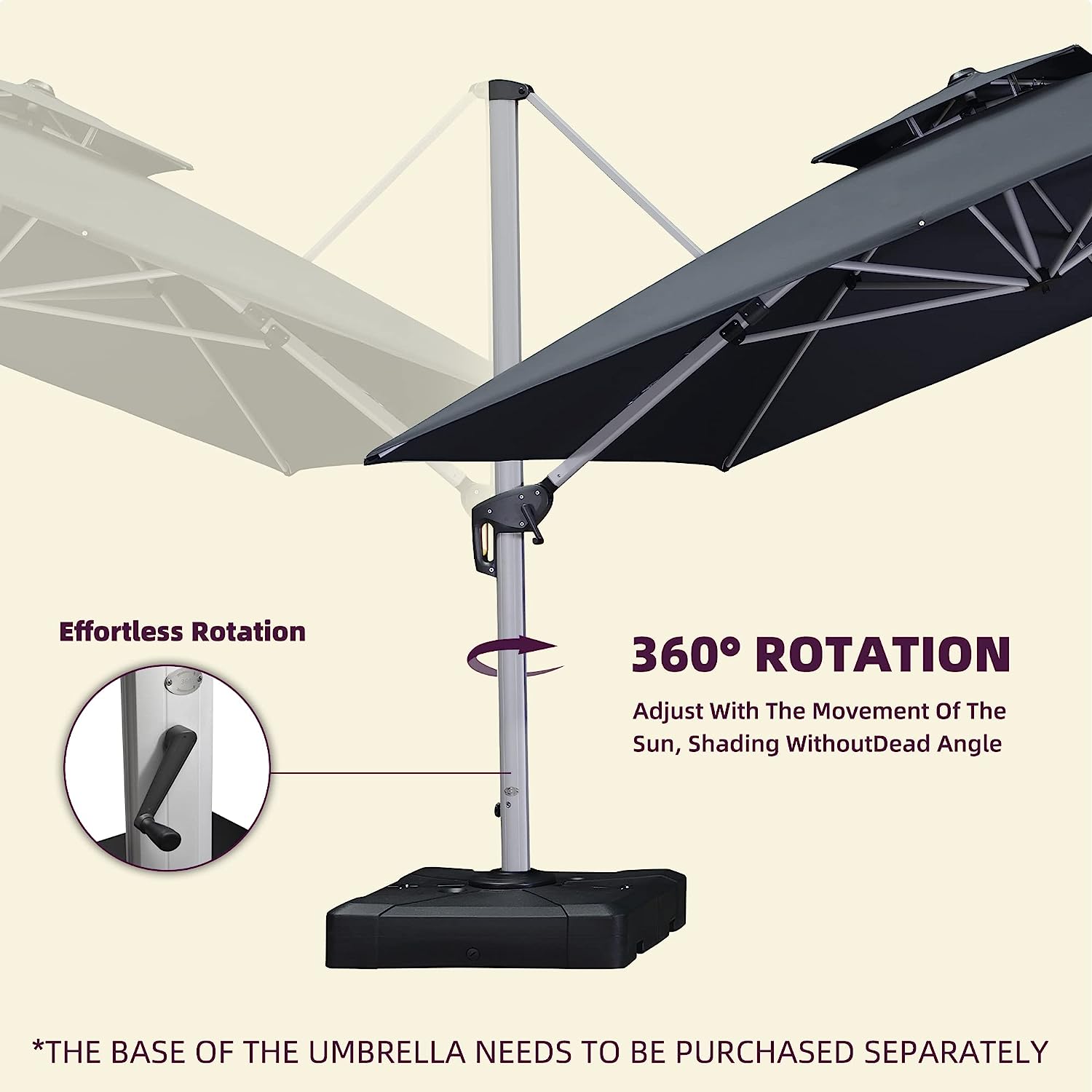 ---
Most FAQs about Outdoor Umbrellas:
Can you Leave Outdoor Umbrella in the Rain?
The short answer to this question is yes, you can leave an outdoor umbrella in the rain. However, it's important to take certain precautions when doing so.
First off, it's a good idea to make sure your umbrella is made from materials that are waterproof and non-absorbent such as vinyl or polyester canvas.
These fabrics are designed to be water-resistant without allowing moisture into the material, meaning that even if your umbrella gets wet from the rain and stays out for extended periods of time, it won't become damaged or stained by mildew or mold growth.
For added protection, you can also add a layer of wax or waterproofing spray to help protect against UV damage and fading due to prolonged exposure in wet weather conditions.
Some umbrellas offer ventilation systems which allow air flow through the canopy while keeping out any additional moisture. This will help minimize any condensation build up inside the fabric caused by water vapor that would otherwise be trapped inside a totally enclosed structure like an outdoor umbrella on rainy days.
Finally, always make sure your outdoor umbrella is securely fastened down before leaving it outside in inclement weather especially during high winds as gusts could cause it to become airborne if not properly secured!
What is the Best Outdoor Umbrella Fabric?
When purchasing an outdoor umbrella, there are many fabric options to choose from. The best fabric for an outdoor umbrella depends on several factors such as the climate in your area, how much sun exposure the umbrella will receive, and how much maintenance you plan to do.
For climates with high UV radiation and intense sunlight, a solution-dyed acrylic or Olefin is a great choice for an outdoor umbrella fabric because it is fade resistant and highly colorfast. Usually woven tightly together with excellent water repellency, these fabrics can be easily washed and will last through years of frequent use outdoors.
If your area has moderate sun levels and some rainfall throughout the year, then polyester is one of the most versatile fabrics for outdoor umbrellas due to its lightweight yet strong construction that has good strength retention when wet or dry.
It's also naturally waterproof allowing it to shed rain quickly before it can soak into the fibers of the fabric itself. Polyester has good colorfastness made possible by modern dyeing techniques that prevent fading over time even after long-term exposure to direct sunlight. Polyester requires minimal maintenance but still retains its shape nicely no matter what kind of weather comes its way!
Finally, if you're looking for a more luxurious option with excellent sun protection then Sunbrella is well known as one of the best fabrics available for both indoor and patio umbrellas today!
This breathable material offers up to 98% UVA/UVB protection while maintaining resistance against mildew growth due to built-in water repellency technology perfect for areas near beachfronts or bodies of water where humidity levels are often higher than normal during warmer months.
With minimal care required thanks to their ColorLock technology that prevents fading away over time even despite hours in full sunlight each day - Sunbrella fabrics make a great choice for anyone looking for premium quality in their patio shade solutions!
Should Patio Umbrella be Light or Dark Color?
When it comes to choosing the color of your patio umbrella, there are several factors to consider. While one's own personal preference is most important, lighter colors are typically more suitable for sunny days and dark colors for rainy weather.
Light-colored umbrellas provide excellent sun protection in the summer months. They can reflect harmful UV rays away from you and any guests enjoying time on the patio. Additionally, light fabrics tend to be cooler than darker ones so they help keep the warmth at bay on hot days as well.
Darker-colored umbrellas block out rain better than their lighter counterparts since they don't allow water droplets through to soak upholstery or cushions as quickly. In addition, if your umbrella doesn't have a feature that allows it to tilt back and forth.
Then darker options better protect against direct sunlight coming in during particular times of day due to their ability to absorb heat energy more effectively than a more transparent fabric would permit.
Ultimately, whichever color you choose depends on where you live, how much sun exposure your patio gets throughout the year and which features best suit your needs in terms of convenience or comfortability when using your umbrella outdoors with friends or family members!
---
Conclusion
Outfitting your outdoor space with the right type of outdoor umbrella is an important decision one that will impact how much you enjoy spending time outdoors over the coming years!
By considering size and coverage, materials and design, you can ensure that you choose an umbrella that provides optimal protection from sun exposure while staying stable in inclement weather as well. So take some time today to find the perfect fit for your home!
Good Luck!
Check Out Our Relevant Reads: