One of the best things about camping is enjoying delicious meals in the great outdoors. But when you're without access to a fridge, it can be challenging to keep your food fresh for more than a day or two.
Camping coolers are designed to keep your food and drink cold for several days, even in hot temperatures. In this guide, we'll explain how camping coolers work, what factors affect their performance, and how to choose the right one for your camping trip.
Types of Camping Coolers
There are two main types of camping coolers: traditional coolers and high-end, high-performance coolers.
Traditional coolers are less expensive and work well for shorter camping trips or day outings. They typically have a hard outer shell and a hinged lid, with foam insulation inside. Their ice retention time ranges from one to four days, depending on the size, quality, and additional insulation.
High-performance coolers, on the other hand, have thicker insulation, airtight seals, and other features that enhance their ice retention time. Some even come with built-in freezing technology, like a small freezer compartment or dry ice capabilities. However, they typically come with a much higher price tag.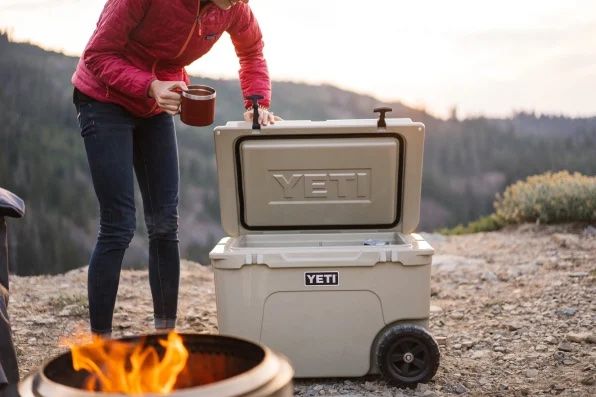 Factors that Affect Cooling Performance
Several factors affect the performance of your camping cooler's ability to maintain cold temperatures. These include:
Ambient air temperature: your cooler will have to work harder to maintain colder temperatures in hotter weather.
How often you open the lid: every time the lid is opened, the amount of cold air inside is decreased, and it takes time to cool again.
The amount of ice or ice packs inside. A fuller cooler will have better ice retention as there will be less exposure to air.
The quality of your cooler: generally, more expensive and better-insulated coolers will offer better ice retention.
How to Choose the Right Cooler
When choosing a camping cooler, consider your budget, how long you plan to be away, and how essential having fresh food and drinks is to your experience. A high-end cooler may not be necessary if you're taking a short day trip, whereas a traditional cooler may not suffice for a more extended camping trip.
Another factor to consider is the size of the cooler, as a larger one may hold more food and drinks, but be harder to transport. Other things to look out for include the quality of the seals, latches, and hinges, all of which contribute to better insulation and ice retention.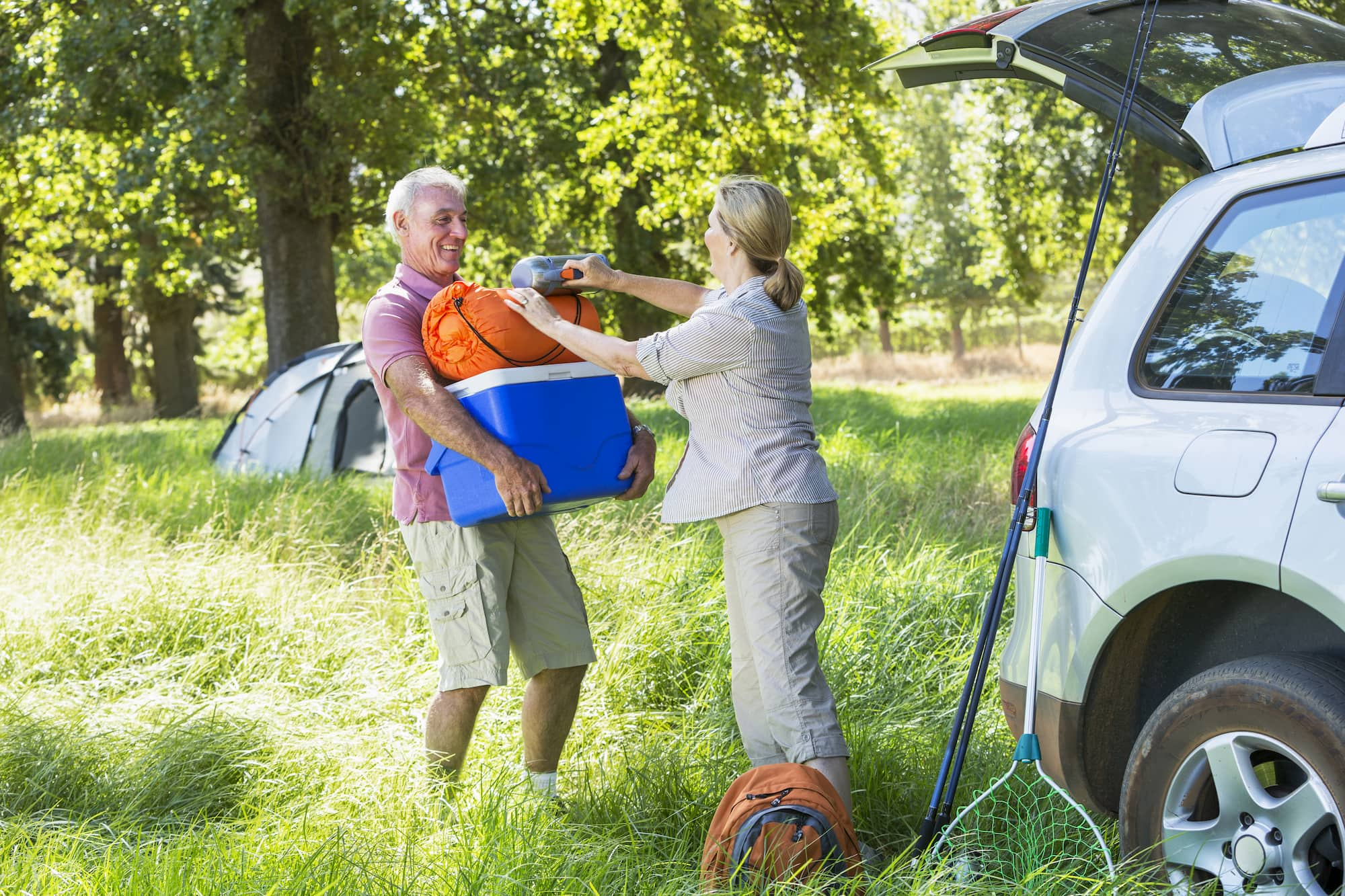 ---
Top 5 Best Coolers on Amazon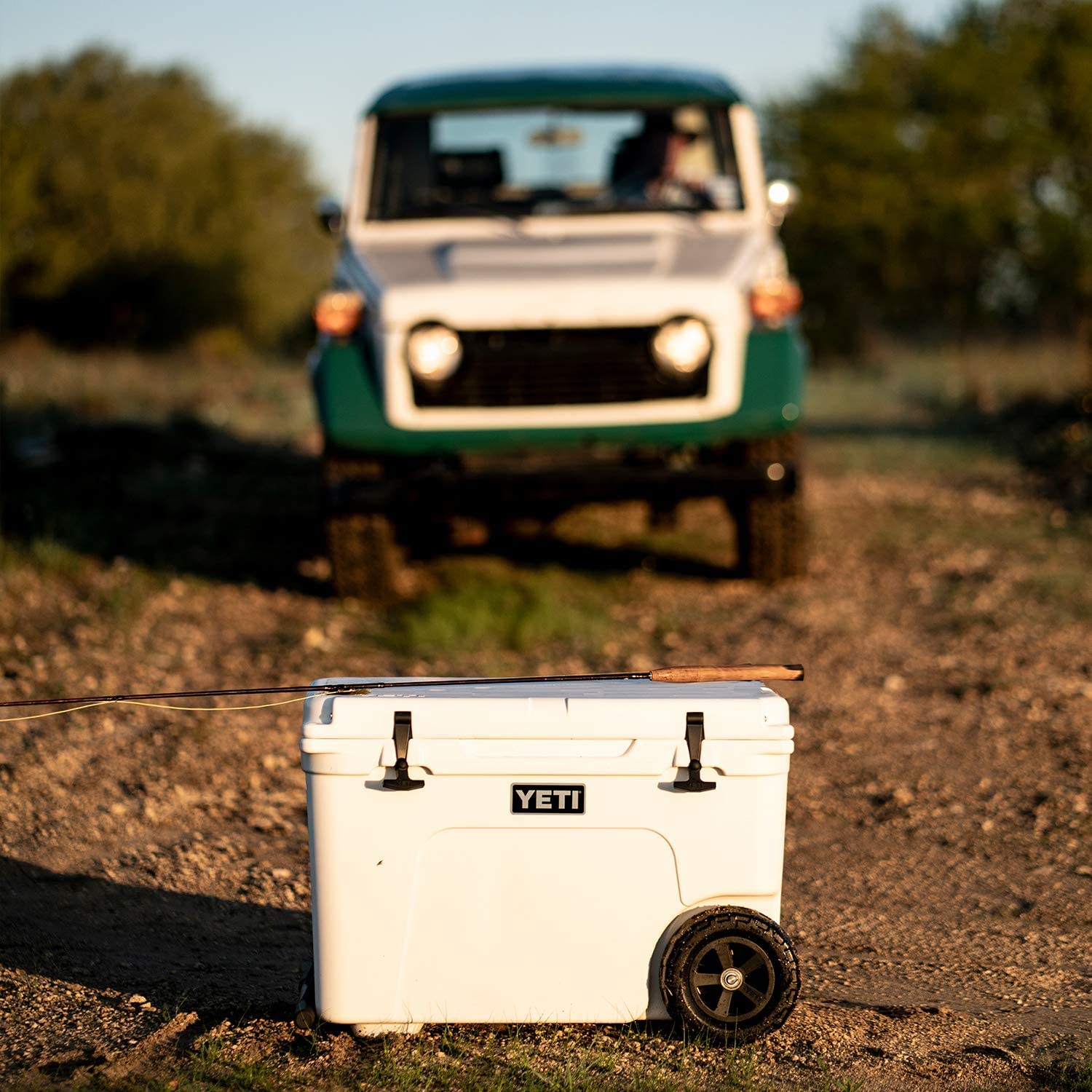 YETI Nation spoke and YETI listened. Their first-ever YETI cooler on wheels is the answer to taking Tundra's legendary toughness and unmatched insulation power the extra mile. And nothing was sacrificed in the making of this cold-holding powerhouse, ensuring the Haul lives up to the Tundra name. The Tundra Haul is now the toughest cooler on two wheels.
First things first - our nearly-indestructible NeverFlat Wheels and T-Bar StrongArm Handle join forces to offer the most durable, reliable, and comfortable towing design. And just like its predecessors, this Tundra is built with Rotomolded Construction and Perma Frost Insulation, so you can trust your contents will stay frosty, even in triple-digit temps.
NEVER FLAT WHEELS - Solid, single-piece tire construction is impact- and puncture-resistant.
STRONGARM HANDLE - Durable welded aluminum arm with comfortable grips. Curved design tracks left or right for heel-friendly towing.
ROTOMOLDED CONSTRUCTION - Makes it armored to the core and virtually indestructible
---
2. Coleman 316 Series Insulated Portable Cooler with Heavy Duty Wheels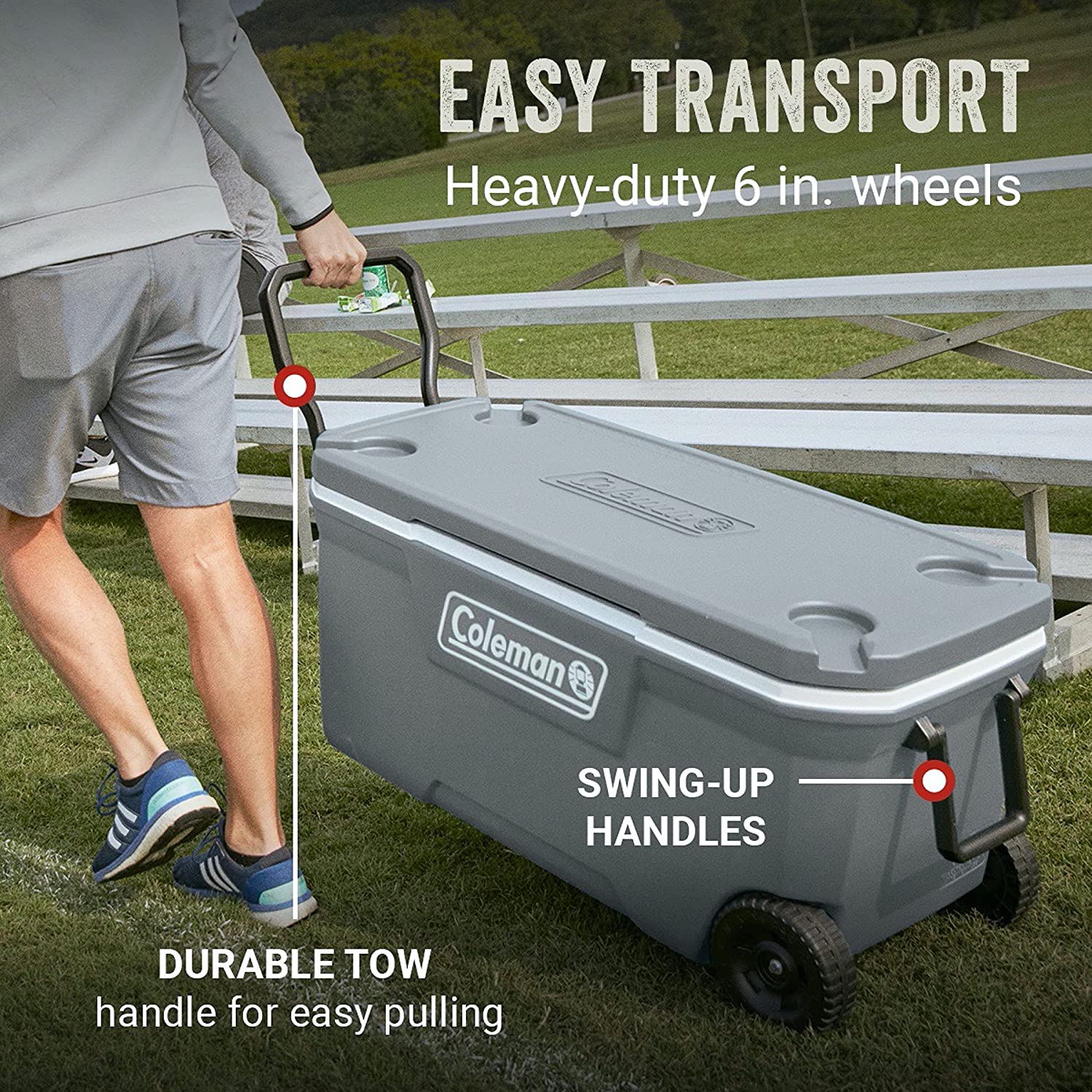 There's an adventure outside—and it's waiting for you. The best part? You don't need to go too far to find it. From your first camping trip to weekends at the lake, Coleman has always been there. So, grab your friends, your family, your gear, and get ready for wherever adventure takes you.
Lid and body Keeps the Ice up to 5 days in temperatures as high as 90°F; logo color on cooler may vary
Heavy-duty 6-inch wheels and durable tow & swing-up handles designed for easy transport
Molded into the lid to keep drinks from spilling; fit up to a 30-oz. tumbler
Closed lid supports up to 250 lbs.
Easy cleanup of leakproof channel drain plug
Recessed lip for easier access to contents
Holds up to 160 cans
Channel drain plug
---
3. The Ultimate Backpack Cooler Companion Beach Cooler Backpack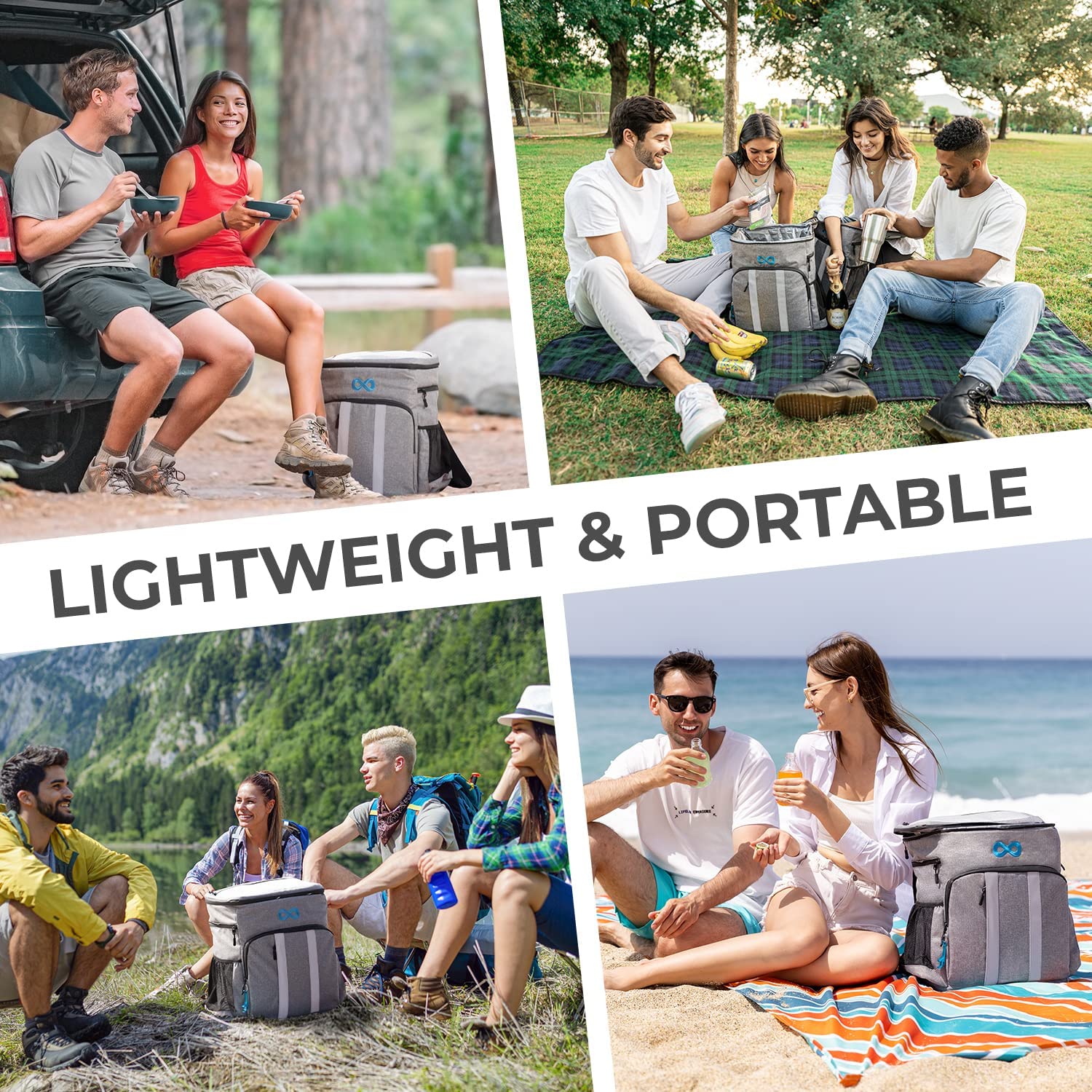 With a 54 can and 4lb ice capacity this insulated backpack cooler is capable of holding much more than other backpack coolers, providing ample space for your needs
Made with high-quality PEVA material and thick waterproof insulated foam, it maintains the temperature of your food and drinks (hot or cold) for up to 24 hrs; No spoilage
This portable cooler is leakproof and waterproof. The hardliner and waterproof zippers keep your drinks and food safely stored, even when the backpack is tossed around
This beach backpack's front pocket is ideal for phones, wallet, and keys, while the dual wine bottle side pockets come with built-inn covers. It also includes a keychain bottle opener
Traditional ice chests and coolers are bulky and difficult to carry. This the portable cooler bag has padded adjustable straps and a carrying handle that's easy to travel with, comfy to wear
Use for any occasion, perfect as a beer cooler, beach cooler bag, travel cooler, lunch backpack for men, boat cooler, food backpack, grocery backpack, and picnic insulated backpack
Made of soft sided with high quality materials and reinforced stitching, designed for longevity. The heavy-duty bottom ensures that it can withstand any trip or adventure
---
4. Blue Coolers Ice Vault Large Chest Holds Ice up to 10 Days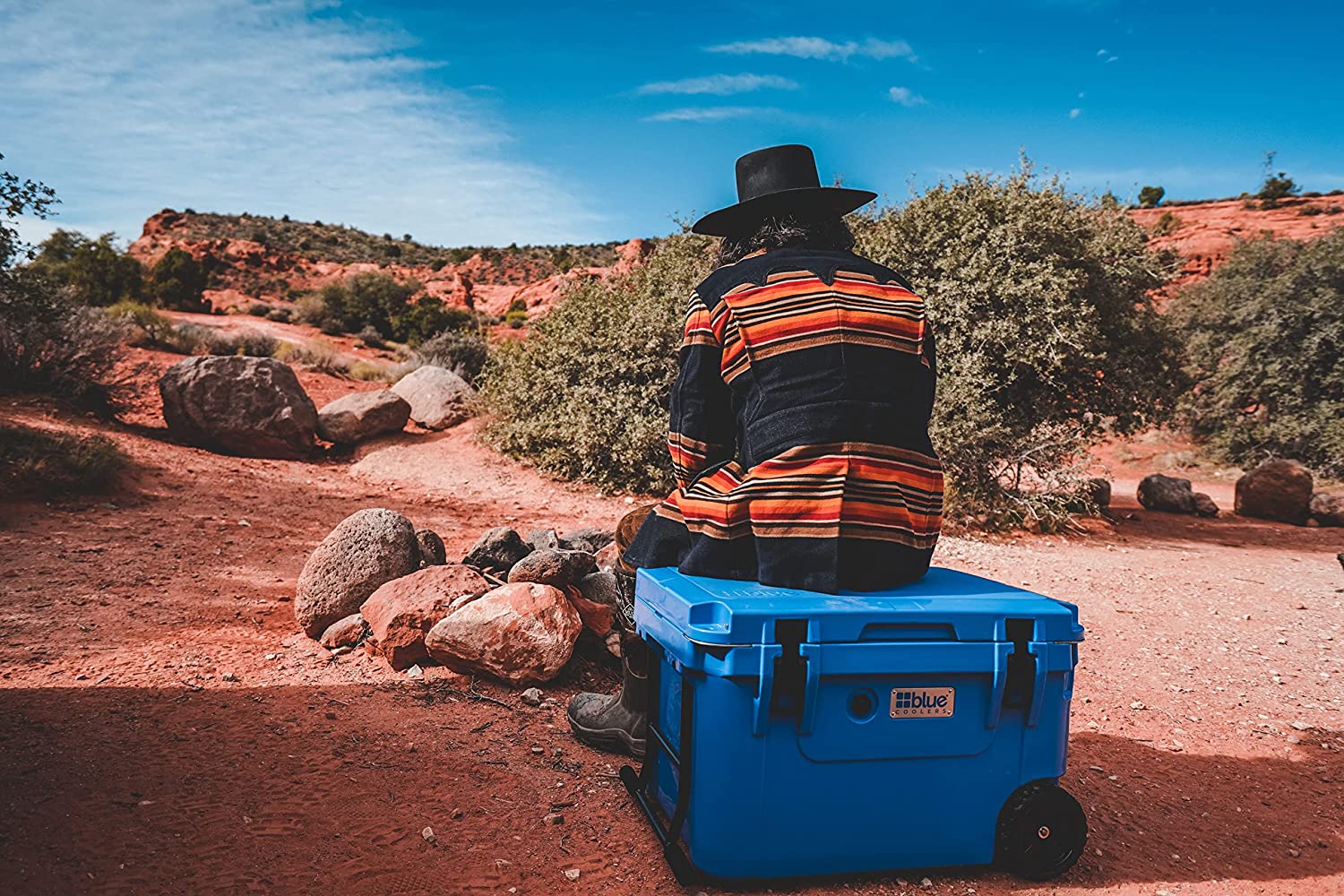 Blue Cooler Ice Vault keeps ice up to 10 days. This is the perfect ice chest for camping, traveling to the beach, outdoor activities, family barbecues or just to keep your drinks cold on your front porch.
Non-skid feet, lockable lid, freezer-style gasket, sure grip handles, a rapid drain system, and much more. This large cooler is the perfect beach cooler to keep your food and drinks freezing cold when you are off on an ocean getaway.
The roto-molded construction ensures that each cooler is rugged and durable, has a consistent wall thickness, and is free of imperfections. It is virtually indestructible and the roto-molded design provides you with a cooler that is ready for your most adventurous journeys. It's the perfect guy gift.
The Blue Coolers 60 Quart Ice Vault will hold up to the toughest abuse due to its best-in-class durability. Whether you need to simply keep the sun away at a soccer game, or need a cooler than can withstand bears, bugs and the wild outdoors, Blue Coolers camping cooler will get it done.
Whether you are a soccer mom, outdoorsman, weekend warrior, tailgater, or just like cold beer and soda, we know you will love it. Perfect for camping, boating, weekend bbq's, hunting, fishing or just hanging out with the family in the backyard
---
5. ZAKEEP Cooler Backpack Large Capacity Anti-Leaking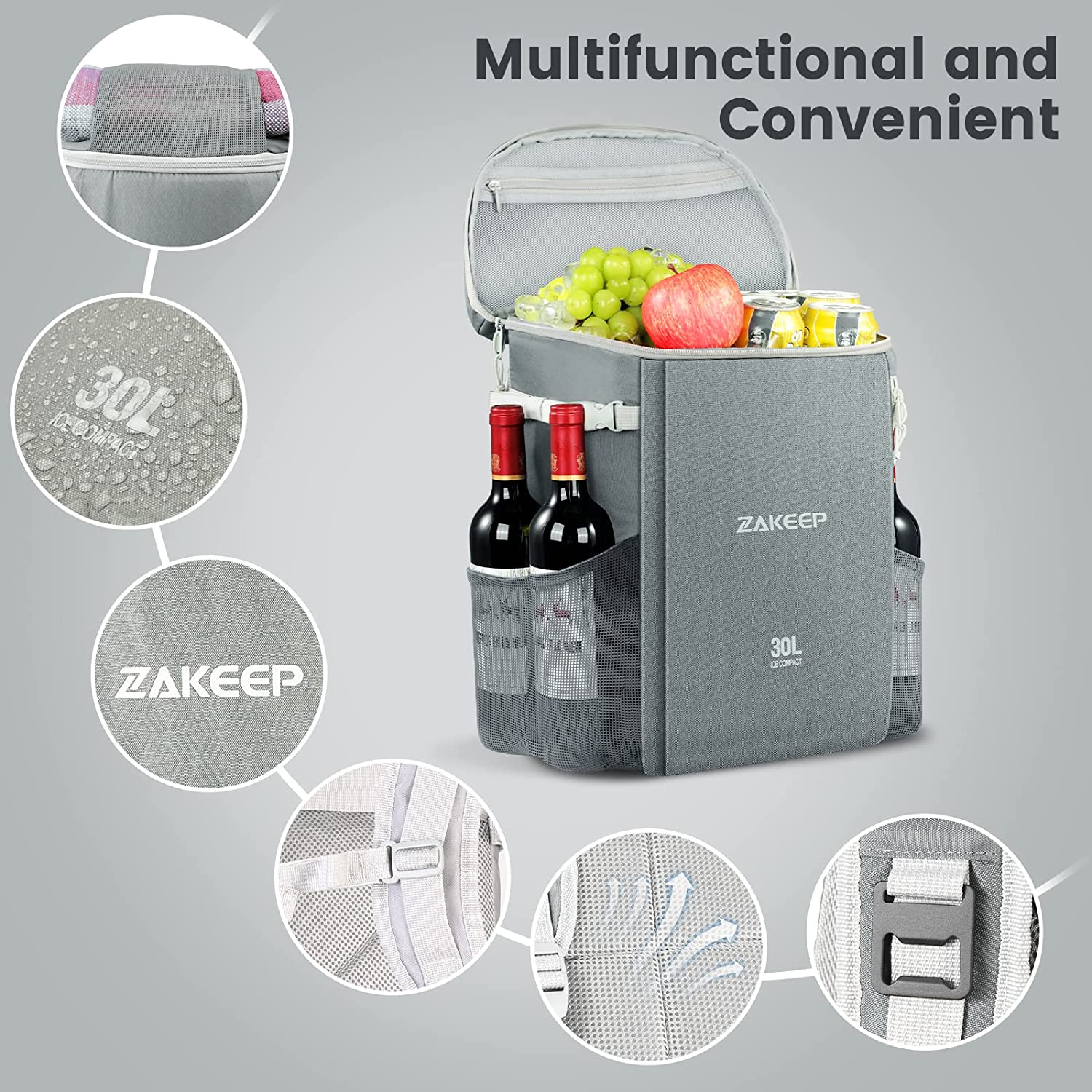 ZAKEEP cooler backpack holds up to 39 Cans(330ml) and 5 pounds of ice in roomy storage compartment, side pockets can hold 4 bottles of wine.
This cooler backpack is made of upgraded leak-proof materials, which works effectively at keeping your liquid contents at their ideal temperature without worry of leaking.
Designed with 8mm High-Density Foam Insulation and PEVA material to keep it cold/hot/fresh for up to 16 hours. You can drink cold beer and eat fresh snacks or fruits anywhere anytime, with your friends or family.
1 large insulated compartment with inside mesh pocket , 2 side mesh pockets, 1 large front pocket with zipper, 1 beer opener on the strap, and 2 side handles for carrying.
This cooler backpack is lighter than others. In addition, ergonomic and padded shoulder straps greatly relieve shoulder pressure, making the journey more comfortable
---
Conclusion
A good camping cooler can make all the difference in keeping your food and drinks fresh and safe while enjoying the great outdoors. With the right knowledge, you can choose the best cooler for your needs and budget, and ensure that your food stays cold and delicious throughout your camping trip.
Remember to consider factors like ambient temperatures, lid opening frequency, and the amount of ice or ice packs you use, and you'll be sure to have a successful, enjoyable camping experience.
Relevant Reads>>>