Camping is a great way to explore the great outdoors and spend quality time with your loved ones. It's also an excellent opportunity to cook your own meals and enjoy your favorite drinks amidst breathtaking landscapes.
However, to make your camping experience more enjoyable and memorable, you need to have the right equipment. One of the essential things you'll need is a good camping table. In this post, we'll guide you through everything you need to know before buying the perfect camping table for your outdoor adventures.
Camping Table Size and Weight
When choosing a camping table, the size and weight are the two most important things to consider. You'll want to look for a table that is lightweight and easy to carry around, especially if you have to hike to your camping spot. At the same time, you'll also want a table that's big enough to fit your needs.
Consider your camping group's size and the activities you have planned before selecting a table. A smaller table may be ideal for a solo camper, while a larger one may be better suited for a family or group.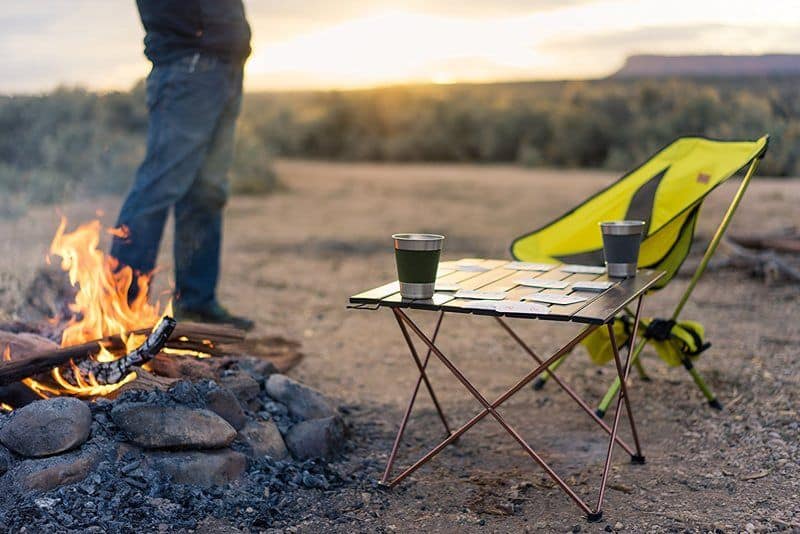 Camping Table Material
The material used for the camping table is also an essential consideration. A good camping table must be sturdy, durable, and able to withstand the elements. Common materials include plastic, aluminum, and wood. Plastic tables are lightweight and affordable, but may not be as durable as other options.
Aluminum tables, on the other hand, are more durable, but maybe a bit more expensive. Wood tables are sturdy and look great, but may be heavier than other options.
Camping Table Portability
Portability is another important factor to consider when buying a camping table. You'll want a table that's easy to set up and take down, and that can be packed efficiently.
A folding camping table is an excellent option since it saves space and is easy to store. Look for tables that come with a carrying case or bag, which makes transportation a hassle-free experience.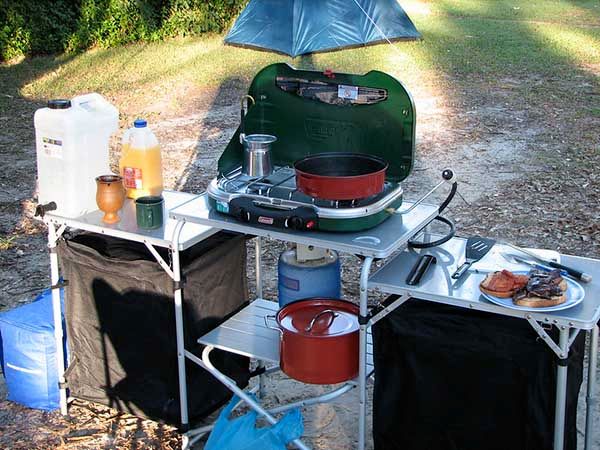 Camping Table Features
Camping tables come in various shapes and sizes, and some come with extra features that can make your outdoor experience even better. Examples of such features include built-in cup holders, literature holders, sun shades, and adjustable legs. Consider what features are crucial to you when making your choice.
Camping Table Prices
Finally, price is a critical factor to consider when buying a camping table. Camping tables can range from very affordable to quite expensive. While it's tempting to go for a low-priced table, it's important to remember that quality comes at a cost. Choose the table that fits both your budget and your needs.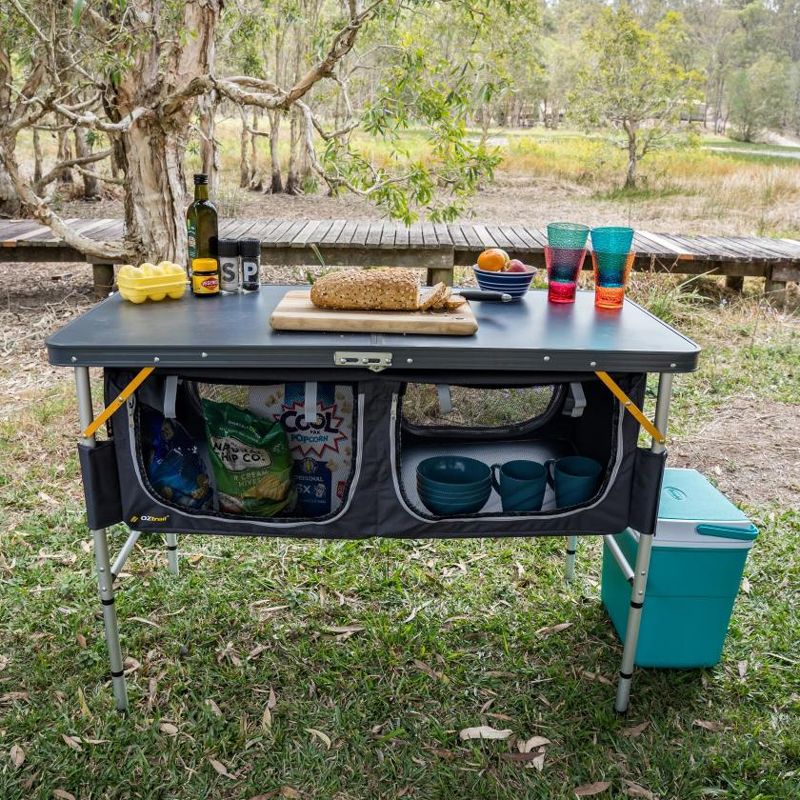 ---
Top 5 Best Camping Tables of Amazon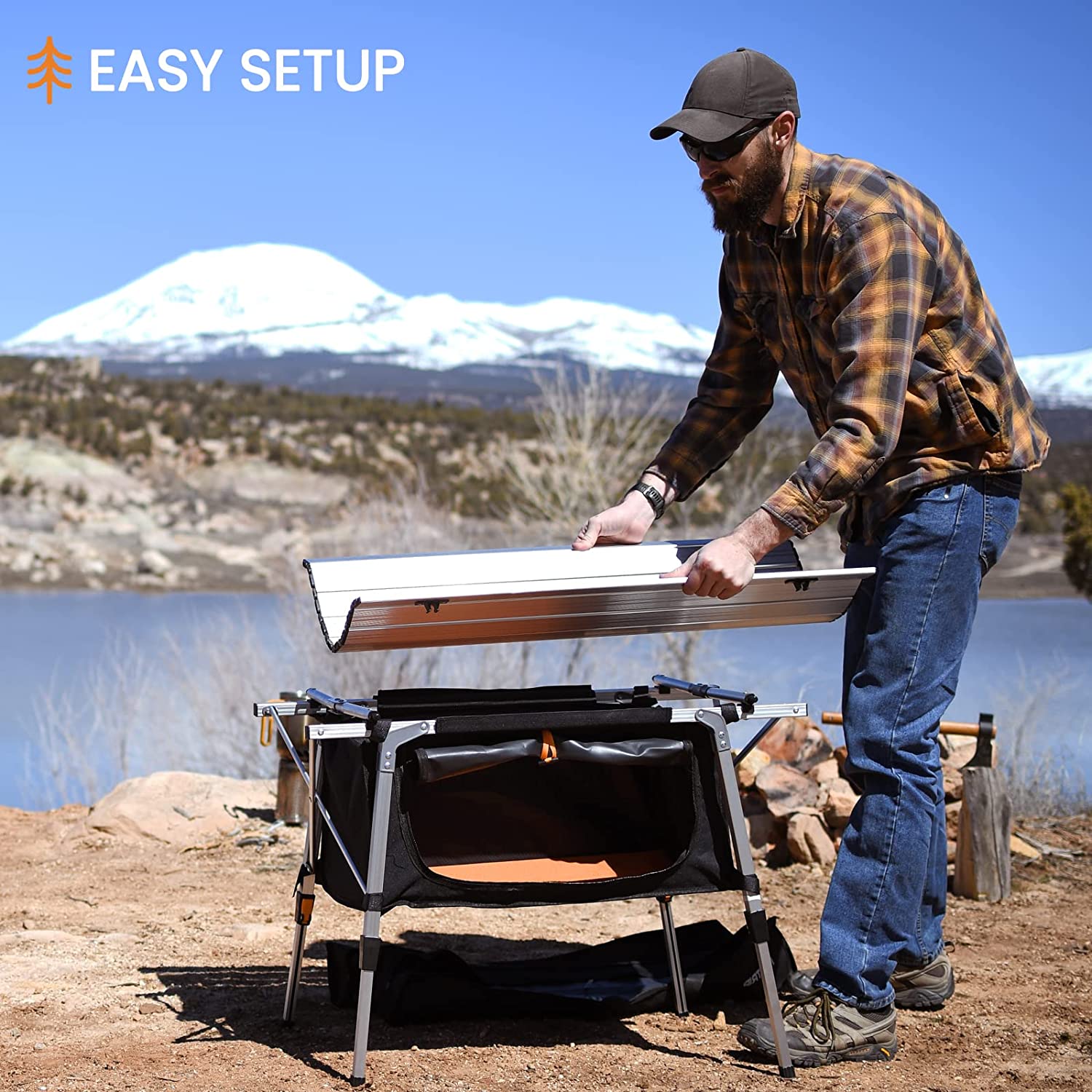 HEYTRIP folding camping table features a storage layer with baseboard and convenient molle straps, providing ample space to organize and store cooking supplies, snacks, cutlery, games, and more. You can also hang S-hooks or speakers, bags, and equipment with ease, bringing convenience and cleanliness wherever you go.
Adjust the camp table to any height for sitting or standing, making it suitable for preparing food, playing games, using a laptop, or simply enjoying a meal.
The stable and durable construction with X-shaped side supports and thickened aluminum alloy frame ensures that the camping table stays sturdy on any surface, even on uneven ground.
Weighing only 13 lbs this foldable picnic table can support up to 66lbs. It's foldable design and compact size makes it convenient to store in the back of your car or in limited spaces. It's an ideal choice for camping, hiking, backpacking, fishing, gardening, picnic, BBQ, and any outdoor or indoor activity all year round.
The table is made of waterproof, rust-resistant, and heat-resistant aluminum with anti-slip feet support. You can easily set up and dismantle the camping table without any tools, just unfold the table, adjust the legs, and secure the locks.
The foldable beach table is not only perfect for outdoor activities but also for indoor use as a bed/sofa laptop table, small patio table, or BBQ side table.
---
2. Camping Kitchen Table Folding Light Stand and Windshield Cooking Station & 3 Organizers Carry Bag for Beach BBQ Picnic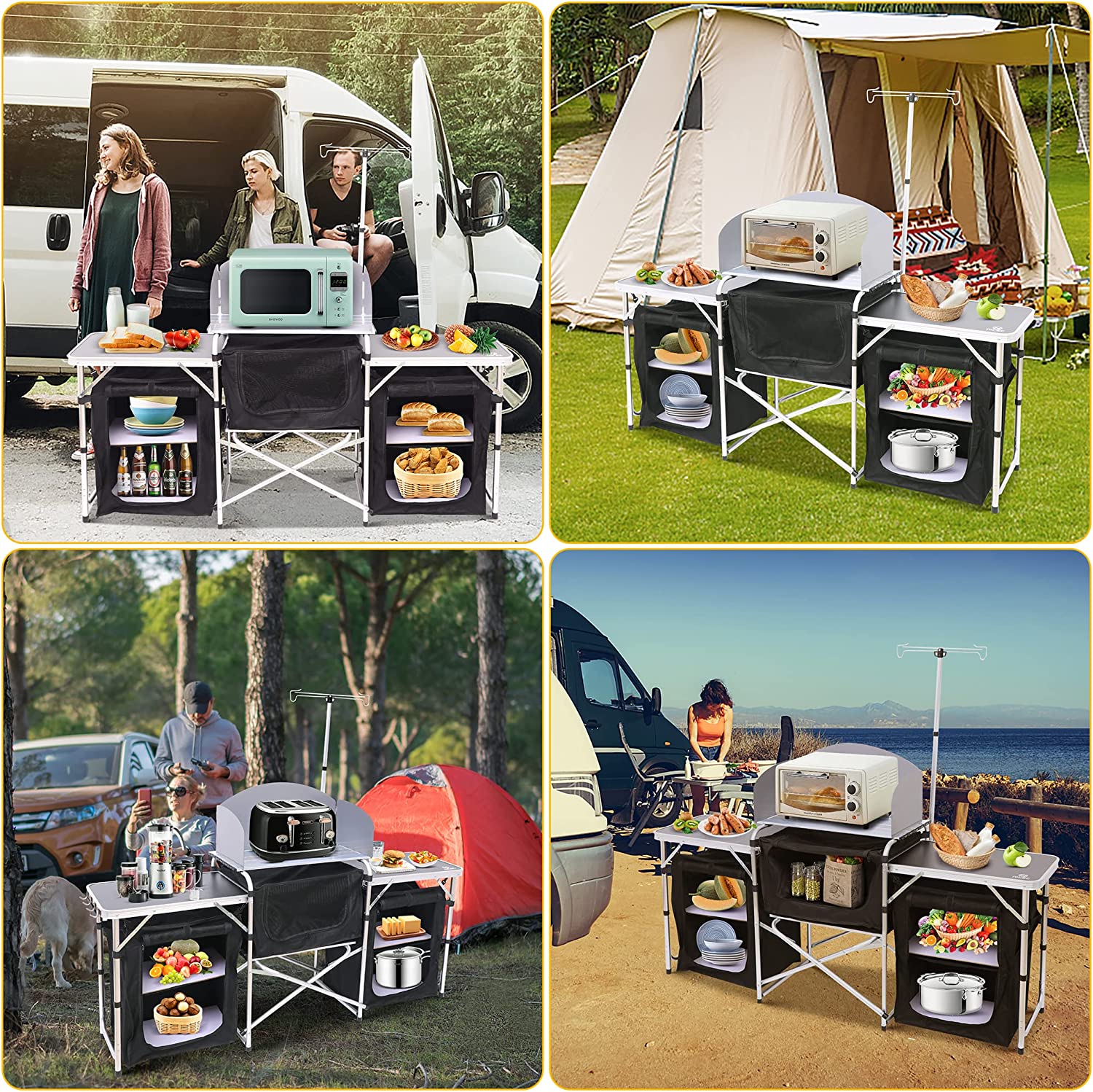 Hungry after fun? Enjoy your cooking with this all-in-1 kitchen station. No worry about the wind or light. Hang your light on the light stand and let the aluminum windshield stand for your fire.
The foldable feature makes it easy and convenient for you to transport it wherever you please. This product also comes with a compact carrying handle that allows you to bring the table around easily.
3 detachable organizers with 5 separate storage rooms. Upgrade three hooks are perfect for your pan or bags. You can store all your food and personal items under one table.
This table is not only easy to use, but it is also waterproof. This allows any spills or messes to be cleaned easily. Bringing this to the beach or to camp would be a breeze.
---
3. KingCamp Camping Table Aluminum Folding Roll Up Lightweight Portable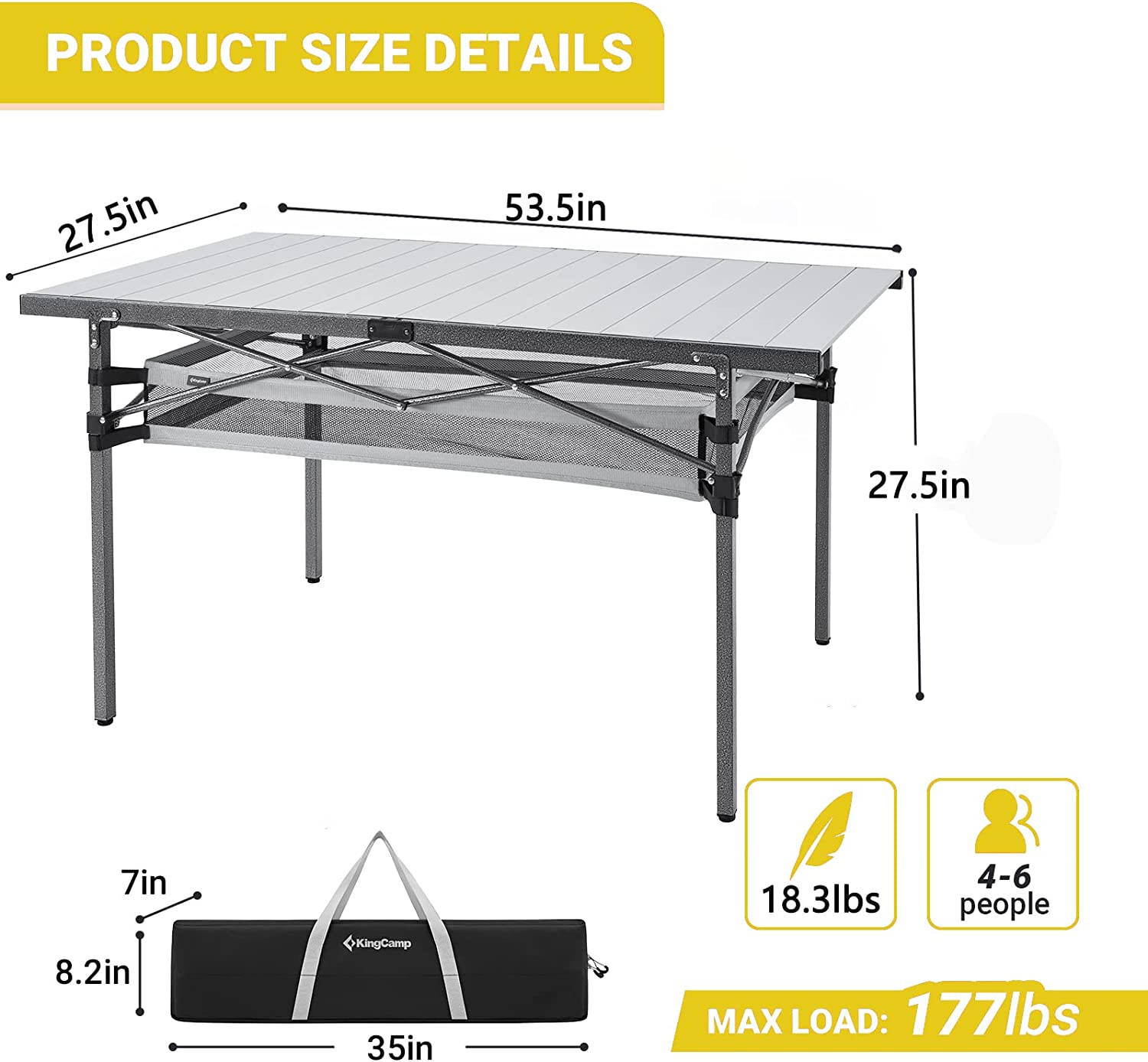 The kingcamp aluminum large desktop area provides comfortable space for 4-6 people, with a triangle stent design for added leg room at 27.5 inches height.
This folding camping table is lightweight and portable, weighing only 18.3 lbs and folding , making it easy to carry and store in most car trunks. The included carry bag with handle adds to its convenience.
This folding camping table is constructed from thicker aluminum alloy with an anodized treatment, making it rust-free, corrosion-resistant, and easy to clean. The table top features a triangular steel structure design with metal material contact points, ensuring stable use even in rugged outdoor conditions.
No tools are required for assembly of this portable folding picnic table, making setup a breeze. The table top and aluminum legs are easy to set up or fold down, saving you valuable time and space during camping, tailgating, or backyard use.
The King Camp portable camping table is versatile and suitable for both indoor and outdoor use. It can be used as a picnic table, beach table, camping kitchen table, and is ideal for camping, beach trips,tabletop sports events, RV camping, and fishing.
---
4. Camping Table Folding for Picnic with 4 Cup Holders and Carrying Bags
The portable camping table Top has 4 mesh cup holders, Below the top frame of the desktop, there is an extra lower storage area for the folding table for camping allowing more space.
This folding picnic table is made with heavy Duty washable 600D canvas with study metal frame. Hold up to 28 pounds.
Small Camping Table, extra tight table top design prevents sag, stays flat when objects are placed on the picnic folding table don't worry about accidentally spilling drinks on the collapsible camping table top, just wipe it clean!
Just pull it out of the bag and fastening the camping tables tabletop to the base! Assembles in less than a minute!
Lightweight folding round table is perfect for picnics, BBQ, camping, hiking, fishing, garden, yard, beach or even around the house as a snack table or game table. Camping tables that fold up lightweight
---
5.Plastic Folding Portable Table for Parties Backyard Camping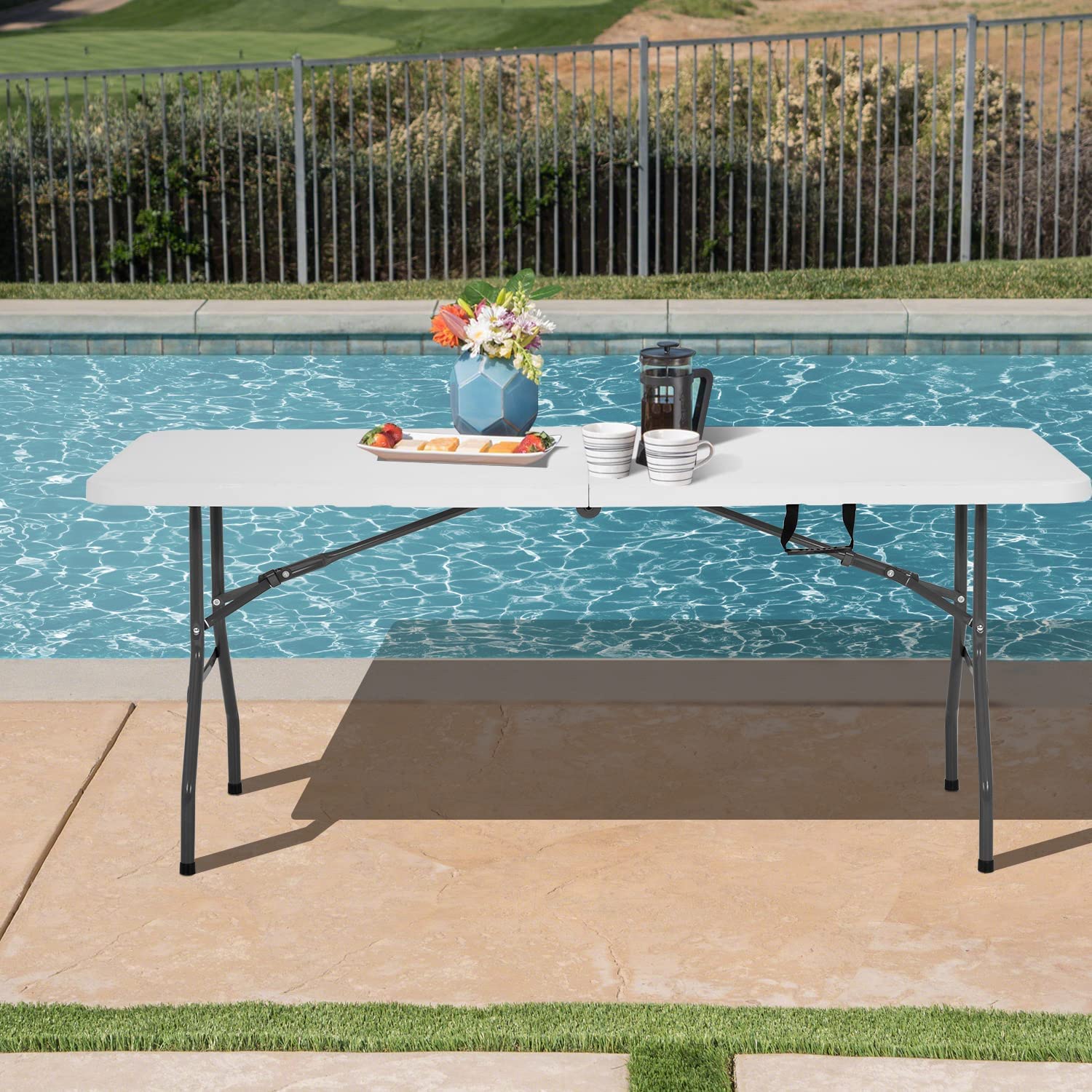 The folding table with powder-coated steel legs, the camping table frame joint locks, and non-slip rubber feet help to keep the plastic table in place during every event.
Foldable design of the folding table includes a side lock and handle, making the camping table easy to take on the go or store away in a compact space when not in use the plastic table
Camping table comes with a handle, great for commercial use, parties, backyard events, traveling, family exercises, etc. You can take the plastic table to everywhere you want
The folding table come fully assembled and folded of the camping table
You can fold the folding table up and easily store behind your dresser, Then the camping table are out of sight, and easy to grab the plastic table when needed
---
Conclusion
Choosing the perfect camping table for your outdoor adventures can make a significant difference in your overall camping experience. Consider the size and weight, the material used, the portability, features, and price before making your purchase. With the right camping table, you'll have a comfortable and enjoyable outdoor adventure with family and friends.
Happy Camping!
Relevant Reads>>>