Do you find it hard to sleep on your rock-hard bed? Are you tired of getting back pains and neckaches from sleeping on your couch? Are you looking for a solution that will give you the comfort you need to get a good night's sleep?
If yes, then you're in the right place. In this blog post, we'll explore how hammocks can provide an ideal balance of comfort and support while also helping you get a restful sleep. You'll also discover the numerous health benefits that come with using hammocks, how to select the best one for your needs, and much more.
The Enjoyable Rocking Hammock in Nature
Hammocks have been around for centuries, and they were traditionally used by sailors and adventurers seeking rest and relaxation while at sea. However, they've since become increasingly popular among people looking for an alternative to a traditional bed.
The ergonomic design of a hammock provides a comfortable and supportive surface that conforms to your body, making it easier to achieve and maintain proper posture. Proper posture aligns your spine and reduces neck and back pain from sleeping on harder surfaces such as the floor or couch.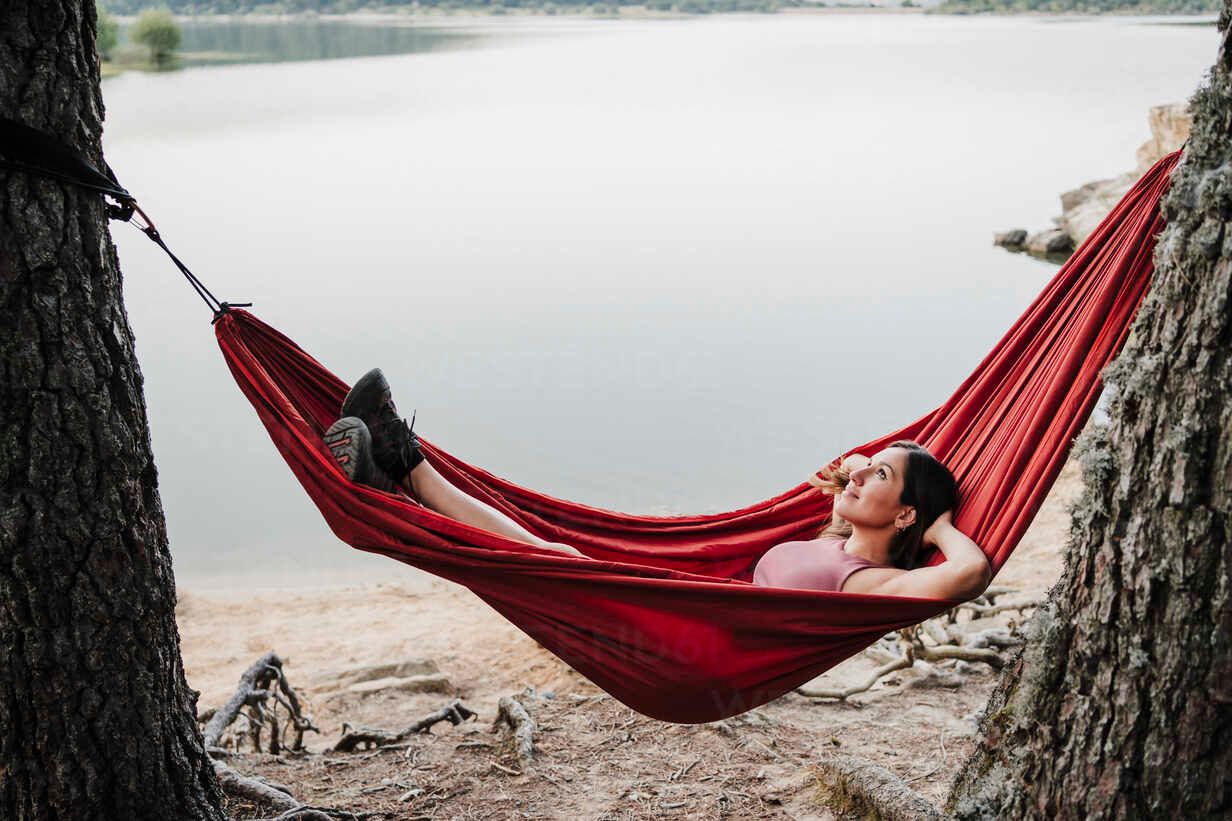 What are the Benefits of Sleeping on a Hammock
One of the key benefits of sleeping on a hammock is that it's suspended off the ground. This allows for plenty of air circulation, which helps prevent you from overheating throughout the night.
You don't have to worry about sweating and getting too hot while you're sleeping, which can be especially beneficial if you live in a hot and humid climate. Plus, the gentle rocking motion created by slight shifts in weight can help lull you into a deeper and more restful sleep.
Hammocks aren't just an alternative to traditional beds—they offer several unique features that can help improve your health and well-being. For example, studies have shown that spending time in a hammock can reduce stress levels, lower blood pressure, and even boost your immune system. This is especially beneficial for people living in high-stress environments or suffering from anxiety disorders.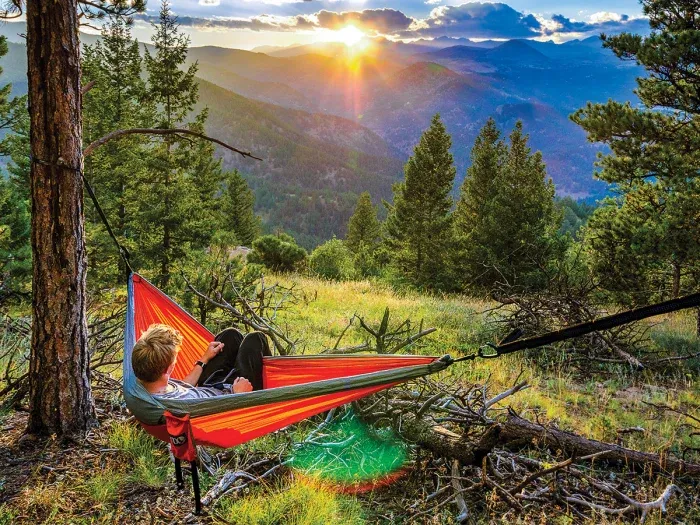 How to Select the Best Hammock for Your Needs
When selecting a hammock for your needs, several factors must be considered. To ensure you get the most comfortable and ideal hammock for your needs, consider these factors:
Size - Consider how much space you want for yourself in the hammock and how many people will regularly use it. A single-person hammock is usually the more compact option if you don't plan on sharing it, while a double-person one is ideal if two of you will regularly lie in it together. Also pay attention to its length and width; depending on your height or size, some types/sizes might fit better than others.
Materials - Look at what kind of material has been used to make the product; different materials offer different levels of comfort and durability such as 100% cotton or polyester fabrics that are suitable for all weather conditions (rainy days, etc.) so think about where and when you plan on using your new hammock. Many other materials also provide greater resistance against UV light exposure or molding depending on their construction design which might come in handy too!
Stand - If portability is important to you then stainless models are probably ideal because they weigh less than those with stands included; however, if mobility isn't an issue then choose one with a stand included since they bring convenience when setting up indoors or outdoors without requiring additional items like trees, beams, etc.
Last but not least look at budget considerations as they can vary greatly depending on features such as built-in pillows or extra wide sizes etc. Keep these points in mind when shopping around for a hammock and enjoy using yours every day!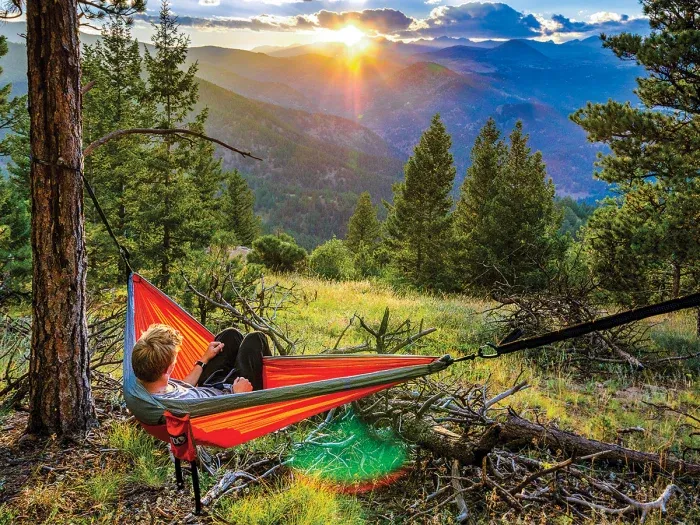 ---
Top 5 Best Hammocks on Amazon: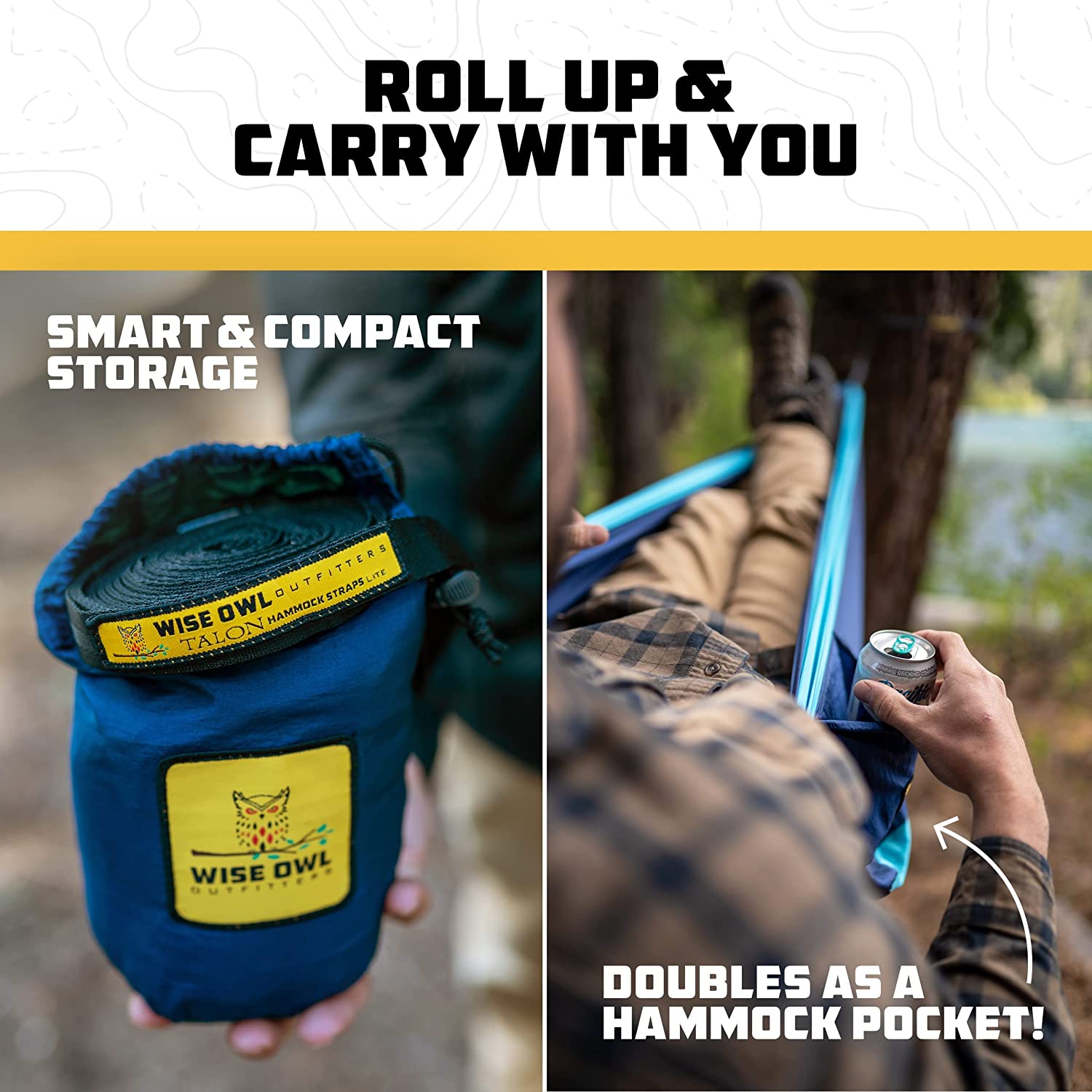 Comfortable: Whether you're relaxing by the fire, sleeping under the stars, or just lounging around this winter camping season, our camping hammock has everything you need to stay comfy and covered throughout the night for your next camping, hiking, or beach trip even just lounging in your backyard & patio on a hammock stand!
Compact: Lightweight and convenient, our portable hammock weighs only 24oz and folds to the size of an eggplant. Single Hammock measures at 9 feet long by 4.5 feet wide for one person, and the Double Hammock measures 10 feet long by 6.5 feet wide for either two people or anyone who wants some extra space. Throw it in your backpack and go!
Easy Setup: Equipped with two 9ft long tree straps and carabiners, these hammocks for camping make setting up a breeze. It also features 5 separate loops, so you can adjust it to the perfect height. The single hammock holds up to 400 lbs, while the double hammock holds up to 500 lbs
Premium Quality: these camping hammocks are crafted with soft yet strong parachute nylon and triple interlocking stitching, along with strong carabiners and tree-friendly hammock straps. They are machine washable with a very small amount of soap.
Camping Gifts: No matter the occasion, this hammock is a camping gear must-have for the adventurer in your life. This is the perfect gift for all outdoor enthusiasts for upcoming camping trips and a perfect gift for Mother's Day!
---
2. LA SIESTA Brisa Classic Hammock Handmade Weather-Resistant Tear-Resistant Hammock for Outdoor Relaxation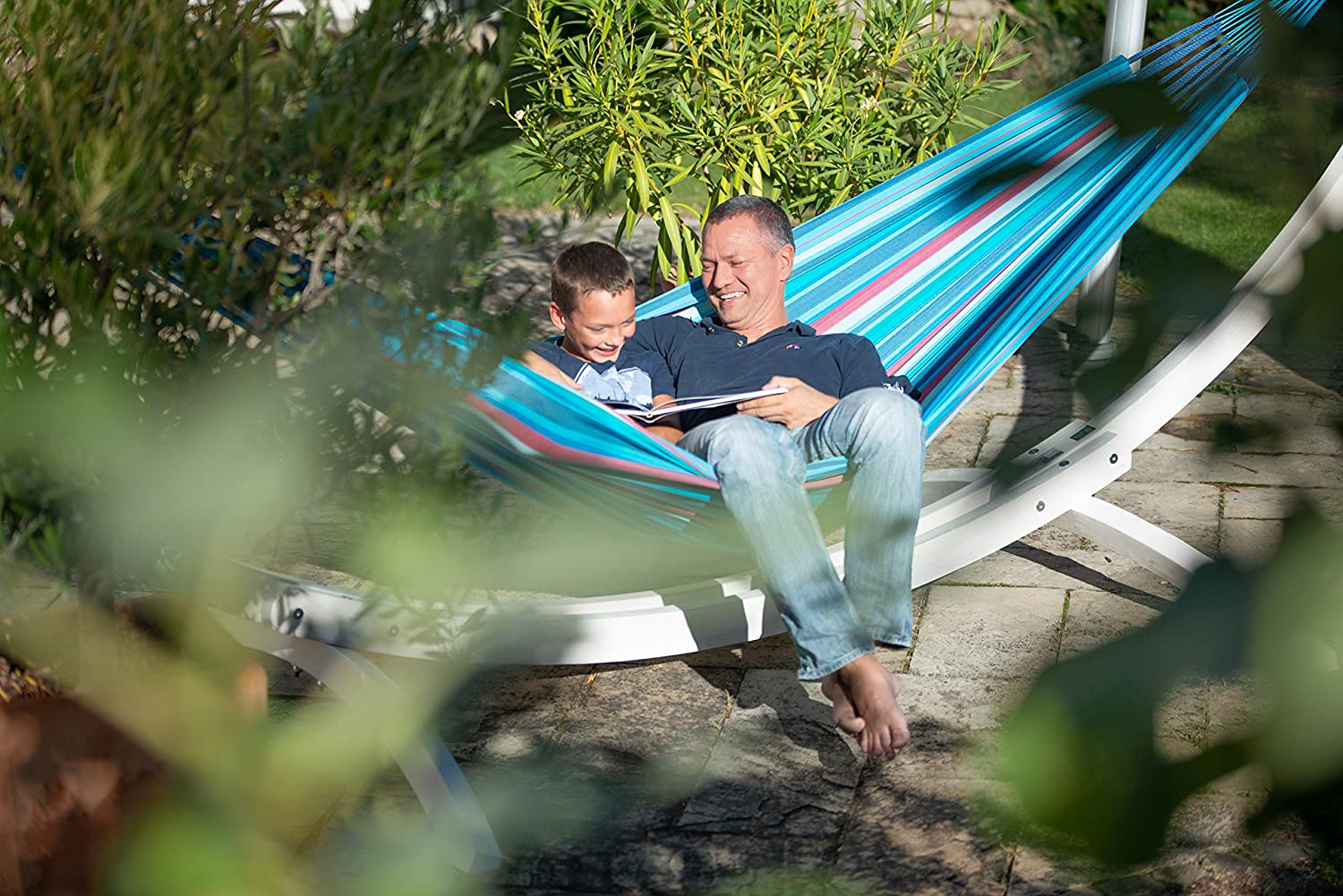 Each piece is handmade using traditional artisan methods for a unique, comfortable, one-of-a-kind hammock, reflecting the diversity and joie de vivre of Colombia via fair working conditions, climate-neutral production, mutual respect, and a spirit of collaboration
Sturdy 100% polypropylene fabric is durable, breathable, easy to care for, and crafted for outdoor use; High count suspension cords–84 for Double, 92 for King–increase reclining comfort and give a feeling of weightlessness; Doubled weft threads reinforce edges and make it tear-resistant; Weather-resistant and dries quickly
Can be used outdoors or indoors; Fast and easy to install in your home, garden, patio, or backyard or on the go at the park, beach, camping, or travel; Easy rolling makes it practical to pack and transport; When rolled up, it takes up less space than a pillow
Choose from vibrant and bright patterns to neutral and timeless shades for any style, from modern to coastal; Machine washable and easy to maintain
---
3. Sunnydaze Outdoor Quilted Fabric Hammock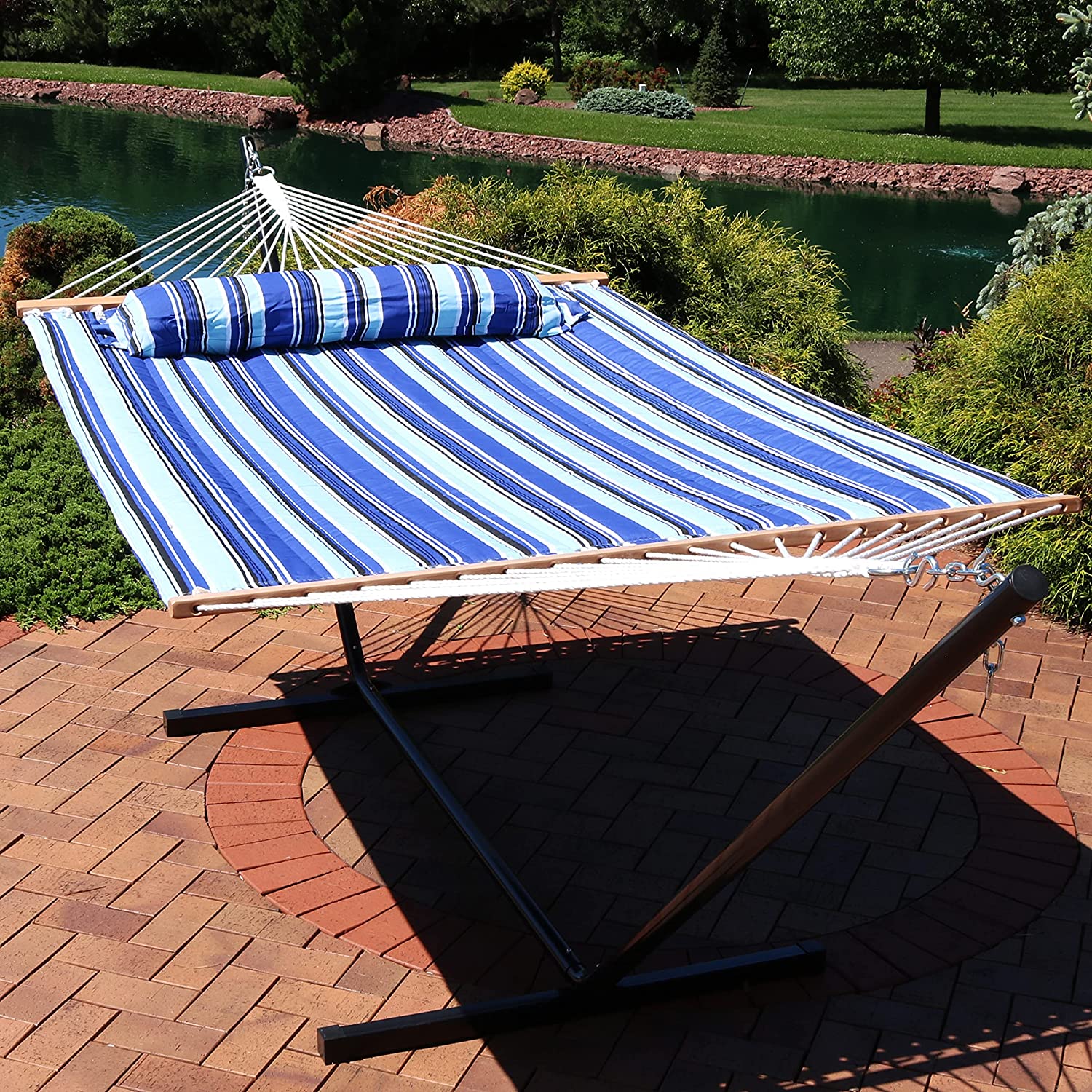 This quilted double hammock is 130 inches long and 55 inches wide from loop to loop. The bed size is 74 inches long by 55 inches wide. It weighs 11 pounds and has a weight capacity of 450 pounds.
This quilted hammock with pillow is made from dye-treated polyester material, which provides UV-resistance to add longevity. This outdoor hammock also features hardwood spreader bars to maximize both comfort and style.
This hammock with spreader bar comes with a pillow and two zinc-coated 9-inch hanging chains, making it easy to set up and place on the stand.
This portable two-person outdoor hammock can be tied between trees, or poles, or used with a 12-15 foot hammock stand. You can use it for camping, in the backyard, on the deck, and more! It can also serve as a replacement for when your old hammock gets worn out.
---
4. Sunyear Camping Hammock Portable Double Hammock with Net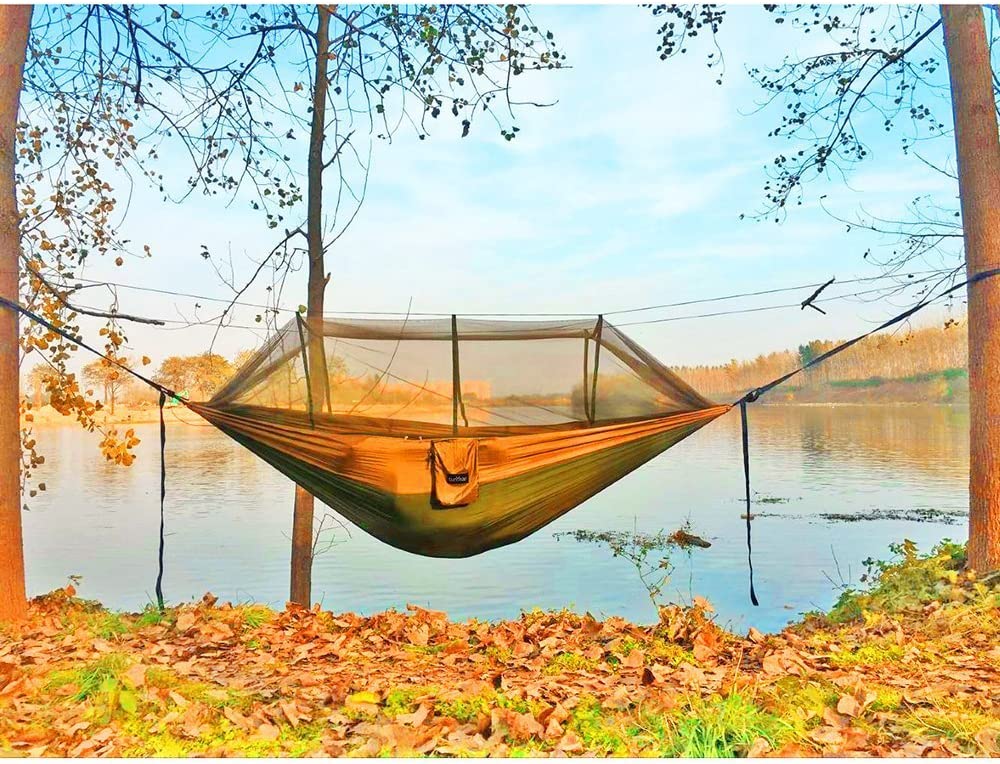 This is one of those camping hammocks you can actually sleep in outside. The compact & lightweight outdoor hammock comes in an elegant pouch with all its installation tools. Ideal for solo adventures, camping, hiking, backpacking, travel, emergency.
This hammock comes with 2 easy-setup hammock straps(32 adjustment loops + 20ft long combined)+2 carabiners (Single Hammock: 2 Solid steel D-shape / Double Hammock:2*12KN ultralight & heavy duty carabiners)+2 net ropes at valued more than $22 on Amazon. NO need to buy any other tree straps or carabiners. Save your TIME and MONEY. Perfect gifts for him/her.
Love into the wild adventures, camping, and backpacking. If so, then this heavy-duty hammock with net is the answer. Use it as a large sleeping hammock bed. Best gift idea for camping lovers. Flip it over and use it as a relaxing tree hammock in seconds!
Made of high-quality 210T parachute nylon materials and special designed durable net fabric. This lightweight portable hammock is designed to accommodate even your most demanding camping needs.
---
5. Y- STOP Hammock Chair Hanging Rope Swing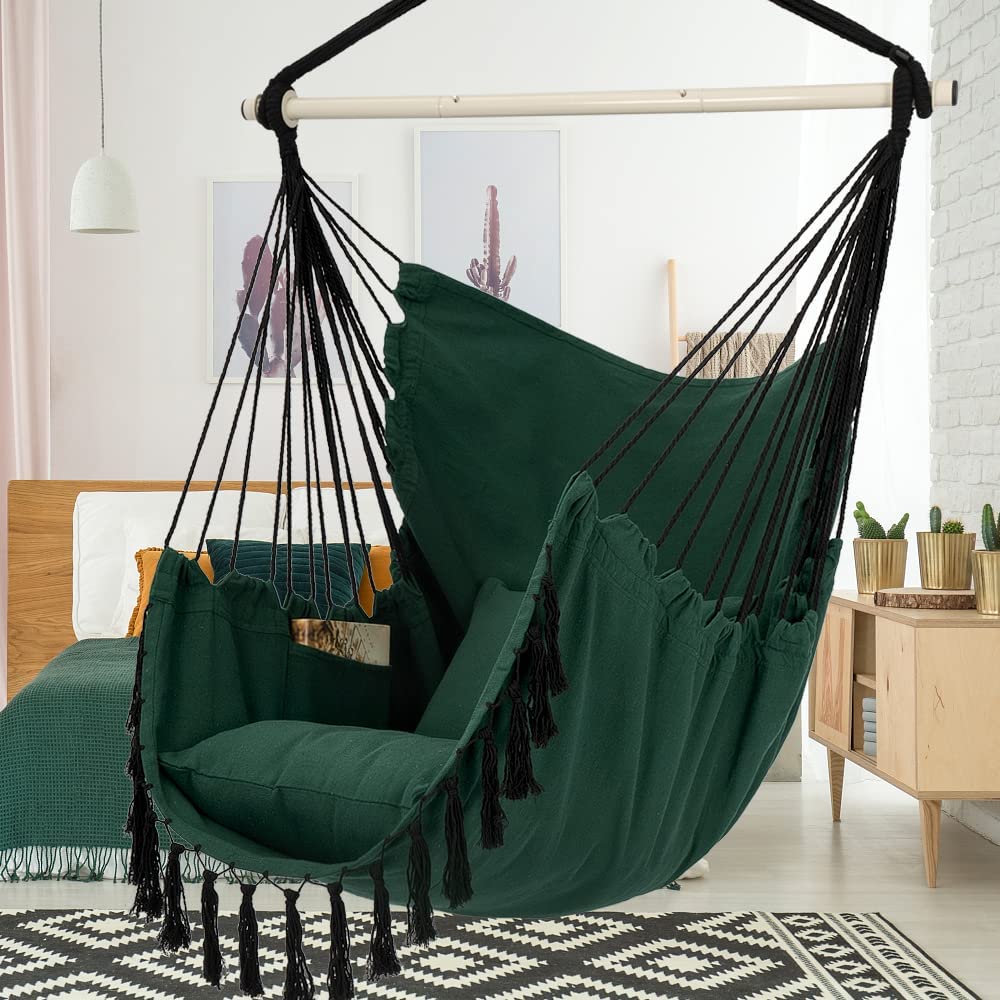 Comfortable enjoyment, this stylish hammock chair is comfortable and durable. Once you lie down in it, it allows you to enjoy the comfort of a soft sponge, and it is large enough, unlike other small-sized hanging chairs, which can only sit up, which allows you to lie down and enjoy full relaxation
Soft and durable hammock chair: Y- STOP comfortable hammock chair is made of soft polyester/cotton, allowing users to enjoy the comfort of a soft sponge, with excellent softness, durabili,ty and comfort. So it is a best resting place for adults, children or pets
This portable hammock swing chair has a side pocket. The unique side pocket can hold mobile phones, books, iPads, and drinks, which is very convenient and provides you with a good reading space
The stylish hanging chair comes with stainless s teel ceiling mount and a stainless steel chain, which can be hung anywhere, you can easily move it anytime, anywhere. Just find a branch, beam or hammock frame, and it's easy install it
Comfortable hanging chair swing provide the best reading place for busy people. You can easily meditate or enjoy the scenery. It is very suitable for use in bedrooms, balconies, courtyards, and gardens.
---
Conclusion
Hammocks are no longer just for sailors and adventurers; they're becoming increasingly popular among people looking for a comfortable and healthy way to sleep. They provide an ideal balance of comfort and support, aligning your spine for proper posture, reducing neck and back pain, and increasing air circulation throughout the night.
Hammocks come with several health benefits, including stress reduction and improved immune system function. When selecting a hammock, consider your available space, preferred type, and materials. Considering these considerations, you'll be well on your way to a good night's sleep on your very own hammock.
Check Out Our Relevant Reads: