What are Electric Surfboards>>>
Electric surfboards, also known as e-surfboards, are powered surfboards that use electricity to drive their propulsion. These boards are a type of electric vehicle that has become increasingly popular in recent years due to the rise of technology and its potential for extreme sports.
Unlike traditional surfboards, electric surfboard motors run on batteries that can be recharged from land or from solar energy when out at sea. This allows riders to travel farther and faster without relying on wind or wave power alone. Additionally, these boards have been designed with sensors and mapping technology for better control over speed, stability and direction while riding.
Apart from being fast and agile, electric surfboards provide another unique advantage: they generate no fumes or exhaust gases which makes them an eco-friendly alternative to gas powered motorboats or other vehicles used in watersports activities such as wakeboarding or water skiing.
Electric motors also produce little noise pollution which is beneficial for coastal ecosystems such as coral reefs near popular surfing spots around the world. Furthermore, these boards are much lighter than standard motorboat vessels making it easy for riders to carry them in smaller cars or transport them via public transportation since they don't require fuel like petrol-powered boats do.
Overall, electric surfboards offer thrill seekers a much more advanced way of enjoying waves while reducing their carbon footprint at the same time!
How Electric Surfboards Work>>>
You might remember seeing Zukerburg on social media waving the American Flag while riding, or when he had his face covered in sunscreen on his eclectic surfboard. The technology behind what's actually going on here is incredibly impressive, but there's also a lot of science and history behind it as well that dates all the way back to the late 1800's.
How you actually get flying above the water on one of these boards and the difference between the battery-powered, and the nonmotorized surfing ones.
First off - What Exactly is a Hydrofoil?
Well, there are two different types - a SURFACE-piercing hydrofoil and a fully submerged hydrofoil, but both achieve the same effect - lifting the hull of a watercraft out of the water to fly above the waterline. This isn't a new concept - people have been toying with the idea since 1869.
Later, in 1919, Alexander Graham Bell the same guy that invented the telephone successfully designed a hydrofoil boat and broke a world speed record of 70.85mph. And for a while after that, hydrofoils became tools for the military to hover over the waters.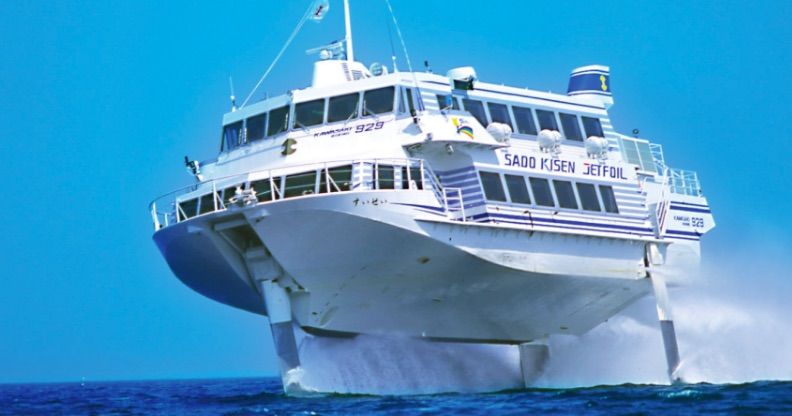 But more recently, surfers have taken it upon themselves to use science and technology for fun. So what is the science behind achieving flight and feeling on one of these boards? Much of it is based on Bernoulli's Principle: if a fluid's speed increases, its pressure decreases.
As you cut through the water and start to pick up speed, the pressure on the top of the wing decreases, as the pressure under the wing increases - This, along with the way the wing is shaped - effectively creates lift.
We Outlined the Best Electric Surfboards on the Market for 2022/2023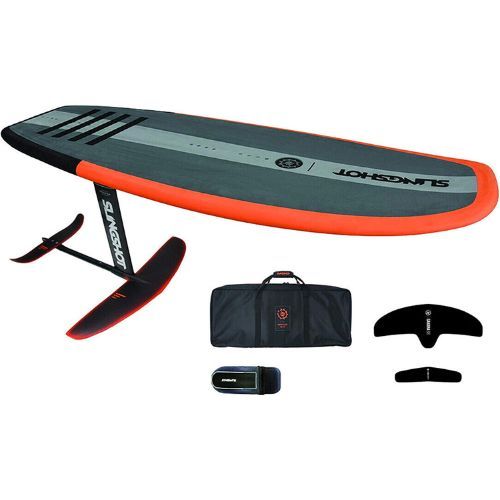 Slingshot Sports Hover Glide FWake V3 Foil
CHECK PRICE ON AMAZON
Why We Selected this Electric Surfboard>>>
The Hover Glide Foil Wake V3 Package is the ultimate package for learning to foil. The package pairs our WF-2 board which has a fully wrapped EVA deck and Slingshot's award-winning Hover Glide FWAKE hydrofoil equipped with a Gamma 68cm front wing and 61cm mast. A front half strap is also included and will make connecting to the board for deep water starts simple and easy!
The WF2 quickly takes riders from wake surfing, to "wake surfing 2.0" in a matter of a few short sessions. Unlock your surfing potential 2-3 waves back and turn any body of water into a sheet of glass - That's the power of the Hover Glide Foil Wake V3 package, brought to you by the #1 producer of hydrofoils worldwide!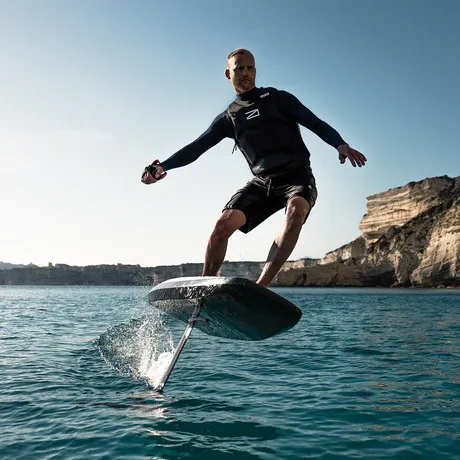 ---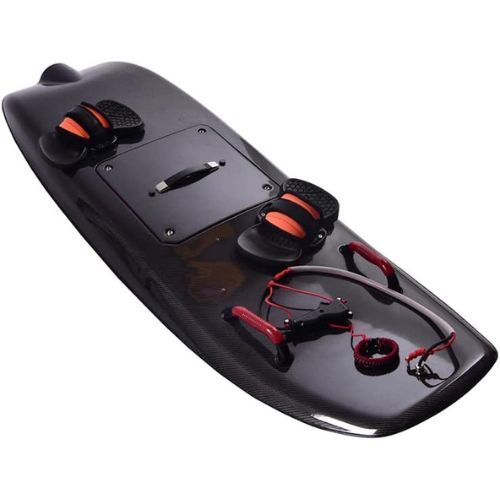 Electric Powered Motorised Wakeboard Carbon Fiber Ultralight
CHECK PRICE ON AMAZON
Why We Selected This Electric Surfboard>>>
Introducing the newest and greatest way to wakeboard - the Carbon Fiber Ultralight 55 KM/H 10000W Electric Powered Motorized Wakeboard! Our innovative wakeboard is powered by a powerful 10,000W electric motor that gives riders incredible control and speeds of up to 55 KM/H. The incredibly lightweight and durable carbon fiber construction makes this board easy to maneuver without compromising any of its stability or performance.
With its cutting-edge design, you'll be able to show off your best tricks on the waves with ease. The extensive amount of power provided by our electric motor will make your wakeboarding experience one you'll never forget. Get ready to take your skills to new heights with the Carbon Fiber Ultralight 55 KM/H 10000W Electric Powered Motorized Wakeboard! Get Yours Today!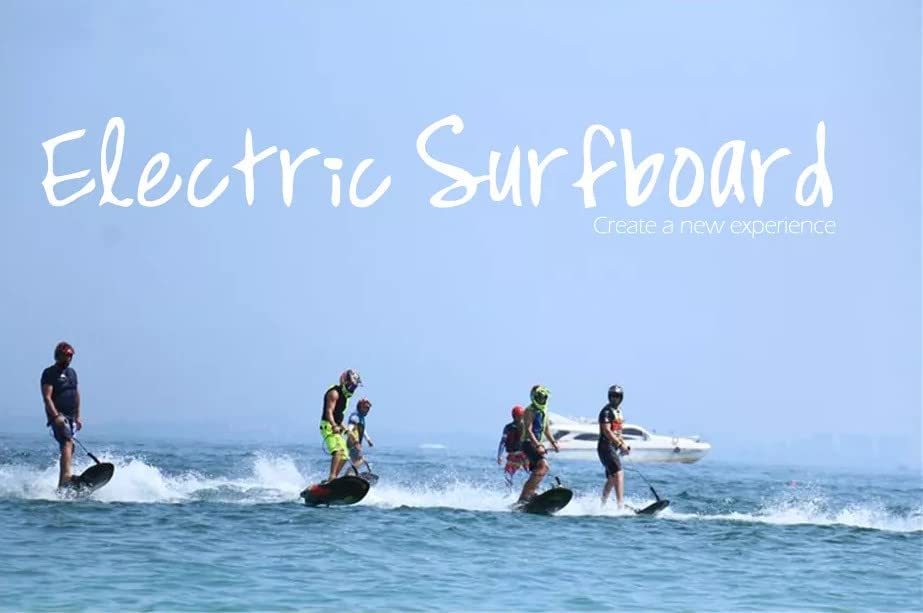 ---
Waydoo Flyer One Plus eFoil Surfboard
CHECK PRICE ON AMAZON
Why We Selected This Electric Surfboard>>>
Feel the sensation of flying above the water. Waydoo Flyer ONE Plus is not dependent on wind or waves, so you can ride anywhere, anytime. Experience breathtaking moments as you glide across the water. Feel the sensation of flying. One of the fastest-growing trends in outdoor recreation, Efoiling has redefined the future of modern watersports.
Powered by a robust propulsion system, the Waydoo Flyer ONE Plus gives you the ultimate water experience. You can ride anytime and anywhere on oceans, lakes, and rivers. Experience the thrill as you carve through the water at an unbelievable 25mph. The Waydoo Flyer ONE Plus offers a long-lasting ride for up to 120 minutes, giving you the freedom to explore without limits.
Remarkably powerful, the Flyer ONE Plus utilizes a highly sophisticated design with unparalleled features at an unbeatable price. Waydoo has developed the one-of-a-kind Flyer ONE with a robust electric propulsion system.
Fast, quiet, and emission-free, the Flyer ONE Plus creates the ultimate flying experience. The high-quality aluminum alloy material makes Waydoo Flyer ONE extremely lightweight. The Flyer ONE Plus comes standard with a wheeled case, making transport a breeze. Waydoo Flyer ONE Plus eFoil easy set.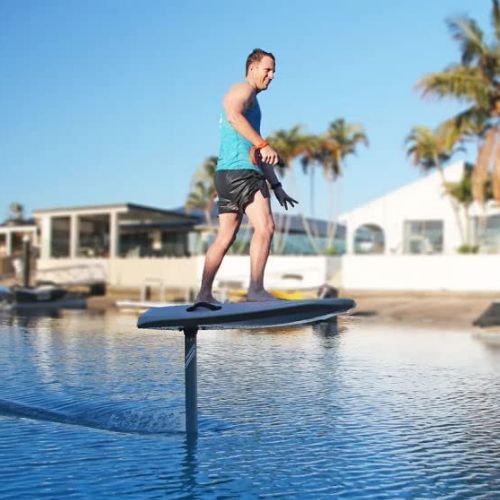 ---
Conclusion
Electric surfboards offer many advantages over traditional boards, from increased speed and maneuverability to greater accessibility in hard-to-reach locations. Whether you're just getting started or already have experience riding waves, investing in an e-surfboard could open up new possibilities for your surfing adventures!
The feeling you get when riding an electric surfboard can only be described as magical, unleashing a type of feeling felt in your body and mind. You start to feel the wing that's gliding underneath the water, both in your feet and legs.
Since the board is electric it barely makes any noise, leaving you to hear all of the natural sounds and water splashes around you. When riding in crystal clear water, you can see the fish and other wildlife swimming around you.
Once you've tried it, you're hooked, ready for your next turn to get back out there.
Happy E-Surfing!
Check Out Our Relevant Reads>>>