As the summer sun blazes down, finding effective ways to beat the heat becomes a top priority. Sun sail shades offer a stylish and practical solution to transform your backyard, pool, and patio area into a cool and comfortable oasis. In this article, we will explore the numerous benefits of using a sun sail shade during the summer months.
The Benefits of Using Sun Sail Shade
Protection from Harmful UV Rays
One of the primary benefits of sun sail shades is their ability to provide protection from harmful ultraviolet (UV) rays. These shades are designed to block a significant portion of the sun's UV radiation, helping to safeguard you and your loved ones from potential sunburns and long-term skin damage.
Temperature Reduction
By installing a sun sail shade, you can effectively reduce the temperature in your backyard, pool, or patio area. The shade fabric blocks direct sunlight, preventing excessive heat buildup and creating a cooler environment. This allows you to enjoy outdoor activities, relax, or entertain guests comfortably even on scorching summer days.
Enhanced Comfort
Sun sail shades create a comfortable outdoor space by reducing glare and providing shade. They offer a respite from the intense sunlight, allowing you to enjoy your backyard, pool, or patio area without squinting or being blinded by the sun. The shaded area becomes a pleasant retreat where you can unwind and spend quality time with family and friends.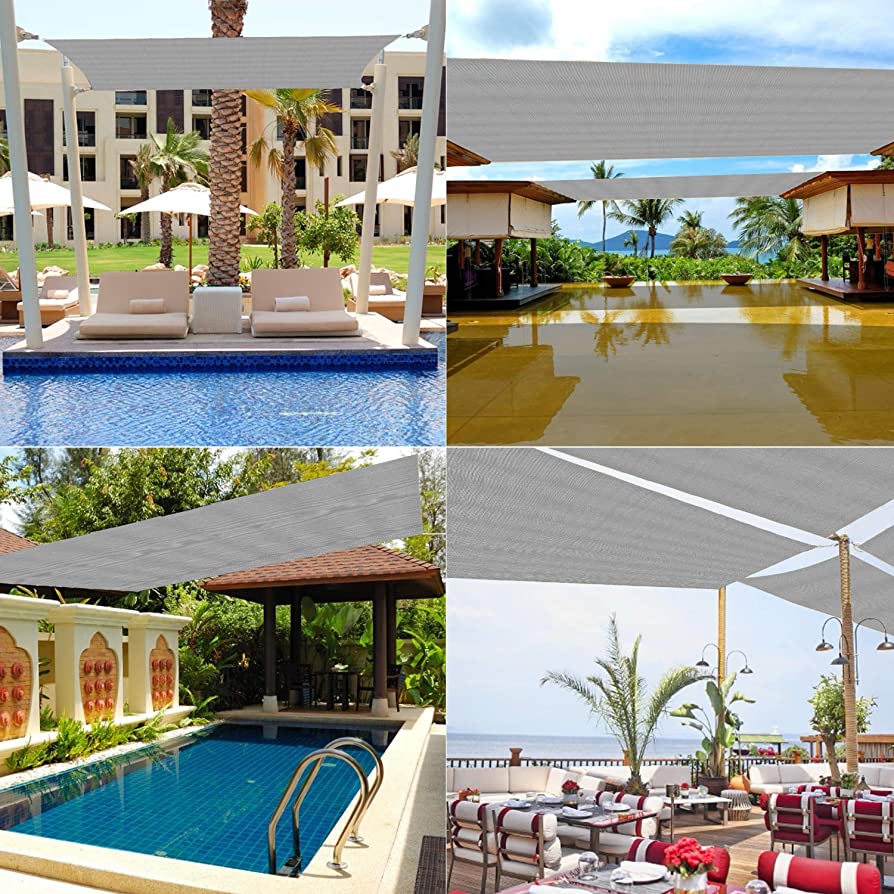 Sun sail shades come in a variety of sizes, shapes, and colors, providing you with a range of design options to suit your preferences and complement your outdoor aesthetics. Whether you prefer a modern, minimalist look or a vibrant and playful vibe, there is a sun sail shade to match your style. The flexibility of these shades allows you to create a visually appealing focal point in your outdoor space.
Easy Installation and Maintenance
Installing a sun sail shade is a relatively simple process. With anchor points like trees, poles, or your home's exterior, you can securely fasten the shade and adjust its tension as needed. Most sun sail shades are made from durable, weather-resistant materials, requiring minimal maintenance. Regular cleaning with mild soap and water is typically all that is necessary to keep them looking fresh and vibrant.
Cost-Effective Solution
Compared to permanent structures like pergolas or outdoor roof installations, sun sail shades offer a cost-effective alternative. They provide comparable shade and comfort at a fraction of the cost, making them an excellent choice for homeowners on a budget. Additionally, their portability allows you to relocate and reconfigure them as needed, providing flexibility for changing preferences or seasonal adjustments.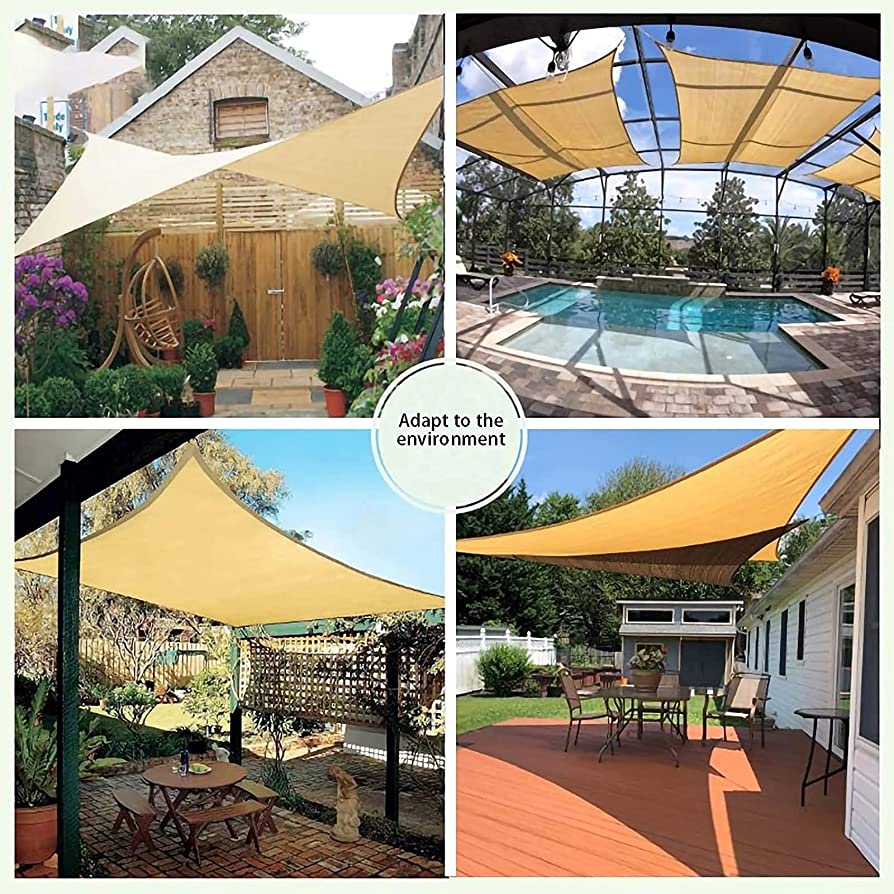 ---
Top 5 Best Sun Shade Sails on Amazon:
1.SUNLAX Large Sun Shade Sail, 20'x23' Red Rectangle Canopy Shades for Outdoor Patio Pergola Cover Sunshade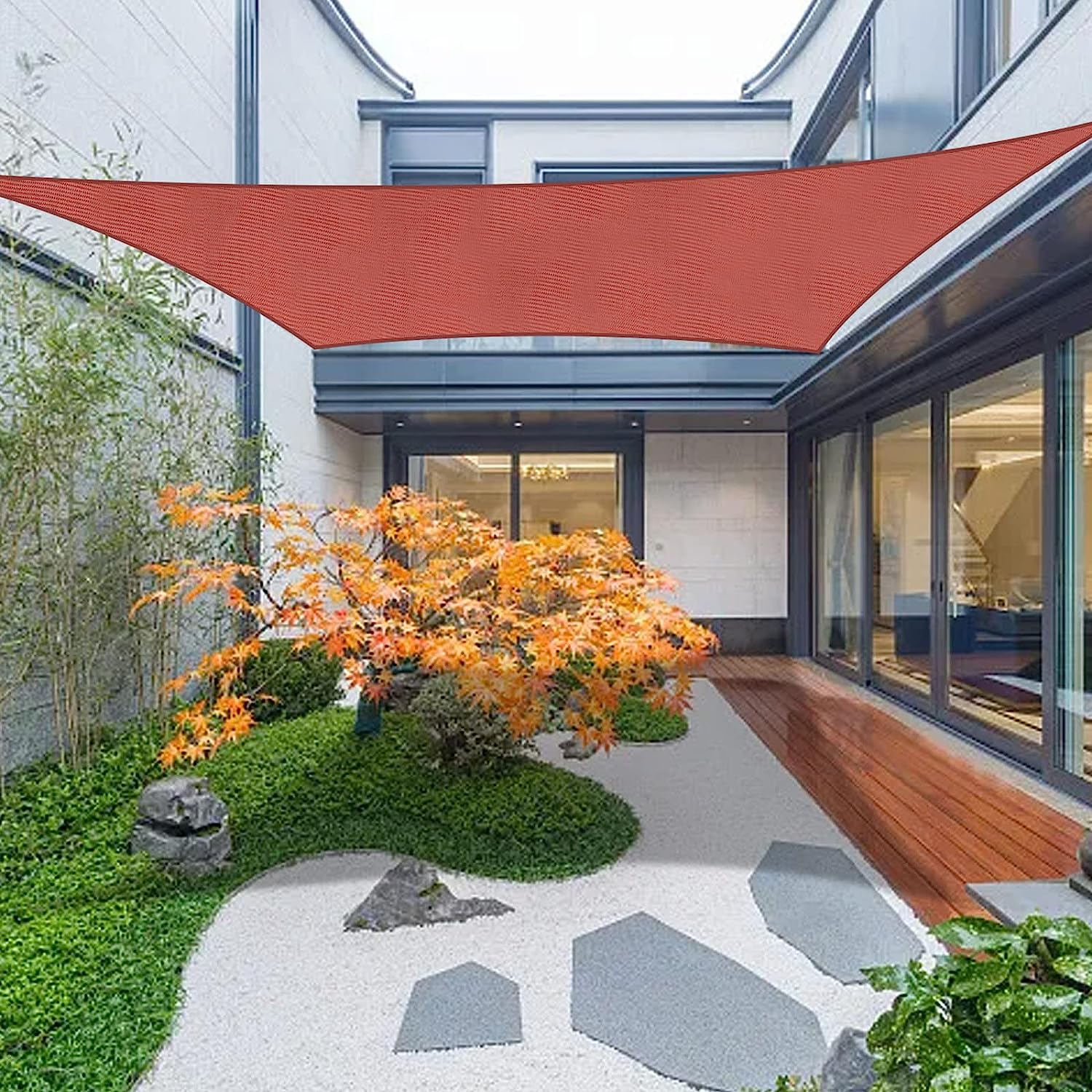 High Quality Guarantee Premium Material - Shade sail is made from high density polyethylene material, UV treated block 95% harmful rays protect the direct sunlight while cool breezes and rain drops permeate the knitted mesh. Covered area temperature lower at least 10 degree.
The fabric is cut from a complete net, and finish with double strong stitching seam. 4 anti-rust D-rings on each corner and include 4 pieces ropes. Occasions Sun Sails are excellent used for garden, patios, yard, backyard, porch, pool, BBQ area, driveway, entryway, lawn, plant shading. It could be used individually for smaller areas or several may be combined to cover larger areas.
Special Curved Designed - Edges are made slightly curved based on precisely calculated radian, helps shade sail to stay tight and neat after installation, prevent shade sail from sagging in the middle for best appearance and performance.
Build to last - This rectangle sail shade is a made to last for 5 years under regular weather.
---
2. Sun Shade Sail Square 16'x16' Sail Shade Canopy for Patio Garden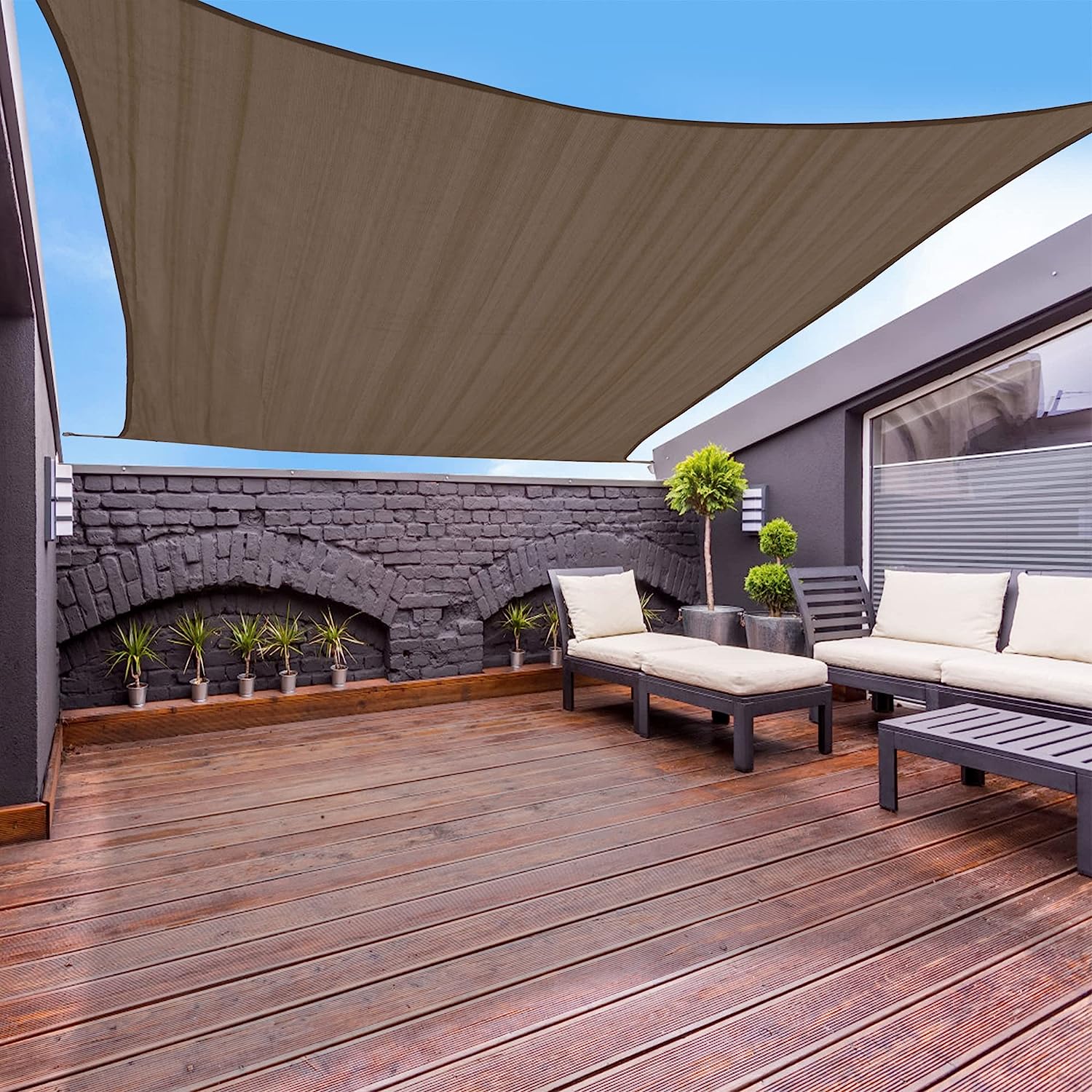 High Quality Guarantee - Made of 100% 185GSM HDPE (high-density polyethylene), Improved stitched seam and knitting technology, more durable
Breathable - The breathable fabric allows cool breezes to pass through to makes the shaded area cooler and more comfortable
Ease to Install - Stainless steel D-ring on each edge and 4 durable ropes are strongly guarantee fastness of installation. Leave 1.5-2 foot space for the hardware kit between D ring and fixing points, all edges are finished slightly curved so it can be stretched tightly
Eye Catching - vivid colors are perfect for your children playground covers, lawn, pond, deck, driveway, patio, carport, pergola, backyards, courtyards, swimming pool, or other outdoor area.
---
3. SUNNY GUARD Sun Shade Sail 12'x16' Rectangle Terra UV Block Sunshade for Backyard Yard Deck Patio Garden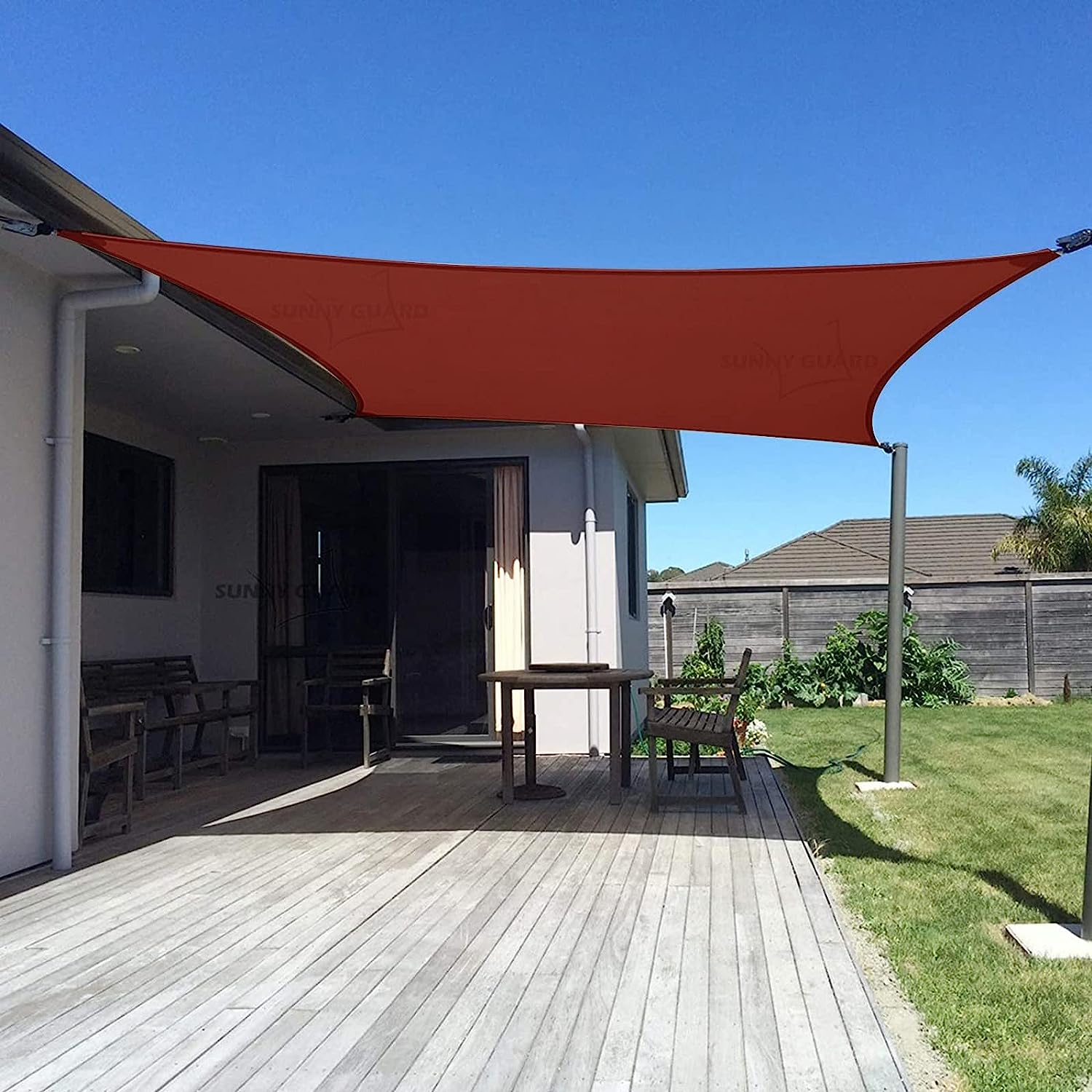 Made of 95% UV-resistant high-density 100% brand new HDPE (high density polyethylene) material and rejecting recycled materials, more healthy and safety.
Eliminate the use of splicing fabrics.  There is no splicing gap in the middle, which is more durable, more beautiful, and better sunshade performance. It also offers 3-4 pieces of thickened rope as gifts.
It is widely used in courtyards, lawns, gardens, terraces, swimming pools, ponds, decks, courtyards, backyards, courtyards, parks, garages, awnings, sandboxes, driveways or other outdoor areas. It can provide effective sunshade to keep your yard private, safe, cool and beautiful at all times.
Measure and clean the area where the shade sail is to be installed. Leave an allowance of 1.5-2ft between the fixing point and the shade sail to fit hardware's/ hooks or ropes. Clean with mild detergent or water, do not scrub it with a stiff brush, do not put it in your washing machine, clothes drier.
---
4. ShadeMart 10' x 20' Beige Sun Shade Sail Rectangle Canopy Fabric Cloth Screen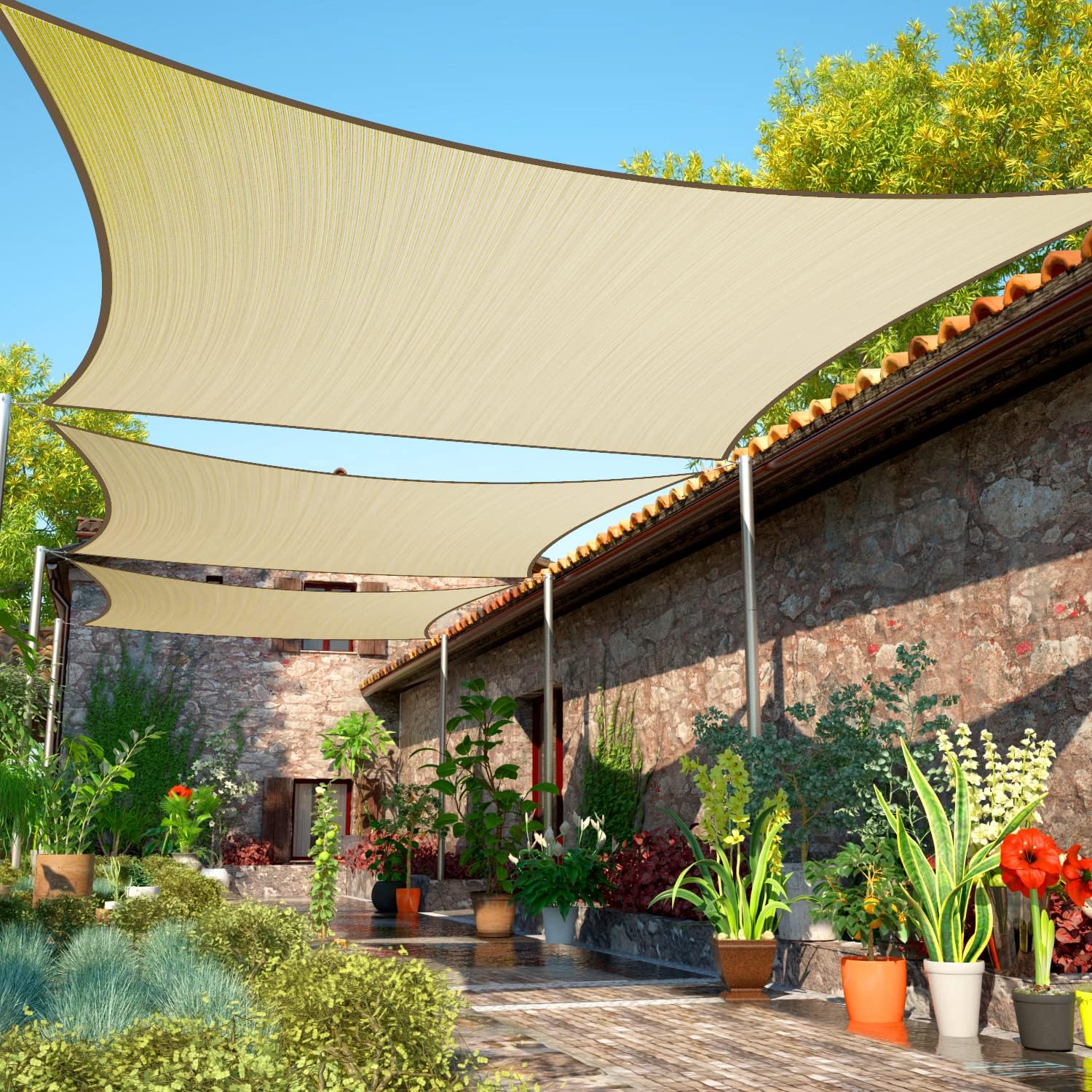 Permeable woven fabric, allows water and air to go through, no matter if it is a rainy or windy day.
Blocks up to 95% harmful UV and sunlight, significantly reduces temperature by at least 10 - 15 degrees, saving you on A/C costs.
Fabric is made of woven HDPE ( High Density Polyethylene), corner D rings are made of stainless steel, which are attached to the heavy duty white webbing surrounding the perimeter.
Shade sails don't just provide shade, they are also a versatile decorative piece that can integrate with your existing design and elevate your outdoor space.
With the proper hardware kits, sun shade sails can be attached to almost any structure such as poles, trees, wall, roof, etc. Great for the patio, carport, pergola, tent, pool, yard, even window.
---
5. Artpuch 10' x 13' Shade Sails 185GSM Rectangle Shade Sail UV Block for Patio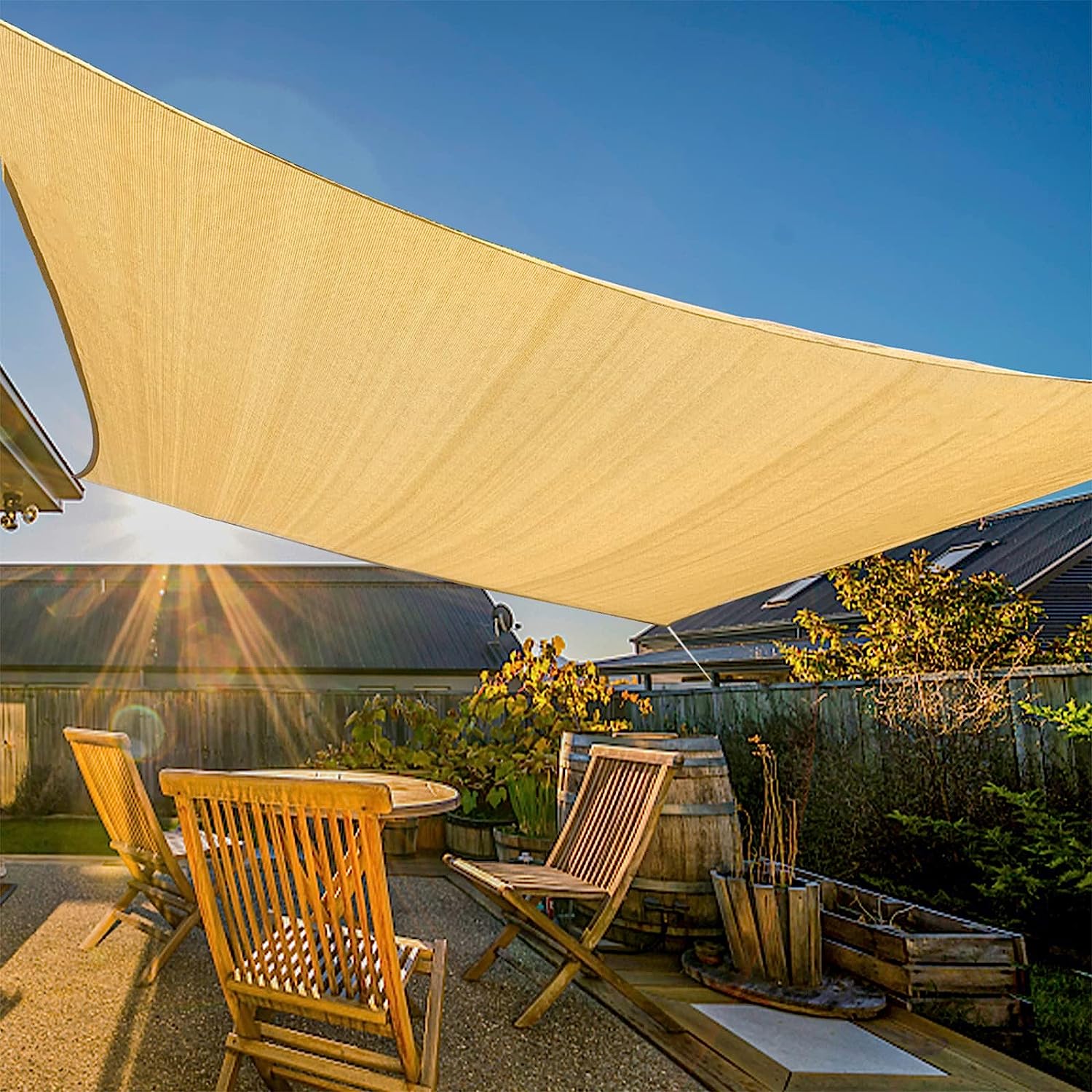 The sun shade sail is made of 185 gsm UV protected high density polyethylene (100%HDPE) shade fabric with strong stitched seam. With Durable Stainless Steel D-rings in each corner make the sun sails easily attached to any sturdy connection point to provide sun protection and personal design where you need it.
Protects from harmful UV rays and direct sunlight exposure. Blocks harmful rays of the sun without trapping hot air beneath. Fabric has high density breathable blockage, while effectively reducing heat, blocking up to 95% of UV rays, and protecting skin.
Allows cooling breezes and light to pass through for better airy and comfortable space, allows rains to pass through, so there's no pooling water( So it is not waterproof)
Measurement is taken from D ring to D ring, leave 1.5 - 2 foot space for the hardware kit between shade sail D ring and mounting points, all edges are finished slightly curved so it can be stretched tightly.
Widely used for a patio, lawn, garden, pool, bbq areas, pond, deck, backyard, courtyard, dooryard, park, carport, pergola, sandbox, driveway or other outdoor occasions.
---
How to Install Sun Shade Sail:
---
Conclusion
Embracing the benefits of a sun-sail shade in your backyard, pool, or patio area can transform your outdoor space into a haven of comfort and relaxation during the scorching summer months.
From protecting against harmful UV rays to reducing temperatures and enhancing visual appeal, these shades offer an affordable and versatile solution. So, beat the heat and create a stylish and functional outdoor retreat with a sun-sail shade, ensuring that your summer days are spent in ultimate comfort and enjoyment.
Enjoy the Summer Under the Shade of a Sun Sail Shade!
Relative Reads: