Whether you're an amateur sailor or an experienced professional, having a reliable marine GPS system onboard can help ensure that you stay on course. With so many options available in the market, knowing which one is right for you can be a challenge.
To help make this task easier, we have compiled a comprehensive guide to selecting the best marine GPS system for your needs. Here, we will discuss why a marine GPS system is important, what features to look for when shopping for one, and our list of the best marine GPS systems on the market today.
Best Marine GPS Navigation Systems and Fish Finders 2023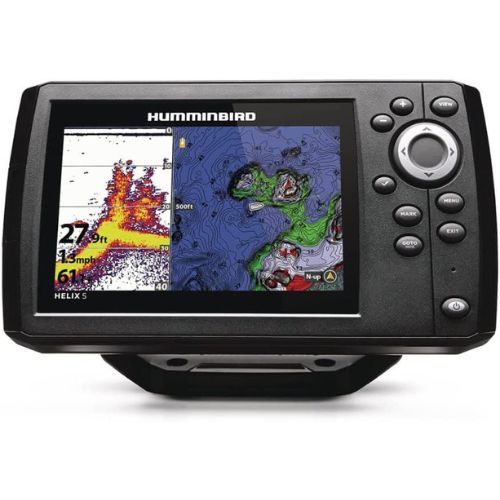 Humminbird 411660-1 Helix 5 Chirp GPS G3 Fish Finder
Humminbird Basemap Built-in: Enhanced standard basemap provides you with a clear view of underwater terrain and surrounding points of interest so you can fish and navigate with total confidence. Identify buoys, day markers, hazards, marinas, contours, depth markers, and much, much more. Includes charts of more than 10,000 lakes, plus coastal coverage for the U.S.
BUY ON AMAZON
What You Should Know About This Marine GPS Fish Finder>>>
The Humminbird 411660-1 Helix 5 Chirp GPS G3 Fish Finder is a highly efficient and affordable marine GPS that functions as both a chart plotter and fish finder. This particular fish finder comes with CHIRP sonar technology, which ensures an in-depth screening of up to 1,000 feet at multiple frequencies.
It also comes with preloaded maps and data, marking all possible entryway points, buoys, marinas, shores, and hazards. The built-in cartography tool allows advanced chart plotting, and the WAAS technology provides accurate fixes of global positioning within 8.2 feet. With amazing features rivaling its counterparts on the market, the Humminbird 411660-1 Helix 5 Chirp GPS G3 Fish Finder is a must-have for any marine voyager.
---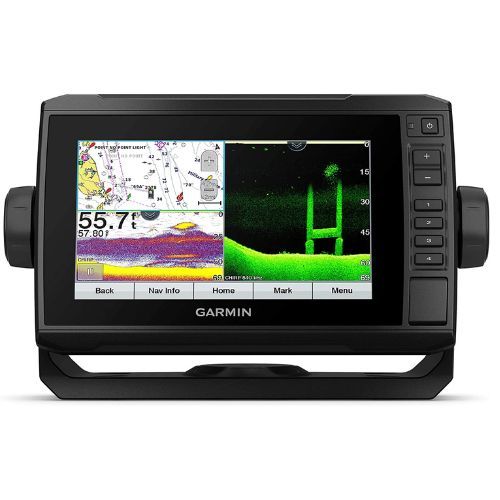 Garmin ECHOMAP UHD 74Cv, 7" Keyed-Assist Touchscreen Chartplotter with U.S. BlueChart G3 and GT24UHD-TM Transducer
BUY ON AMAZON
What You Should Know About This Marine GPS Fish Finder>>>
The Garmin ECHOMAP UHD 74Cv, 7" Keyed-Assist Touchscreen Chartplotter is a fish finder and chart plotter combo that offers advanced GPS technology and sonar scanning features. The device has a tiltable, sunlight-readable screen and a heavy-duty mounting system. It is perfect for use on vessels of all sizes.
The ECHOMAP Marine GPS provides extensive coverage of US coastal areas and comes with preloaded maps for easy navigation. The device's high-tech sonar scanning Panoptix feature with GT24 transducers gives you a clear view of what's underwater and around your vessel. You can also create personalized maps with this GPS.
---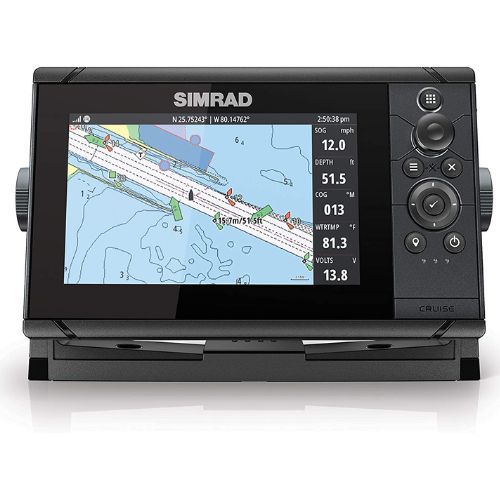 Simrad Cruise 7-7-inch GPS Chartplotter with 83/200 Transducer, Preloaded C-MAP US Coastal Maps
BUY ON AMAZON
What You Should Know About This Marine GPS Fish Finder>>>
The Simrad Cruise Chartplotter is a top-quality marine GPS that is perfect for use on coastal waters. The device features preloaded US coastal maps, enhanced chart support from Navionics and C-Map, and a 83/200 transducer that provides enhanced depth tracking. With its intuitive control menu, rotary dial, and keypad design, the Cruise Chartplotter is easy to use and provides all the information you need while cruising.
Check Out the Buying Guide and FAQ about Marine Navigation and Fish Finders Systems>>>

How to Understand the Marine GPS Systems?
Understanding the marine GPS interface is not a difficult task, but it does take some time and effort to become familiar with the different features and capabilities. The main purpose of a GPS system is to help you find your exact location and provide navigation assistance when navigating in unfamiliar waters or during weather conditions that make routes less clear.
In most cases, the basic operation of a marine GPS unit consists of entering coordinates, setting waypoints, accessing maps, tracking vessels, and creating routes. On top of this basic functionality comes advanced features such as fuel gauging or tracking particular objects such as fish populations or currents in certain areas. Depending on what model you have purchased, these features can be more complicated than others.
Why Do I Need A Marine GPS?
A marine GPS system can be used to navigate waters in all types of vessels ranging from small boats to large ocean-going yachts. By using satellite information, these systems can provide detailed navigational information and help keep you on track while out at sea.
In addition to helping with navigation, these systems also come with a range of other useful features including mapping capabilities and tracking functions that enable you to monitor your boat's speed and the location at all times.
What Features Should I Look For?
When shopping for a marine GPS system, there are several features you should consider before making your purchase. First, it's important to make sure that the device has an accurate and up-to-date map database as well as access to real-time weather data.
Additionally, look for devices that come with built-in plotters or fish finders so that you can easily identify hazards or fish in your area. Finally, make sure the device has an easy-to-use interface so that navigating and finding new destinations is simple and straightforward.
Chartplotter VS Fishfinder>>>
A Chartplotter and a Fishfinder are both types of marine GPS systems that can be used to help navigate open waters. The primary difference between the two is their functionality: while a Chartplotter produces detailed maps of the waterway and its surrounding landmarks, a Fishfinder focuses primarily on locating fish in any given area.
The Chartplotter will provide you with charts pertinent to your location, including depth contours, possible fishing areas, current weather conditions, speed limit information for the waterway's zones (if applicable), as well as navigating features such as trip planning tools and pre-programmed routes.
Many also offer surface sonar applications that detect obstacles or other features that may obstruct navigation. However, these applications are not designed for finding fish in the immediate vicinity - rather they create an overall map of your surroundings so you can get an idea of where potential hotspots might be located.
On the other hand, a Fishfinder is specifically designed to locate schools of fish swimming nearby. This type of GPS uses advanced sound wave technology that allows users to see what lies beneath them - often times even down to hundreds of feet!
You will find specialized graphical representation displays on many models which give pinpoint accuracy when it comes to spotting objects underwater - whether they be sunken ships or large schools of baitfish lurking below. With this type GPS system, fishermen can finally reap the benefits associated with knowing exactly where they need to cast their lines without having guesswork involved in their efforts!
Overall both types of marine GPS systems have something special and unique each brings to the table; however, when it comes down to choosing between either one it's mostly user preference at this point since most chart plotters nowadays come equipped with built-in fishfinding capabilities anyways!
What is the Purpose of CHIRP Technology?
CHIRP (Compressed High-Intensity Radiated Pulse) is a low-cost, high-precision acoustic pulse compression technique developed by the US Navy. It uses sound waves or sonar signals to detect and identify objects underwater.
The core purpose of CHIRP technology is to allow for improved detection ranges and accuracy in spotting submarines, debris, or other objects in aquatic environments. By using higher power signal pulses than traditional methods, CHIRP can provide more accurate results when it comes to detecting and identifying underwater objects. This allows ships armed with this technology greater capabilities when it comes to navigation and security concerns.
In addition to improving detection capabilities, CHIRP also makes use of far less power compared to its predecessors making the systems cheaper without compromising accuracy or range potentials. As a result of its well-documented success rates as well as cost efficiency effectiveness compared with older sonar technologies.
CHIRP has become increasingly popular among militaries around the world as well as scientific organizations looking into the depths of our oceans with much greater success than ever before possible due to them using cutting-edge hydroacoustic technology enabled by this powerful toolkit known under the banner name "CHIPRP".
Must-Have Features in Marine GPS Navigation Systems>>>
When it comes to must-have marine GPS systems, there are several important criteria that ought to be taken into consideration. First and foremost, you should evaluate the range of features available in each system.
This includes the ability to display navigation charts and data, provide alerts for hazardous areas or obstructions, accommodate multiple vessels or users at once in a networked environment, and monitor fuel levels. Furthermore, look for a unit with an intuitive interface that is easy to use when navigating on the water.
Next, consider the accuracy of each GPS system's navigational data and positioning information. Many units provide real-time details about tides and currents as well as any nearby landmass. Additionally, many models contain sonar capabilities that can detect fish while boating underwater so you can track them down more easily when fishing.
Finally, select a model with weather tracking features such that you can remain aware of upcoming storms or other inclement conditions while out on the water. It's also worth looking into models with portability options so you can take your device on board your vessel without adding too much weight or taking up too much space onboard your ship/boat/yacht!
Conclusion
Navigating unknown waters can be intimidating but with a reliable marine GPS system onboard you can feel confident knowing that you are always on course no matter where your journey takes you!
Our comprehensive guide has provided insight into why having a marine GPS is important as well as what features should be looked for when choosing one plus our selection of some of the best systems currently available on the market today!
No matter what type of vessel you plan on taking out into open seas –whether it's a schooner, yacht, or sailboat –you will now know exactly what type of navigational aid will work best for your needs!
Happy Sailing!
Thanks!
Check Out Our Relevant Reads>>>