As the sun starts to shine and the weather warms up, many of us look forward to spending time outdoors with our friends and family. And what better way to enjoy the great outdoors than by having a picnic?
But when you're heading out for a picnic, you need the right equipment, and that includes a good picnic basket that can accommodate all your food and drinks. However, choosing the right picnic basket can be a tricky affair, considering the variety of options available on the market.
So, in this post, we'll break down everything you need to know about how to choose the perfect picnic basket for your next outdoor gathering.
How to Select a Picnic Basket Tips:
Picnic Basket Material
The first thing to consider when choosing a picnic basket is its material. Picnic baskets come in a variety of materials, including wicker, plastic, and canvas. Wicker baskets are classic and stylish, but they may not be the most practical since they can be heavy and not suitable for all weather conditions.
On the other hand, plastic baskets are lightweight and easy to clean, but they don't have the same aesthetic appeal as wicker baskets. Canvas baskets are another great option since they are lightweight, durable, and come in different colors and patterns.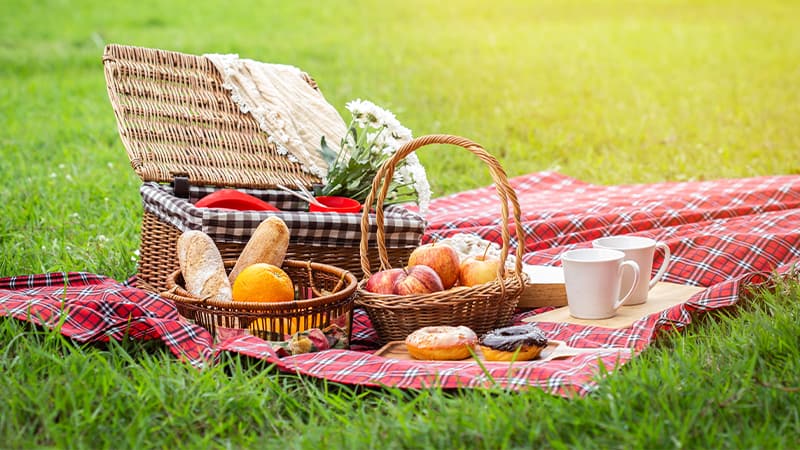 Picnic Basket Capacity
The next factor to consider is the size of the basket. You want to choose a basket that can accommodate all your food and drinks. If you're planning a picnic for two, a small basket should suffice. However, if you're planning a picnic for a larger group, you'll need a bigger basket. You can always opt for multiple smaller baskets or larger baskets with multiple compartments to keep the food organized.
Picnic Basket Insulation and Cooling
When choosing a picnic basket, you need to consider how well it can keep your food and drinks at the desired temperature. Insulated baskets are ideal since they keep your food and drinks cold for longer periods. Some baskets come with a built-in cooler that separates the food and drinks from the ice, preventing them from getting soggy. However, if your picnic is only going to last a few hours, you may not need insulation.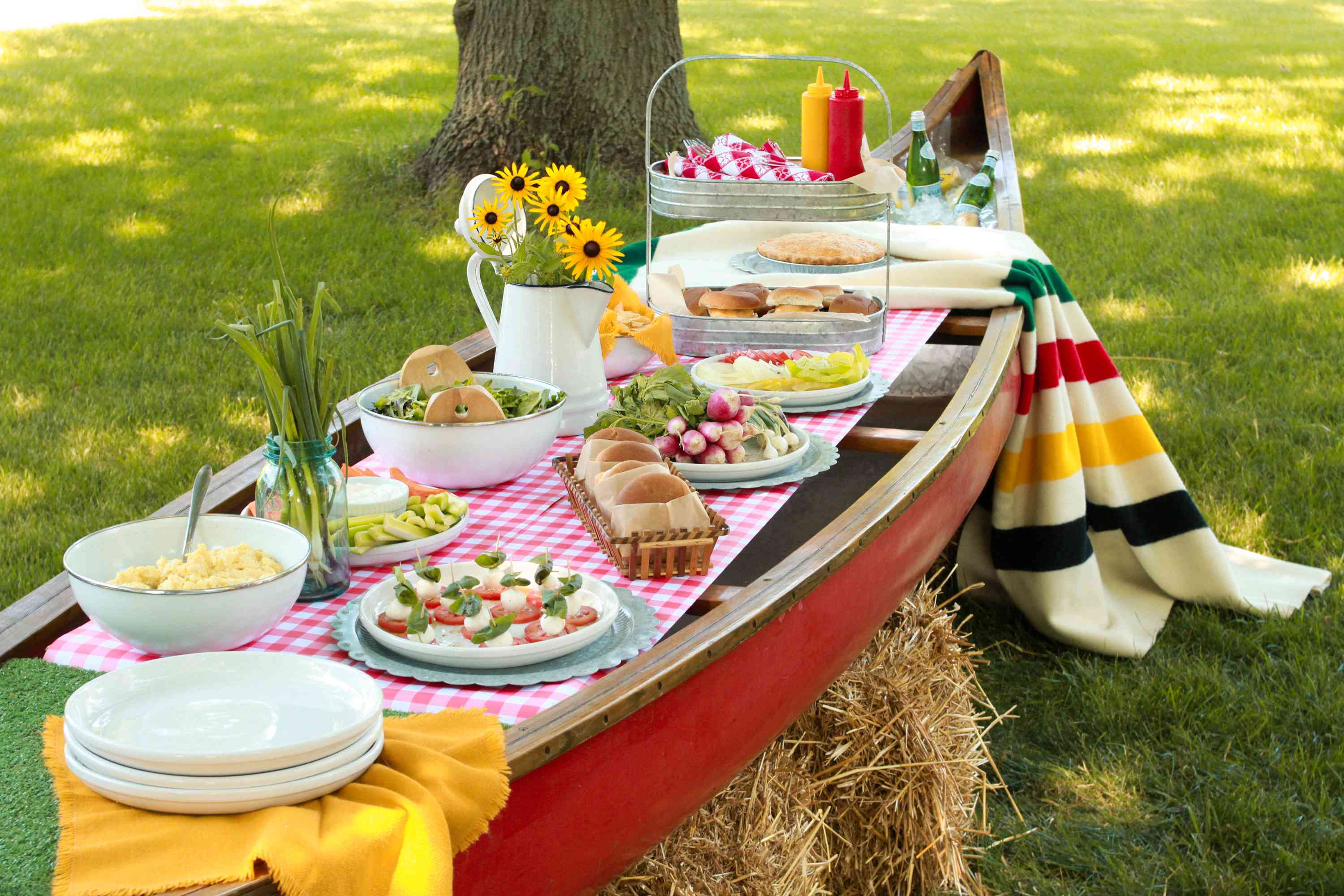 Picnic Basket Portability
You also want to choose a picnic basket that is easy to carry around. Look for one with comfortable handles and a lightweight design. Some baskets also come with a shoulder strap for easier transportation. You may also want to choose a basket with wheels if you plan on carrying heavier items.
Picnic Basket Additional Features
Finally, take into consideration any additional features that may come with the picnic basket. Some baskets come with plates, utensils, and glasses, while others have built-in wine holders or accessories like blankets and napkins. These additional features may not be necessary, but they can certainly make your picnic experience more enjoyable.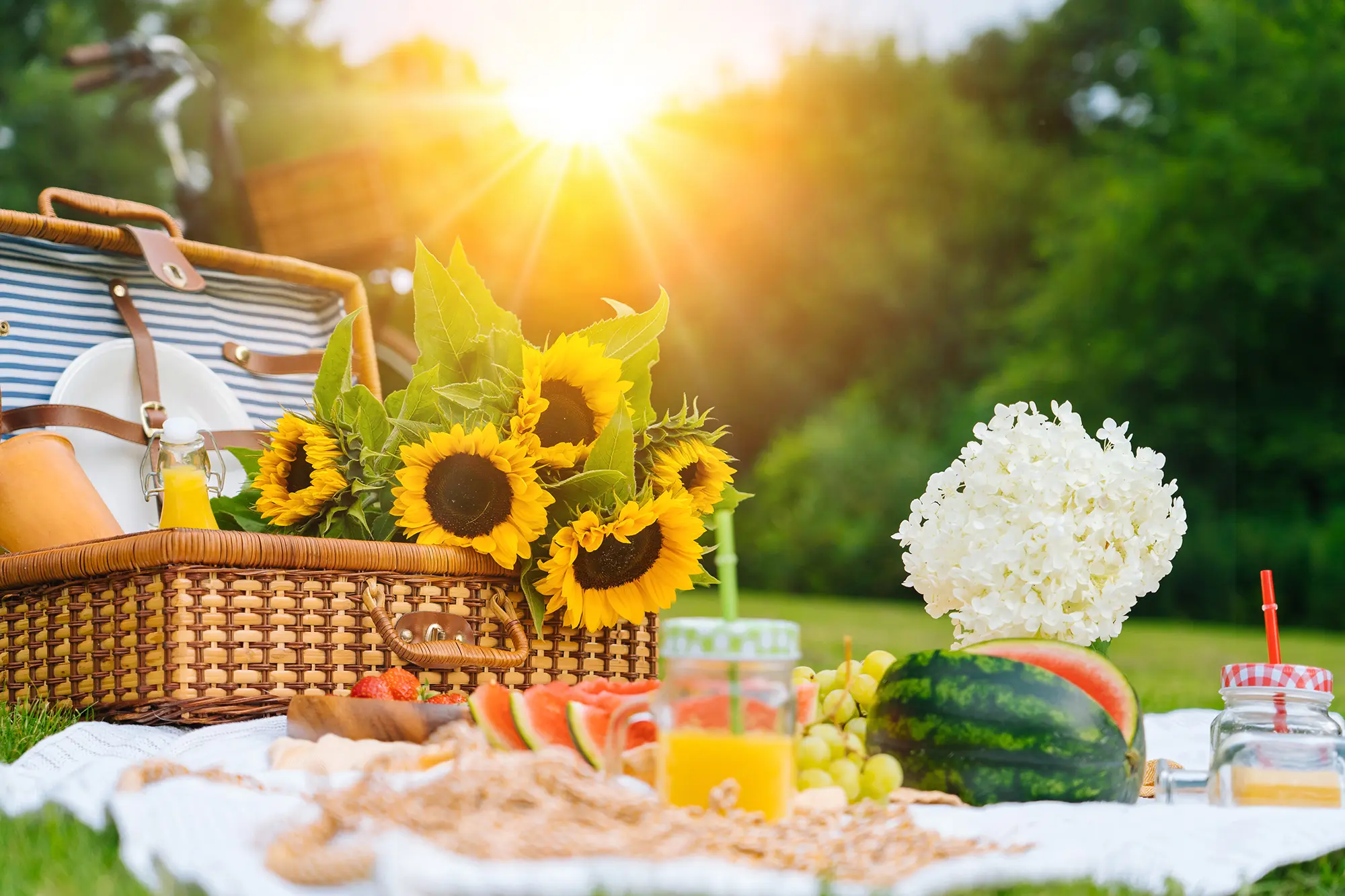 ---
Top 5 Best Picnic Baskets on Amazon: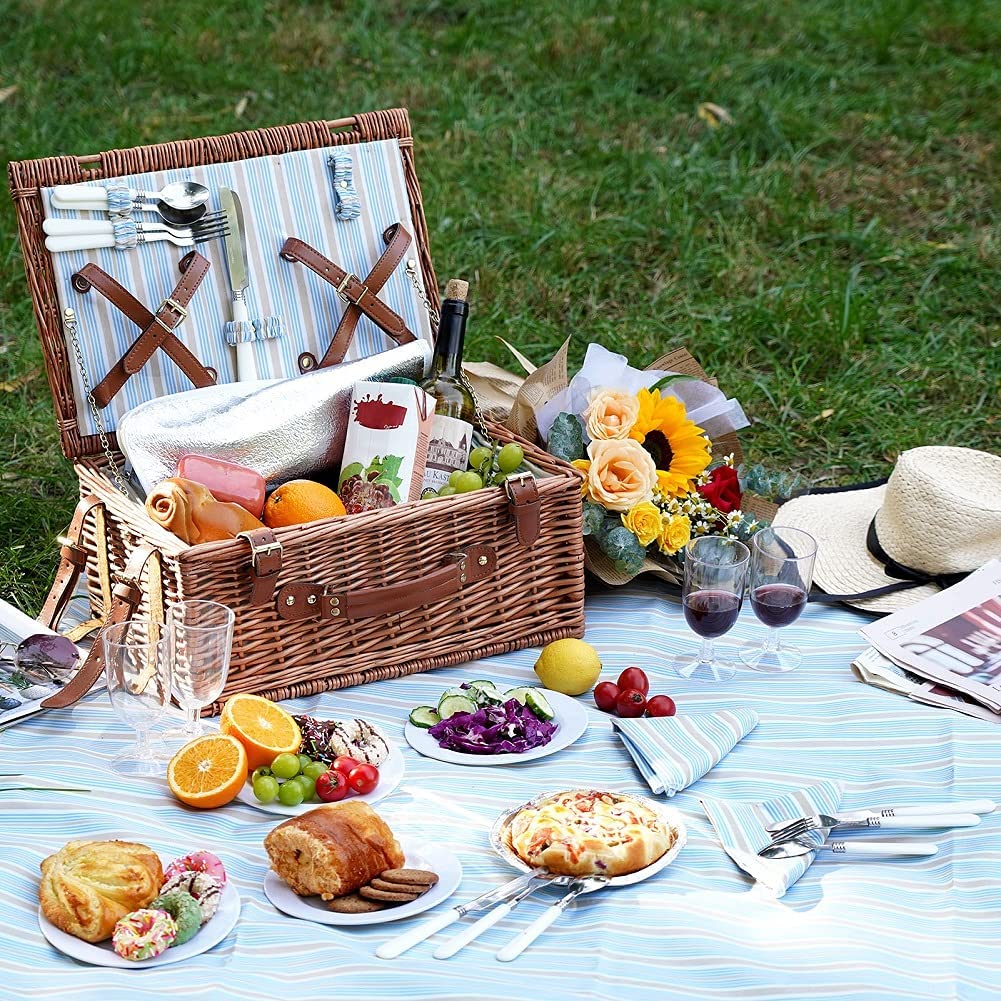 Wicker Picnic Basket Set for 4 Persons
with Free Waterproof Blanket and Cutlery Service Kit
The picnic mat is made from high-density fabric and waterproof lined backing to protect against wet grass, fixed on side of the basket by adjustable PU straps. So convenient to carry and use!
Luxury picnic basket is hand-made from durable and natural steamed willow by skilled workers
Secure rivets fasten the heavy duty faux leather handles, long-lasting rather than be weak
Including 4 X Stainless steel tableware service set(knife, fork, and spoon), 4 X 7" Melamine plates, 4 X PS wine glasses, 4 X Matching napkins.
Enough dinner set for outside camping or party, no need any disposable tableware.
The picnic blanket can be carried on side of wicker hamper, portable and durable with an adjustable buckle.
Made by our hardworking and optimistic workers from natural willow with fine workmanship
This wicker basket set is the top choice for a romantic picnic, an outside party, a road trip, sailing, self-driving tour/ travel, and campfire; also it is the smart gift for an anniversary, holiday, festival, Christmas, Thanksgiving Day, Mother's Day, Father Day, Saint Valentine's Day and birthday.
---
2. Picnic Backpack Bag for 4 Person With Cooler Compartment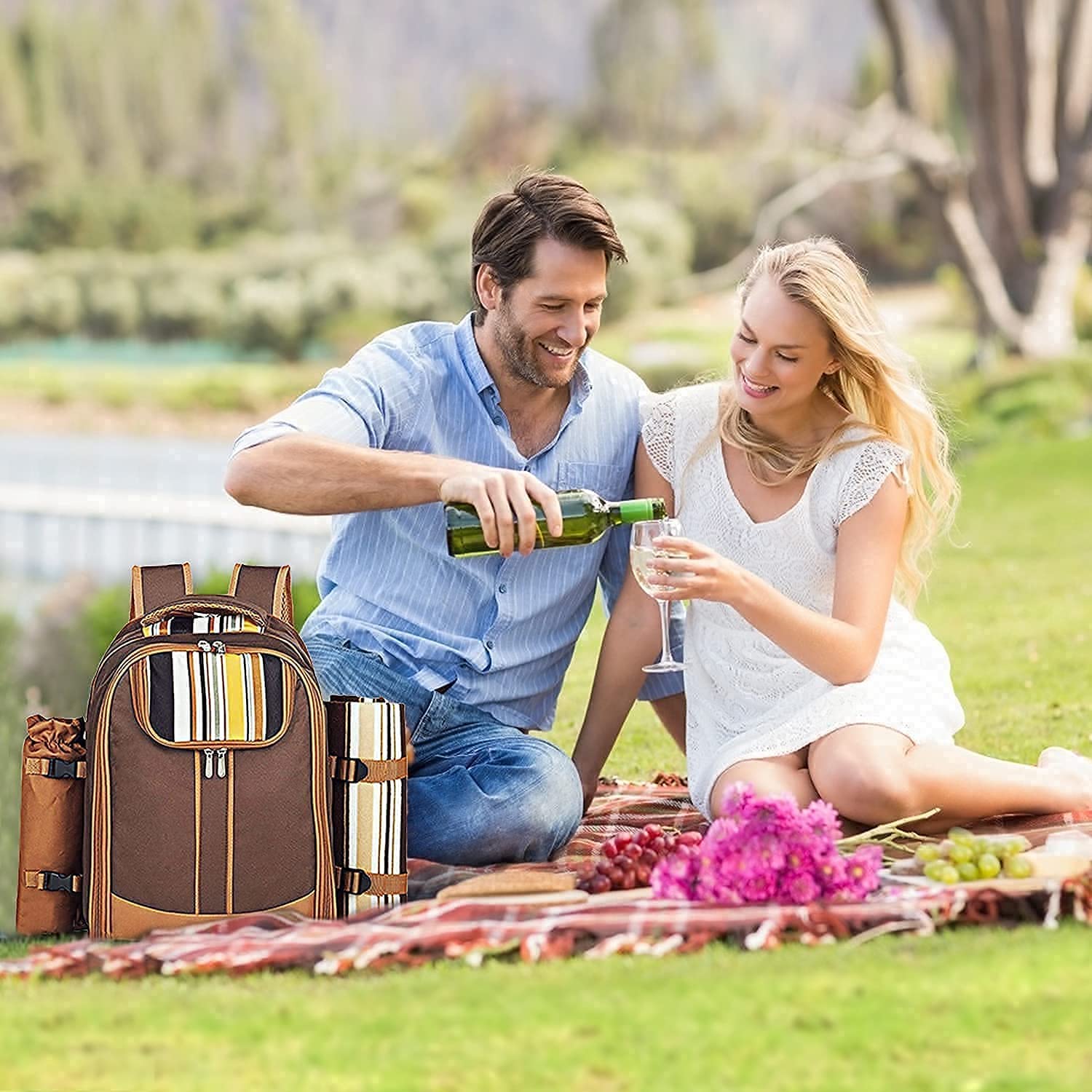 Looks fashionable and reliably holds all your essential items for an outdoor picnic party - all while freeing up both of your hands and more comfortable than a regular picnic basket.
Made of high quality nylon garment fabric with PU back coating(stronger and much better than polyester, high strength, high wear resistance, good resistance to deformation, comfortable,anti-water material),non-fraying stitching, and strong zippers means you'll have a bag that lasts for years.
This all-in-1 catering for 4 backpack keep food and drinks fresh and organized and provides plenty of excuses to pack a picnic. Spending a wonderful day with your family or friends in the park, forest, beach or wild.
Hap Tim picnic set can just make your exquisite outdoor picnic trip enjoyable and unforgettable. Pack your movable feast of homemade products, from beer and bread to cheese and chocolate, and head outside!
With its stylish design and soft padded straps the picnic backpack makes it easy for you to carry everything you need for a perfect picnic day!
The picnic baskets backpack features a detachable bottle holder which will hold a bottle of wine and keep it cool at the same time. The blanket holder will securely hold a brown fleece tartan pattern blanket with waterproof PEVA backing to ensure you enjoy most of your picnic even if the grass is slightly wet.
The backpack is ideal for storing your picnic foods such as fruit, sandwiches, cold meats, and cheeses. Made from PEVA and a polyester lining the cooler compartment will keep your food fresh and cool whilst zipped up securely.
---
3. Insulated Picnic Basket Collapsible Portable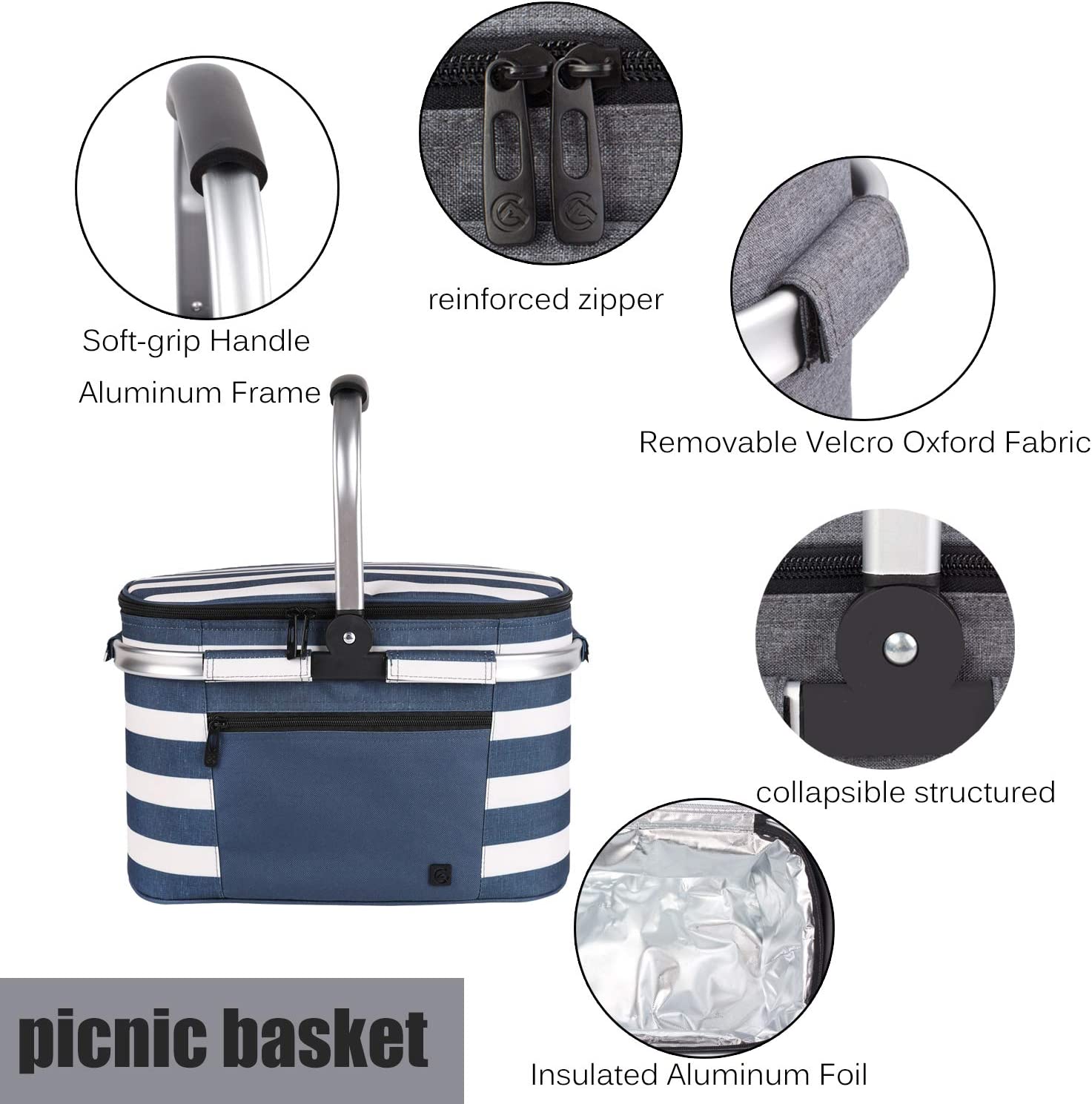 Special design for lovers, outdoor picnic or camping use.
Roomy cooler compartment enough for storing snacks, drinks, beers or anything you need.
Soft sided for saving space. Easy to store in the cargo space of cars or limited space.
Collapsible, when you needn't use it, fold it and save in your closet.
Lightweight aluminum frame and soft-grip handle for convenient carry.
Perfect for shopping, picnics, camping, fishing, music festival
---
4. Picnic at Ascot Dorset English-Style Willow Picnic Basket
The Dorset English-style picnic basket for four is made to last with quality construction and stylish details. Beautifully hand crafted using full reed willow, each basket includes ceramic plates, glass wine glasses, and the highest quality accessories.
Also includes a hardwood cutting board - cheese knife- corkscrew - insulated wine holder with shoulder strap - insulated cooler for food - fleece blanket 60" x 50" - vacuum flask and stainless steel double wall coffee mugs
A GREAT GIFT IDEA - Surprise your friends and family - great for housewarming, engagement, wedding, anniversary, retirement, birthday, Christmas, holiday, or hostess gift!
Includes: 4 ceramic plates, glass wine glasses, stainless flatware, cotton napkins, double walled insulated stainless steel coffee cups, (1) food cooler, insulated wine pouch, hardwood cutting board, spill proof salt & pepper shakers, wood handle cheese knife, stainless waiters corkscrew, 50" x 60" acrylic blanket, and 24oz stainless steel vacuum flask.
Natural Willow with leather handle, closures, and hinge covers. Lifetime Warranty.
---
5. Sunflora Picnic Backpack for 4 Person with Blanket Picnic Basket Set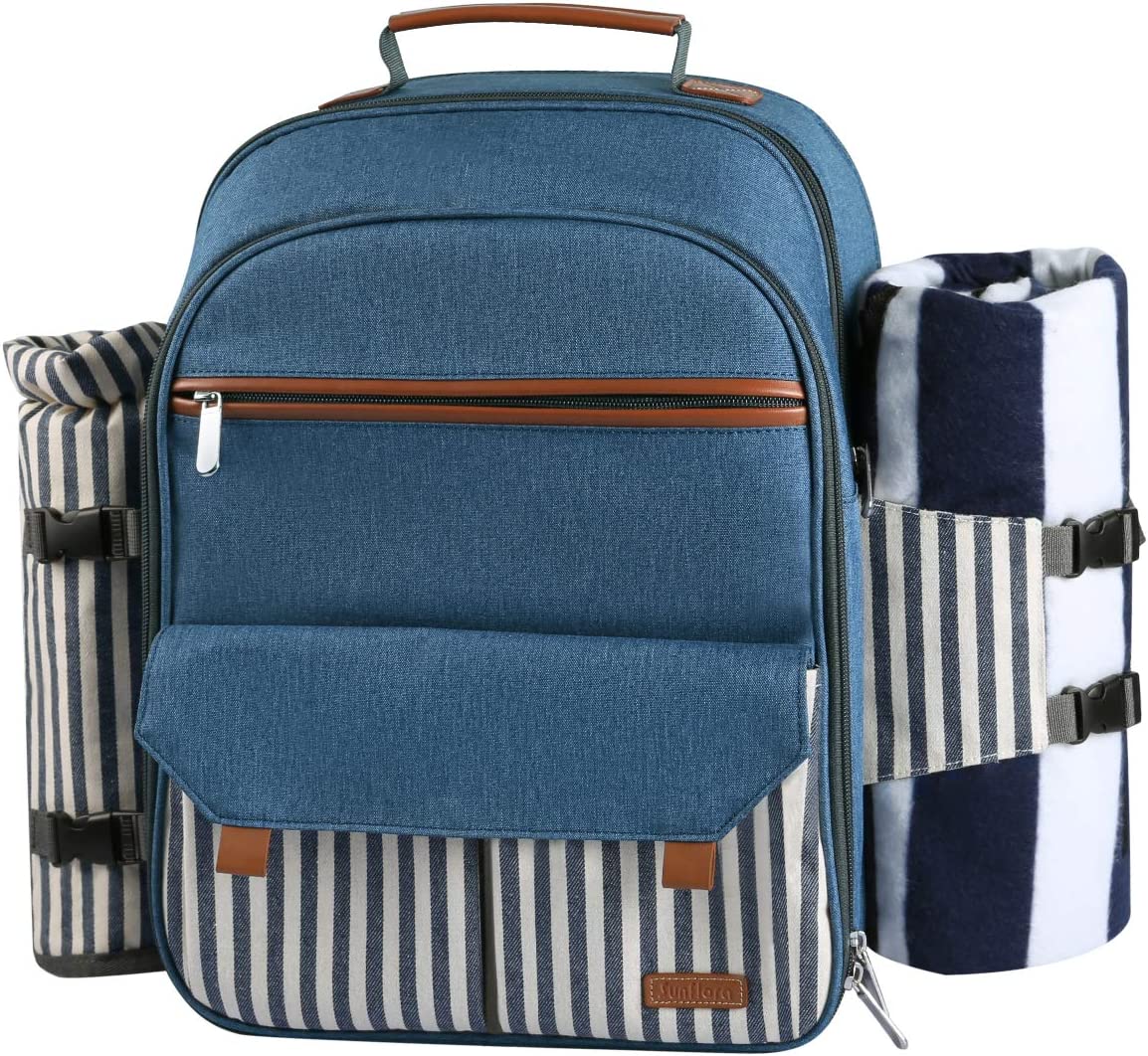 Stylish and Practical All in one Picnic Backpacks - Impressed with the quality! Crafted with durable fabric, Sunflora outdoor picnic baskets for 4 are thoughtfully designed for rugged use. You can't go wrong with eye catches classical picnic set that keeps up with the times. Comfortable & portable to carry outdoors, with multiple colors to express your style.
Top Notch Gift Choice - Premium picnic accessories are neatly organized and fixed. The insulated Picnic bag comes with 4 sets of dishwasher-safe full stainless steel flatware and hard melamine plates; 4 uni-body TPE wine glasses, 1 cheese knife & wine opener, a metal salt/pepper shaker and a bamboo cutting board. The recipient would be presented with a WOW feeling once opening this insulated picnic basket backpack.
Large Capacity & Functional Cooler Compartment - Measured 14''x 11''x 5''. Roomy enough for 4 person's picnic supplies and keep food fresh and cold for hours. Picnic basket for family contains an additional detachable waterproof pouch that allows you to put ice, cold beers, or other items into a cooler picnic backpack, easy to clean and avoid getting the insulted compartment wet. With a detachable cooler wine pouch, you can also enjoy chilled wine with your loved ones.
Enjoy a Wonderful Picnic Time - Spending time together with family and friends is priceless, this picnic basket for 2 would be the greatest assistance to get a picnic organized in a neat manner. Most meaningful and memorable gift baskets for couples, wedding gifts, anniversary gifts, and Christmas present that would be used regularly and on multiple occasions.
Conclusion
Choosing the perfect picnic basket doesn't have to be a daunting task. By considering the material, capacity, insulation, portability, and additional features, you can find the perfect basket that suits your needs and makes your picnic experience fun and hassle-free. So, take the time to choose the right picnic basket and enjoy the great outdoors with your friends and family!
Relevant Reads>>>