Camping has come a long way since the days of heavy, unwieldy tents that took forever to set up. With the advent of inflatable tents, outdoor enthusiasts are discovering a whole new world of convenience, comfort, and versatility. In this blog post, we'll explore the many benefits of inflatable tents and why they are quickly becoming the future of camping.
Why Inflatable Tents are the Future of Camping

Lightweight and Compact
One of the biggest advantages of inflatable tents is their size and weight. Unlike traditional tents that require poles, stakes and guy lines, inflatable tents are usually self-contained, which means they can be packed down to a fraction of their size when deflated.
This makes them perfect for backpacking, car camping, or any situation where portability is key. Inflatable tents are much lighter and easier to carry, which is a huge advantage when you're on a long hike or trekking up a mountain.
Easy Set-Up and Take-Down
Another major benefit of inflatable tents is their convenience. With a self-inflating system, you can have your tent up and ready in just minutes. This saves you time and energy, which can be better spent exploring the great outdoors. And when it's time to pack up and head home, deflating the tent is just as easy. Simply release the air, fold it up, and you're on your way.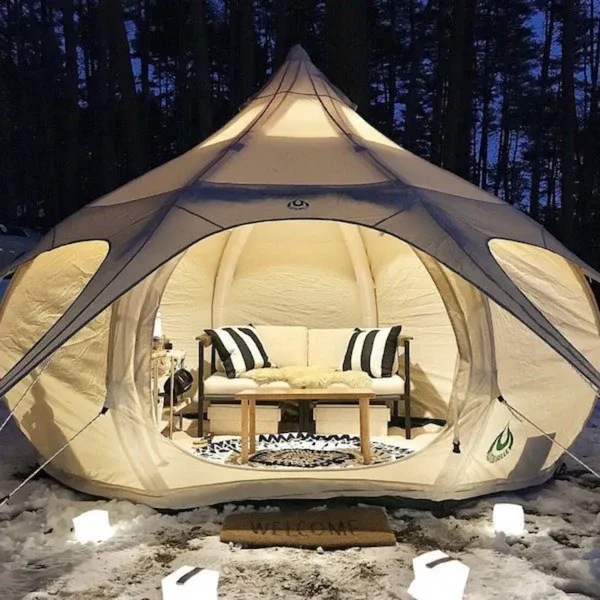 Insulation and Ventilation
When it comes to camping, weather can be your biggest enemy. With inflatable tents, you don't have to worry about being too hot or too cold, thanks to the air pockets that insulate the tent and promote good air flow. This means you can enjoy your camping trip no matter what the temperature is outside. In addition, inflatable tents also feature plenty of ventilation, which helps prevent condensation buildup inside.
Durability
One of the main concerns people have when considering an inflatable tent is durability. However, many inflatable tents are made with high-quality materials such as thick, puncture-resistant fabrics and tough, reinforced seams. In fact, many inflatable tents can withstand harsh weather conditions, including high winds and heavy rain. This makes them a reliable and sturdy option for camping in all types of terrain.
Spaciousness
Finally, inflatable tents provide ample interior space without taking up too much room. They are designed to maximize interior space while using a minimal footprint, which means you can set up your tent in tight spaces without sacrificing comfort. Whether you're camping with your family or on your own, an inflatable tent provides enough room for everyone to stretch out and relax.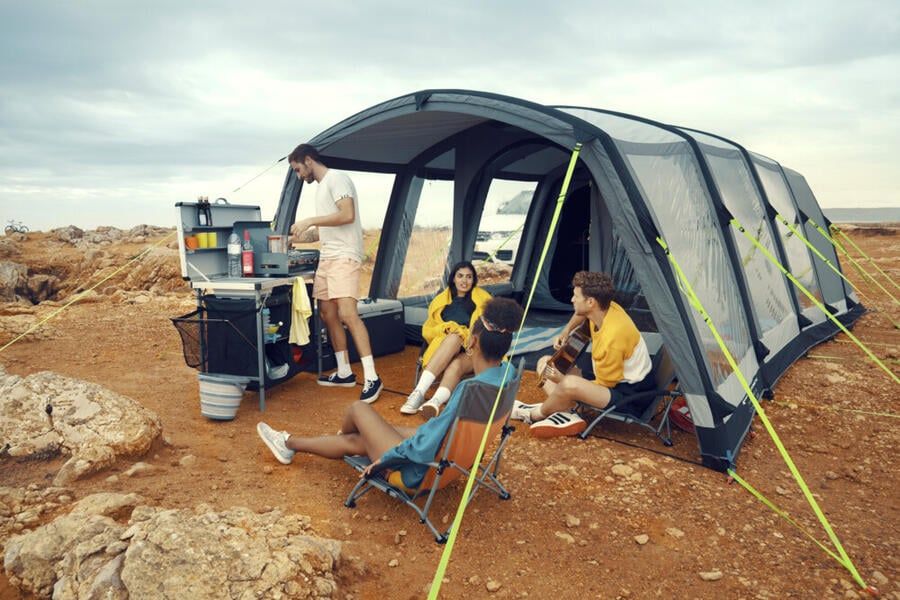 ---
Top 5  Best Air Tents on Amazon: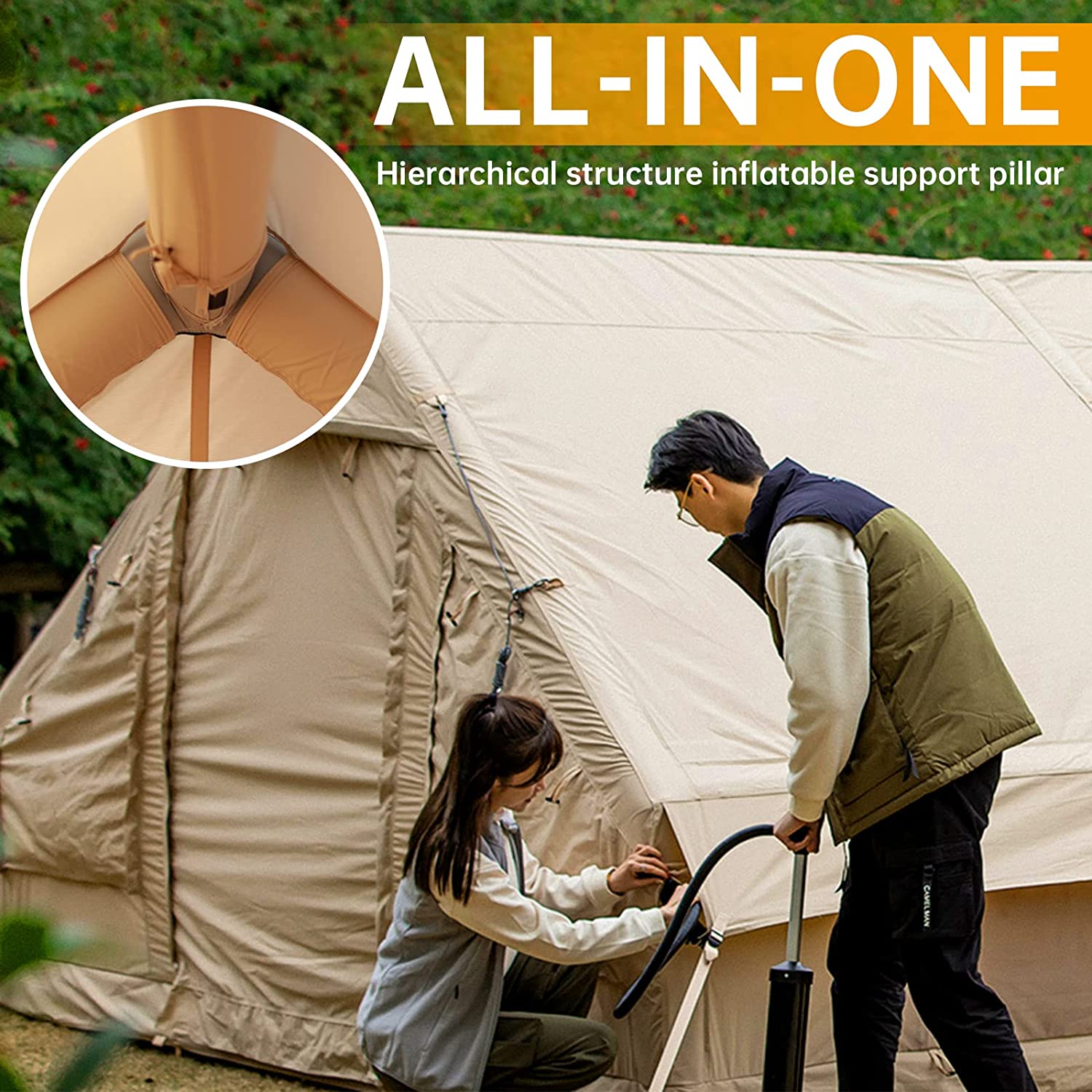 The inflatable camping tent does not need manual installation of support rods, and it has an inflatable self-supporting structure. It can be installed in 3 steps. Step 1, take out the tent; Step 2, Inflate; Step 3, Fix the four corners. You can completely assemble the tent by yourself in 5 minutes. Make your camping trip more enjoyable and comfortable.
Oxford cabin Tent, can reasonably balance water repellency and breathability, comfortable and not stuffy. But it is not recommended to use it in the rain for a long time. Double seam seal and sturdy zipper add extra reliability to the camping tent. Withstands 2000mm water pressure.
The unfolded size is 114*80.7*78 inches and can be stored in a handbag of 24*18.5*13.8 inches. This tent provides plenty of space for you and your friends or family to easily accommodate 4 people, allowing you to enjoy the outdoors with friends or family.
4 Season air tent with screen window design for enhanced breathability and mosquito prevention. This waterproof tent has 2 doors for easy entry and exit, large section mesh windows and 2 D-shaped arches with zippers to increase airflow mobility to keep you cool and comfortable. The 4 person tent comes with storage pockets for small items.
---
2. Air Tent with Waterproof and SGF 50+ UV Protection LED Light Strap for Outdoor Camping and Glamping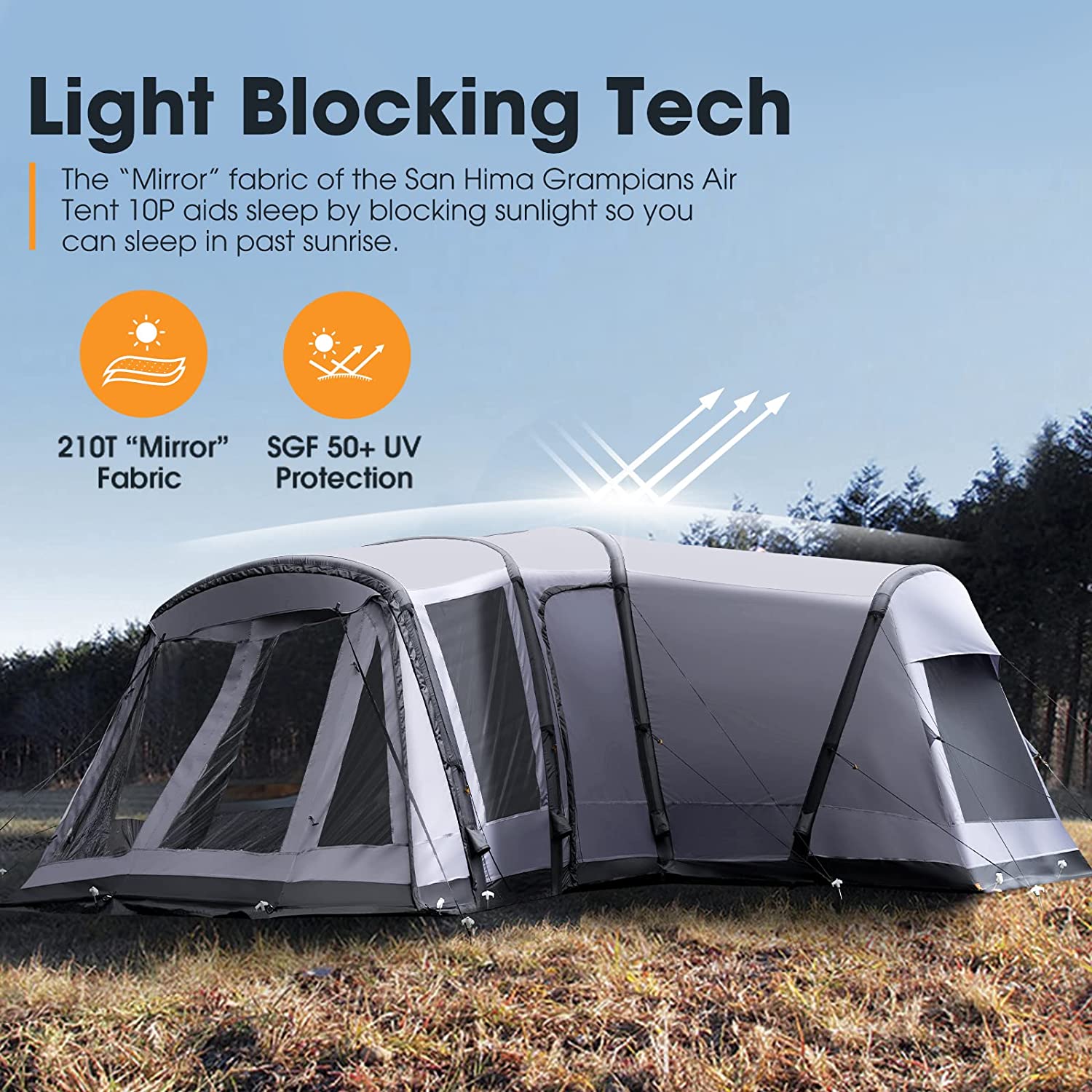 Unlike regular tents, the air tent/inflatable tent 10P has strengthened air beams, made from TPU, instead of metal poles to reduce the time you spend pitching your tent and is easier to be folded than regular tents. This air tent/camping tent also comes with a San Hima hurricane pump for super fact setup, and air valves for faster deflating
There is a lot to love about the San Hima Grampians Air Tent/inflatable tent 10P, particularly its strengthened exterior: 210T "Mirror" fabric and 210D PU fabric.
The former is designed to significantly reduce heat inside tent, the latter boasts 10,000mm waterproof rating and UPF 50+ UV protection. And waterproofness, durability, longevity are all characteristics of its PE floor
Roomy & Light Blocking: In addition to a 4-room configuration that includes 2 bedrooms, which can accommodate 10 people, a living area and a transition area, this air tent/inflatable tent uses San Hima's "Light Blocking" tech, the "Mirror" material on the exterior of the air tent/inflatable tent/camping tent, to provide excellent light blocking. This really aids sleeping when the sun is piercing through
---
3. Inflatable Floating PVC Shoal Family Camping Water Raft Tent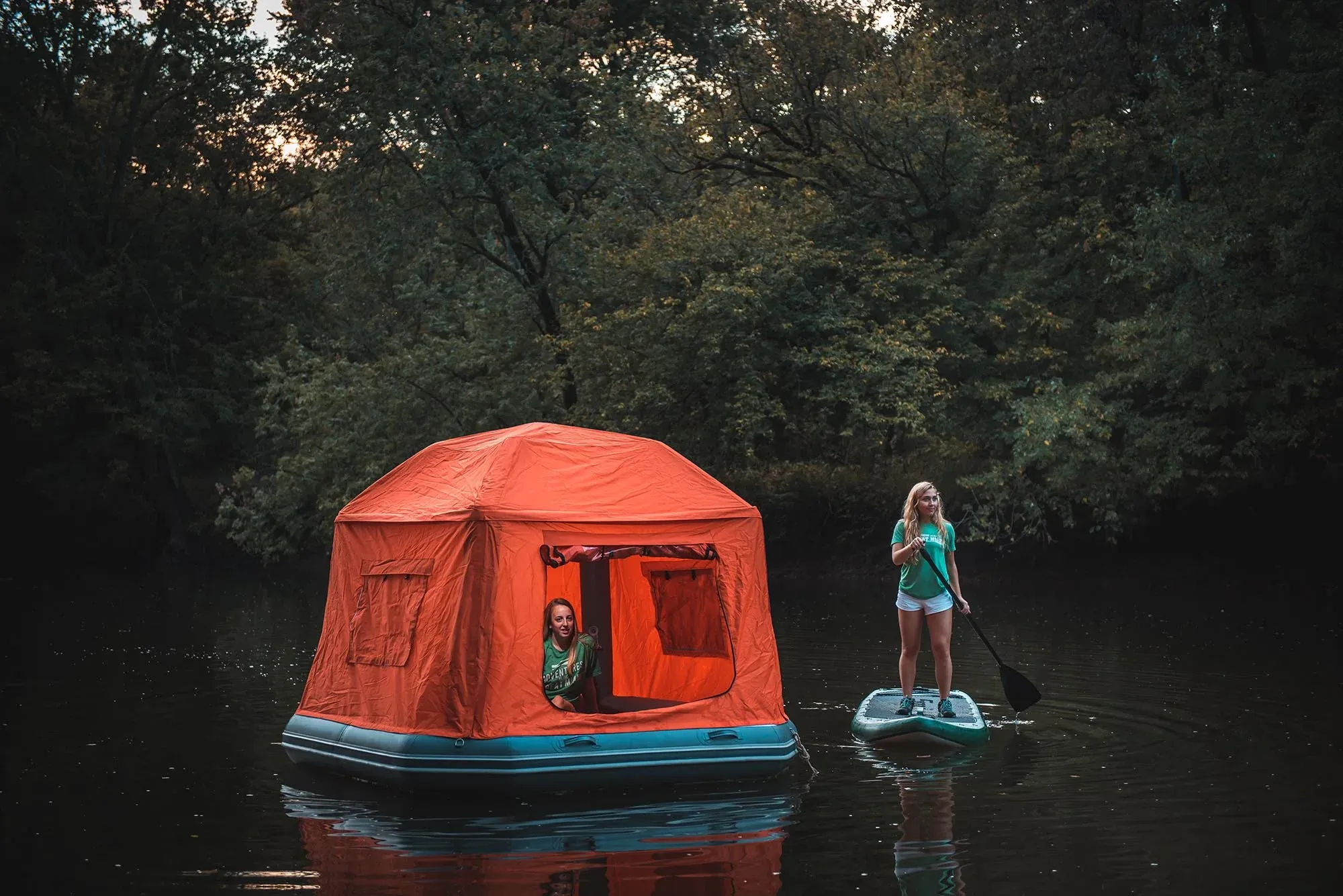 Introducing the Shoal Tent. A first of its kind inflatable, floating raft with a tent topper that allows you to sleep out on the water. Camp on your favorite farm pond, saltwater flat, spring creek or an eddy on your favorite river.
The world is your waterbed. Sleep under the stars, on the water, feel the flow and let it lull you to sleep.
There are no tent poles, the tent structure is completely inflatable, and when inflated it stands up to high winds without a problem. The raft body has three air chambers, two in the lower tube, one in the structure; these tubes inflate to 2.5 PSI. The floor is a 6" thick drop stitched high-pressure floor (similar to a paddleboard) that doubles as your air mattress. The floor inflates to 10 PSI. D-Rings on the tent body sides allow for easy anchor attachment.
The tent topper sides all attach and detach using a heavy-duty hook and loop for the ability to use just the top and get in and out easily through the sides if the need arises. The tent fabric uses waterproof, fabric sealed with PVC coating and includes heavy-duty #8 zippers.
Measurements & Details:
Outside to outside: 8'x8' footprint.
Standing room is up to 6'-3" in the middle.
Inside comfortable laying-down allowance is up to 6'-3". Taller than that you can rest your head on the tubes or sleep diagonally.
Shoal Tent packs down into a burrito roll style carry and storage bag approx. 60"x24"x18".
Kit comes with a Storage bag, patch kit, and manual foot pump.
Weight of tent is approx. 75 pounds
---
4. Inflatable Air Tent Clamping Tent Oxford Fabric Air Tent Waterproof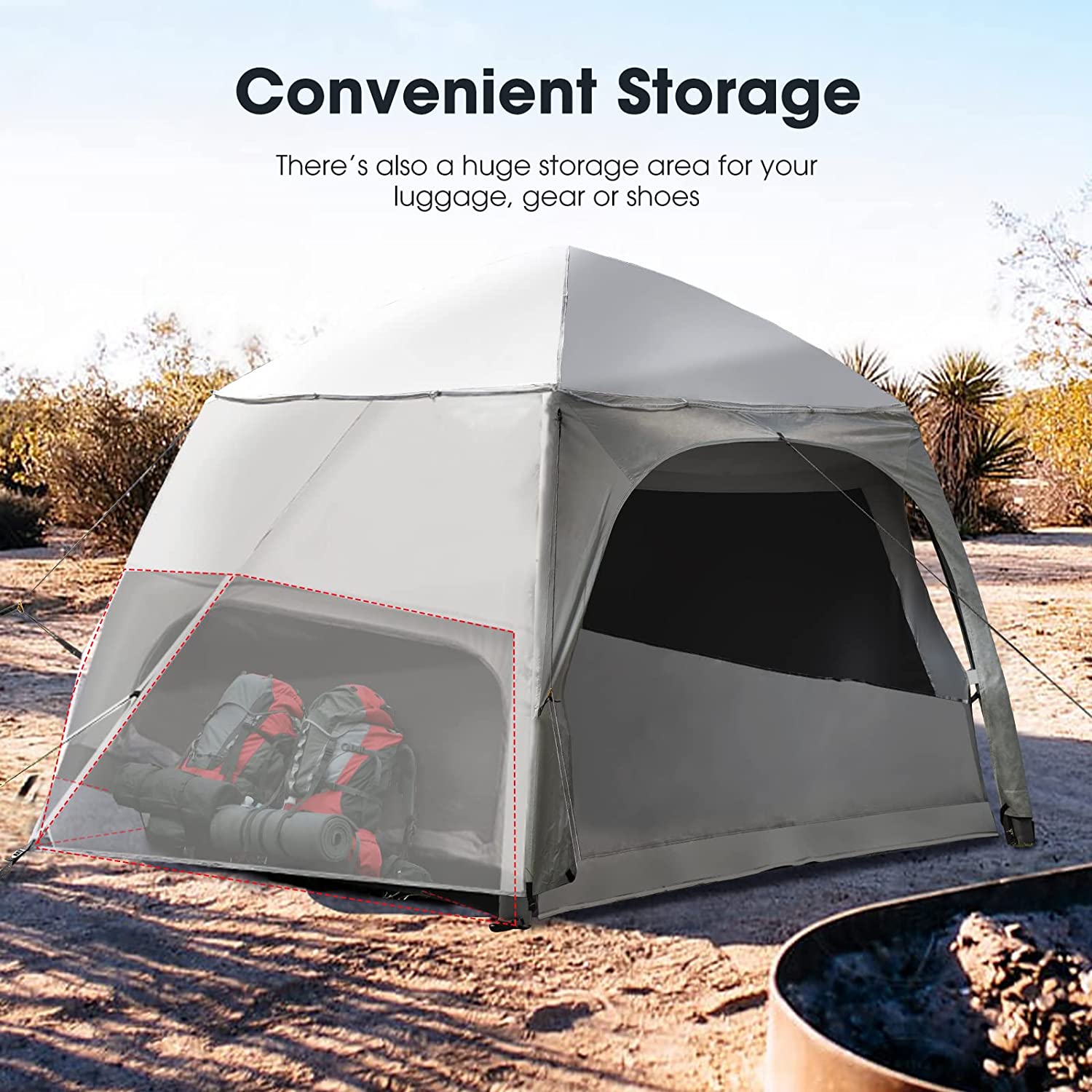 A roomy area that can comfortably accommodate four adult sleepers without hunching, this air tent/inflatable tent use technology, the "Mirror" material on the exterior of the air tent/inflatable tent, to provide excellent light blocking while significantly reducing heat inside the air tent. This really aids sleeping when the sun is piercing through
Efficient Ventilation & Ample Storage: Ventilation is not an issue with this air tent/inflatable tent because the front fly, the rear port and 2 side windows can be opened up for airflow. The 4 facets of the air tent/inflatable tent come with meshes to keep bugs away. Zip the rear port open, there's also a huge storage area for your luggage & gear. And the bottom zipper pull acts as a power access point
What makes this inflatable tent stands out is its detail. The front awning of the air tent serves as a transition area during wet weather, so you can remove your wet gear before entering the tent. The stargazer window makes for an unobstructed view of the night sky. A 7.5m dual color LED strip light creates a bug-free environment
---
5. Tangkula Inflatable Tent Camping Tent for Family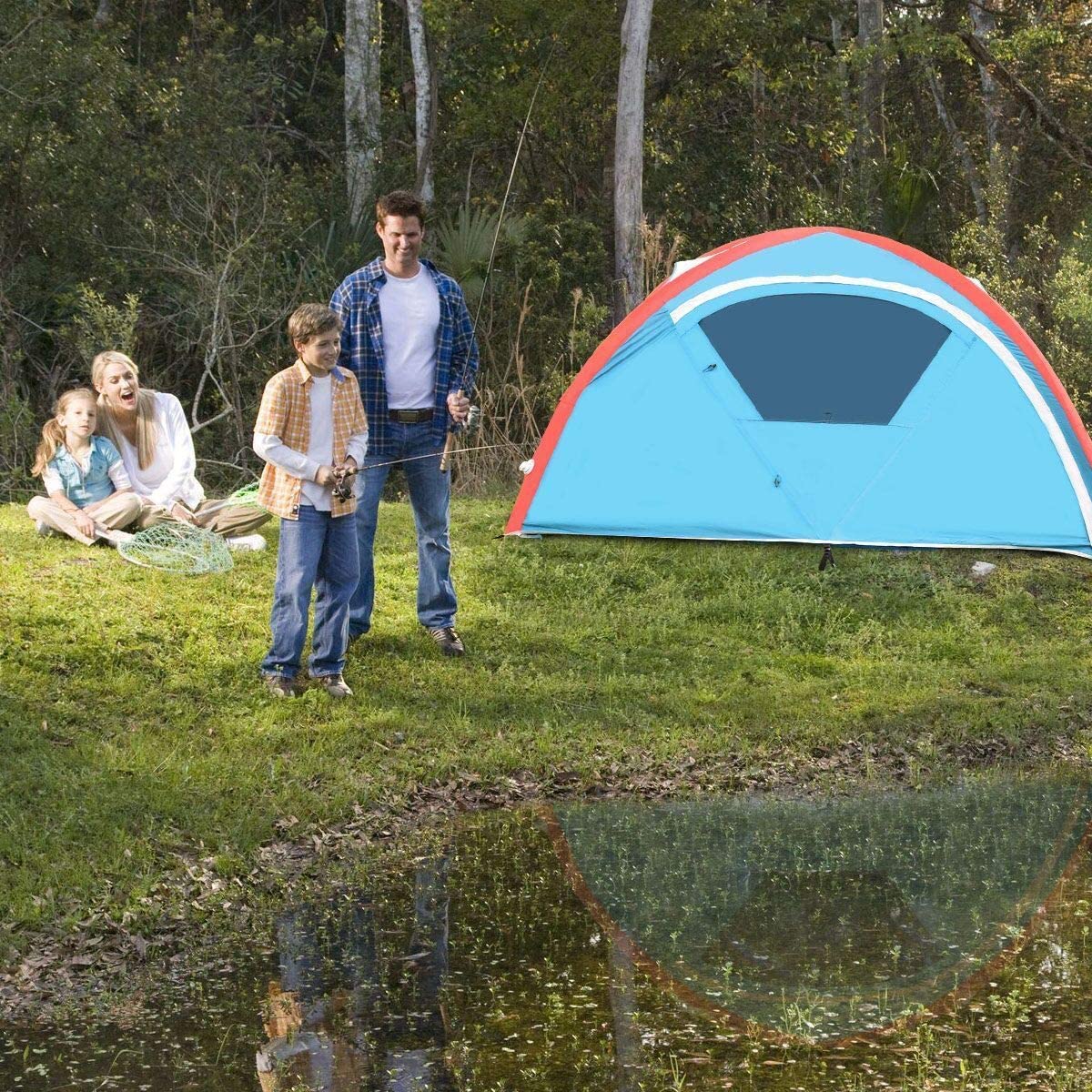 This inflatable tent can be built with our hand pump in just a few minutes. The frame and inner tent work as a unit, you don't have to spend a lot of time building the poles, it's great for expeditions, backpacking, or car camping.
This inflatable outdoor tent's size is (28''+59'')x87''x41'', it's enough big for 2-3 person to use, it's perfect for a couple or a family of three to enjoy the happy outdoor time.
The tent adopts the 190T polyester with PU coating, B3 fine gauze and TPU inflatable pipe, this sturdy materials and structure make the tent can withstand strong wind, and the tent is also water-proof and can keep out the sunshine, this durable tent could keep you company for a long time.
The tent is lightweight at about 11 lbs and equipped a carry bag, when you open the valve to let the air out and then put the flat tent in the bag, it will be extremely convenient to carry or transport.
This tent has two rooms, the vestibule at the entrance offers enough space for your personal gear and cooking equipment or other things. And the internal pocket let you have the extra space to keep your stuff organized.
---
Most FAQs about Air Tents
Are Inflatable Tents Better Than Regular Tents?
Inflatable tents offer many advantages over traditional camping tents. They are lighter, easier to pack, and manage to provide a large amount of interior space without increasing the overall size of your camp setup.
In addition to being more compact, inflatable tents usually come with a self-inflating system that takes just minutes to set up and take down. This makes them ideal for weekend trips or longer excursions when time is short.
The air pockets in an inflatable tent also help insulate it from extreme temperatures outside while providing ample ventilation within the tent itself allowing you to feel comfortable no matter what kind of weather might be outside.
Finally, inflatable tents can often stand up against strong winds better than regular tents since they don't have poles that run along the walls like regular campsite structures do.
Instead, their design distributes pressure across multiple pockets filled with air rather than relying on any discrete support points for stability against wind gusts making them much more resistant and secure during severe storms or heavy winds.
How Long Inflatable Tent Can Last?
The longevity of an inflatable tent depends on a variety of factors, such as the quality of materials used in construction, level of care and upkeep, and weather conditions. Generally speaking, the average lifespan for an inflatable tent can range anywhere from 3 to 8 years with proper care.
When selecting an inflatable tent, it is important to look at the quality of material that has been used in its construction. Higher grade fabrics - such as those made from polyester or nylon - tend to be more durable than lower grade alternatives like PVC or canvas;
this is because they are able resist tears better and are more resistant against UV light damage. Additionally, avoiding acidic soaps while cleaning will help preserve the integrity and coloration of any material over time.
Furthermore, leaving up your tent when camping during wetter conditions could lead to mold growth inside your installation—it's best practice to take down your inflatable tents after each use (regardless if there was precipitation).
By merely following these simple steps you can significantly increase their lifespan compared with neglectful owners who experience shorter life expectancies for their tents as a result!
In short: given proper care and maintenance techniques combined with good environmental stewardship (avoiding harsh UV rays & moist conditions), one can expect between 3-8 years maximum life expectancy from most average quality brands.
Can You Overinflate an Air Tent?
Yes, it is possible to overinflate an air tent. Overinflation of air tents can cause the material to stretch too much and weaken the structural integrity of the tent, leading to major damage and even tears over time.
It is recommended that you always stick within manufacturer's guidelines for inflation in order to ensure a safe camping experience and maximize your tent's longevity. When inflating an air tent, you should start with a smaller amount of pressure than what is recommended by the manufacturer before using a pump or other device on high-pressure settings.
Doing this will allow for some additional space when fully inflated but still keep your tent at a safe level of inflation. Additionally, pay close attention when inflating as often there are indicators built into modern inflatable tents that signal if you have over inflated yours - such as windows becoming misshapen or difficult to zip up.
Are Inflatable Tents Easy to Set Up?
Yes, inflatable tents are relatively easy to set up. Instead of using traditional poles for support, an air pump is used to fill the column chambers with air and pressurize the tent.
This allows for rapid setup and breakdown times which can be extremely helpful when camping in an unfamiliar location or during inclement weather.
These tents are often sturdier than their traditional counterparts due to increased surface area of pressure being spread evenly throughout the fabric or material.
Inflatable tents also use a variety of fabrics and materials that include polyester reinforced PVC tarpaulin's held together with breathable mesh panels providing superior waterproofing and durability.
If you're looking for a fast, lightweight tent that can handle any outdoor situation then an inflatable tent might just be what you need!
How to Waterproof an Inflatable Tent?
Waterproofing a tent is an important step in preserving your gear and ensuring that you can enjoy camping trips for many years to come. Here's a detailed guide on the best way to waterproof your tent:
Pick a warm, dry day if possible: Warmer temperatures help reduce evaporation of the coatings before they have had time to fully cure, which makes them more effective.
Carefully clean all parts of the tent: Start by brushing off any dirt or debris from the fabric surface with a soft brush or rag. Then thoroughly rinse with lukewarm water, paying close attention to seams and zippers where dirt might be trapped inside the stitching channels.
Seal the seams: Seams are usually sealed with either silicone sealant or seam tape. To apply silicone sealant, carefully squeeze it along each seam line until it is completely covered and allow it to dry for 24 hours before proceeding further (silicone sealant should already be pre-applied if your tent comes factory-sealed).
To apply seam tape, cut long strips according to length of seams then peel off backing paper and press firmly into place; when finished you can trim excess pieces away with scissors or knife blade – but only after allowing taped seams at least 4–5 hours drying time!
Urethane coating helps protect fabrics from both internal moisture (like condensation) as well as external wetness (like rain). Applied using an aerosol spray, this protective layer needs refreshing every two months or so depending on usage frequency – just spray liberally over entire exterior surface while holding product eight inches away from fabric!
As far as DWR coating goes basically provide additional protection against water by forming an invisible shield on fabric's outermost layer -this too must need reapplication after months of wear/usage; again use aerosol spray held 8" away from fabric surface when applying afresh"!
If you're unsure about which brand/type best suits your particular needs contact manufacturer directly in order find out what kind(s) they recommend using specifically for their products."
Once applied let everything sit outside undisturbed till fully dry before packing up in preparation for next trip outdoorsy adventure ahead! This will ensure maximum efficiency levels so don't forget do this final step even though may seem tedious because without proper drying process none rest matters it all becomes effectively pointless due improper curing process not taking place.
Conclusion
In conclusion, inflatable tents are the future of camping due to their convenience, comfort, and versatility.
With the ability to provide insulation and ventilation, easy set-up and take-down, lightweight and compact design, and spaciousness, these tents are quickly becoming a popular choice for outdoor enthusiasts.
So next time you're planning a camping trip, consider investing in an inflatable tent for a hassle-free and enjoyable experience in the great outdoors.
The Future of Camping Inflatable Tents!
Check Out Our Relevant Reads: