Camping is a fun and exciting activity that lets you escape the hustle and bustle of city life and commune with nature. However, sleeping on hard, uneven ground can put a damper on the experience. That's where a camping cot comes in handy.
A camping cot provides a comfortable and supportive sleeping platform while you're out in the wilderness. But before you buy one, there are a few things you should consider. This guide will help you choose the right camping cot for your needs.
How to Choose the Perfect Size Camping Cot
The first thing you need to consider when buying a camping cot is the size. You want to make sure it fits in the space available at your campsite or inside your tent. Measure the area before purchasing a cot to ensure it fits comfortably with room to spare.
Opt for one that folds down into a smaller size if you only plan on using it occasionally or need something more compact for packing convenience. Keep in mind that larger cots may be more comfortable, but they may also be heavier and more difficult to transport.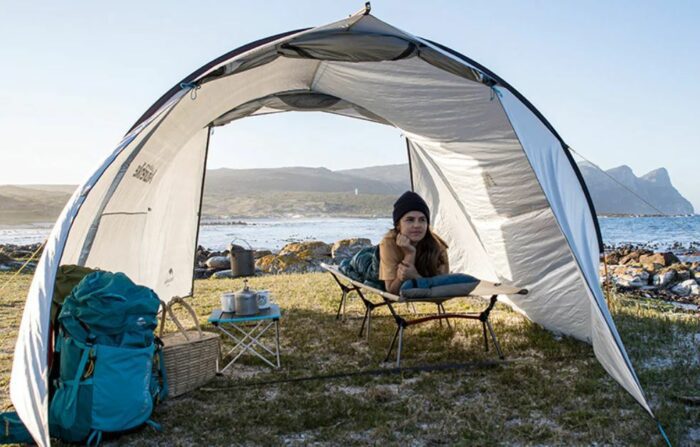 What Should You Consider When Shopping for Camping Cot
The weight capacity of the camping cot is another important consideration. Make sure to choose a cot that can support your weight and any additional weight you may be carrying such as a backpack or other camping gear. Also, if you plan on sharing the cot with another person, make sure to choose one with a weight capacity that can accommodate both of you.
Camping Cot Durability
Consider investing in a heavy-duty camping cot made of sturdy materials like steel frames, reinforced aluminum poles, and strong nylon fabric. These materials stand up well against wear and tear over time. Look for models with strong legs as well as adjustable tension straps that help provide extra stability on uneven ground surfaces such as rocks or twigs. Choosing a durable cot will ensure that it lasts for years and provides a comfortable sleeping surface every time you go camping.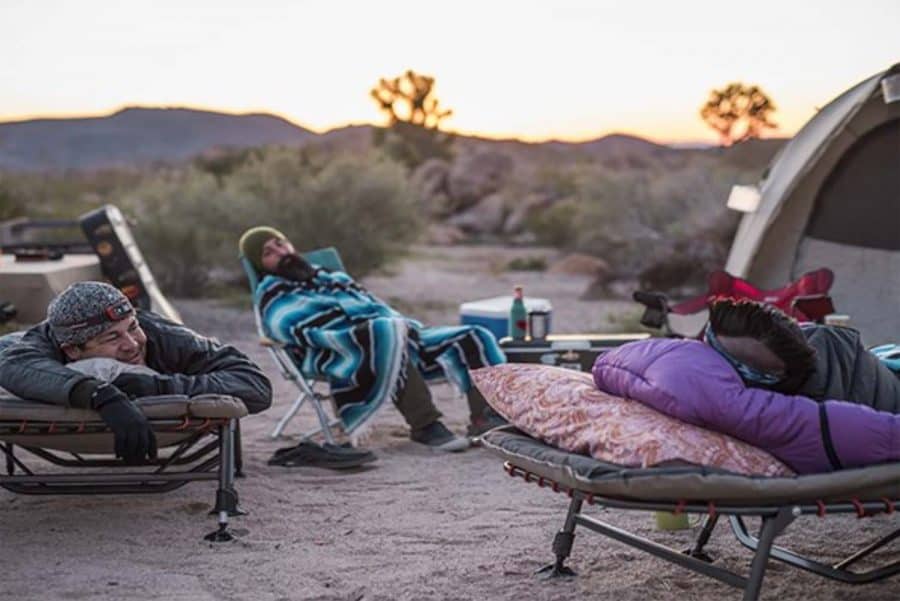 Camping Cot for Comfortable Sleep
A camping cot is meant to provide a comfortable sleeping surface while you're out in the wilderness. Look for cots with adjustable backrests and/or padding for added comfort. Some cots also have built-in pillows or headrests for added support. Keep in mind that the level of comfort can vary based on the materials used in the cot. Test out a few different models to find the one that feels the most comfortable for you.
Why Should I Consider the Ease of Use of Camping Cot
Finally, consider the ease of use when purchasing a camping cot. Look for models that are easy to set up and take down, especially if you plan on moving around frequently on your camping trip. Some cots may require tools to assemble or disassemble, which can be inconvenient. Make sure to choose a camping cot that is easy to transport and fits into your car without taking up too much space.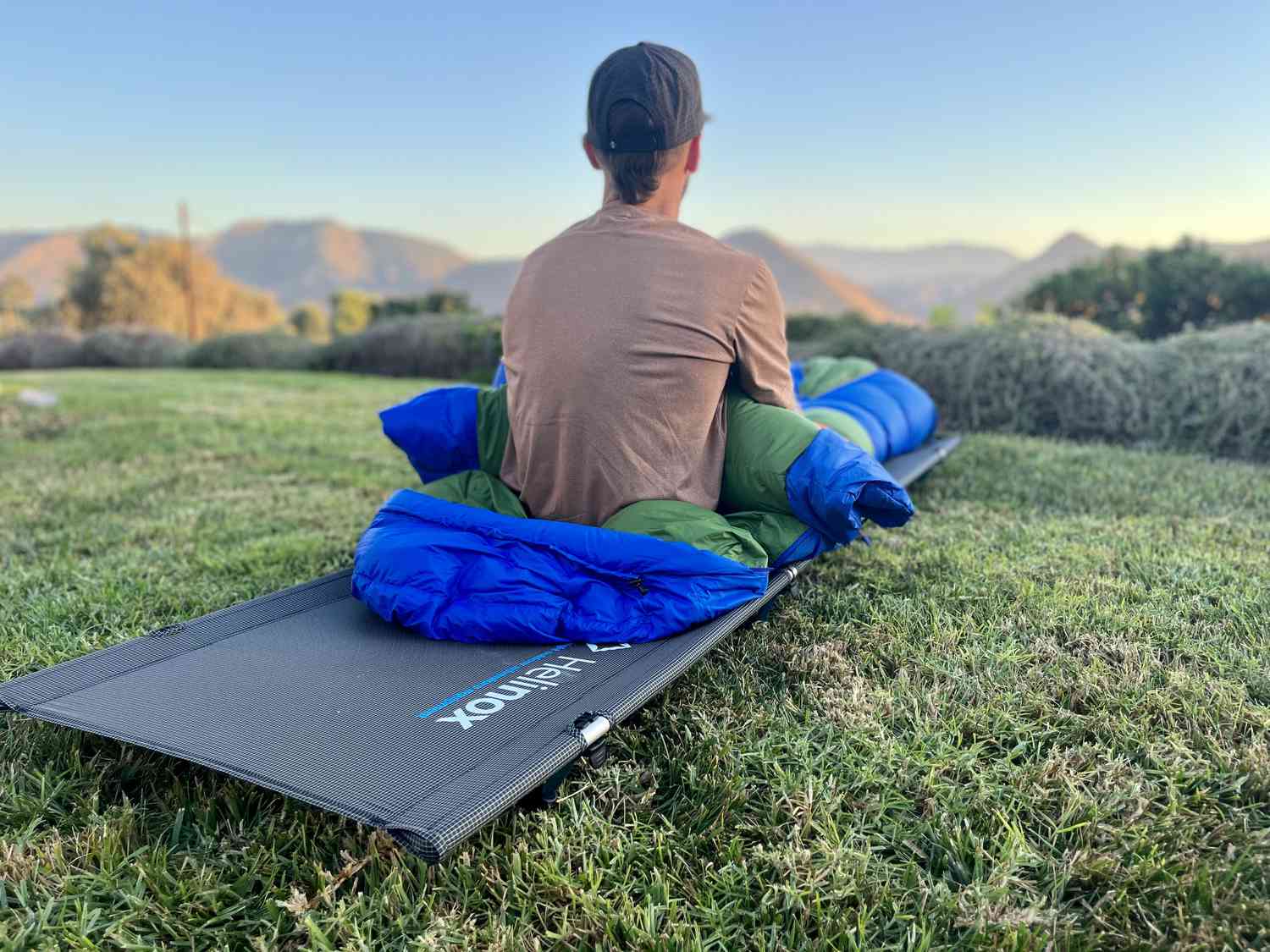 ---
Top 5 Best Camping Cots on Amazon:
Portable Folding Camping Cot, Adjustable 4-Position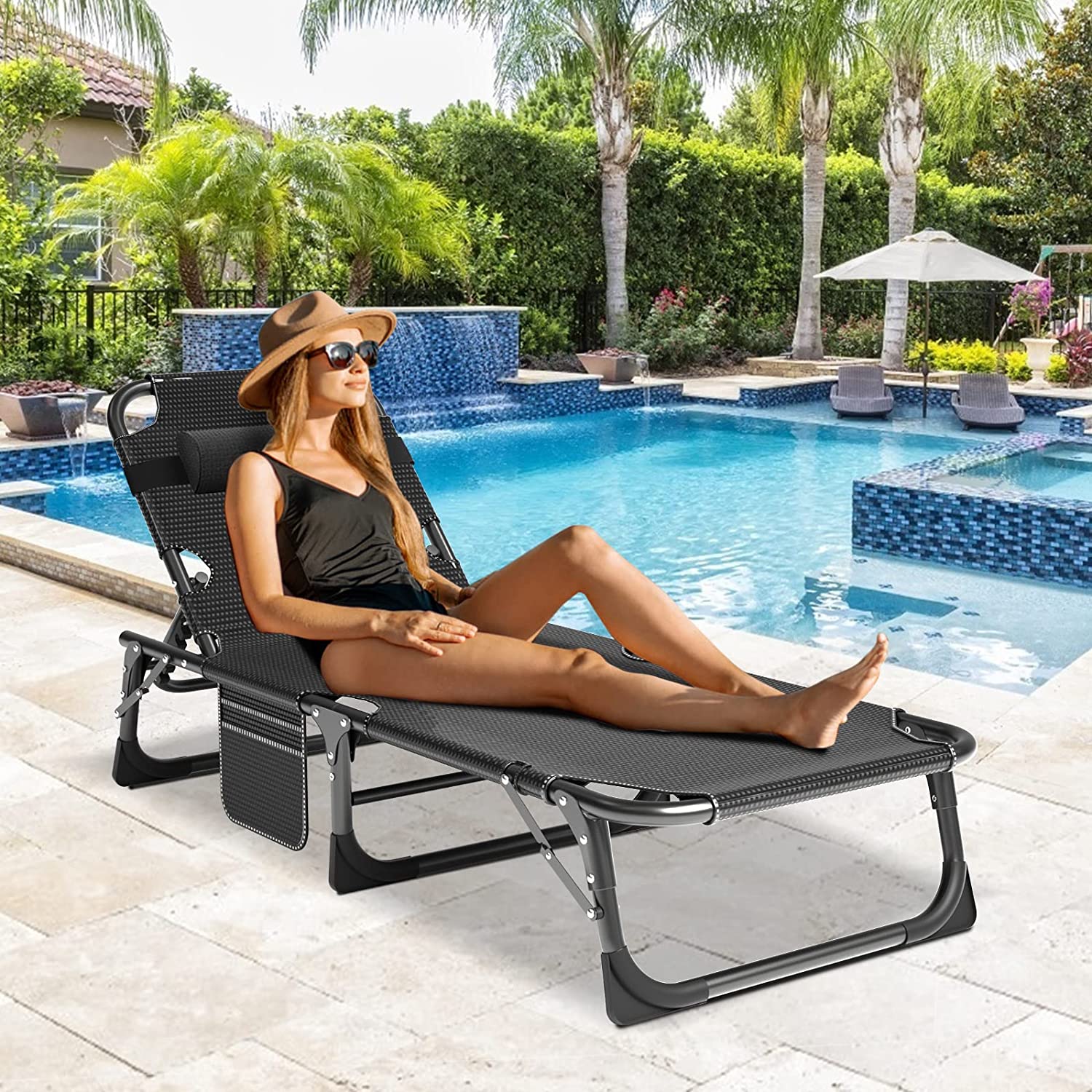 The adjustable lounge chairs are designed with 4 positions adjustable locking system, which allows you to adjust it to a comfortable position according to your needs. You can sit up, recline, or lay flat;
Tri-fold storage design for easy transport and store. This cot will be an excellent choice for Relaxing on Your Next Road Trip, at Home, the Pool, Lake, RV, Campsite, Patio, Deck, Tent, or Cabin;
This folding cot features a full square tube frame to provide strong support, and the pressure is evenly distributed by the supporting feet, which is more stable; The weight capacity up to 440 pounds; Breathable materials can provide maximum breathability and comfort;
When folded up, the chair measures only: 30.7" x 9.8", making it ideal for transport and storage. When unfolded the chair measures:75.2"x 26.8"x 13". At 11.4 pounds of weight, very easy to be moved around;
With a perfect balance of a firm and soft surface, our chaise lounge boasts an ergonomic design to help reduce muscle tension and stress; The beach lounger chair has a side pocket, to place your phone, books or keys; the pillow is detachable, can be adjustable up and down or removed based on your own needs;
Equipped with a mattress, so that you can sleep more comfortably on this portable folding coT
---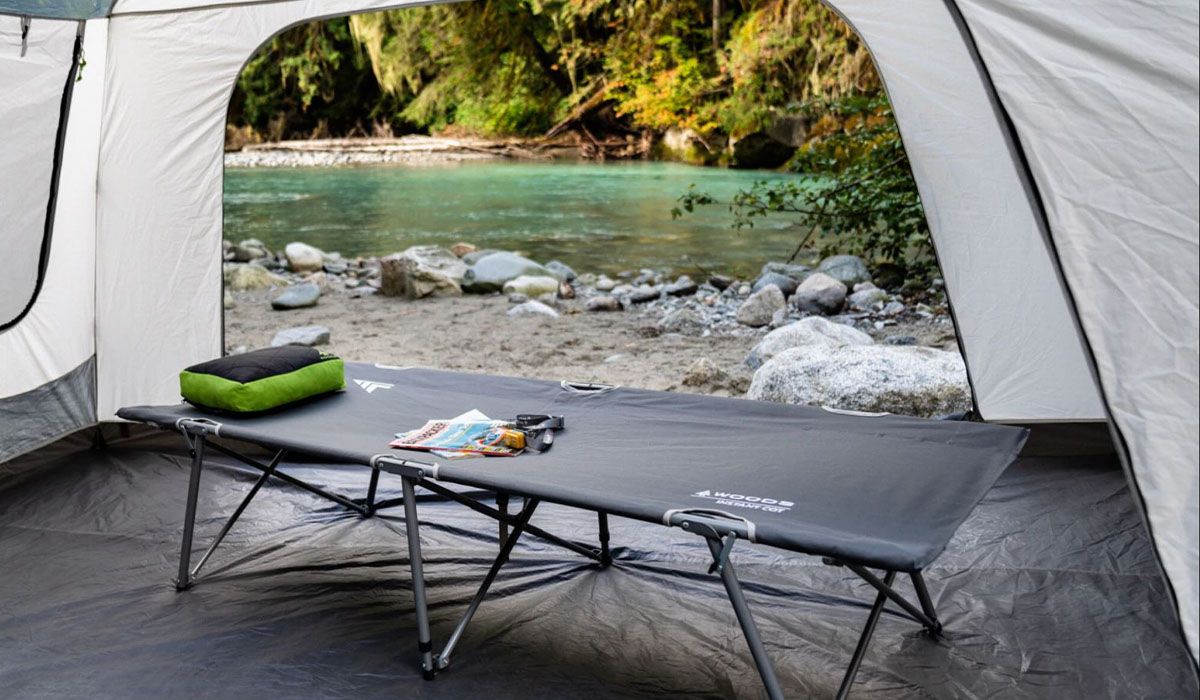 Superior support thanks to ComfortSmart coil suspension system and thick foam mattress pad
Strong steel frame supports up to 300 pounds
Fits campers up to 6 feet 6 inches
Folds to fit into most car trunks
---
3. Camping Cot Portable Outdoor with Bedspread & Thick Air Mattress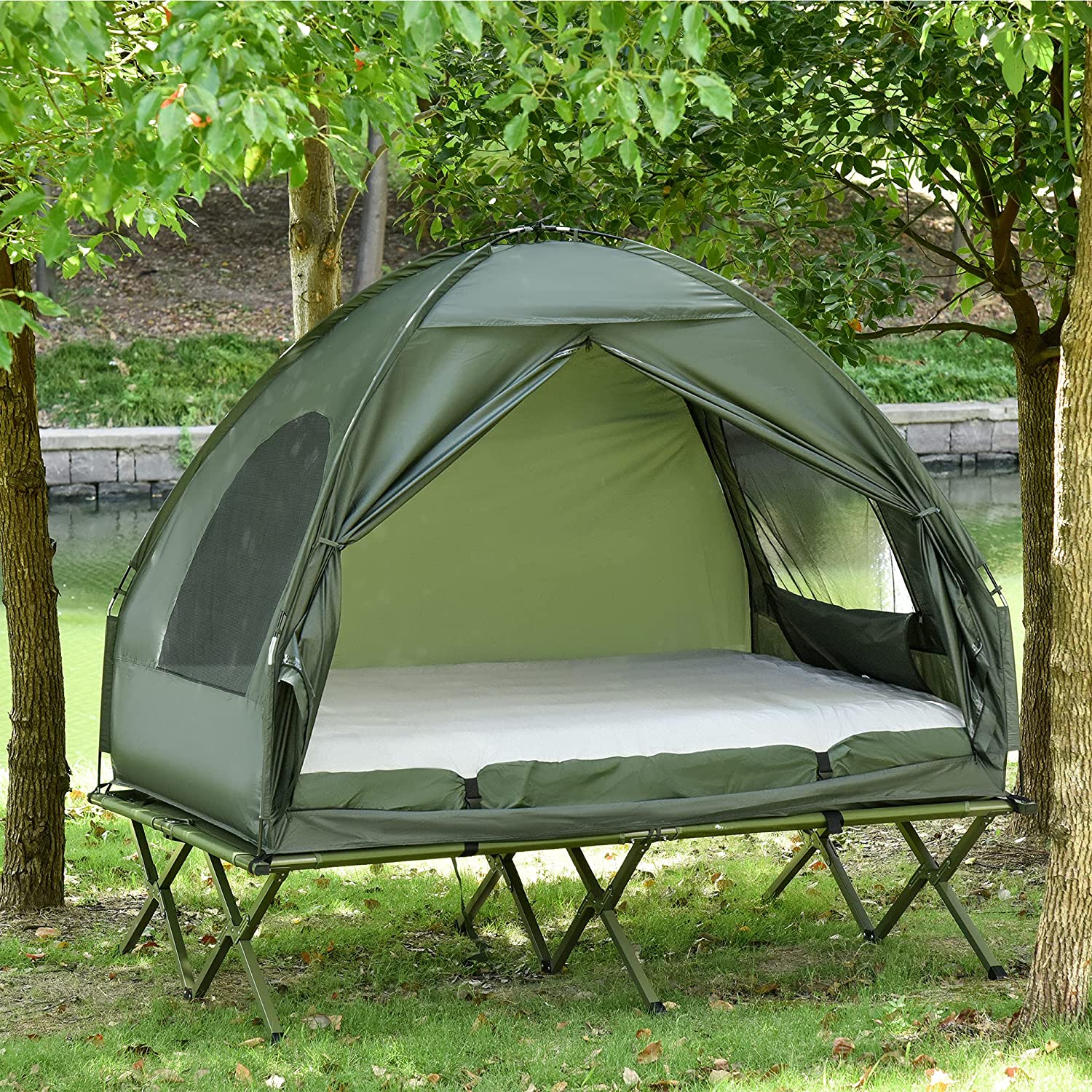 This multifunctional portable camping set includes an off-the-ground tent, 2 person cot, an air mattress with a pump, and bedspread. Both the tent and the camping bed are foldable, which greatly saves space when not in use. Multifunctional bag for easy carrying and storage.
This outdoor camping set can be used together, or you can use the detachable cot bed and mattress separately. The zippered tent and elevated cot keep you dry and warm from the wet ground
Bring the comfort of home with this camping cot tent! The air mattress inflates quickly with the foot pump, and the bedspread creates a cozy bed for your camping adventures
This tent cot combo is made with fiberglass poles, 190T polyester taffeta, and Oxford fabric with PVC coating. The tent beds for camping can support up to 352 lbs.
Quick and easy set-up makes this pop up tent and cot combination a must-have for camping, backpacking, or sleeping under the stars in your own backyard
---
4. Folding Outdoor Cot with Carry Bag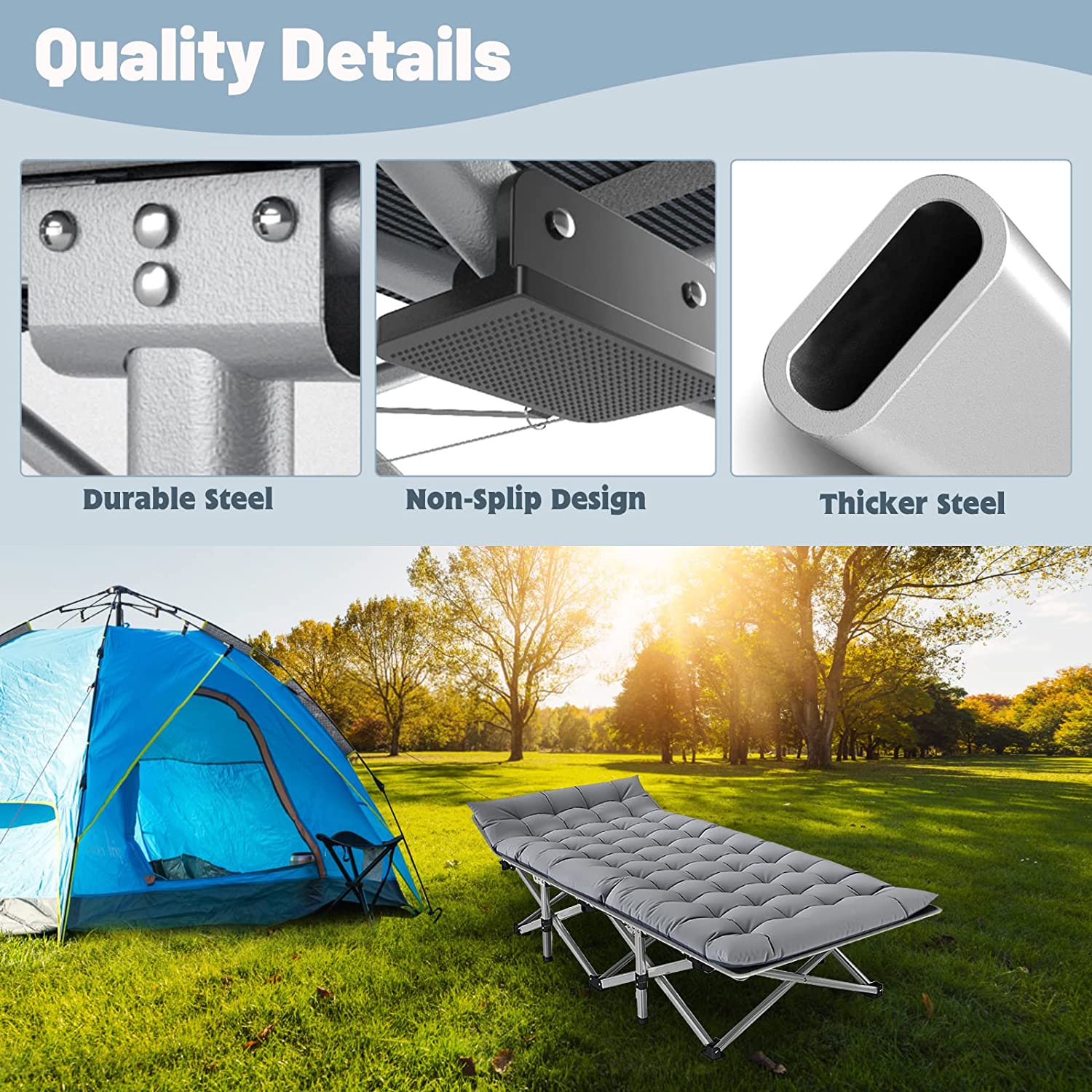 Great folding cot, outdoor cot, camping cot with mattress, for hiking, camping, traveling, hunting or as a snap cot in the office; also a perfect temporary bed when guests visit your home.
No need for cumbersome installation. Slsy folding cot opens in seconds, lightweight, easy-to-fold.
Folding cot design saves space and it is easy to carry and store. This folding camping cot is great for the outdoors and indoors.
The camping cot for sleeping have various mattress options. The mattress is a soft and removable pad which is more comfortable and warm during sleep.
Slsy camping cot for adults is made of a square anti-rust steel frame, durable thicker pipe and double layer 1200D Oxford cloth. Most similar cots are only 600D Oxford cloth, ours are more durable to use, supports up to 900 lbs.
---
5. Portable Folding Indoor Outdoor Bed with Mattress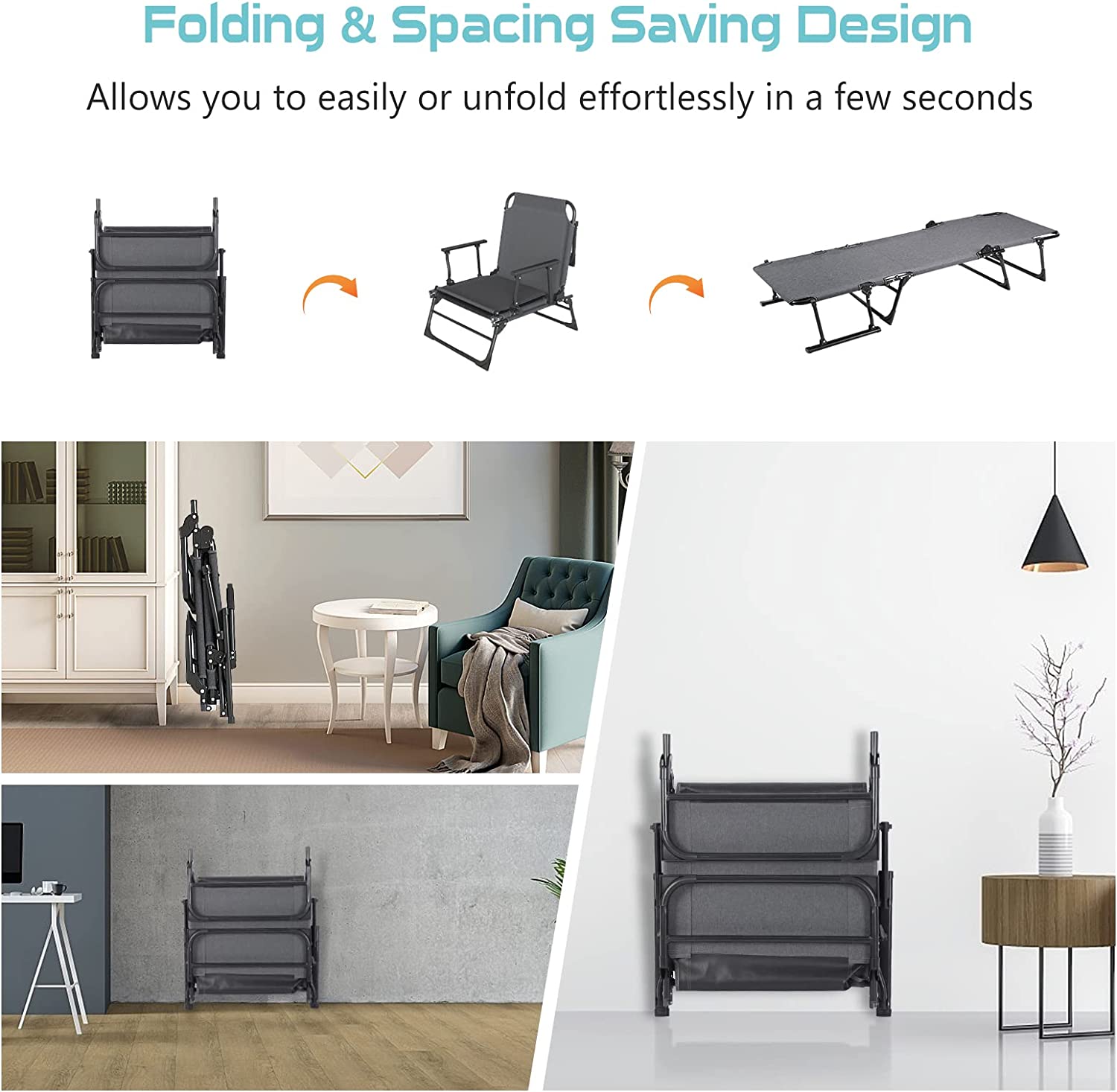 This versatile folding bed can be easily converted into a lounge sofa or bed to meet your different needs. Multipurpose, save money!
The sleeping cots bed for adult with high strength steel tubes frame is designed to fully support you and allow you to relax comfortably;
This portable folding cot bed can be easily moved around, making repositioning or transport hassle free.
Comes with a comfortable and soft mattress for extra comfort. There are a variety of colors to choose from, giving you more choices.
Compact, incredibly quick and easy to set up.
---
Conclusion
A camping cot is a great investment for anyone who loves to camp but wants a more comfortable sleeping surface. When choosing a camping cot, consider the size, weight capacity, durability, comfort, and ease of use. By taking the time to research and select the right camping cot for your needs, you'll be able to enjoy a restful night's sleep while enjoying the great outdoors.
Happy Camping!
Relevant Reads>>>