Electric bikes have become a popular mode of transportation over the past few years, with many people embracing the technology and using them as an alternative to traditional bicycles or cars.
With their ease of use, versatility, and eco-friendliness, it's no wonder why electric bikes are becoming increasingly popular. In this article, we'll take a closer look at electric bikes, including what you should know before buying one, the different types of electric bikes available, and the pros and cons of owning an electric bike.
What is an Electric Bike?
An electric bike, also known as an e-bike, is a bicycle that is equipped with an electric motor, allowing the rider to travel further and with less effort than a traditional bike.
The electric motor is powered by a battery, which can be recharged either by pedaling or by plugging it into an electrical outlet. The motor provides assistance to the rider, making it easier to pedal uphill or against a headwind, and can also provide a boost of speed when needed.
Before Buying an Electric Bike
Before purchasing an electric bike, there are a few things you should consider to ensure you get the right bike for your needs.
Budget - Determine your budget and look for a bike that fits within your price range. Electric bikes can range in price from a few hundred to several thousand dollars, depending on the quality, features, and brand.
Riding Style - Consider the type of riding you will be doing. If you plan on using the bike for commuting, you may want a more lightweight and portable option. If you plan on using it for off-road adventures, you may want a more rugged and durable option.
Battery Life - Check the battery life and charging time of the bike you are interested in. Make sure the battery can last long enough for your intended use and that the charging time is reasonable.
Motor Power - Look at the motor power of the bike you are considering. If you plan on doing a lot of uphill riding or carrying heavy loads, you may want a bike with a more powerful motor.
Types of Electric Bikes
There are several different types of electric bikes available, each with its own unique features and benefits.
City/Commuter Bikes - These bikes are designed for urban riding and commuting, with features like fenders, lights, and racks for carrying cargo.
Mountain Bikes - These bikes are designed for off-road riding and have features like suspension and wider tires for better traction.
Folding Bikes - These bikes are designed for portability and can be easily folded up for storage or transportation.
Cruiser Bikes - These bikes are designed for comfortable, leisurely riding and have features like wide seats, swept-back handlebars, and a relaxed riding position.
Pros and Cons of Owning an Electric Bike
Eco-friendly - Electric bikes are more environmentally friendly than traditional cars and can help reduce carbon emissions.
Health Benefits - While electric bikes provide assistance, riders still get some exercise, helping to improve cardiovascular health and muscle strength.
Cost-effective - Electric bikes are generally cheaper to operate than traditional cars and can also save money on gas and parking.
Convenience - With an electric bike, riders can easily travel further and faster than with a traditional bike, making commuting and errands easier and more efficient.
Cons:
Initial Cost - Electric bikes can be more expensive than traditional bikes, with some models costing several thousand dollars.
Maintenance - Electric bikes require regular maintenance, including battery upkeep and motor maintenance.
Weight - Electric bikes are often heavier than traditional bikes, which can make them more difficult to transport and store.
Limited Range - While battery technology is improving, electric bikes still have a limited range, which can be a drawback
We Made a Selection of the Top 5 Best Electric Bikes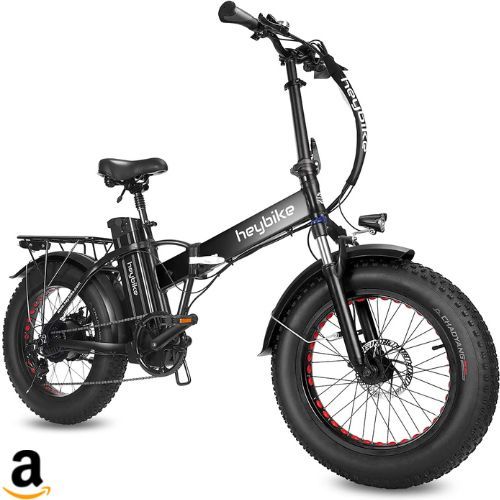 Heybike Mars Electric Bike Foldable
Heybike electric bikes combine modern technology with traditional bicycles to produce low carbon, green, high-quality electric bikes that will save time on the road, make off-roading more enjoyable, and make life easier and more fun.
BUY ON AMAZON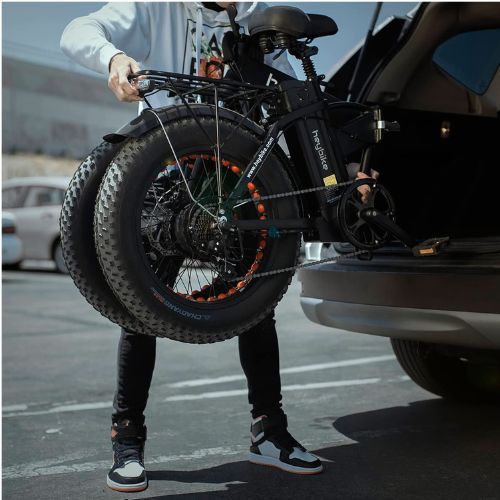 ---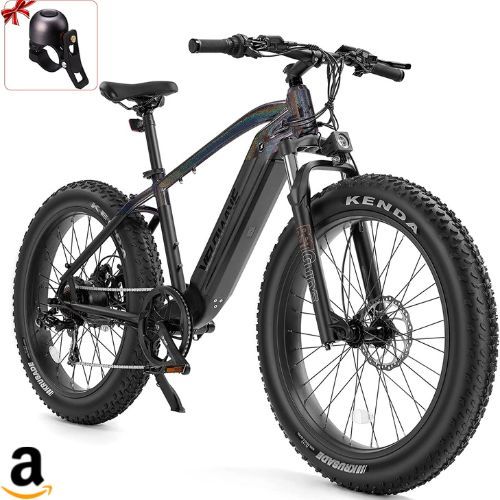 VELOWAVE Electric Bike Adults
750W high-speed BAFANG brushless motor provides electric bike max speed up to 28 mph. 80Nm of torque is enough for your daily riding on all terrains, ensuring excellent riding experience off-road. BAFANG motor as a top brand motor,which has longer using life and less maintenance.
BUY ON AMAZON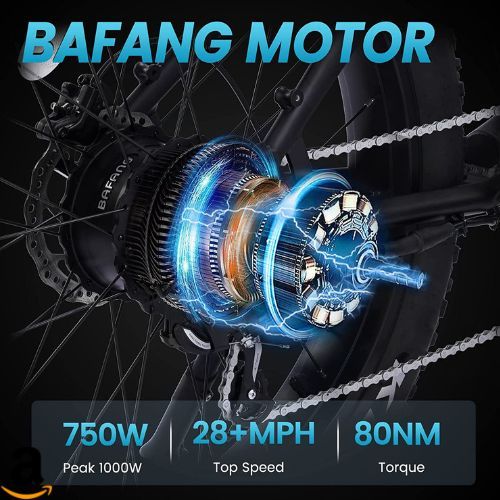 ---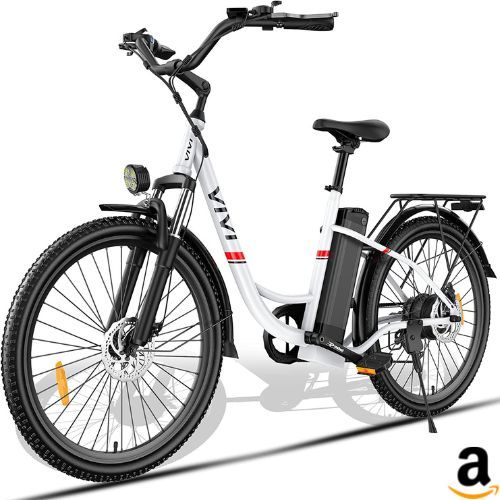 Vivi Electric Bike
Amazingly Fun, Comfortable, and User-Friendly Electric Bike
Whether you're looking to liven up your daily commute or explore the countryside on the weekend, this classic VIVI C26 e-bike makes for a fast, easy ride on city streets and trails alike.
BUY ON AMAZON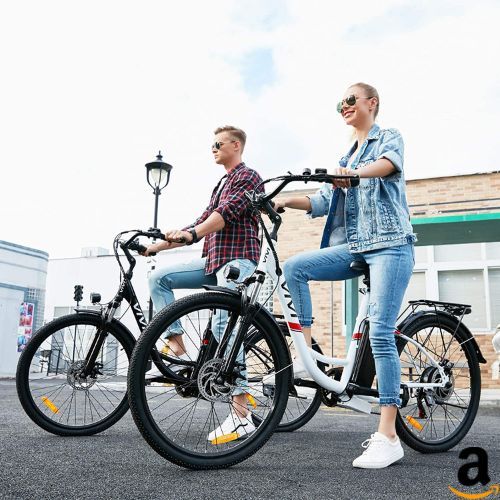 ---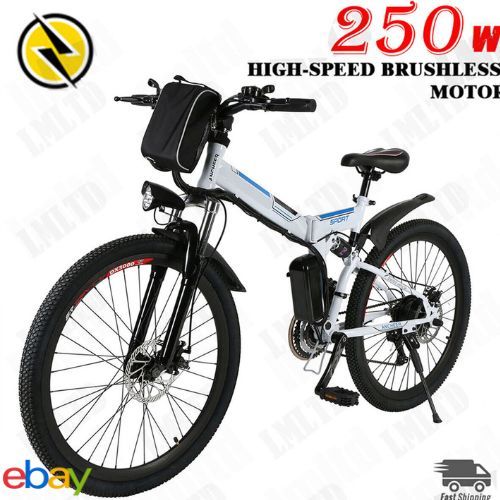 Folding Electric Bike Mountain Bicycle
The electric mountain bike uses an aluminum alloy frame, and the front fork is made of high-strength carbon steel and packed with premium comfort shock absorption;
The front and rear wheels are double-layer aluminum alloy wheels. Light, strong and designed to last. Load capacity of 330 lbs, good downhill stability.
This electric bike can be folded, weighing only 25kg, easy to carry after folding, can be placed in the office, elevator, and luggage waiting to prevent theft.
BUY ON EBAY
---
---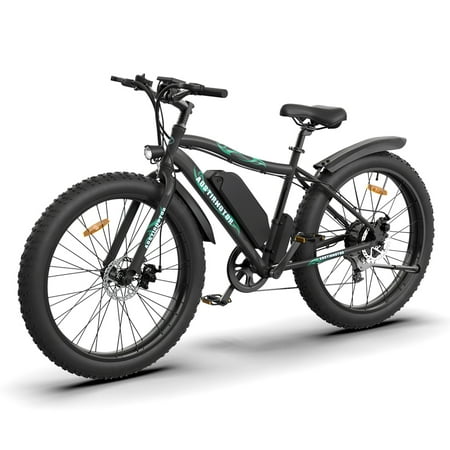 ---
Conclusion
Overall, electric bikes provide a unique way of getting around town without having to rely on traditional forms of transportation like cars or public transit. Whether you're looking for something with excellent battery life or one that can tackle rougher terrain with ease, there's sure to be an electric bike out there that fits your needs perfectly!
All that's left now is finding which one works best for you—to do this we suggest comparing specs, features, and prices across multiple brands before making your purchase decision so that you get exactly what you need at a price point that works for your budget! Good luck!
Happy Bike Riding!
Check Out Our Relevant Reads>>>