Getting ready for a road trip that includes camping and outdoor activities can be an exciting but daunting task. One of the challenges is transporting all the gear and equipment needed for a successful trip. Bicycles are an essential mode of transportation for many outdoor enthusiasts, and transporting them can be a challenge without the right equipment. This is where bicycle car carrier racks come in handy.
Bicycle car carrier racks are a convenient way to transport bicycles on a road trip. They can be attached to a car, SUV, or RV, and allow for the safe and secure transportation of one or more bikes. These racks come in different styles and sizes to accommodate different types of bicycles, and they have both pros and cons.
The Convenience of Bicycle Racks for Car SUVs or RVs
Convenience: Bicycle racks offer a convenient way to transport bicycles on a road trip without taking up valuable space in the car. This allows for more room for other gear and equipment needed for camping and outdoor activities.
Safety: Bicycle racks are designed to securely hold the bikes in place during transportation, minimizing the risk of damage to the bikes or the car. This also ensures that the bikes don't obstruct the driver's vision, making the trip safer for everyone.
Accessibility: With a bicycle rack, the bikes are easily accessible, making it quick and easy to unload them and start exploring the surrounding area on two wheels.
Cost-effective: Renting bicycles at a destination can be costly, especially for longer trips. By bringing your own bikes, you save money in the long run.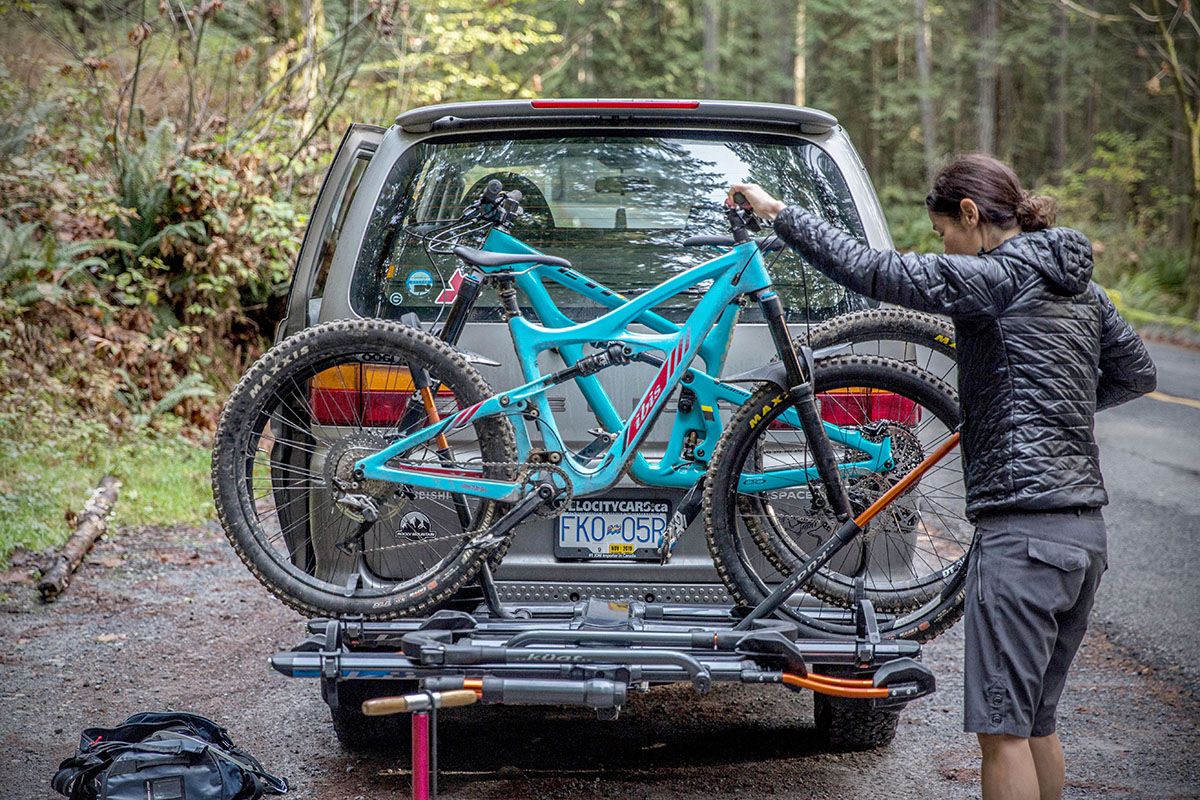 What You Should Consider Before Buying a Bicycle Hitch Rack
Type of Hitch
The first thing to consider is the type of hitch you have on your car or SUV. There are two types of hitch receivers: 1.25-inch and 2-inch. Make sure the rack you choose is compatible with your vehicle's hitch.
Number of Bikes
Next, think about how many bikes you need to transport. Do you only need to transport one or two bikes, or do you have a family or group of friends who also cycle? Make sure to choose a rack that can accommodate the number of bikes you need to transport.
Bike Size and Weight
Different bikes come in different sizes and weights, so it's important to make sure the rack you choose can handle the bikes you plan to transport. For example, some racks may not be suitable for heavier mountain bikes, while others may not be adjustable enough to fit smaller bikes.
Security
You want to make sure your bikes are secure while in transit, so look for a rack with a locking mechanism. Many racks come with locks built-in, while others may require an additional lock to be purchased separately.
Accessibility
Consider how easy it is to access your bikes once they're on the rack. Do you need to remove the bikes from the rack to access the trunk of your car? Look for a rack that allows easy access to the rear of your vehicle without having to remove the bikes.
Ease of Use
Finally, consider how easy the rack is to use. Is it easy to install and remove? Can you easily load and unload your bikes? Look for a rack that is user-friendly and doesn't require a lot of effort to use.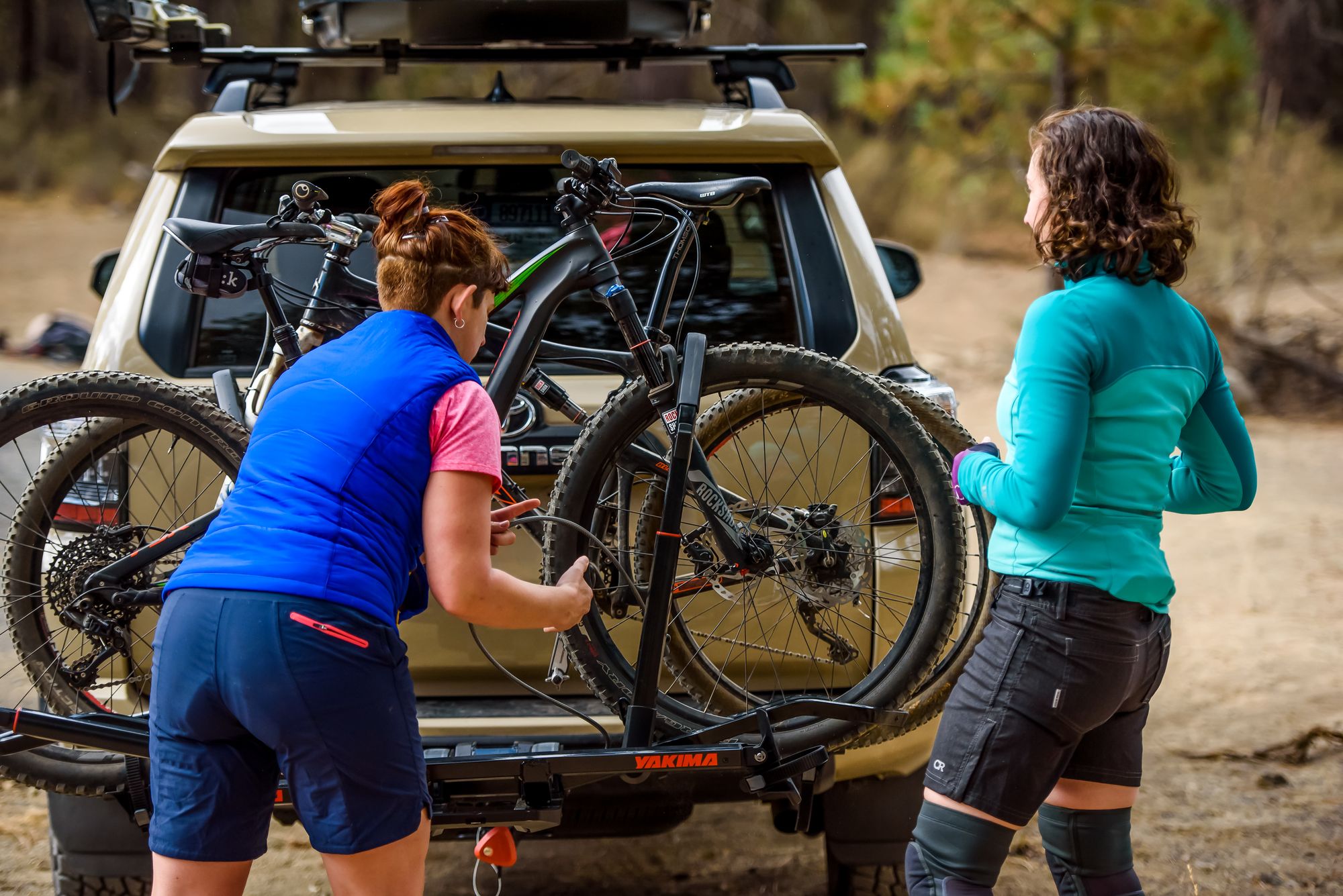 ---
Top 5 Best Bicycle Hitch Racks on Amazon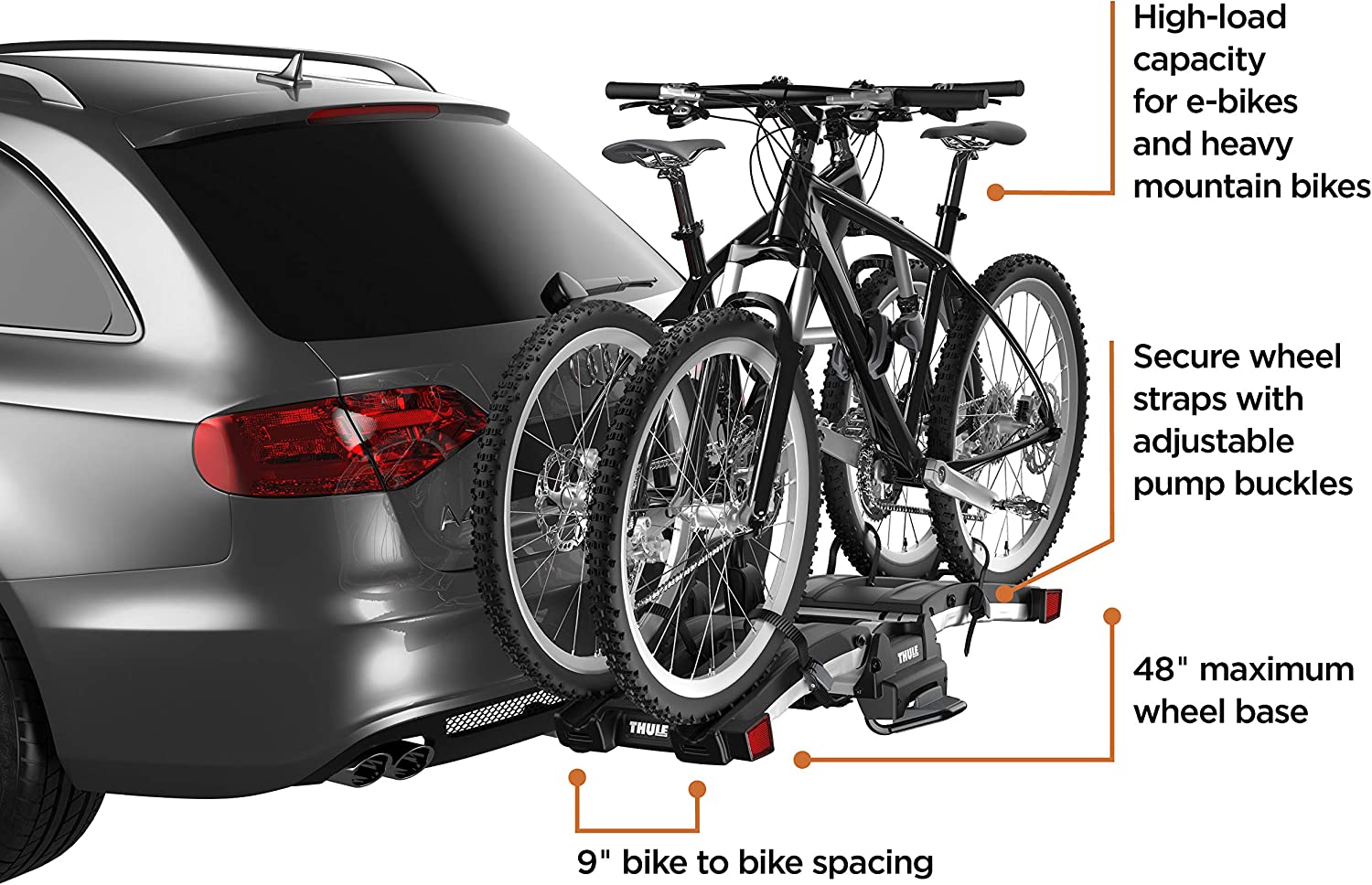 Premium, high-load capacity bike rack ideal for e-bikes and heavy mountain bikes
Integrated folding bike loading ramp
Fits 1.25" and 2" receivers
Fast and effortless tool-free installation
Quickly attach and secure bikes with torque limiting knobs and ratcheting wheel straps
Fully foldable design with transport wheels and a carry handle
Easy trunk access with smart foot pedal tilt | Lock bikes to the rack and rack to the receiver (locks included)
Load capacity: 130 lbs / 65 lbs per bike
Optional Thule Fat Bike Wheel Strap Kit to fit longer wheelbases and tires up to 4.7"
---
2. Allen Sports Premier Hitch Mounted 4-Bike Carrier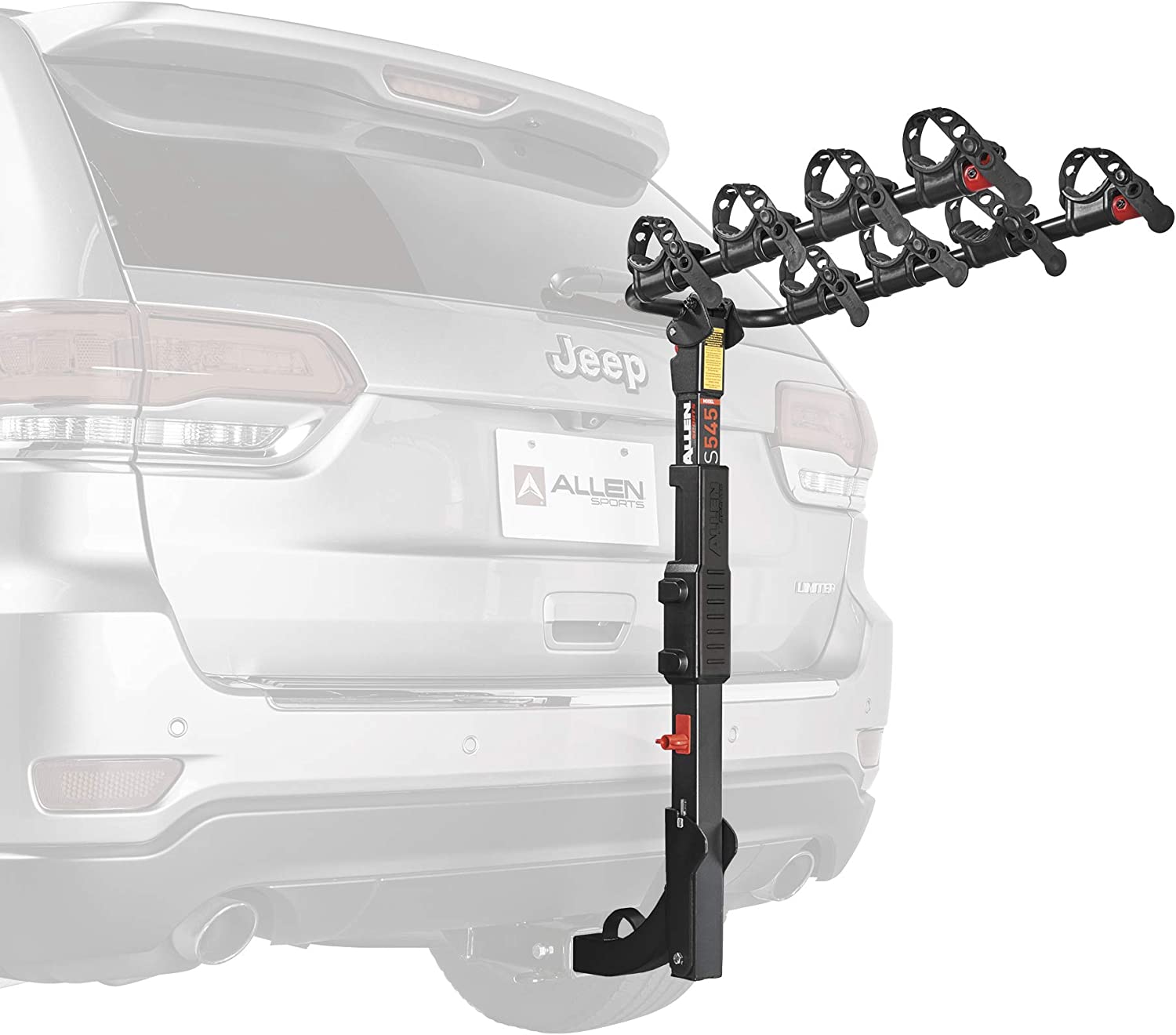 Quick Fold Carry Arms Allen Premier Hitch Racks incorporate an easy fold arm design which allows the carry arms on the racks to be dropped out of the way when not in use by simply squeezing the two red release buttons on the carrier.
Quick Secure Straps And Dual Compound Cradles Durable, UV-resistant rubber cradle straps quickly secure your bicycle in place and work with a wide range of tube sizes. The tie-downs include a soft cradle bed to fully protect your bicycles during transport.
Rapid Tilt-Away Mast Allen Premier Hitch Racks feature an easy-to-use rapid tilt-away main mast. A rugged internal mechanism keeps the rack securely in place during use but allows for single-handed tilt-away if you need access to the inside of your vehicle.
Dual Compound Spine Shield Allen's Dual Compound Spine Shield snaps in place over the vertical mast on your rack and offers a large landing pad to protect the innermost bicycle during transport.
---
3. Kuat NV Base 2.0 Hitch Bike Rack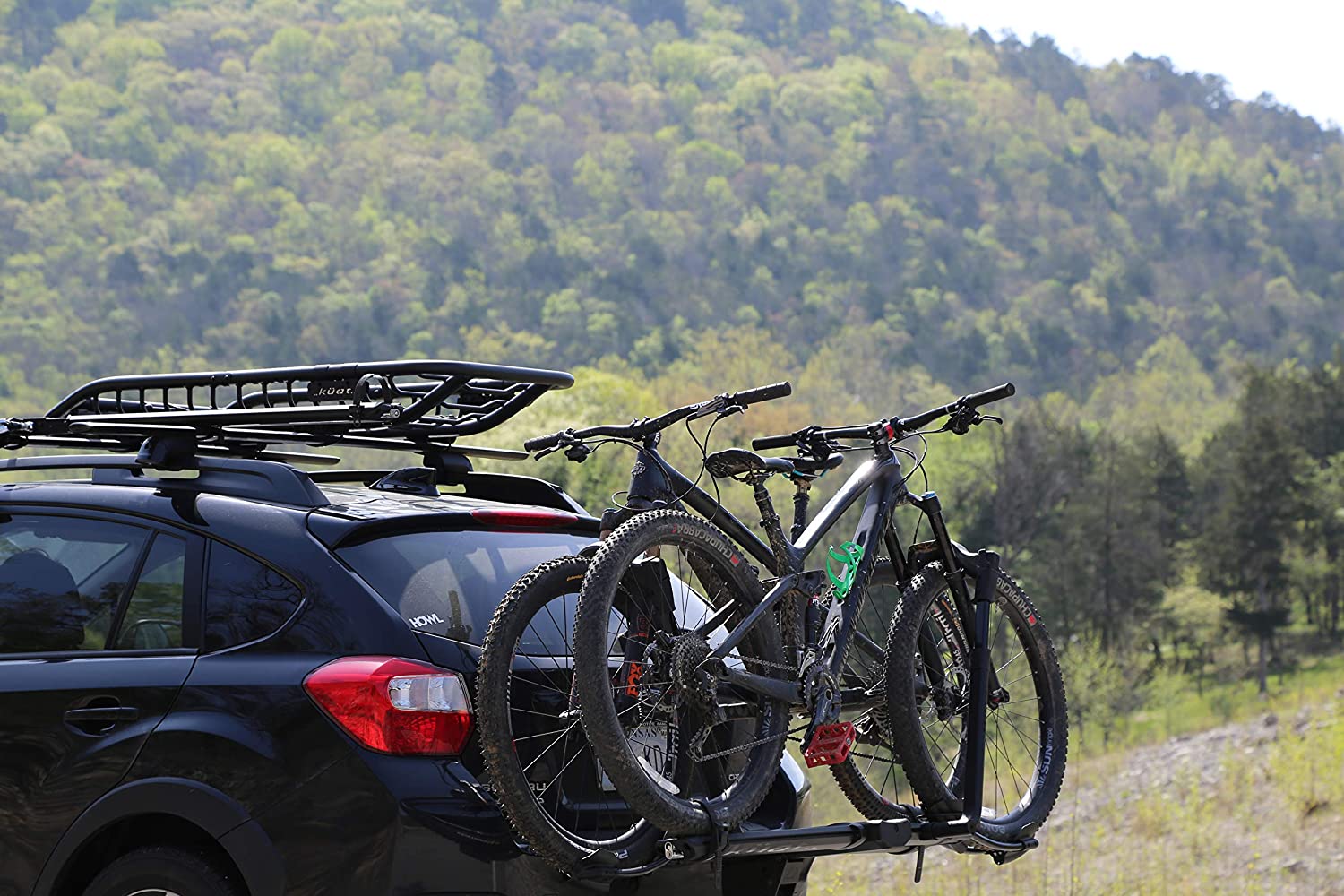 2 bike capacity up to 60 lbs. Each
Holds wheelbases up to 48" and tires as large as 4.8"
Adjustable front tire cradle system
The NV 2.0 base is loaded with features that make it one of the most equipped platform racks on the planet. This darkened brute features our foot lever pivot release, adjustable cradles for an increased bike fit, integrated cable locks
Hand-tight cam system, and a ballistic black powder coat that will stand up to years of abuse. With the option to add the trail doc anytime you don't have to stress if you made the wrong decision.
---
4. Saris Door County Hitch Rack with Electric Lift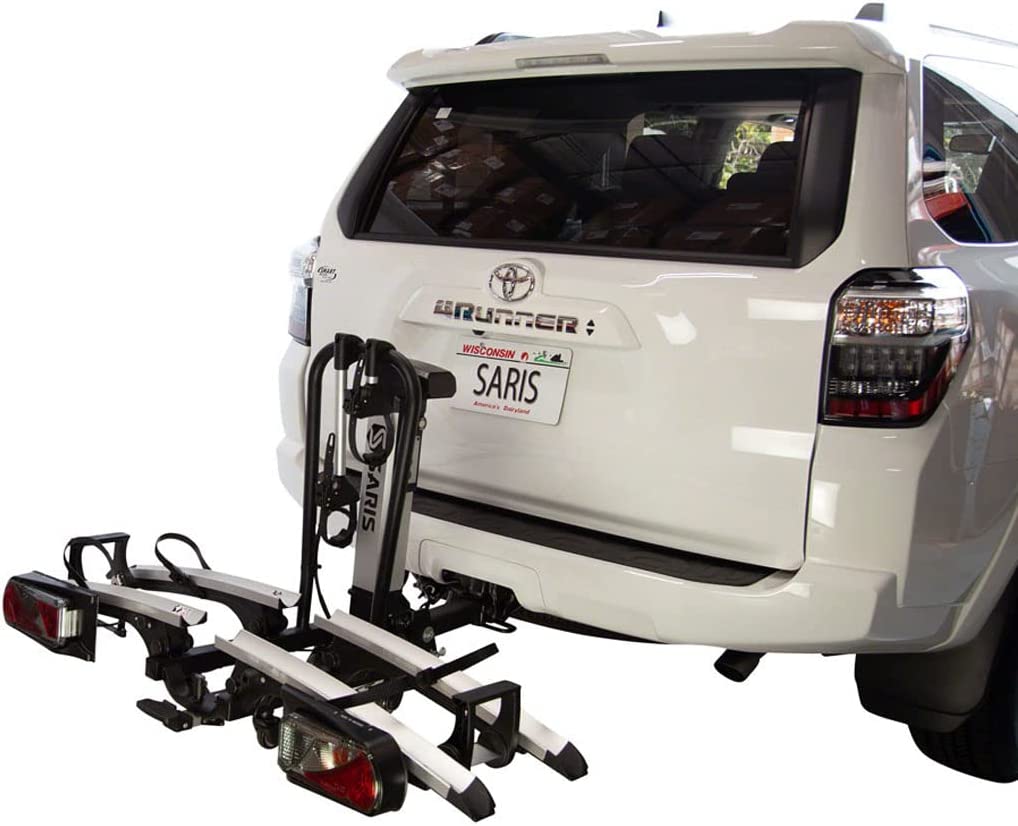 Unique "lobster claws" securely hold bikes without touching fenders or eBike battery mounts.
Complete integrated security included- locks the rack to the car and the bikes to the rack, plus tail lights for enhanced visibility
Folds for compact storage and maneuvering, while built-in wheels make it easy to roll into place
For use with 2" hitch receivers only. Not approved for use on RVs or tow-behind RVs and trailers
Electric system connects to the vehicle a via 7-pin bladed connection to power the lifting mechanism, brake ligh,ts and turn signals
Powered by your vehicle's 7-pin connection, the Saris door county is a full-service electric bike rack for electric bikes. Simply turn the key and press a button
The Door County platform hitch rack effortlessly lifts eBikes into the transport position, and back down again. And when you're on the road, the Door County keeps the electric vibe going with glowing tail lights, including running, brake, and turn signals.
---
5. RockyMounts GuideRail 2 Bike Platform Hitch Rack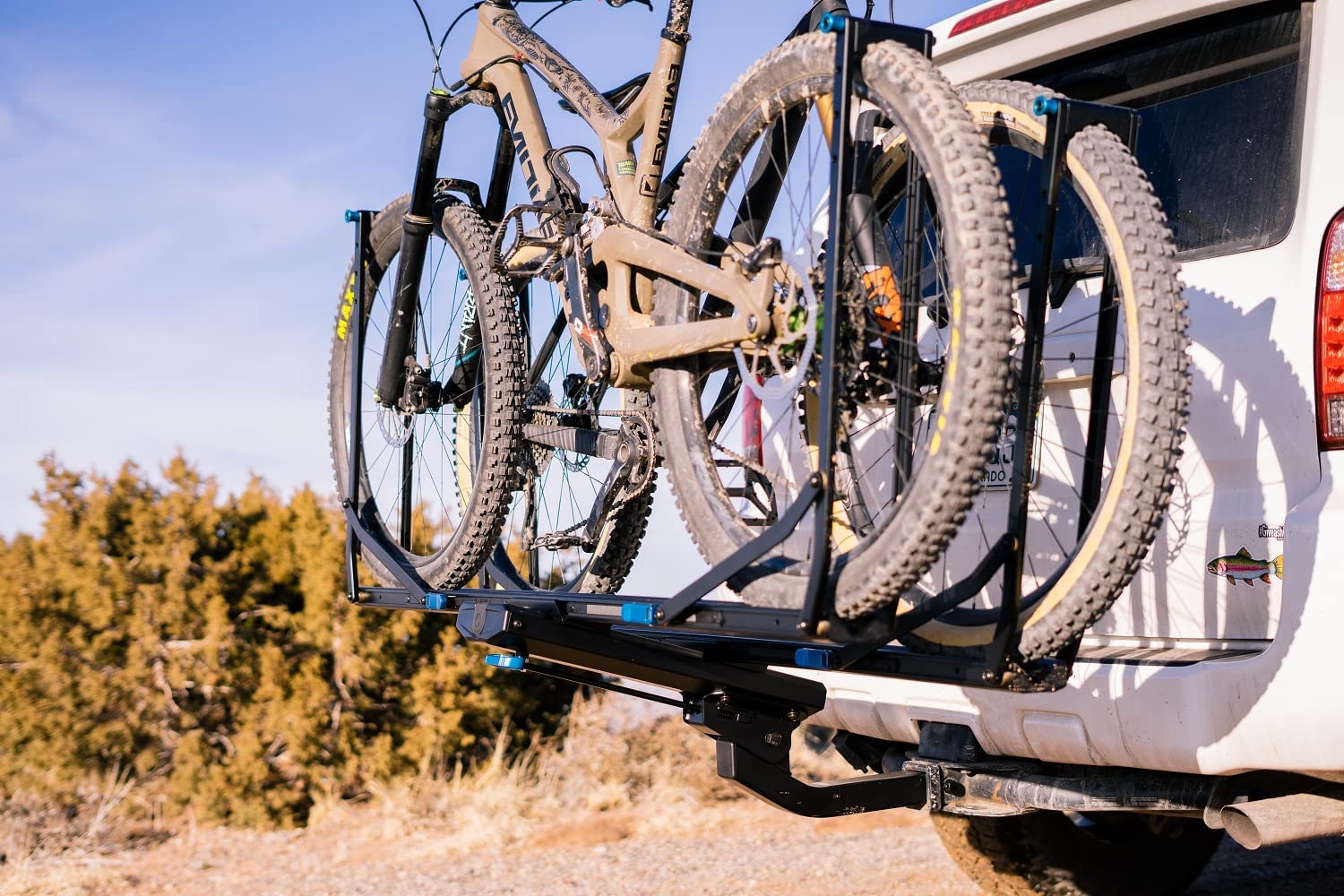 The GuideRail steps away from the traditional carrying style of platform hitch racks; By utilizing dual load arms, the rack completely eliminates frame or fork contact, it allows for asymmetric bike loading to avoid handlebar interference, and it creates a simple aesthetic that virtually blends in with most vehicles.
Precision machined components work smoothly and pivot on brass bushings. Carries 2 bikes, up to 60 lbs per tray (120 lbs total). Expandable to 3 bikes up to 45 lbs per tray
Add-On Bike can be loaded asymmetrically to eliminate handlebar interference No contact with frame or fork, secures bicycle by contact with tires only carries 19mm road tires up to 3.0" wide mountain bike tires, and diameters from 20" to 29" compatible with bicycle wheelbases from 36" to 55" folds flat against the vehicle, and tilts down 30 degrees to allow for hatch access
Available for 1.25" and 2" Class II or higher hitch receivers utilizes RockyMounts premium 3-axis anti wobble system included 10mm square link chain provides best-in-class security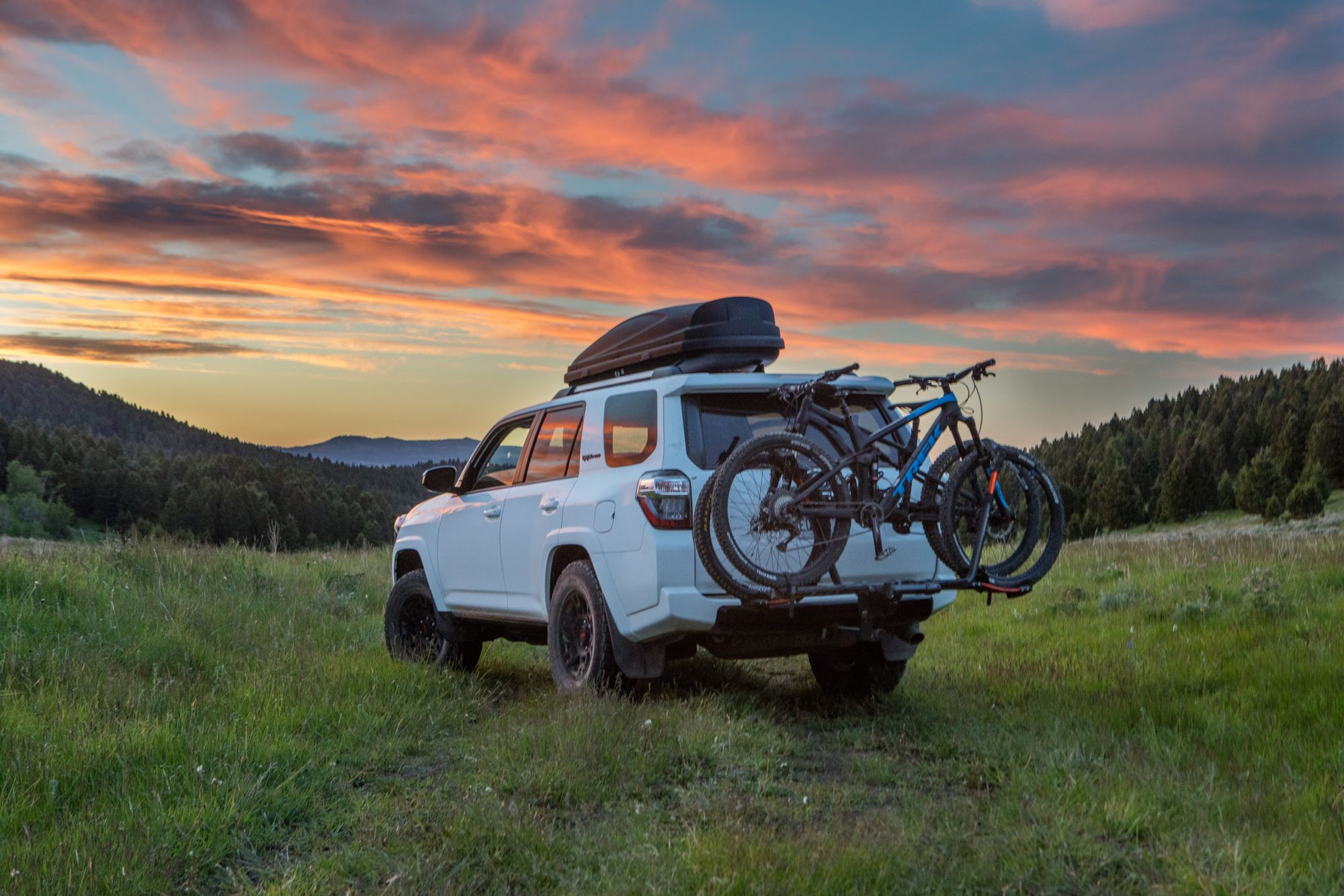 ---
Conclusion
In conclusion, a bicycle hitch rack is a convenient way to transport your bikes for a road trip or outdoor adventure. Consider these factors before purchasing a rack to ensure you choose the right one for your needs. With the right bicycle hitch rack, you'll be able to enjoy your outdoor activities and site-seeing without worrying about how to transport your bikes.
Happy and Safe Travel!
Check Out Our Relevant Reads>>>