Inline skating is one of the most fun, energizing activities that you can do outdoors. Whether you're a beginner or an expert, there are plenty of ways to maximize your inline skating experience. Here are five reasons why you should start inline skating today!
What are the Health Benefits of Rollerblading and Inline Skating?

Outdoor Exercise
Inline skating is a great way to get in some outdoor exercise while having fun. You can skate around town or head out to the trails for a more scenic adventure. Plus, it's an excellent full-body workout that will help you stay in shape and build strength.
Inline skating offers a variety of health and fitness benefits. It is an excellent form of aerobic exercise that strengthens your cardiovascular system, helps you lose weight, and increases your stamina. In addition to these physical benefits, inline skating can improve coordination and balance as well as help prevent injuries due to its low-impact nature.
The amount of agility needed for inline skating will also help build strength which in turn produces greater stability when skating over rough surfaces found on sidewalks or trails.
Adrenaline Rush
Feeling brave? Give yourself an adrenaline rush by taking on some challenging terrain like hills or jumps. There's nothing quite like the thrill of mastering a new challenge and feeling that rush of adrenaline as you roll away from it!
Feel-Good Endorphins Release
Not only does inline skating give your body a physical workout, but it also gives your mind one too! The repetitive motion releases feel-good endorphins that can help reduce stress levels and boost your mood.
Losing Weight
If you're looking to lose weight, inline skating is an effective way to burn calories and tone up at the same time! It's low-impact, so it won't be too hard on your joints either. In terms of calorie burning potential, according to Harvard Medical School up to 590 calories can be burned per hour depending on weight and speed when participating in recreational rollerblading/inline skate activities such as carving around paths through parks or grinding along rails at skateparks—it's no wonder why this type exercise attracts so many people!
And the more you increase your level of skill the better you become at not only performing tricks but expending energy too; therefore leading towards greater weight loss results overall over time.
Getting Strong Legs
Last but not least, inline skating is an excellent way to strengthen your legs while also improving your balance and coordination skills. You'll be surprised at how strong your legs become after just a few weeks of regular sessions!
First off, it's worth noting that inline skating requires the use of both arms and legs in order to achieve power and speed while propelling yourself forward. This combination of leg extension with the strengthening of arm muscles develops coordination along with balance since many moves require one side or the other to lead in an alternate fashion from each other during turns or stops.
To Sum Things Up
Inline skating offers an inviting way for people interested in either leisure rolling or aggressive performance tricks; whether a beginner or advanced individual skater alike looking for a healthy outdoor activity with positive rewards for all--improved coordination, increased muscle tone/strength building advantages plus serious caloric expenditure resulting from aerobic exercises generated through regular practice sessions!
Learn How to Inline Skating with These Easy Steps:
Our Selection of the Top 5 Inline Skates for Beginners>>>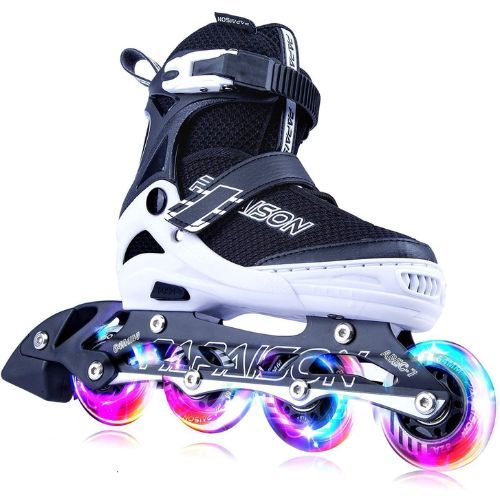 PAPAISON Adjustable Inline Skates for Kids and Adults with Full Light Up Wheel
BUY ON AMAZON
Best Inline Skates for Beginners
Roll down the block in style with PAPAISON Adjustable Inline Skates for Kids and Adults with Full Light Up Wheel! These adjustable skates are designed to engage your inner rollerblader in safety, comfort, and eye-catching fashion. With reinforced heel and toe protection, every downhill slide will have your course in confidence.
We've also included a single brake to ensure that when you decide to slow it down, you can safely come to a full stop. They are created in the most dynamic way to light up the turf under your feet! The light-up wheel is sure to provide an additional sense of dazzling satisfaction along your winding ride. So throw on your PAPAISON Adjustable Inline Skates today and experience a stylish ride like none other!
---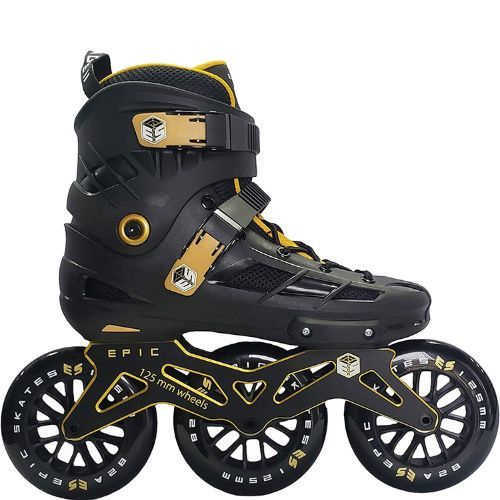 Epic Skates Inline Speed Skates
BUY ON AMAZON
Best for Inline Skates for Speed
Do you crave speed? Whether you're a competitive athlete or just looking for a bit of fun, Epic Inline Speed Skates let you take your skating to the next level. Taking design cues from advanced aircraft, these innovative skates feature an aircraft-grade aluminum frame that's strong and lightweight - perfect for long rides and quick turns.
Comfort comes first too with their hard-shell design that provides unbeatable support, along with a snug fit so you remain safe while you stretch your limits. But they're not all performance; Epic Skates come with stylish designs and colors too, allowing you to turn heads as easily as turn corners!
Get ready to get prepared - Epic Skates 125mm Engage 3-Wheel Inline Speed Skates to offer superior quality and thrilling performance. So lace up today and hit the streets in style with an epic!
---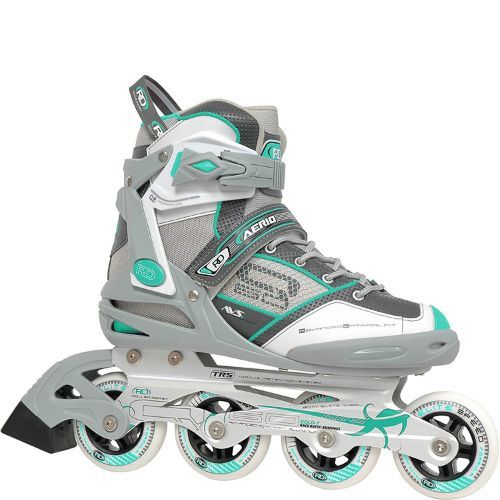 Roller Derby Aerio Women's Inline Skates
BUY ON AMAZON
Best Inline Skates for Women
Are you looking for a pair of inline skates that offer maximum support, responsiveness and comfort? Then the Roller Derby Aerio Women's Inline Skates are perfect for you! These skates have an articulated shell designed to provide great ankle support and total range of motion. Their Memory Comfort Foam padded liner will let you keep going from one end of the rink to the other without feeling any discomfort. And their well-ventilated boot ensures your feet stay cool at all times.
The locking cam-lever buckle, velcro power strap, and laces make sure the skates fit right on your feet with no wiggle room. The Aluminum tri-coil frame provides extraordinary strength while also being lightweight, so you can skate around easily and freely.
On top of that, these skates feature 80mm Elite Speed wheels that will travel smoothly and fast on whatever surface you may encounter. And to ensure durability and high speed performance, they are equipped with Bevo Gold-7 Race Rated chrome bearings.
With all these features in mind - such as superior ankle support, unparalleled comfort, and maximum speed - you'll be propelling yourself around the rink like never before! So go ahead and add these Roller Derby Aerio Women's Inline Skates to your collection today!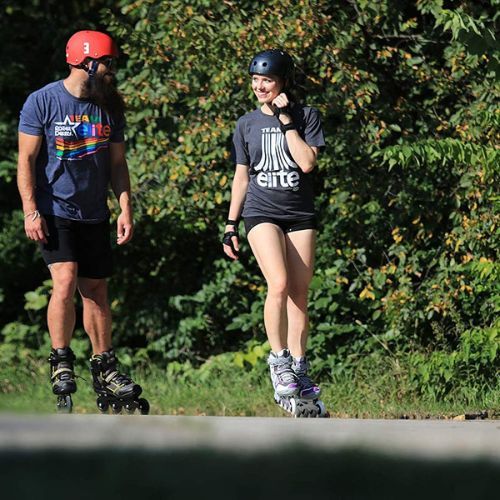 ---
Best Inline Skates for Smooth Controlling and Maneuvering
Sweat it out with the sleek K2 Skate Alexis 84 Boa! If you're looking for a smooth, controlled skating experience, this skate is for you. Cruise longer in comfort and style, with specially designed 85mm wheels that provide a perfect balance between speed and grip.
The mission at K2 Skate is to create the most innovative tools for the consumers to provide the best skating experience, push the sport of in-line skating and strengthen the culture. From performance to a fun, reliable, intuitive and cool product to skaters of all ability levels.
Plus an all-new engineered mesh gives these premium skates the unique ability to keep your feet at ease even during those lengthy rides! With colorful new styles across all models, your summer look sorted with this K2 Skate Alexis 84 Boa. So join the party today - grab your pair of these incredible skates and feel the rush!
---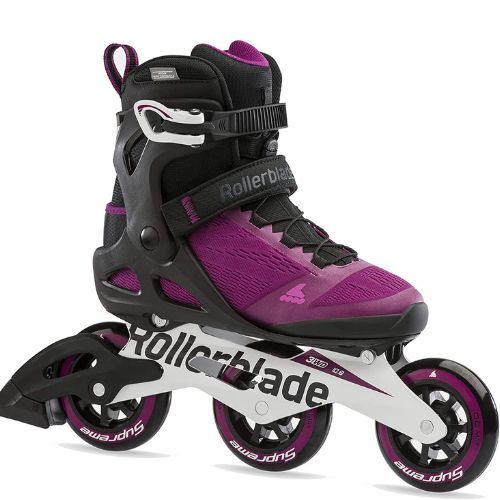 Rollerblade Macroblade Adult Fitness Inline Skate
BUY ON AMAZON
Best Inline Skates for High Performance
Introducing the Rollerblade Macroblade Adult Fitness Inline Skate, Violet and Black! Whether you're a recreational skater or a racing aficionado, this rollerblade has something for you.
This Macroblade structure supports all abilities of skaters with the ideal mix of flex and lateral support to provide maximum comfort. The aluminum buckle securely fastens your feet with durability, while a strap and lace with lace lock system anchors your heels in for the perfect fit - leaving you free to enjoy your skating session without fear of heel lift.
Engineered mesh adds breathability and allows the upper to wrap around the feet for improved fit. Having drier feet, more comfort, and a skate to properly hug your feet elevates the skate experience. While its function is a standout feature its cosmetic appeal keeps it fashion forward.

---
Conclusion
Inline skating is a fantastic activity for outdoor adventurers who want to get active fun and excitingly! From getting in some outdoor exercise to feeling a rush of adrenaline as you master new terrain, there are plenty of benefits to starting inline skating today!
Not only will you get strong legs and lose weight, but you'll also release feel-good endorphins that will help reduce stress levels and improve your overall mood as well. So what are you waiting for? Get rolling with inline skating today!
Happy Rolling!
Relevant Reads>>>