If you are considering adding chickens to your backyard, it is important to make sure that you have the right housing for them. A chicken coop is an essential part of any chicken-keeping setup and provides your feathered family members with safe and secure shelter from predators and the elements.
Whether you choose to build or buy your coop, there are certain considerations that need to be taken into account in order for your chickens to thrive. Let's break down what you need to know before getting or building a chicken coop.

Types of Chicken Coops
The first thing you should consider when choosing a chicken coop is what type of coop is right for you. There are several different types of chicken coops available on the market today, including stationary coops, portable coops, and prefabricated coops. Each type has its own advantages and disadvantages so it's important to do your research and decide which one best fits your needs.
Size Matters
When it comes to selecting a chicken coop size can be just as important as type. The size of your chicken coop will depend largely on how many chickens you plan on keeping.
Generally speaking, you should have at least 2-4 square feet per bird inside the run area and 4-8 square feet per bird in the nesting box area. If you plan on keeping larger breeds such as Rhode Island Reds or Brahma chickens then you may want to opt for bigger sizes than normal in order to accommodate their larger size.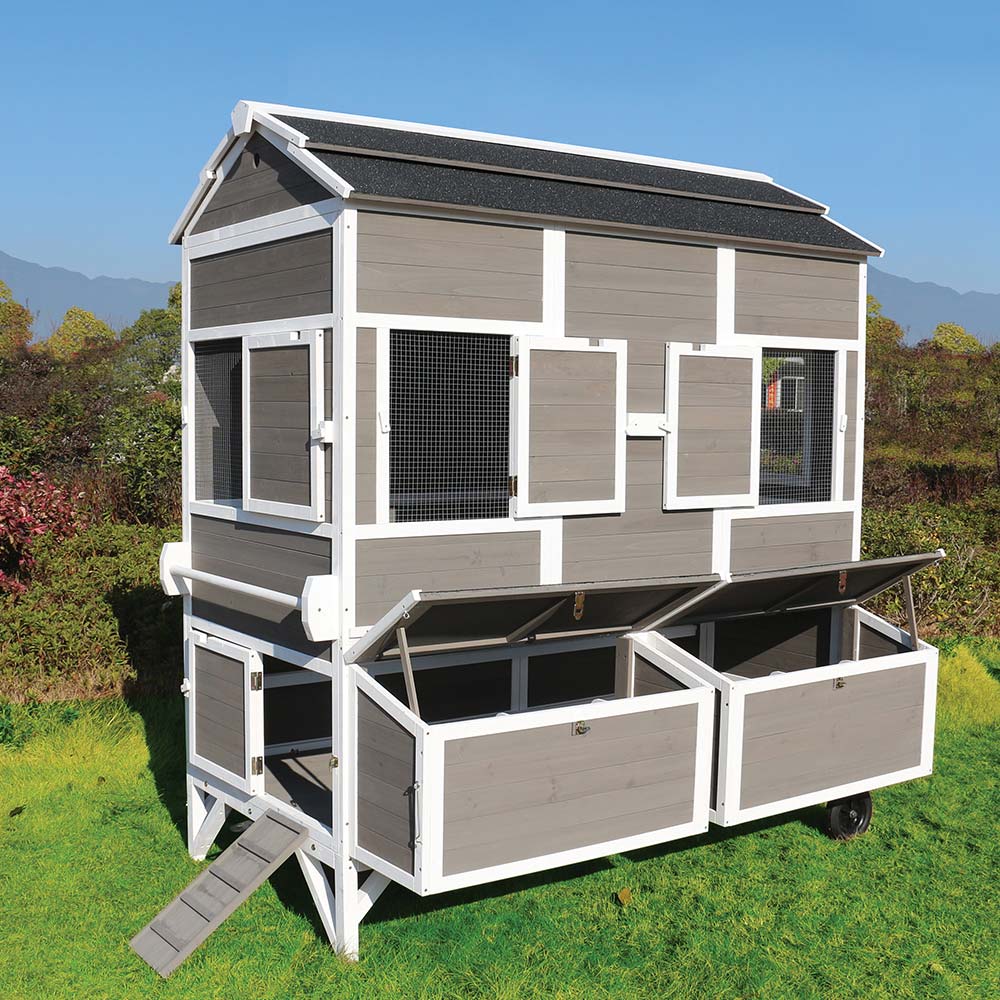 Features To Look For
When shopping for a chicken coop there are certain features that can make it easier and more enjoyable for both you and your feathered friends.
Some features that might be worth considering include easy access doors/lids, removable trays under the roosting bars for easy cleaning, ventilation windows/nests boxes with screened vents, predator proof locks/doors, insulation in the walls/roofs (especially if living in an area with cold winters).

Waterproof roofs (for rainy climates), cupola(s) with weathervane(s), raised legs (to keep out rodents), ramps (for easy access into/out of the run area), feeders & waterers that can attach directly onto the side of the walls/run structure etc.
Knowing what features are important ahead of time will help narrow down your search significantly making it much easier to find just what you're looking for!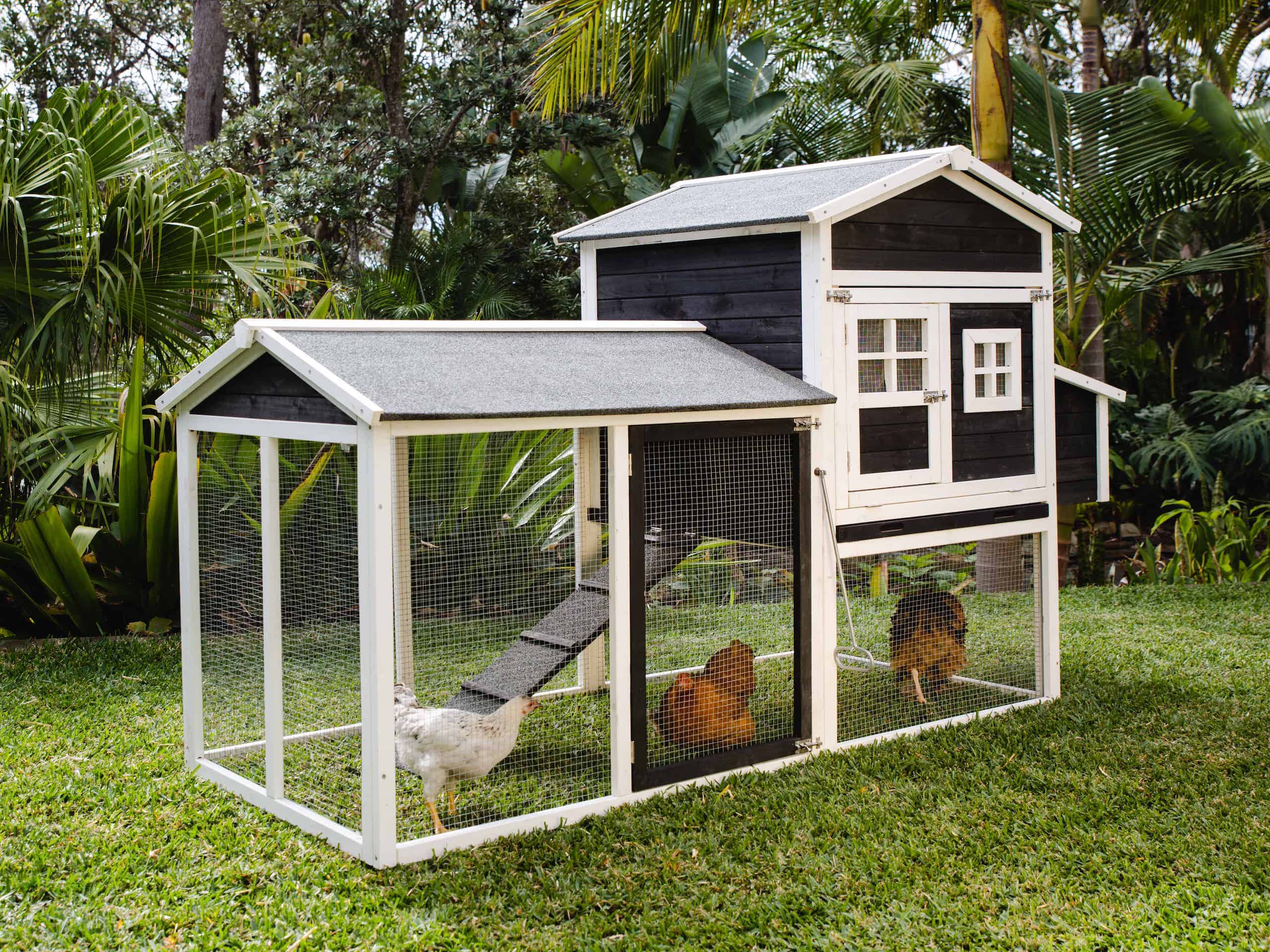 Ventilation is Key
Ventilation is key when it comes to keeping chickens healthy it helps reduce humidity levels, which will prevent respiratory illnesses from spreading through your flock.
Make sure that the coop has enough windows, vents, and screened openings so that fresh air can circulate freely throughout the interior while keeping unwanted pests out (like flies).
A good ventilation system is also essential if you plan on keeping large breeds like Orpingtons or Faverolles since they produce more heat and require more air circulation.
Easy Cleaning & Maintenance
Chickens are messy creatures and their droppings can create quite a stinky mess if not cleaned up regularly. In order for easy cleaning and maintenance, look for a coop with removable nesting boxes and perches so that these areas can be quickly accessed when needed.
The floor should also be constructed from boards with gaps between them so that any liquid waste can easily drain away this will help keep your birds' home smelling fresh even after several weeks of use.
Consider investing in a deep-litter system as well; this type of system uses layers of organic material such as straw or wood chips as "bedding" which absorbs moisture while reducing odors at the same time.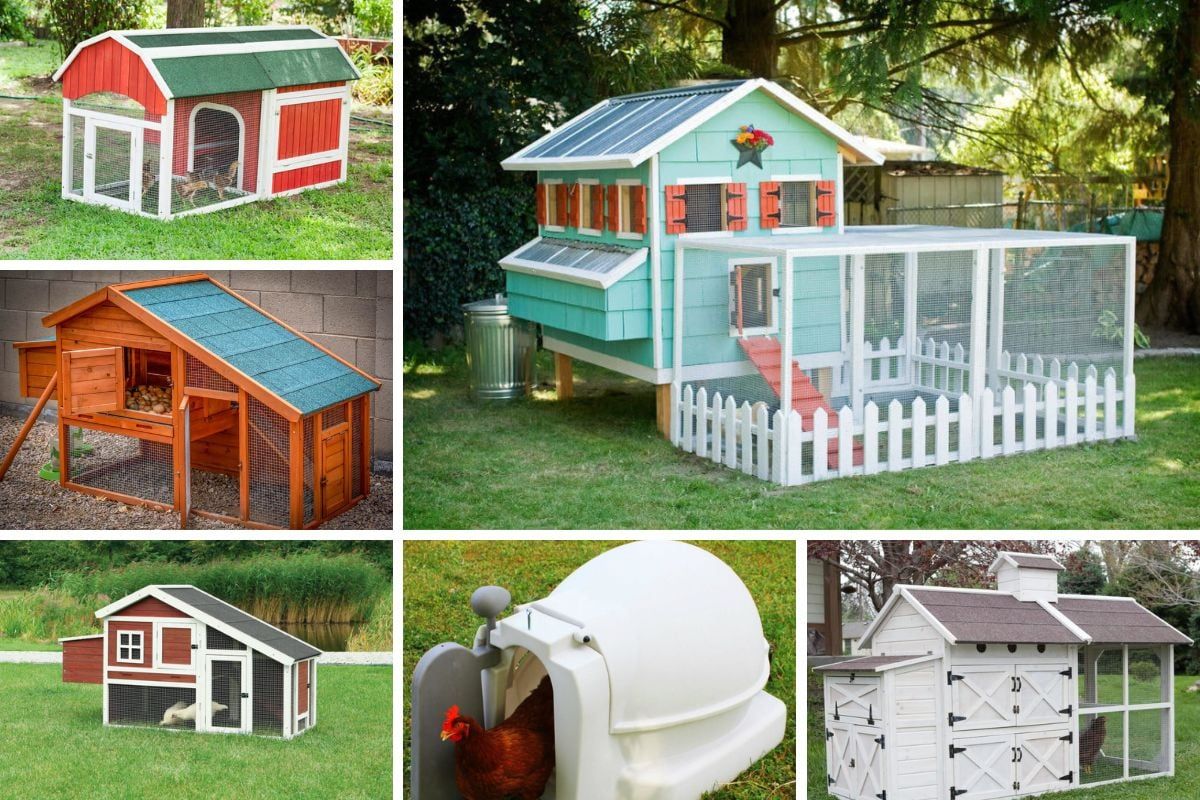 ---
How to Build a Chicken Coop:
Building a chicken coop is not as complicated as it may seem. The first step in building a chicken coop is to decide on the size of the structure and make sure that you have enough room for your chickens to roam free. You will want to select an area where they will be protected from extreme elements, predators, and other animals.
Once you have decided on the size and location of your structure, you will need to prepare the site by clearing away any large rocks or sticks. Next, lay down a base layer of 4-6 inches of crushed gravel or sand. This layer should be leveled with a rake before laying down weed fabric or landscape cloth for extra protection against weeds and pests.
The next step is constructing the frame. For this part, it's best to use materials like pressure-treated lumber or plastic "T" posts that are easy to assemble using nails or screws. Choose high quality materials in order to ensure longevity for your chicken coop against weather exposure and pest infestations over time.
When constructing walls for your coop make sure that all sides are covered completely with either wood planks boards overlapping each other at least 2 inches but no more than 8 inches apart so ventilation can occur while also keeping out predators such as cats, foxes, raccoons etc.
Additionally make sure that these planks are either securely screwed into place or nailed in with galvanized nails since they don't rust when exposed over time with exposure weather conditions outdoors creating stronger structures overall making it much harder if not impossible for predators getting inside while providing better security overall holding up better in storms too when built correctly..
For added protection consider adding an outdoor run complete with wire mesh walls which should extend 6 feet high (or taller) around two sides of the coop connecting back directly onto one side creating sorta like a rectangle shape allowing plenty of space for chickens roaming around safely outdoors without leaving them vulnerable allowing duskier times during periods just before sunset so chickens can get some much needed rest too after being out all day long safely!
Finally adding insulation to both roofing & wall spaces especially if living in cooler climates helps regulate internal temperatures helping keep chickens warm during cold winters months yet still let air flow occur allowing humidity levels inside stay regulated preventing water damage occurring indoors especially due those wetter climates found commonly found amongst coastal cities worldwide preserving structural integrity many years longer then expected uninsulated structures!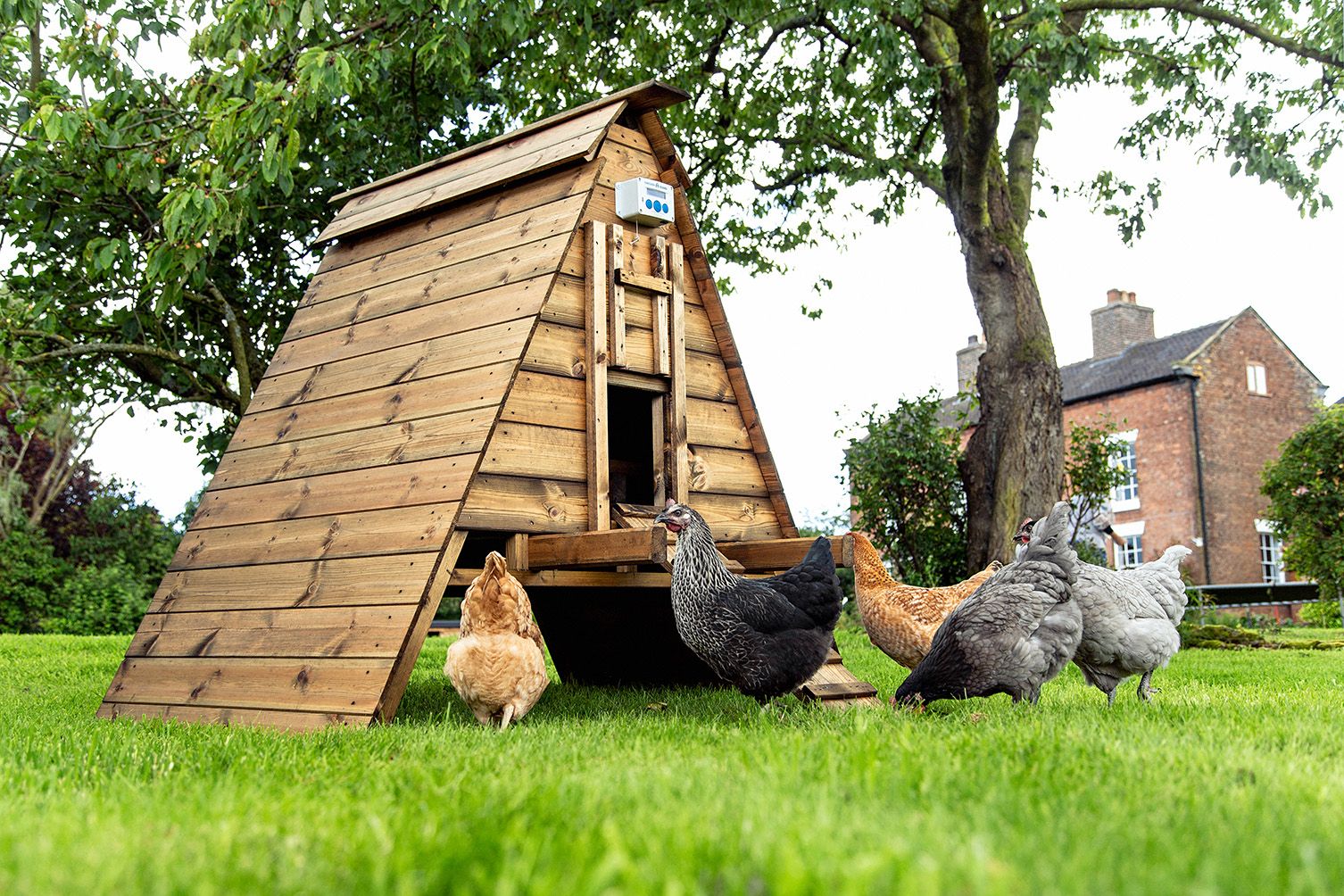 ---
Top 5 Best Chicken Coops Rabbit Hatch on Amazon:
1.Large Metal Chicken Coop Walk-in Poultry Cage Hen Run House Habitat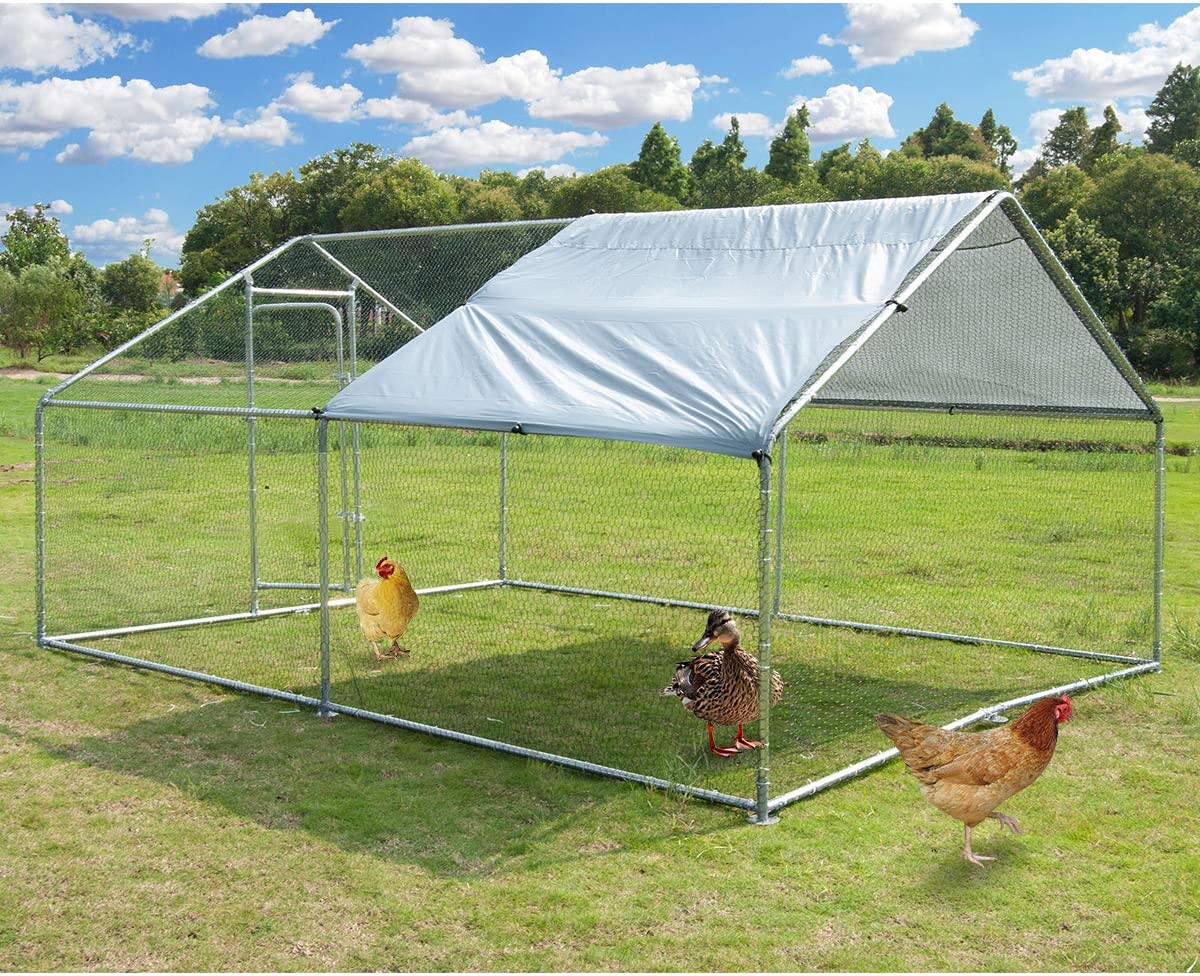 To keep animals of chickens, dogs, rabbits, cat, ducks, hens etc., you must need a heavy duty walk-in pen run outdoor exercise cage.
With this heavy-duty children's cage, do no worried about hawks and give your hens some outside time, giving them a large space for activities.
The whole steel galvanized frame is designed to last for years and easy to assemble. This chicken coop constructed with simple assembly instructions will set up in 20-30 minutes
UV Protection the waterproof cover of chicken cage provides your pet with full protection from sun, rain, snow, and debris.
Added UV protection prevents ripping, cracking, fading or peeling giving you years of lasting use.
Strong Construction the chicken playpen is made of high-strength solid wire, pet fence to hold firmly to the ground while being used outdoors.
Not Just for Chicken this coop can accommodate animals ranging from chickens to ducks and rabbits to cats.
---
2. PawHut 18.5' Metal Chicken Coop Run with Roof, Walk-in Chicken Coop Fence, Chicken House Chicken Cage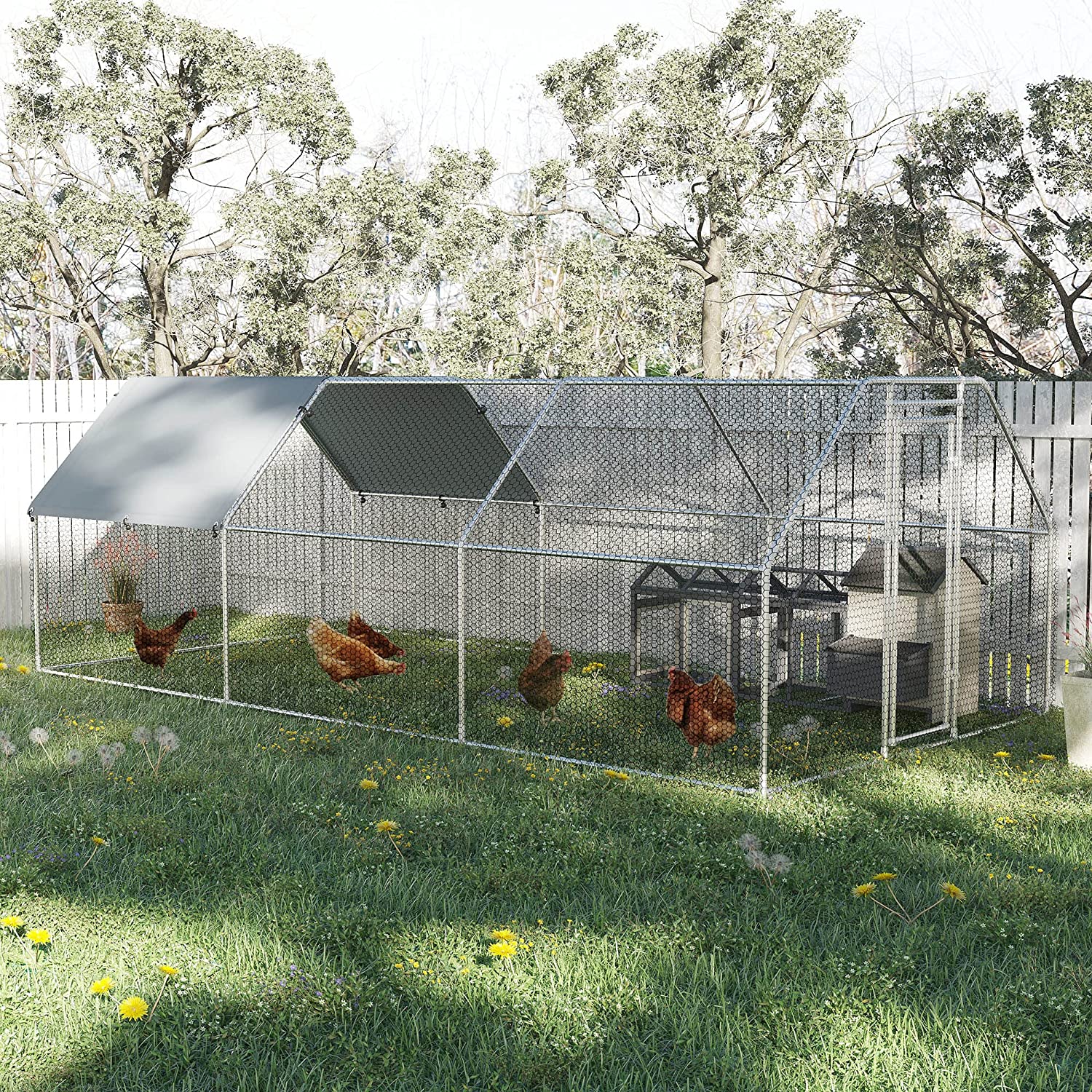 Cool Shade: The shady roof with spring button clips helps your pets stay cool in the heat, while avoiding dehydration and keeping them comfortable. The coverage also protects them in case of rain showers. It's made from specially treated PE cloth with water and UV resistance for survivability in bad weather.
Sturdy Structure: Unlike wood, the chain link walling features steel wires and a sturdy galvanized steel frame that's resistant to wear and rust. The metal has a powder-coated finish that ensures protection against injury.
Walk-In: This poultry house offers walk-in height. Enter easily and comfortably through a door that locks when you're done. Attach it to a wooden coop for an upgraded shelter.
Useful for A Variety of Animals: PawHut's large outdoor chicken coop cage is suitable for chickens, rabbits, ducks, and other small animals in both suburban and farm settings.
3. Wooden Chicken Coop, Outdoor Hen House Poultry Cage with Plant Box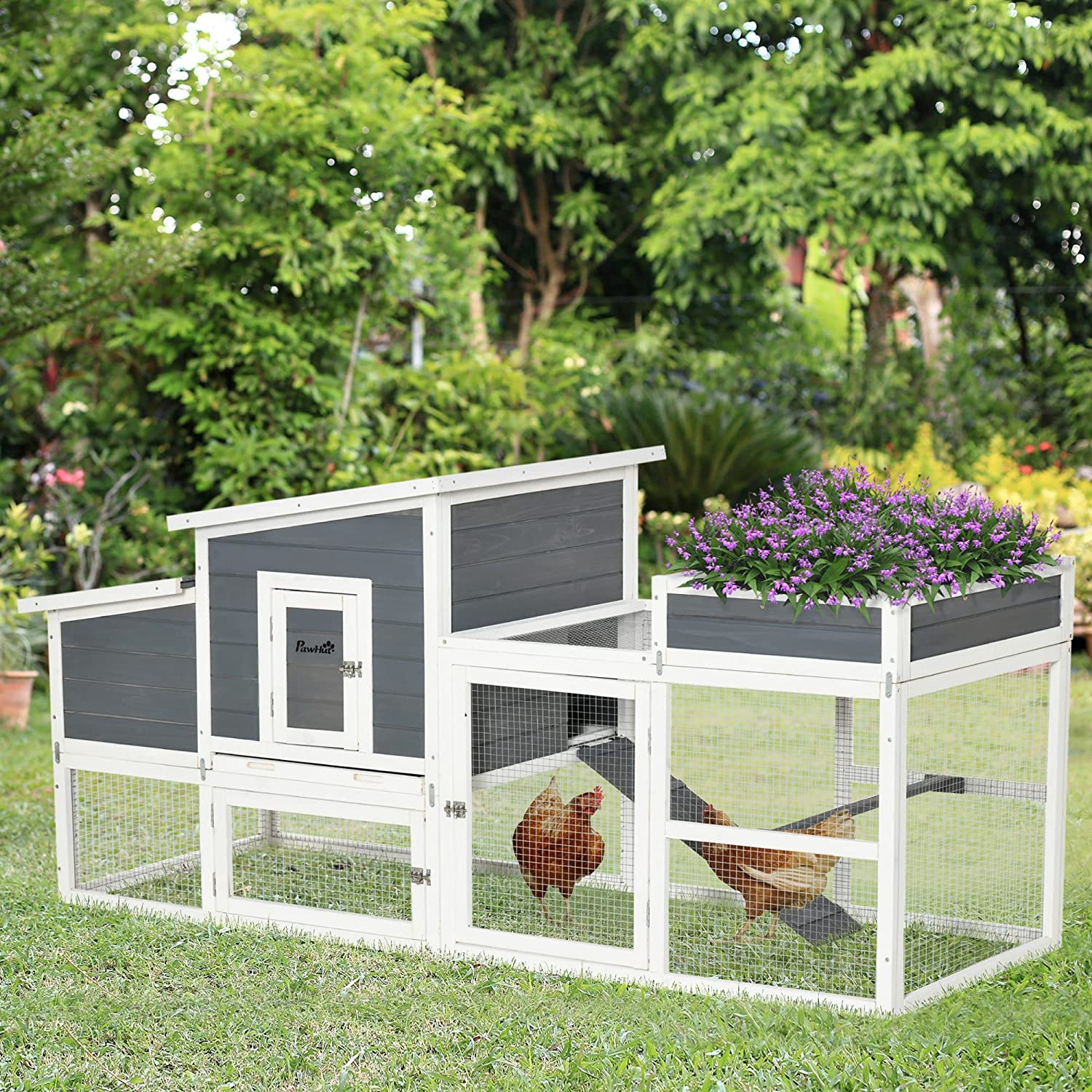 Keep small animals comfortable and relaxed in this chicken coop with an elevated main house, a nesting box, and a large enclosed run providing a spacious living environment for your pets.
This large chicken house has a run fenced with the zinc-coated steel wire net to prevent escape, and the nesting box provides a spot to lay eggs. A ramp with timber ridges to avoid injury and a standing pole
The openable roof and multiple doors on this chicken cage allow you to reach inside to take care of them and a window for you to observe the internal situation. A slide-out tray under the main house for easy cleaning.
This hen house also includes a planting lattice for you to plant flowers or vegetables, making this whole cage full of vitality.
---
4. Chicken Coop Folding Portable Rabbit Hutch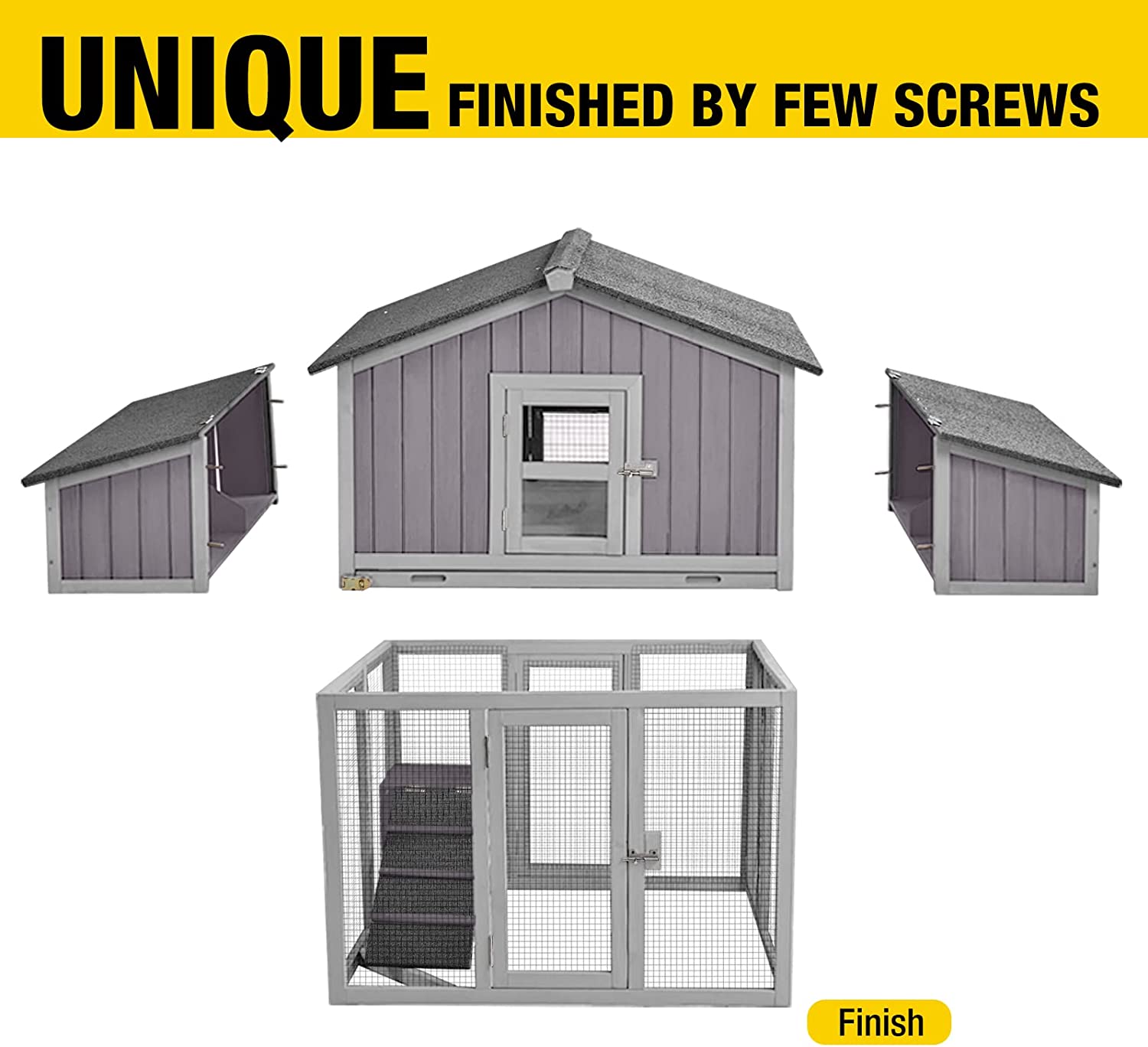 FOLDING poultry cage super easy to assemble, by few steps approximately 30min.
LARGE SPACE 2 Levels chicken house 26ft² activity space include large nesting box, resting area and running area, perfect for 4-6 chickens. Overall size: 69.8"(L) x 42"(W) x 54.6"(H)
NESTING BOXES LARGE 2 sides nesting box design with PVC cover above the connecting of the nesting box to prevent leakage. Special custom locks predators prevent.
SUPER LARGE SLEEPING AREA 17.2 Square feet sleeping area includes a pull out tray, 3 round edge perches above the tray,2 crylic window bright the house.
STURDY100% solid fir wood,  asphalt roof cover all areas provide a dry and comfortable space for your pets, durable and sturdy metal wire with predator-resistant spring latch keeps your Chicken flock secure.4 big doors for easy catching your pets.
---
5. Wooden Chicken Coop Nest Box Hen House Poultry Pet Hutch Garden Backyard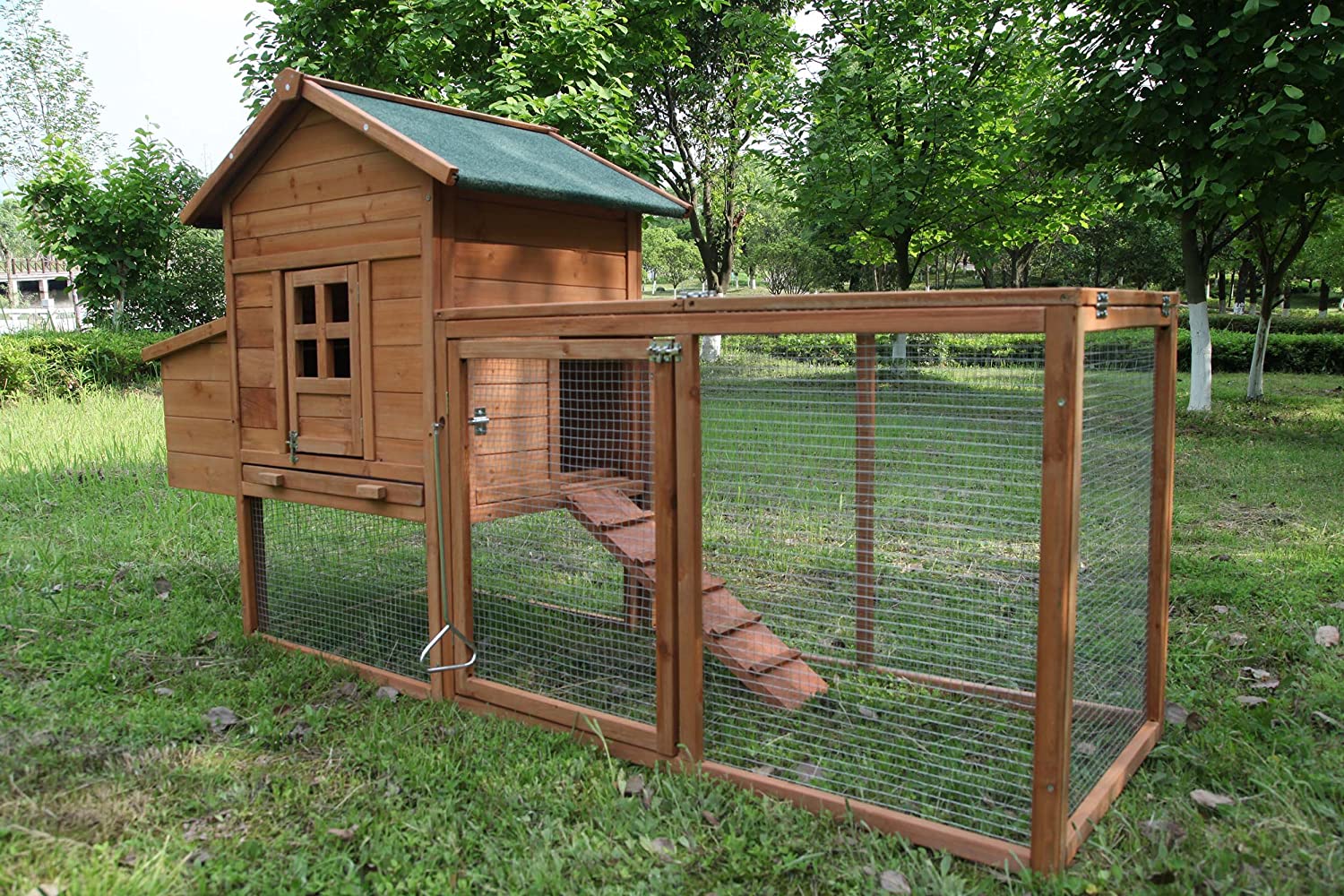 Durable & Weatherproof Solid rain-resistant fir wood with environmental painted keep the poultry hutch waterproof and not afraid of sun anymore. green asphalt sloping roof to protect from water penetration.
Easy Access Ramp Sliding door and ramp allows poultry to enter the raised housing area. There are timber ridges above the ramp to protects your poultry from slipping back. Your poultry can lay their eggs in the nesting box.
Removable tray & wire enclosure comes with a removable bottom sliding tray for easy cleaning. Heavy-duty galvanized wire fencing not only vital to the ventilation of poultry, it will also protect your animals from outside predators.
Spacious Space Main poultry house is elevated for preventing damage from wet conditions. This attaches to a wide open fenced enclosure that allows them plenty of room to move around. Overall Chicken Coop Dimensions: 80.7"L x 26"W x 44.5"H, Holds up to 2-4 chickens.
---
Conclusion
A good chicken coop is essential if you want healthy chickens and delicious eggs from them! It's important to keep in mind that there are many different types and sizes available - so choose wisely based on your particular needs!
Consider how many birds you'll be housing; look at features like easy access doors/lids removable trays under roosting bars; ventilation windows; predator proof locks;
Insulated walls & roofs; waterproof roofs; cupolas with weathervanes; raised legs & ramps; feeders & waterers that attach directly onto walls - all these factors can make owning chickens an even more enjoyable experience!
Happy Chicken Farming!
Check Out Our Interesting Reads: