If you're planning on hiking any distance, investing in a quality pair of hiking shoes or boots is essential. Not only will they keep your feet protected from rugged terrain and unpredictable weather, but they can also make or break your overall hiking experience.
Finding the perfect pair can be daunting, especially when there are so many options on the market. However, when shopping for hiking shoes or boots, comfort should be your highest priority. In this guide, we'll delve into the details of what to consider when buying hiking footwear so you can find the perfect pair for your next adventure.
Hiking Boots Fit and Flexibility
When trying on hiking shoes or boots, comfort should be at the forefront of your mind. Take the time to try on different models and see which one feels the best on your feet. Start by considering the fit and flexibility of the shoe. Footwear that is too loose or too tight can lead to blisters, calluses, or even injuries.
On the other hand, shoes with good flexibility can help you move more freely and reduce the risk of strain or fatigue. A good rule of thumb is to always try on several sizes, even if they aren't exactly what you need, to check for a good fit. Walking around the store or climbing stairs can also give you a better idea of how the shoe will feel on the trail.
How to Choose Hiking Boots Weight
The weight of your hiking shoes or boots also plays a significant role in your overall experience on the trail. The heavier the shoe, the more energy you'll exert carrying them, causing you to tire out faster and ultimately diminish your overall enjoyment of the hike.
While a heavier shoe can offer more support and durability, it's essential to find a balance between weight and comfort. Lightweight shoes are breathable, flexible, and easier to walk in, allowing you to go further with less effort. Make sure to consider the length and difficulty of your hike when choosing between a heavier or lighter pair.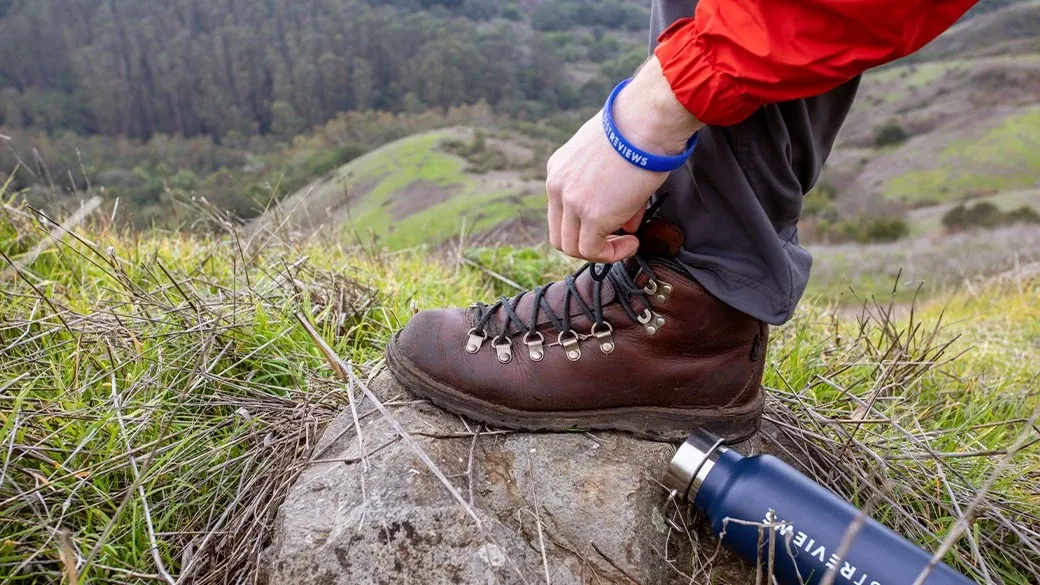 How to Choose the Best Material for Hiking Boots
The materials used in construction are also essential to consider when shopping for hiking shoes or boots. Synthetic fabrics are lightweight and breathable, making them ideal for warmer weather or less strenuous hikes.
However, they usually aren't as durable as leather, which is one of the most durable materials you can find for hiking footwear. Leather is more water-resistant and rugged but tends to be less breathable, making it less suited for strenuous activities or warm weather.
It's also important to note that different manufacturers use unique materials, and it's essential to research the pros and cons of each before purchasing.
What Features You Should Look for When Shopping for Hiking Boots
When considering features, it's important to remember that they are not always essential. While waterproofing or grip may be an attractive feature to have, they shouldn't come at the expense of comfort, fit, or weight. It's essential to prioritize what's necessary for your specific hike and let those needs guide your decision-making process. If you're hiking in a dry climate, for example, waterproofing may not be necessary, and instead, you may want to look for a shoe with better breathability.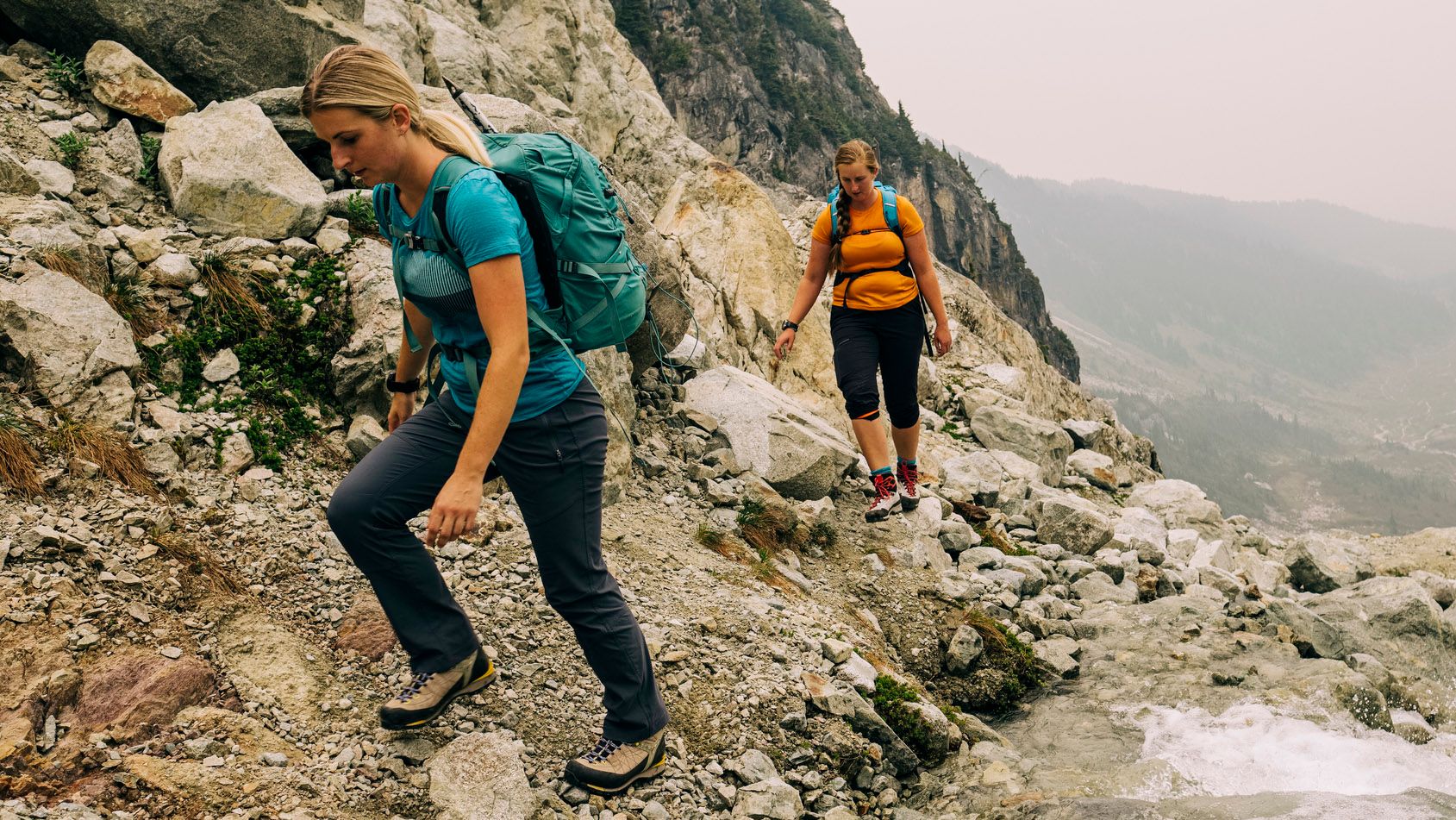 ---
Top 5 Best Hiking Boots on Amazon: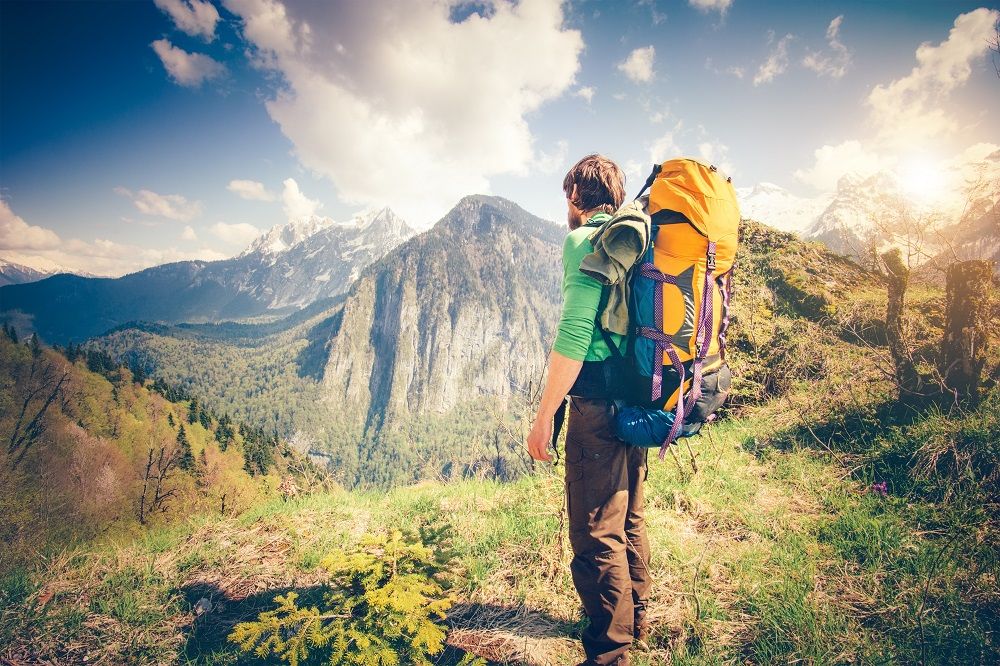 GORE-TEX liners for waterproof yet breathable boots. Outsole is a combination of bi-density rubber bottom for cushion and traction. Shoe weighs 1.52lbs (690gr). You may also like this Camelbak Rim Runner™ 2010 bag Measurements: Weight: 1 lb 10 oz Shaft: 5 3⁄4 in Product measurements were taken using size US Men's 10, width D - Medium.
Shaft measures approximately 5.75" from arch
The meaning of "V", "GV" and "GTX" in the Asolo style names: V stands for a Vibram outsole, GV stands for Gore-Tex lining with a Vibram outsole, and GTX is for a GORE-TEX lining.
Ideal choice for light hikers and trekkers who demand lightweight and comfort with a snappy design.
Duo Asoflex midsole in which two elements are melted together to improve comfort and performance. The first element, constructed of a stiff material benefits anti pronation, anti supination and anti torsion. The second element, constructed with a softer material offers shock absorption while walking. Water resistant suede and Cordura® uppers.
---
2. Salomon Women's Quest Hiking Boots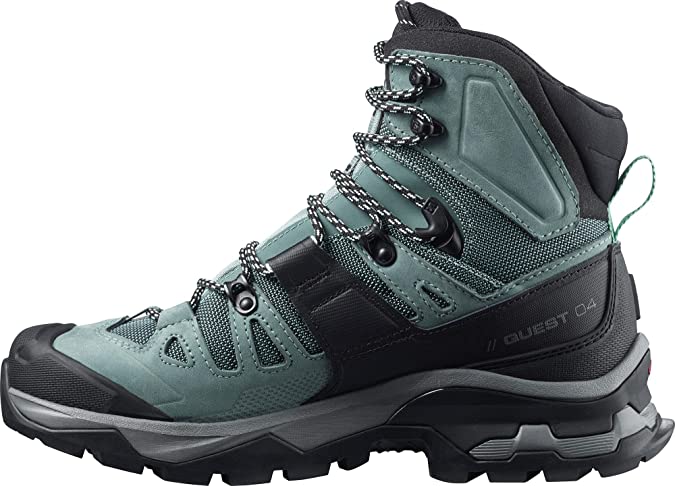 Since 1947 Salomon has created innovative outdoor sports gear; From running and hiking to backpacking, skiing and more, our shoes, boots, bags, apparel and accessories help make any path your own
Rubber sole
Shaft measures approximately Ankle from arch
Boot opening measures approximately 10.5" around
Waterproof Backpacking Boots: Designed for long expeditions and tough conditions, the Quest 4 is grippy and supportive. We've updated the chassis to target sensitive articulations and wrap the foot for extra support
Any Path Your Way: Light and cushioned with tail running shoe adapted technology, yet supportive enough for backpacking, the Quest 4 waterproof hiking boot helps you get to the next camp site with happier feet
Whether you love a local day hike or hitting the trails for a multi-day adventure, Salomon makes innovative hiking and backpacking shoes and boots for men and women to help you go the distance
Whether you are into trail running, hiking, backpacking, or mountaineering, Salomon has shoes and gear for kids, men and women to help you conquer a new distance, personal record, or event
---
3. Columbia Women's Redmond V2 Mid Waterproof Hiking Boot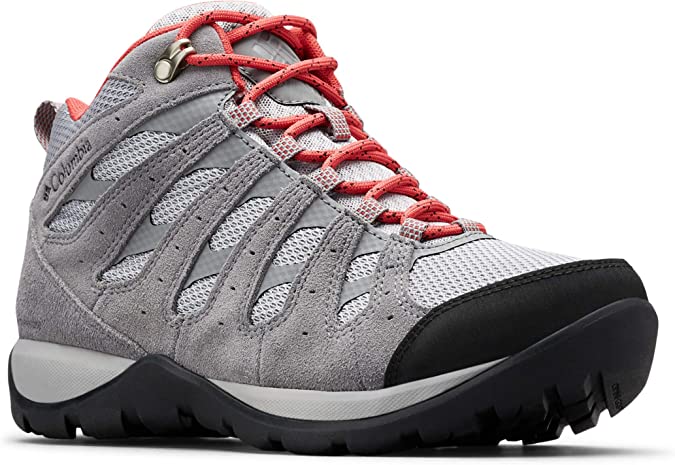 Columbia's attention to detail is what sets our footwear apart. Specifying only the highest quality materials, expert stitching, and craftsmanship. This is long-lasting footwear you will enjoy for seasons to come.
For prolonged exposure to moderate rain and snow. Multilayered, waterproof, seam-sealed construction that allows the inside to breathe, keeping feet dry and comfortable no matter the conditions.
A durable and lightweight hiking boot designed for a variety of outdoor activities. Made with a combination of suede leather, mesh, and webbing.
For lightweight impact absorption on varied surfaces. Long-lasting cushioning with high energy return.
For multi-terrain traction in rock, dirt, and gravel, in wet/dry conditions. Specially formulated compounds and tread design for cross-terrain stability and grip with strategically blended lug patterns and rubber compounds.
---
4. Salomon Men's X Ultra Pioneer MID CLIMASALOMON Waterproof Hiking Boots Climbing Shoe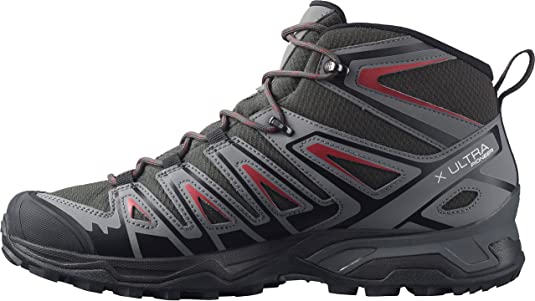 ClimaSalomon Waterproof: A flexible, lightweight, full waterproof bootie to ensure complete weather protection.
Inspired by the best-selling X Ultra Family, this mid-cut hiking shoe is the go-to option for outdoor enthusiasts. The X ULTRA PIONEER MID CLIMASALOMON waterproof is packed with all the technology you need including waterproof protection. Yet versatile enough to adapt your daily life.
Placed between the outsole and midsole, this lightweight chassis helps optimize motion control, energy management and protection for an efficient, stable yet responsive ride
---
5. NORTIV 8 Women's Lightweight Hiking Shoes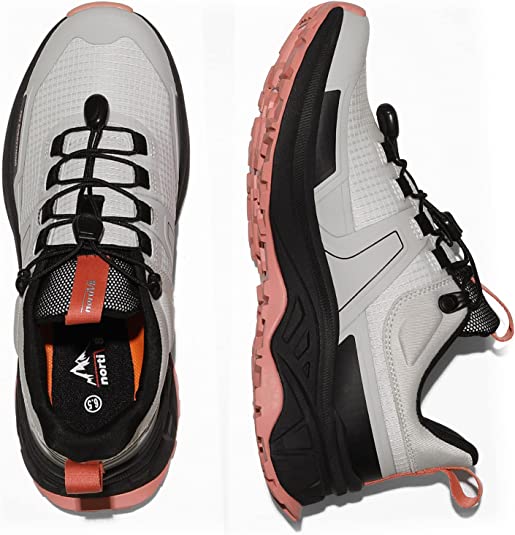 Weighing approximately 9.7oz, these lightweight hiking shoes for women deliver flexible and lighter paces outdoors.
Build with oxford cloth and seamless TPU, our women's hiking shoes ensure long-term durability and optimum comfort.
Designed with a cord lacing system that ensures a fast and perfect fit. Plus, the cord lace can be fixed inside for security outdoors.
A textured rubber outsole offers superior abrasion-resistance, keeping you firmly grounded across all terrain.
Finished with a mesh-fabric covered EVA insole that provides optimum cushioning. A padded collar brings extra comfort. Elevate your outdoor looks in these stylish shoes. These are suitable for a wide range of activities, from hiking to camping without compromising on style.
---
Conclusion
Hiking shoes or boots can either make or break your overall hiking experience. When shopping for hiking footwear, comfort should always be your top priority. Finding the perfect pair means considering the fit and flexibility, weight, material, and features.
Take the time to find a comfortable pair that meets your specific needs, and don't rush the process. By investing in quality and comfort, you'll be able to step into your next adventure with confidence, knowing your feet are well-protected and supported.
Happy Hiking in Comfort with Your Hiking Boots!
Check Out Our Relevant Reads: