Are you a young basketball player who's looking for ways to take your game to the next level? If so, investing in the best basketball hoop for your needs is likely at the top of your priorities. From dunking like Michael Jordan or shooting free throws as easy as LeBron James, having access and utilizing the best gear can significantly enhance anyone's gameplay. Whether it be an outdoor portable hoop or a wall-mounted rim, we'll provide you with all of the knowledge needed to find and space jam your court!
What Should You Consider Before Buying an Outdoor Basketball Hoop:
Before buying an outdoor basketball hoop, you should take into consideration a variety of factors. First and foremost, the hoop should be designed with safety in mind. Look for hoops made from durable materials such as tempered steel that can handle high-intensity play.
Make sure any bolts are properly reinforced and securely anchored in your playing surface to prevent any potential injury from falls or contact with the rim or backboard.
Consider what type of backboard best fits your needs and environment; if you'll be playing basketball at night on a frequently used court, look for a portable hoop featuring an illuminated backboard to aid visibility during evening games.
Second, consider the size of your desired hoop and whether it will fit appropriately within the allotted space where it will be setup. Measurement guidelines are typically provided by manufacturers when choosing an appropriate sized hoop; however, smaller youth-sized hoops can work well in limited spaces too!
Finally, think about additional accessories like protective padding around edges and poles which may be needed to compensate for age/skill level differences among players or simply just provide extra cushioning while taking shots near the rim or base frame of the net system itself.
By thoroughly considering these key points before buying an outdoor basketball hoop you'll surely find one that fits all requirements safely while providing countless hours of fun!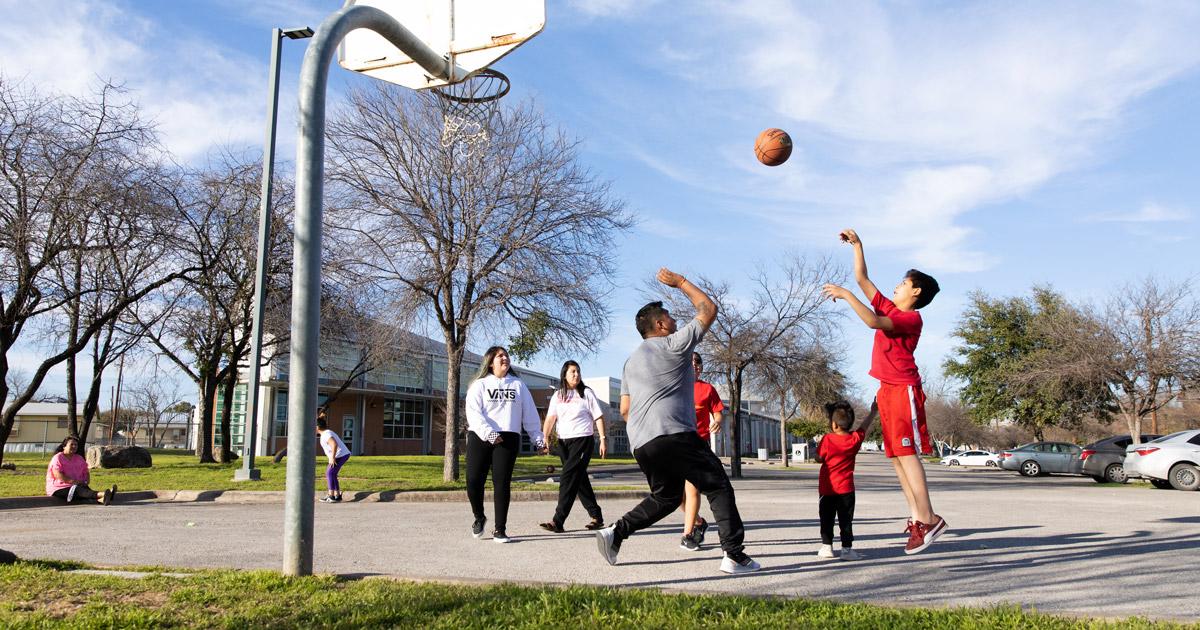 Basketball Hoop Types:
When it comes to outdoor basketball hoops, there are three main types that you can choose from - portable, in-ground, and wall-mounted.
Portable Basketball Hoops:
Portable hoops are an ideal choice for people who want a hoop they can move around or take with them when they travel. These typically come with a plastic backboard and usually have adjustable heights so that different age groups can use them.
They're perfect for casual pickup games since they don't require any permanent installation. However, keeping the hoop secure might be a challenge if your area is prone to strong winds.
In-Ground Basketball Hoops:
If you want something more stable and durable than a portable hoop then an in-ground basketball hoop system is what you need. These feature metal poles which are permanently embedded into the ground making them very stable and difficult to tip over or move accidentally.
In-ground systems also come with several different types of backboards including glass, acrylic, fan shaped or tempered glass which makes it easy to customize your setup as desired.
They are also available at various price points depending on material quality and brand name making it easier for people of all budgets to find one suitable for their needs.
Wall Mounted Basketball Hoops:
If space is limited but you still want an outdoor hoop then wall mounted basketball hoop models could be the perfect choice for you! Just like porch swings these consist of two posts which mount directly onto literally any sturdy wall surface providing excellent stability while taking up very little room compared to traditional in ground systems.
The most common type features fiberglass construction giving it solid durability even if subjected to multiple dunks each day! Wall mounted basketball hoops work best when someone wants both convenience combined with maximum strength around their home court area as well as long term savings since no professional installation costs apply!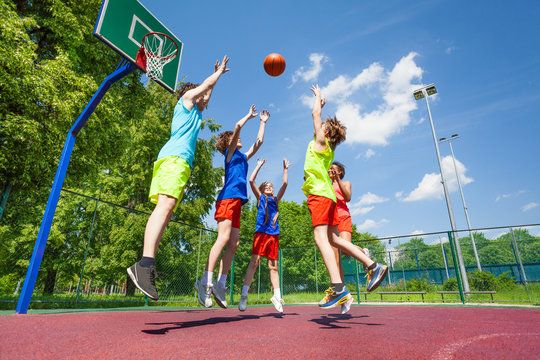 ---
Top 3 Outdoor Portable Basketball Hoops on Amazon: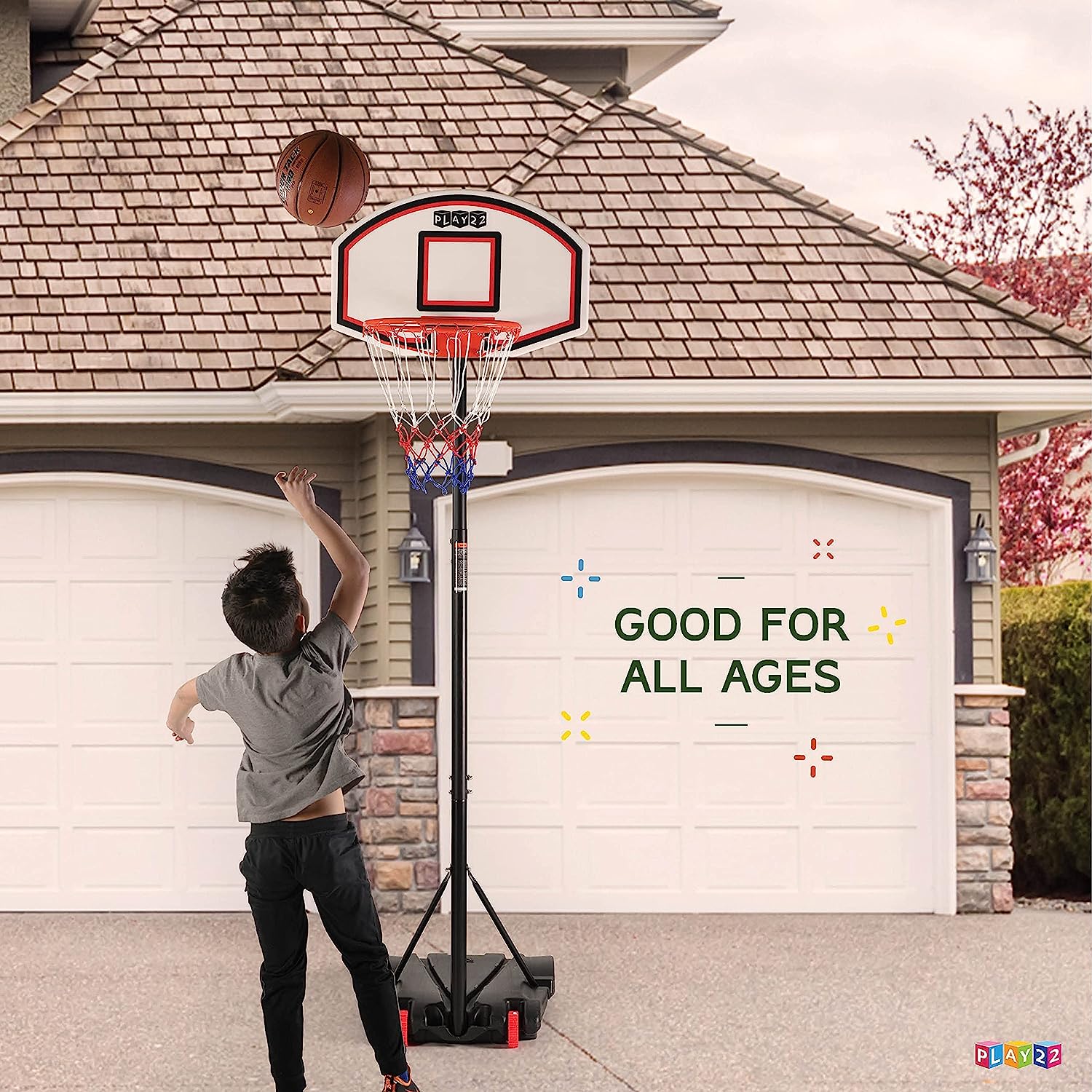 With this adjustable basketball hoop, certainly you will have a high-quality experience; From the weather-resistant and durable materials to portability, you will know that you are stepping up the game
You can bring this youth basketball hoop with stand wherever you go. No need for you to postpone fun. This is a perfect outdoor and indoor game that you can enjoy anytime and anywhere
Weatherproof and durable materials that have been manufactured from one of the quality plastic (PE). A steel main pole, an all-weather nylon net, no doubt it can endure your strongest slam dunks
Need not worry, this set only requires minimal time and effort to be assembled.
---
2. Portable Basketball Hoop Lifetime 44 Inch Backboard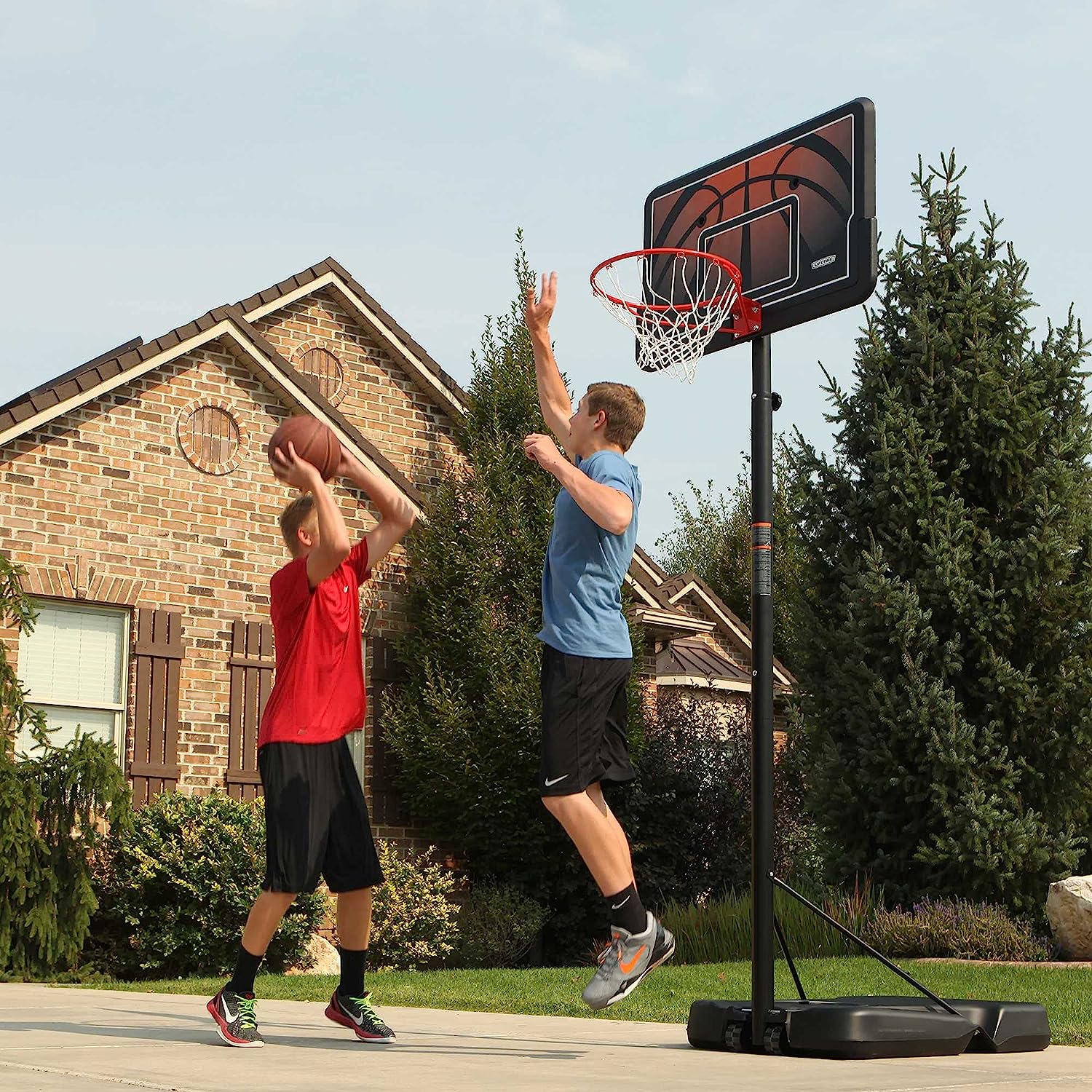 Impact backboard is constructed of High Density Polyethylene for superior strength and durability
Round pole attaches to heavy duty portable base; easy to fill with water or sand
Classic rim with an all-weather nylon net; for indoor and outdoor use
Telescoping mechanism adjusts from 7.5 to 10 feet in 6-inch increments
Telescoping mechanism, height-adjustable basketball system
Telescoping mechanism adjusts from 7.5 to 10 feet in 6-inch increments
27-gallon base fills with water or sand and rolls to your desired location
---
3. Basketball Hoop Portable Best Choice Products Kids Height Adjustable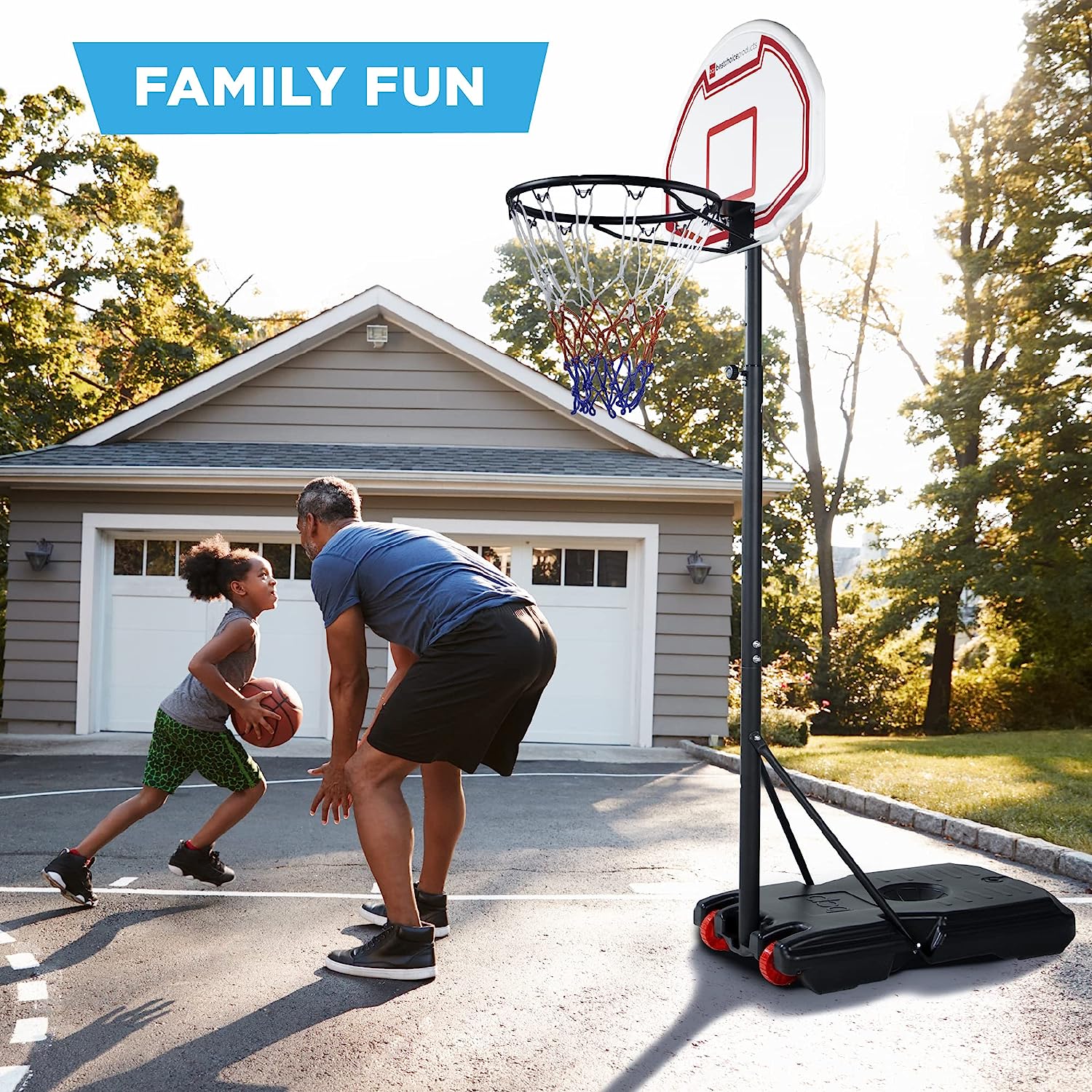 Kids ages 8 and up can practice their game and even feel like a high-flying pro athlete, as the rim can be adjusted between 70.5 and 82.3 inches
Crafted with heavy-duty steel, a durable backboard (SKY3387 is white; SKY6250 is clear), and an all-weather nylon net, this hoop is designed to last through any basketball season
Designed with a sturdy base that includes a built-in groove for a place to hold your basketball until your next hoop session
Enjoy friendly competition out back by stepping out to play a little one-on-one with your budding ball player, and show them how to make it count with every shot they take!
Two built-in wheels at the front of the base make this hoop easy to tilt and transport to any area of your front yard, backyard, in or out of your house
---
Top 3 Outdoor In-Ground Basketball Hoops on Amazon: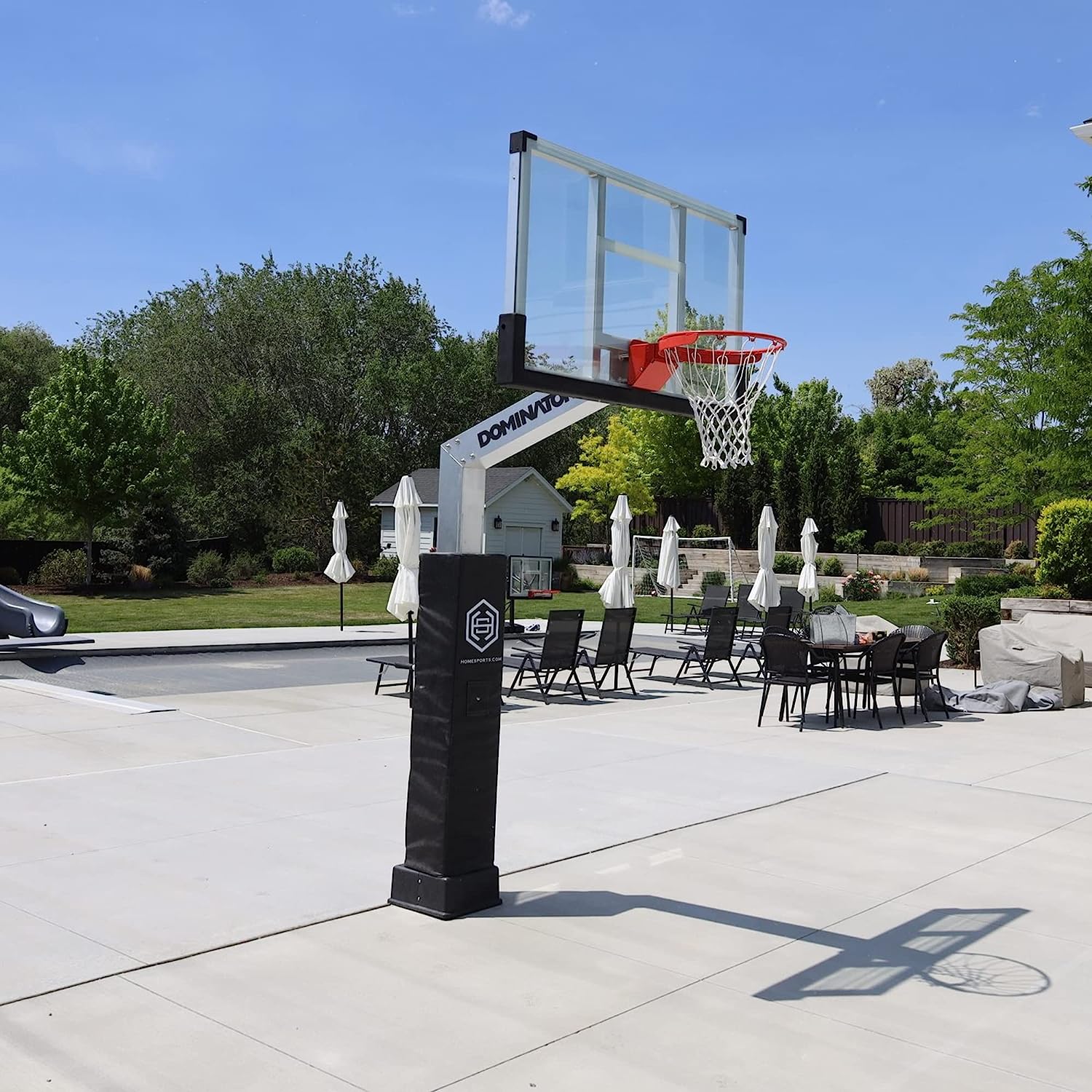 The Dominator 60" Hoop is unmatched in quality and playability. From the 60" backboard and 3' overhang to the tempered glass backboard, this goal has been designed for driveways or smaller playing areas.
Made of 6061 T6 Aluminum, making the Dominator goal structure completely rust proof which means it will last longer than any other basketball hoop out there.
The unique adjustment design of the Dominator Hoop makes it easy to raise and lower the hoop. The best part is that in just 7 cranks, you can go from 7 ft - 10 ft!
---
2. In-Ground Basketball System with Adjustable-Height Tempered Glass Backboard and Pro-Style Breakaway Rim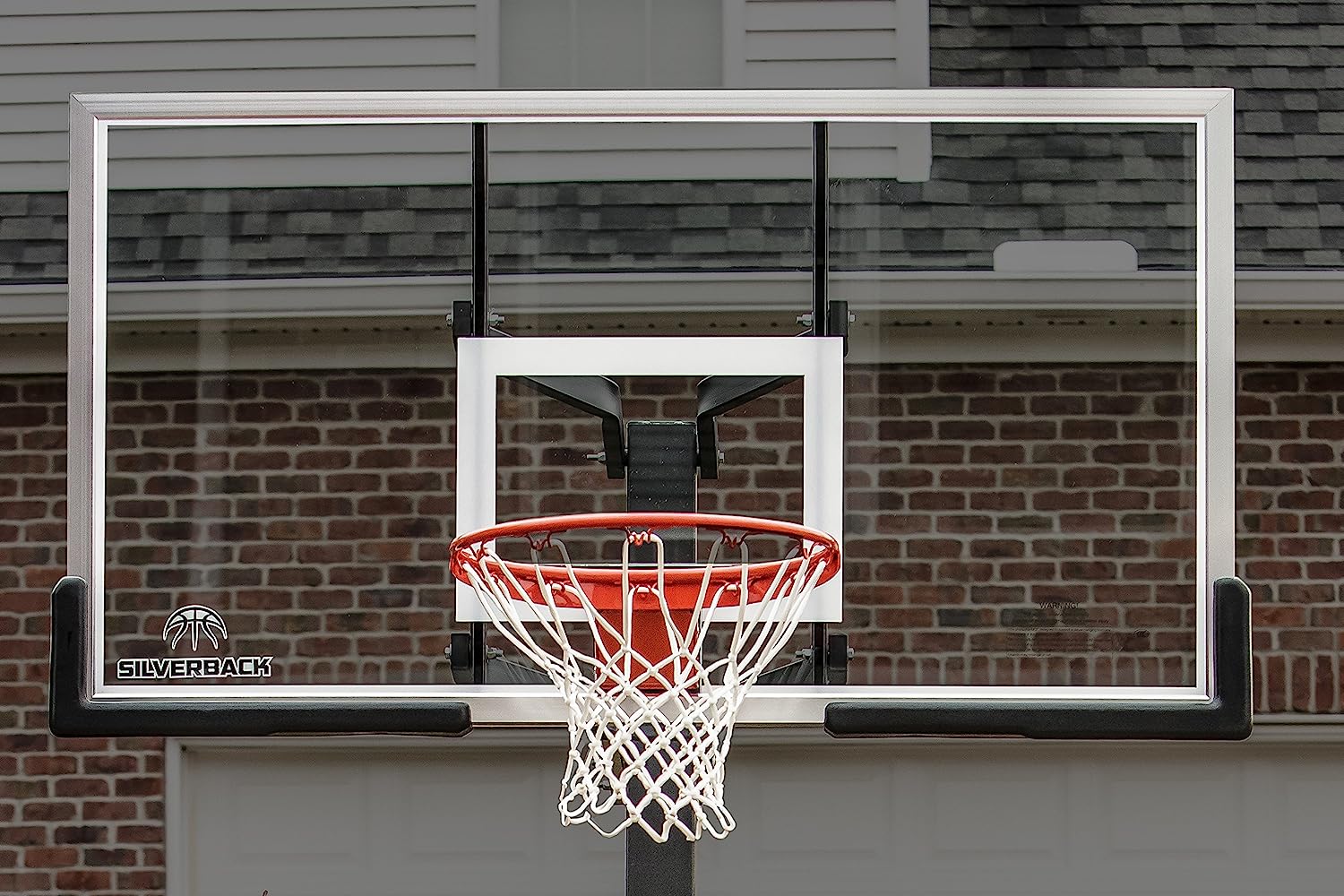 Premier in-ground basketball goal offers the performance of gymnasium-style goal
nchor mounting offers the strength of concrete and the option to unbolt and move goal. Anchor Kit included.
The Silverback SB60, our premier in-ground basketball hoop, features a tempered glass backboard and powder-coated steel pole offering the performance of a gymnasium-style goal.
This basketball goal offers a revolutionary anchor bolt mounting system allowing you the option to unbolt and relocate your system if you move homes. The SB60 uses a crank actuator to adjust the goal from the NBA and NCAA regulation height of 10 feet to safety-approved height of 7.5 feet.
The SB60 includes a backboard pad and pole pad to offer protection during lay-ups and a break-away rim that flexes under pressure
---
3. In Ground Basketball Hoop City Hoops Diamond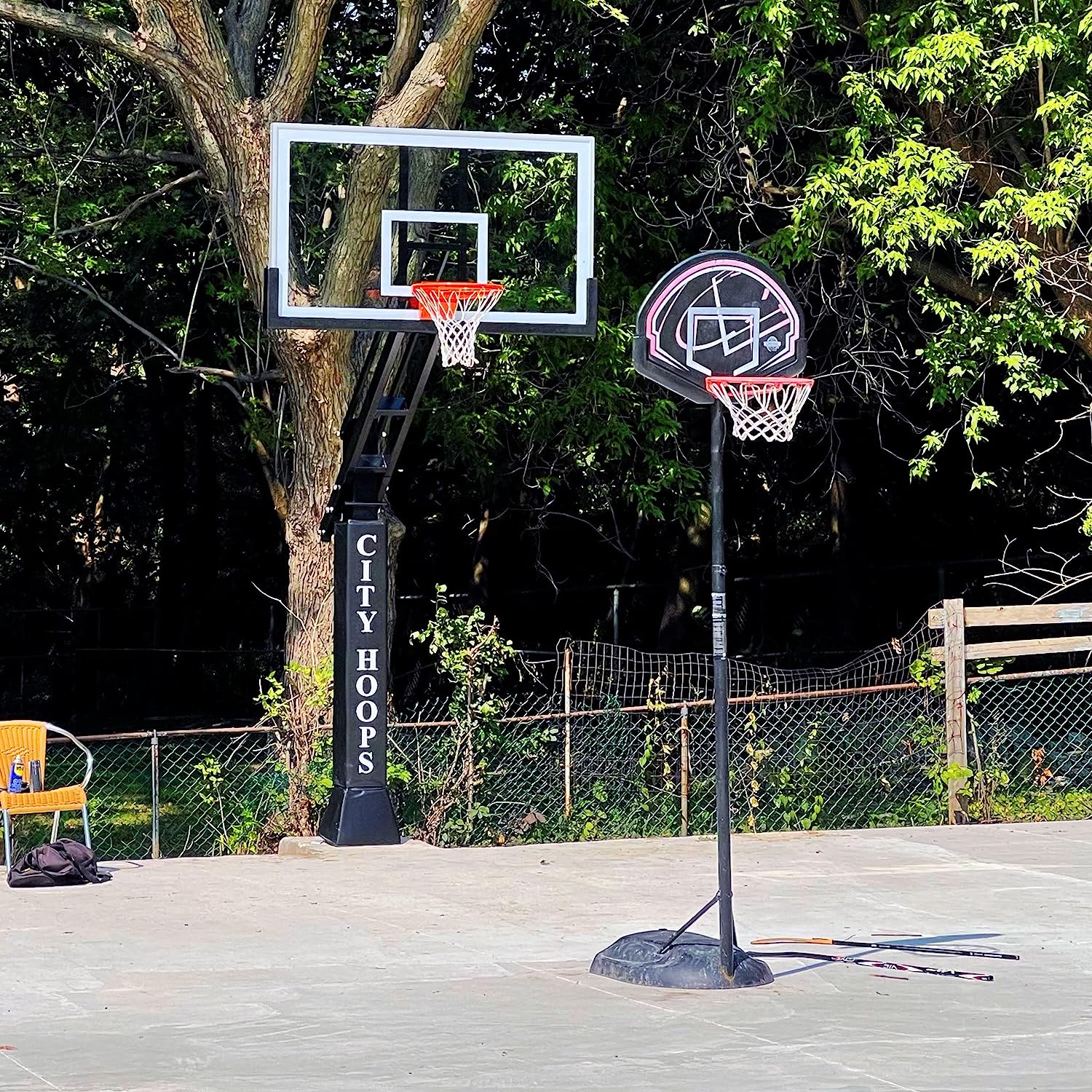 BUILT TO OUTLAST

Galvanized

6"x8" steel one-piece post with a

powder-coated

black finish.
60" extension from backboard to pole (overhang), black

powder-coated

finish

Stainless Steel Hardware

&

Welded Steel Endcaps

TRAIN LIKE A PRO

Adjustable height from 5' to 10'

pro regulation height

NBA

double spring 180-degree breakaway rim with nylon net
NBA Professional Regulation Size

1/2" thick

tempered glass

backboard (72"x 42") for

true ball rebound

Fitted all weather sealed post padding included.
---
Top 3 Outdoor Wall Mounted Basketball Hoops on Amazon: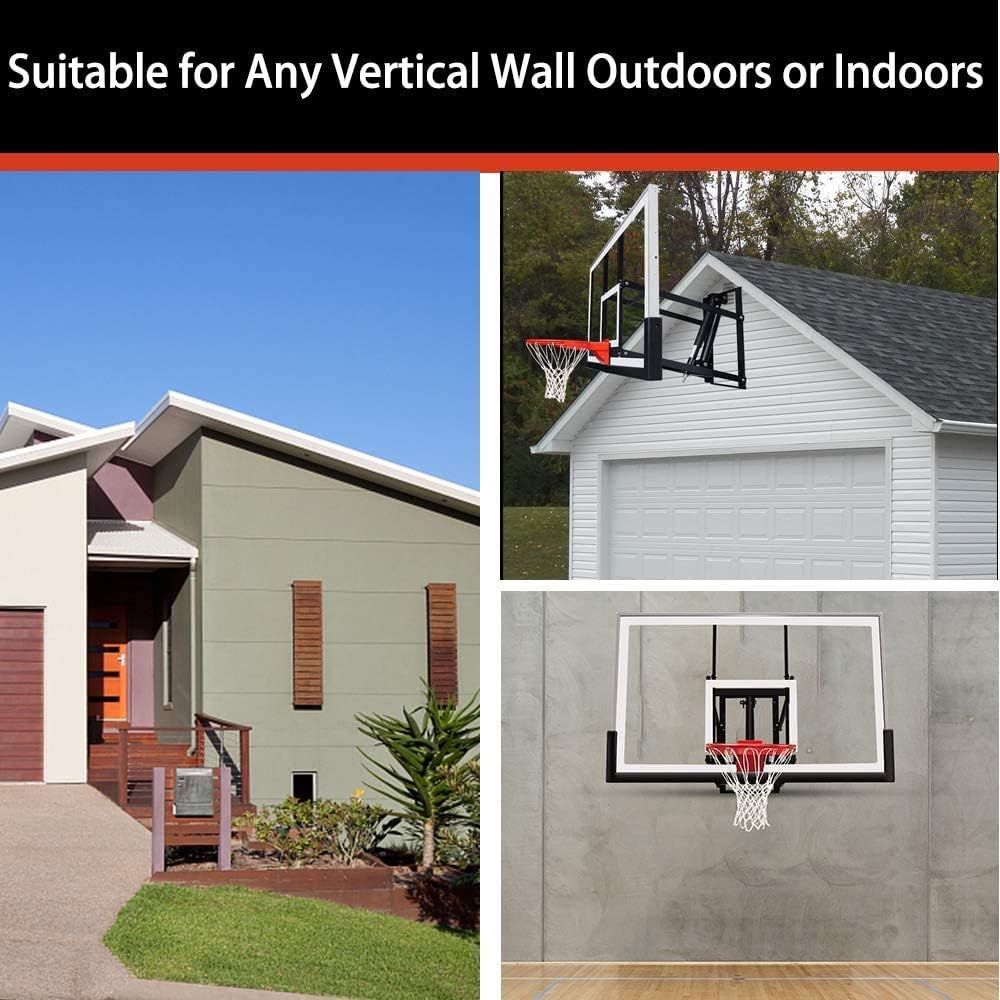 Unique telescoping adjustable frame for mounting on vertical wall,gymnasium-type play in limited driveway space and indoor.
Easy to install.Steel backboard frame.It only takes 3 steps to install the system.Easily adjust rim from 7.5' to 10' using the external compression height adjustment mechanism.
Built-In adjustment mechanism can be operated from ground level swing the removable crank handle provided. Adjustments can be made without the use of a ladder.
The fully tempered glass backboard works wonderfully on the wall-mounted system, because of its board's thickness (1/2" - thicker than most competitors) and the beefed-up frame
---
2. Silverback NXT 54" Wall Mounted Adjustable-Height and Fixed Basketball Hoop with QuickPlay Design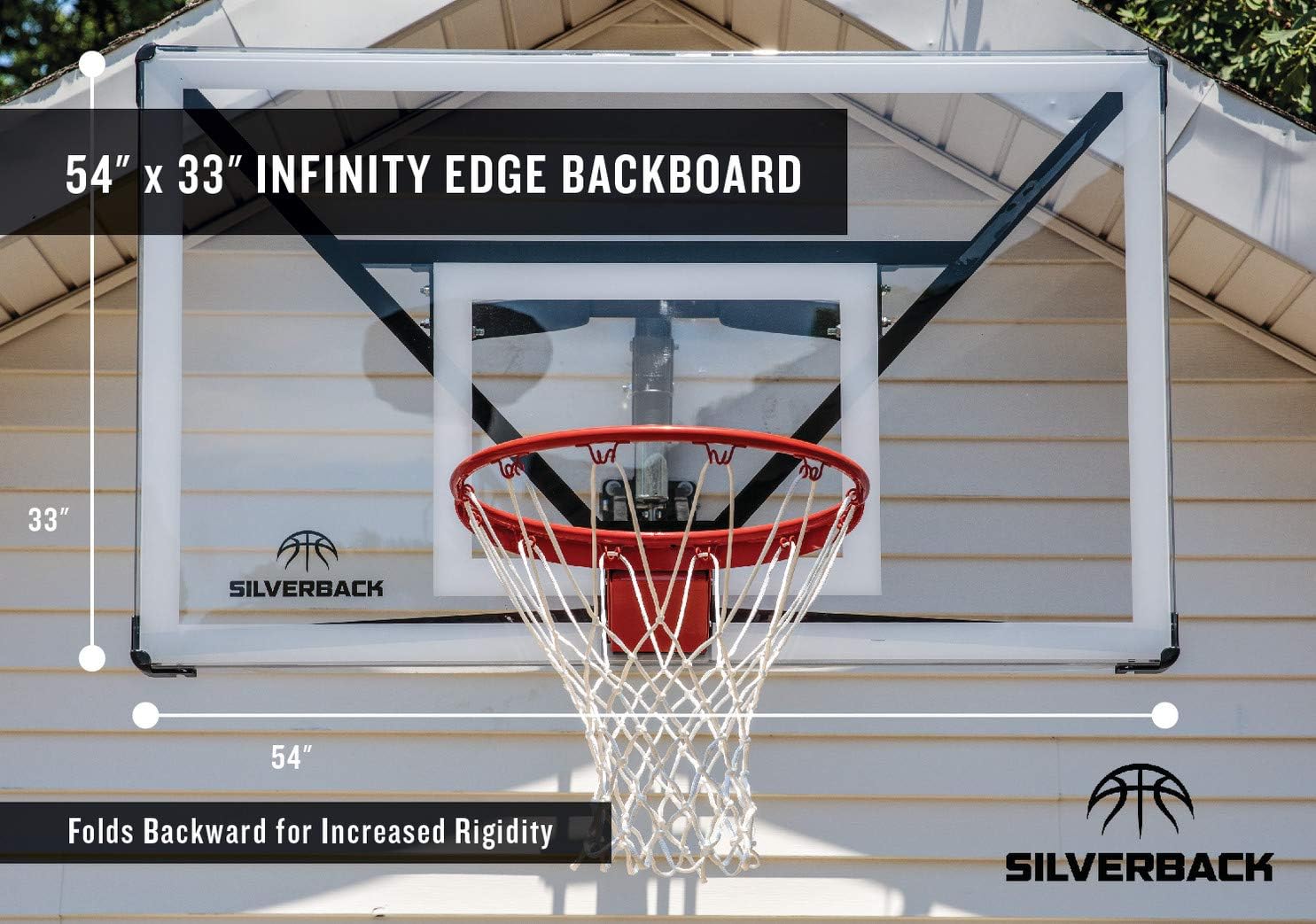 This basketball hoop CAN NOT be installed on any brick surface or facade
Adjustable from 7. 5' to 10' with all-steel actuator and lock height adjustment option
wall mount, backboard, and rim suitable for indoor or outdoor installation; Mounting hardware NOT INCLUDED
54" W x 33" H Infinity Edge acrylic backboard that folds backward for increased rigidity
120 minutes or less with Quick-Play design and pre-assembled parts
---
3. Wall Mounted Basketball Hoop, Mini Hoop with 45'' x 29'' Shatter Proof Backboard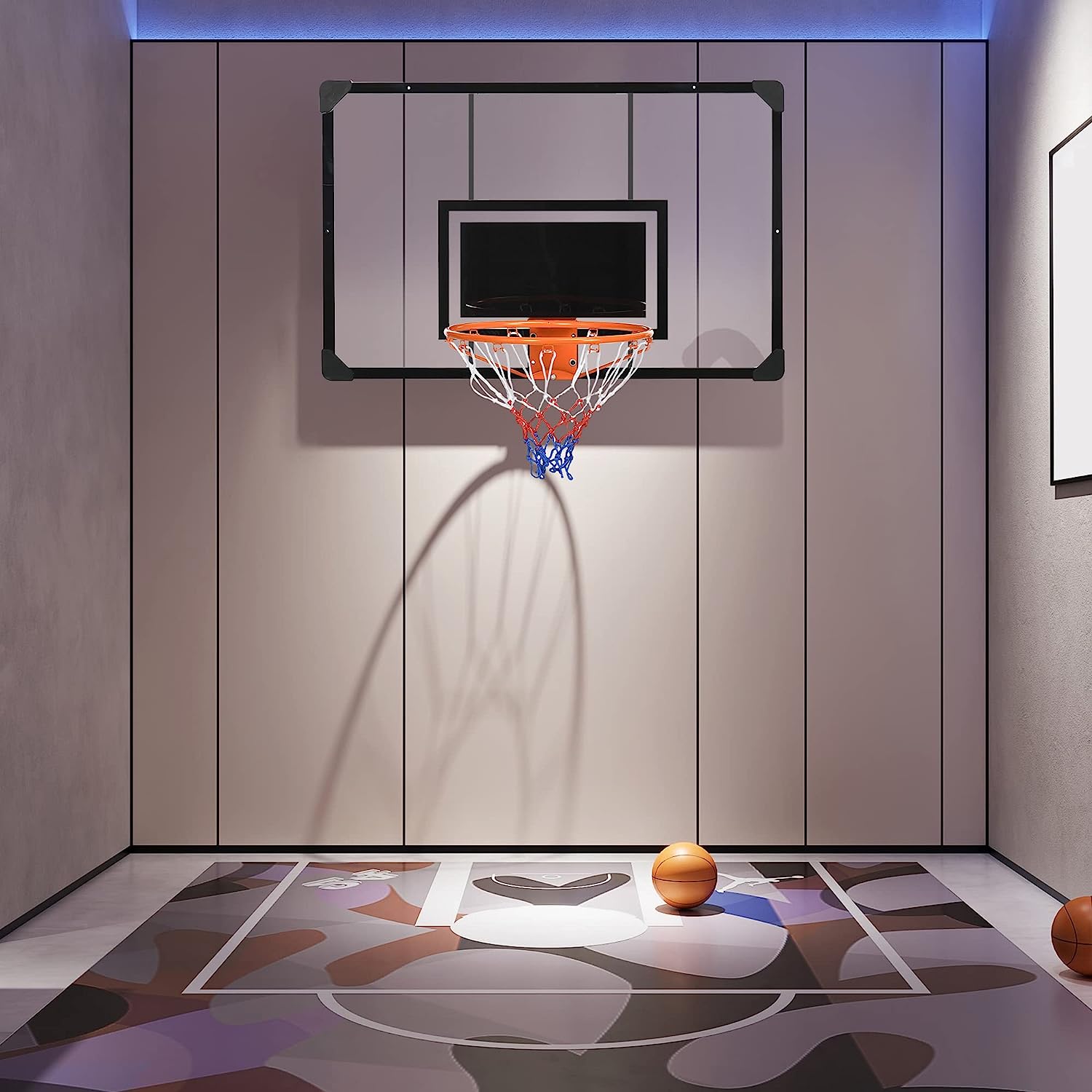 This design can be mounted on a door, wall, roof, eave, or pole using a universal mounting bracket, so you can create your own sports zone anywhere, indoors or outdoors. Set the hoop to the height that best fits your comfort and get in practice without having to leave home.
This small basketball hoop has a shatterproof backboard with corner protection for added rigidity. The basketball rim is made of durable steel, and tear-proof netting offers weather resistance for greater longevity.
The steel frame features an outdoor ready protective powder-coated finish with scratch, wear, and water resistance.
Intended to handle rugged play do some free-throws, put on a game of HORSE or even practice your dunk
---
Most FAQs about Outdoor Basketball Hoops:
What is the Best Brand Outdoor Basketball Hoop to Buy?
The best brand for buying an outdoor basketball hoop is the Spalding NBA 54" Portable Angled Basketball Hoop. This portable hoop offers a durable shatterproof backboard and an angled pole design to make shooting baskets easier, allowing you to perform at your peak. Its heavy-duty steel construction ensures it can withstand any weather conditions without damage.
Its portability makes it perfect for bringing with you on vacation or relocating it anywhere in your home as needed. Not only that, but its official size rim and all-weather net provide the ultimate performance experience while playing outdoors. If you want the professional level of play offered by the Spalding brand, then this is definitely the outdoor basketball hoop to get!
How Much Should I Spend on a Basketball Hoop?
This really depends on the type of hoop you're looking for, as well as where you plan to install it.
If you want an in-ground hoop with a 4x4" pole, a professional-grade backboard and breakaway goal ,you should expect to spend around $1500-$3000 plus installation costs. However, if your goal is just to shoot some baskets with friends or family at home then an adjustable height portable hoop can cost anywhere from $200-$600.
It is important to consider what size and material will work best based on how often you plan on using it. Durable materials like tempered glass or acrylic typically cost more than aluminum but they also last much longer and don't need replacing so quickly due to wear and tear.
You may even find used hoops that have been kept in good condition which could save money while getting the same quality results!
In short if you're planning on simply shooting some hoops with family and friends a portable adjustable basketball hoop might be the way to go - these range from $200-600 depending on size and materials used.
If your aim is something more permanent such as an inground setup then we recommend budgeting between 1500-3000 dollars - this will depend heavily upon factors such as pole size, net strength etc..
How do I Know what Size Basketball hoop to Buy?
The size of basketball hoop you choose to purchase depends largely on where you plan to use it as well as your desired level of play. If you intend to buy a hoop for competitive or recreational play, then the official hoop size regulated by the National Basketball Association (NBA) is the regulation backboard and rim size of 72 inches wide and 48 inches tall. However, if you plan on using the basketball hoop in your driveway or garage, a smaller option may be more suitable.
In general, when buying a basketball hoop for home use there are three sizes available: junior/youth (44"), intermediate (54"), and regulation (72"). Junior/youth hoops are intended for children 5-8 years old and typically come with an adjustable height mechanism that grows with kids.
Intermediate hoops are often used by serious young players aged 9-12 who aspire to master their game before transitioning onto regulation size equipment in middle school or high school. Regulation sized hoops can add value to any backyard setup but will require plenty of space due to their large backboards and rims which span at least eight feet wide!
When making your decision between these various sizes remember that while larger sized hoops allow players more accuracy when shooting since they have more room around them, however they take up significantly more space than smaller options do so make sure there is enough room for it before purchasing! Ultimately though it comes down to personal preference so pick whichever one fits your budget, desired skill level and availability of space best!
Is a 52 inch Backboard Big Enough?
Yes, a 52 inch backboard is large enough for a full-scale basketball game. The standard regulation size for an official NBA hoop is 18 inches from the floor to the rim, and 24 inches from the backboard to the front of the ring. That means that a 52-inch backboard should be more than adequate in providing enough space between it and the basket itself.
This larger size also provides more stability, since larger glass surfaces are less prone to bending or breaking when impacted by shots or dunks. While you may not have all of the features associated with professional level set ups such as adjustable height posts, having a minimum of 52 inches on your home court's hoop will still provide adequate playability and enjoyment.
Is Acrylic or Tempered Glass Better for Basketball Hoop
While each material offers unique benefits, acrylic is generally the preferred choice for basketball hoops. Acrylic is lighter than tempered glass and more resistant to breaking. Acrylic also has a better rebound quality than tempered glass, making it an ideal surface for playing basketball.
Additionally, acrylic is easier to assemble and disassemble when compared to tempering glass, meaning it can be set up in less time with fewer tools. Acrylic also costs significantly less than tempered glass; this cost savings allows teams and organizations with tighter budgets to purchase a higher-quality hoop instead of settling for subpar materials that won't last as long or perform as well as acrylic will over time.
Finally, many professional leagues actually require acrylic hoops due to their enhanced playability compared to other materials; if you're looking at purchasing a hoop primarily for competitive use then you should definitely look into getting an acrylic one instead of tempered glass.
---
Conclusion
If you're looking for a suitable outdoor basket hoop that can withstand the rigours of an intense basketball game, then be sure to look for one with high-quality material.
Make sure it has been designed with safety and durability in mind. Take into account where you will b setting up the hoop. Do you have enough space and are neighborhood regulations allowing it?
If so, weigh the various materials, sizes, height options and price ranges. Having a comprehensive assessment will help ensure your court is well suited for your needs and ultimately lead to many years of fun-filled competitive play!
Happy Playing!
Check Out Our Relevant Reads: