Spring and summertime are around the corner, and it's time to start thinking about your commuting needs. For many, an electric scooter is a perfect solution. Not only are electric scooters eco-friendly, but they also offer convenience and cost savings when compared to cars and motorcycles. Let's dive into why this is a smart option for anyone looking for a sustainable way to get around town this summer.
Eco-Friendliness
Electric scooters have zero emissions, so they're an incredibly powerful tool for reducing air pollution and protecting our environment. If you're looking for a way to reduce your carbon footprint while still getting around town, an electric scooter may be a perfect choice.
Convenience & Cost Savings
Electric scooters require no fuel or insurance, eliminating the need for a driver's license or regular maintenance like gasoline-powered vehicles do. This makes them incredibly convenient and cost-effective for short-distance travel needs. Plus, with the lower upfront cost of an electric scooter, many buyers can save money when compared to purchasing a car or motorcycle.
Electric scooters are also lightweight and easy to store in small spaces, making them perfect for those without access to secure parking facilities. They can easily be taken on buses, trains, or even carried into your office building if necessary - all while avoiding traffic jams and saving money on parking fees!
Finally, they are easy to use and maintain - all you need is basic mechanical knowledge and some spare parts every once in a while - making them perfect for those who want an efficient way to get around without having to invest too much time into learning how it works.
What You Should Look for When Shopping for an Electric Scooter
When shopping for an electric scooter, there are a few major points to consider. The first of these is the battery capacity and range. Higher capacity batteries will generally provide a longer range per charge, allowing you to travel farther before having to plug into the charger again.
You should also look at the wattage rating for the motor, as this will determine how fast and powerful your scooter can go. Additionally, it's recommended that you check out what type of terrain each model can handle - some are better suited for off-roading in addition to street riding.
Finally, you should consider any extra features such as cruise control or regenerative braking when making your decision. With all of this information in mind, you'll be able to choose an electric scooter that best suits your needs!
Top Rated Electric Scooters>>>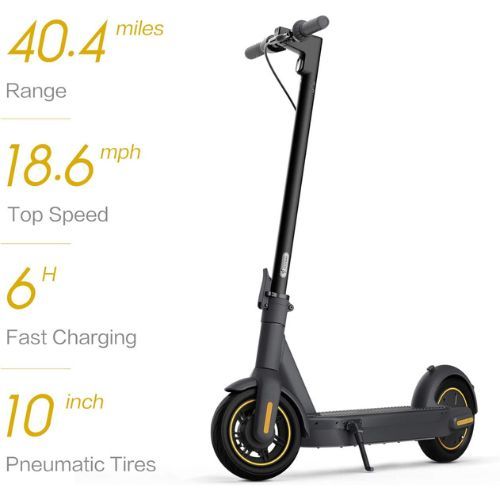 Electric Kick Scooter Segway Ninebot MAX
CHECK PRICE ON AMAZON
Best Rated on Amazon
The Ninebot MAX Electric Kick Scooter by Segway is the ultimate tool to explore your world. Whether you're taking a leisurely ride around your neighborhood or commuting to work, this kick scooter offers a safe and comfortable riding experience like no other.
It's equipped with a mechanical and electrical Anti-Lock braking system for improved safety, plus front and rear wheel shock absorbers with self-healing tubeless self-sealing tires for even the roughest terrain. And when you're done riding, its one-step folding design allows you to easily fold it up into a compact size that can be taken just about anywhere.
The perfect combination of power and portability, the Segway Ninebot MAX electric scooter makes everyday journeys as effortless as they are enjoyable. Plug in and start exploring today!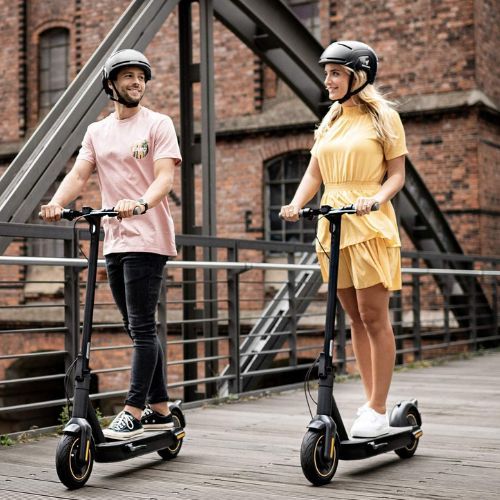 ---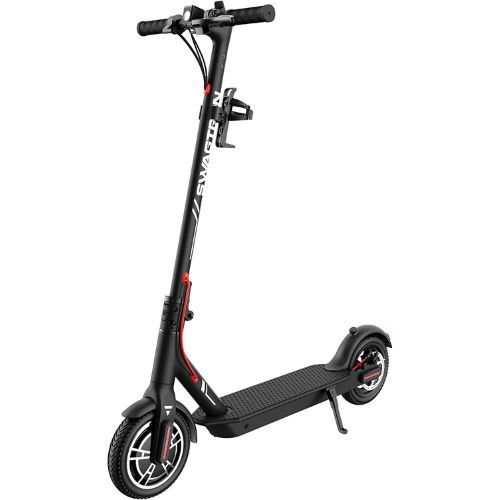 Commuter Electric Scooter Swagtron SG-5 Swagger 5 Boost
CHECK PRICE ON AMAZON
The Most Affordable Electric Scooter
Are you looking for the perfect commuting companion? Now, with the Swagtron SG-5 Swagger 5 Boost Commuter Electric Scooter, your daily trips around town have never been easier! With a single-click folding feature, this scooter is perfect when you need to get up and go. Its intuitive design allows it to quickly fold down with just a simple foot actuation. This means the storage and portability of your scooter are now more convenient than ever before.
You'll also love its revolutionary airless honeycomb tires, which provide extra smooth rides with no need for regular maintenance or puncture repairs! And thanks to its enhanced 36V long-range battery, you can focus on the ride rather than on charging. This great battery can cover up 11 miles on a single charge that only takes 3.5 hours to complete!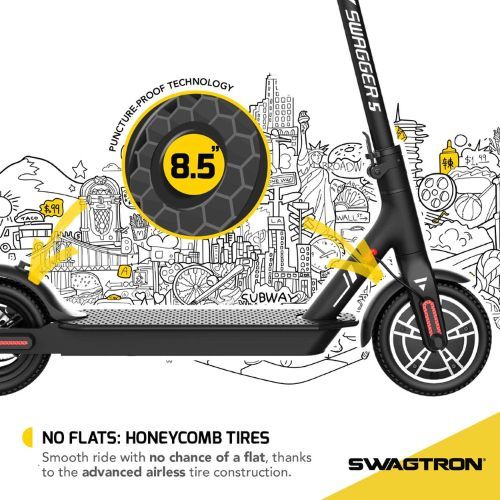 ---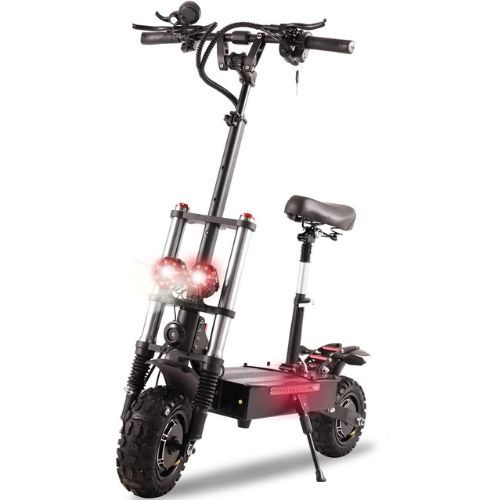 Electric Scooter T88 Safe All Terrain Ride
CHECK PRICE ON AMAZON
Electric Scooter T88 Best for Safety and Comfort All Terrain Ride
Do you want speed, comfort, and safety for your everyday commute? Then the electric adult scooter T88 is the perfect choice for you! This electric scooter delivers reliable performance with dual independent drive motors up to 5600W that can reach a maximum speed of 50MPH in dual drive mode. Conquer hills with ease - our 60V 35Ah battery allows you to travel up to 37-56 miles on a single charge and has enough power to tackle 50° inclines.
Comfort is key when it comes to an enjoyable ride, and that's why we designed this electric scooter with front and rear spring shock absorbers so you feel fewer bumps along the way. And if safety is your concern, don't worry - this offroad electric scooter features both front and rear dual disc brake that respond faster than ever even when you're riding at top speed or in emergency situations. So don't wait any longer - experience the most powerful and safe ride of your life today with this electric adult scooter T88!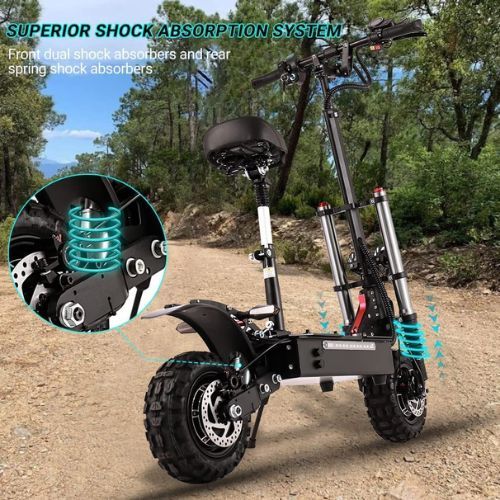 ---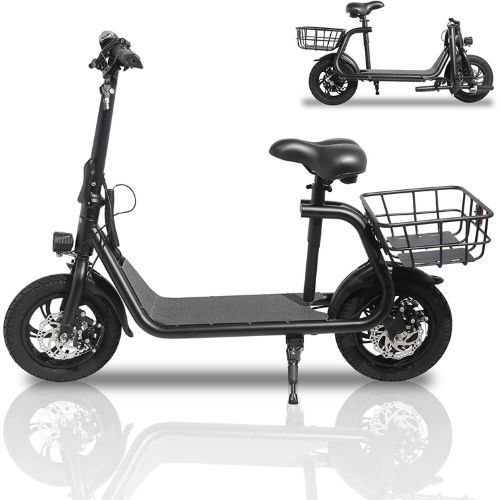 Beston Sports Electric Scooter with Seat for Adult
CHECK PRICE ON AMAZON
Best Sports Electric Scooter with Seat for Adult
Introducing the Beston Sports Electric Scooter with Seat for Adult - the perfect companion for any terrain!
This electric scooter is equipped with a powerful 450W Brushless motor and an 8.0Ah Lithium-ion battery, providing you an impressive 12.5-mile range and up to 15.5mph max speed. Built with double braking systems and capable of comfortably accommodating riders up to 265 lbs this adult electric scooter is incredibly safe and reliable.
The light 34 lbs weight of this adult electric scooter makes the commute across campus, work or your daily errands smoother. Not to mention, the foldable design allows for easy storage and transportation where ever you go!
Outdoor activities require more strength – especially when it comes to steep conductions - which is why this electric scooter was build with 12" tires, perfect for multi terrains from everyday use and outdoor knowledge giving you complete freedom in your excursions!
Make life easier and better while enjoying the smooth ride on Beston Electric Scooter!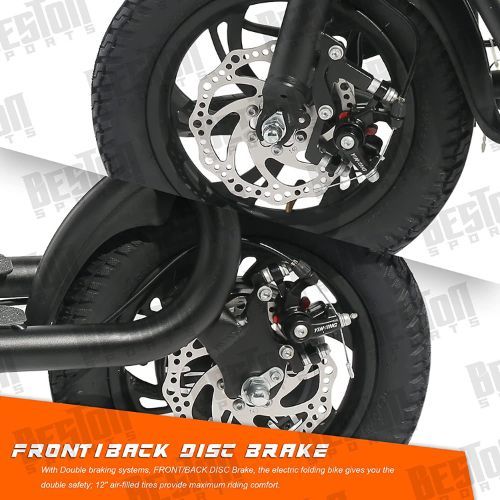 ---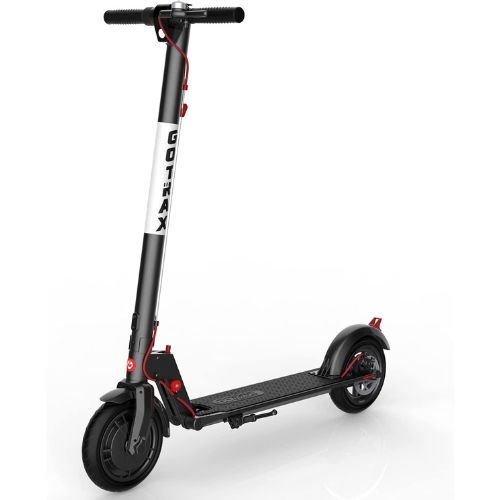 Gotrax XR Ultra Electric Scooter
CHECK PRICE ON AMAZON
Best for Lightweight and Speed Electric Scooter
Say goodbye to your transportation woes with the Gotrax XR Ultra Electric Scooter! This powerful scooter is designed to get you where you're going in style, efficiently, and safely.
The sleek and modern aluminum frame of the scooter provides maximum stability, while a one-step folding system ensures it's easy to transport wherever your adventure takes you. The special red safety button will keep the handlebar from folding while you're riding – we've thought of everything so that you can ride worry-free!
In addition to its aesthetically pleasing design, the XR Ultra is also equipped with an upgraded headlight for safe night biking - 8.5 degrees irradiation angle and 26 feet irradiation distance keep riders safe as they make their way through the dark. Plus, this electric scooter has a long-range battery with 7.0AH of capacity that can take you up to 18 miles under optimum conditions, perfect for commuters looking for a reliable way to travel to and from work or school each day.
Conveniently tucked away towards the front is a multifunctional LCD display that shows battery life, speed modes, current speed and more – helping you monitor every aspect of your trip! Whether you're getting around town on errands or taking it out for some weekend fun, enjoy seamless rides easily with the Gotrax XR Ultra Electric Scooter!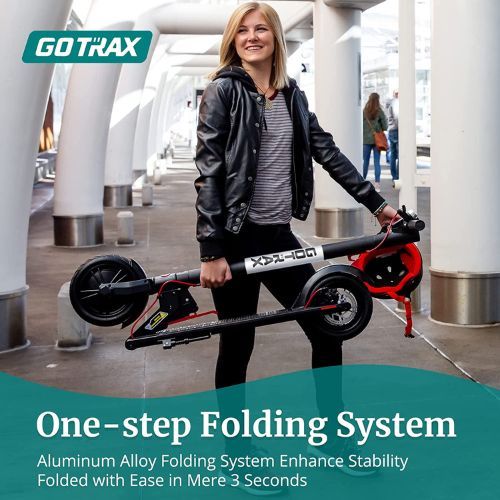 ---
Conclusion
Electric Scooters are becoming increasingly popular due to their eco-friendliness and convenience. In addition, they can help riders save money on transportation costs while still allowing them to get where they need to go quickly and safely.
So if you're in the market for a new form of transportation this summer season, consider investing in an electric scooter! With its combination of sustainable energy sources, affordability and convenience – it's the perfect way to get around town without breaking your budget or contributing unnecessary air pollution!
Move Forward into the Future of Safe Commute with Your New Electric Scooter!
---
Check Out Our Relevant Reads>>>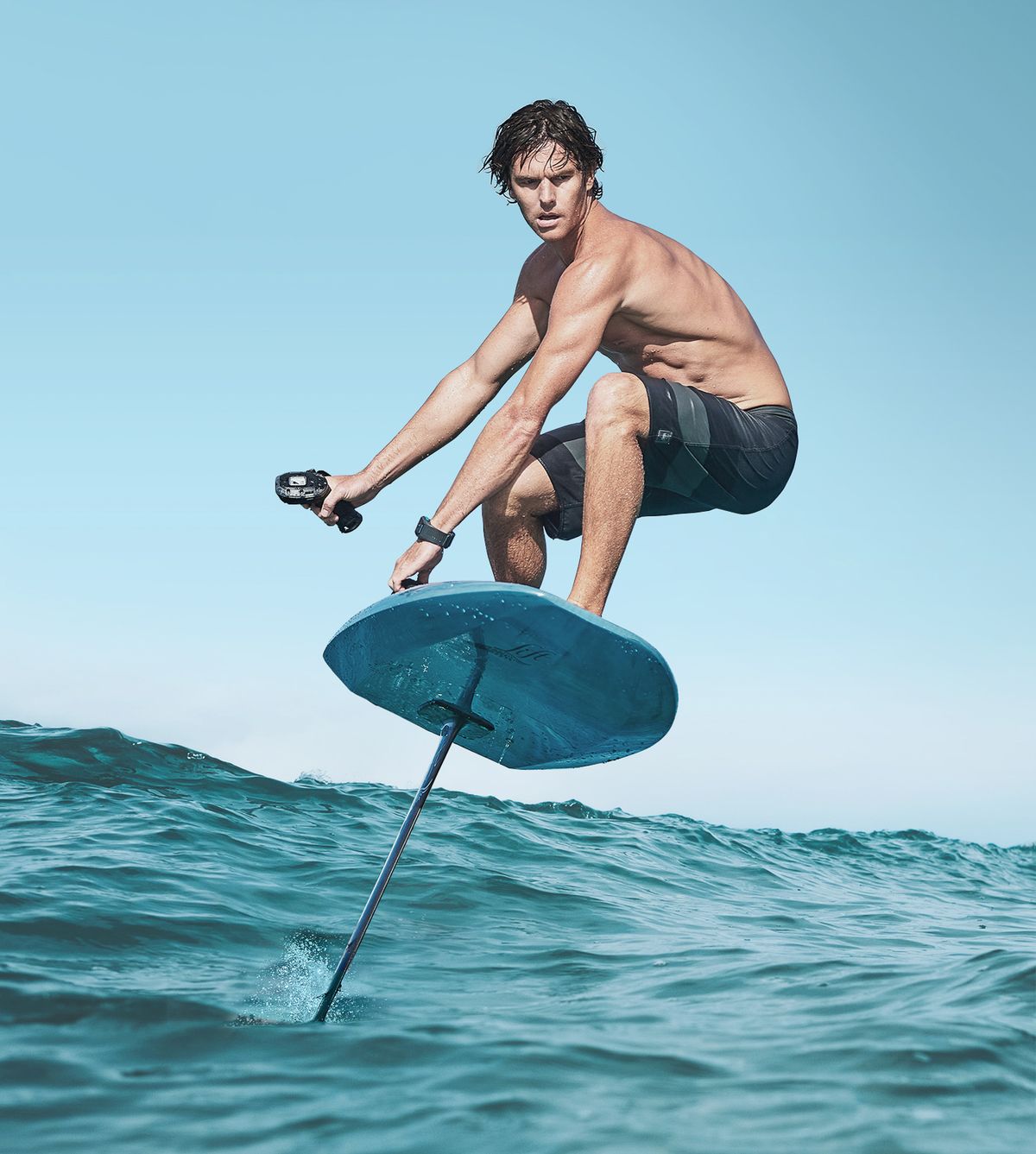 💡
Please note that all products listed in this article are carefully selected and reviewed. When you buy through the links of this page we will earn a small commission, which does not affect your price. Here is how it works. Thank you!