Whether you are an experienced rider or a new one, having the right helmet is essential for your safety. In this blog post, we will provide a comprehensive guide to help you find the best motorcycle helmet for your ride. We have researched the most popular and highly rated helmets out there so that you can make an informed decision when it comes to getting your next helmet.
Helmet Types
The first step in finding the right helmet is determining which type you need. There are three main types of motorcycle helmets on the market today full face, open face, and half helmet. Full face helmets provide complete coverage of your head and chin area, offering maximum protection in case of an accident.
Open face helmets cover just your head and not your chin area while half helmets only cover the top portion of your head, leaving your entire face exposed. Depending on how much protection you want, you should choose a helmet that covers as much of your head area as possible.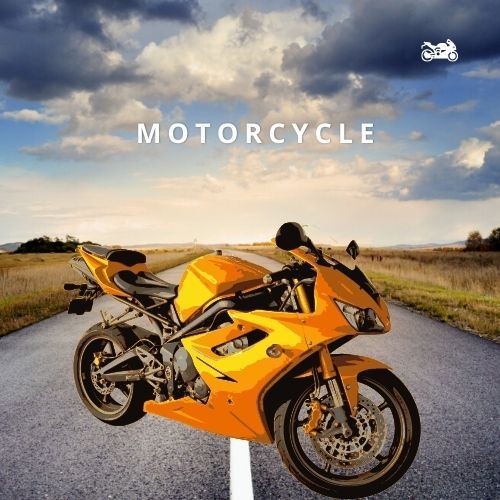 Safety Ratings
The first thing you should look at when purchasing a motorcycle helmet is its safety rating. Helmets are rated according to their level of protection they offer. The most common ratings are DOT, Snell, and ECE 22-05. The higher the rating, the better the protection level of the helmet. It is important to note that no matter what type of riding you do, having a helmet with a high safety rating is always recommended for optimal protection.
Fit & Comfort
No matter how safe your helmet is if it does not fit properly then it won't be providing adequate protection for your head in case of an accident. Thus, it is important to find a motorcycle helmet that fits comfortably on your head and provides enough ventilation so that you don't get too hot while wearing it for long periods of time.
Most importantly, make sure that when trying on helmets that you check for any pressure points or areas where the straps dig into your skin as this could cause discomfort while riding and may even lead to headaches over time if left unchecked.
Visor & Face Shields
The visor or face shield of your motorcycle helmet plays an important role in protecting both your eyesight and facial structure from wind and debris while riding at high speeds. Make sure that you choose a visor that offers 100% UV protection from UVA and UVB rays as well as good visibility even in low light conditions such as foggy mornings or evenings during sunset hours.
Additionally, consider buying a face shield with anti-fog technology as this will allow you to see clearly even in humid environments without needing to constantly wipe off fog from inside your visor or face shield throughout your ride!
Best Rated Motorcycle Helmets
#1. ILM Full Face Motorcycle Street Bike Helmet with Removable Winter Neck Scarf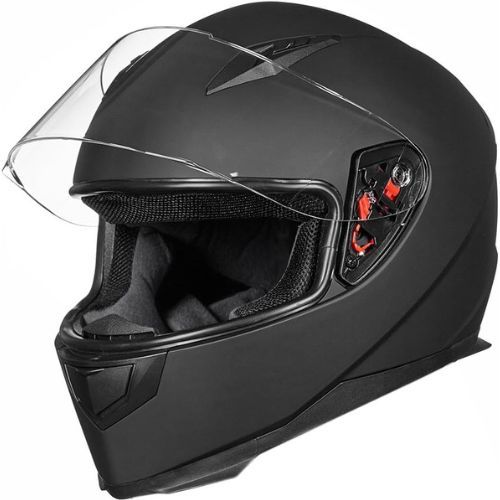 ILM Full Face Motorcycle Street Bike Helmet with Removable Winter Neck Scarf
BUY ON AMAZON
2 Visors Included: Clear + Smoked and 1 Neck Scarf for Winter Use
Removable and Washable Liners
With the buckles on the liners, you can easily remove the liners for maintenance purposes.
Streamlined Aerodynamic Design Reduces Wind Noise and Drag
Advanced and Lightweight Durable ABS Shell
Quick Release Clasp and Strap and Removable Inner Lining Pads
DOT Approved
Meets or exceeds FMVSS-218 and DOT Safety Standards, providing better protection when riding off road, bike, ATV and participating outdoor sports
One Touch Control Air Vents. The air vents on the helmet release oppressive heat while riding in warm climate. It is easy to open or close the vents with one of your fingers.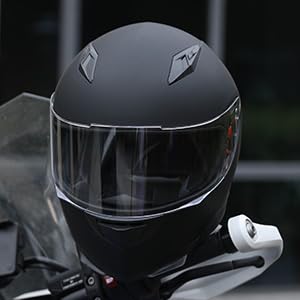 ---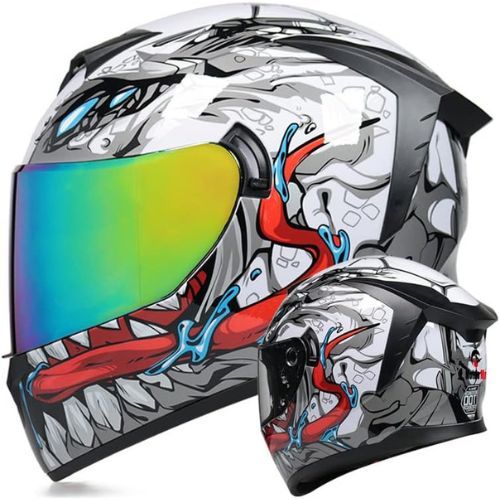 MotuoMr Unisex-Adult Full Face Motorcycle Helmet DOT Approved
BUY ON AMAZON
Classic, super-slim, open-face design with retro paint and custom graphics.
Quick Release Buckle - for easily getting on and off and holding the helmet securely on your head.
Full face motorcycle helmet, meets or exceeds DOT safety standards to ensure quality and safety, perfect for street motorcycles like cruisers.
Lightweight polycarbonate/ABS shell construction with removable/Washable interior, padded wind collar drastically reduces wind and road noise
Wicks moisture and wears like the technical fabric it is.
Outstanding Materials: Aerodynamic ABS Shell, Multi-Density EPS, Reinforced Chin Strap, Quick Release Buckle Sun Visor System: Easy-use switch for quick change of sun visor.
Tool-Free to remove and install clear visor. Ventilation System: Fully adjustable intake and exhaust vents to create a constant, light flow of air helping to keep the rider cool and comfortable.
Comfortable Liner and Pads: Fully removeable and washable liner and pads. Extra space for Glasses.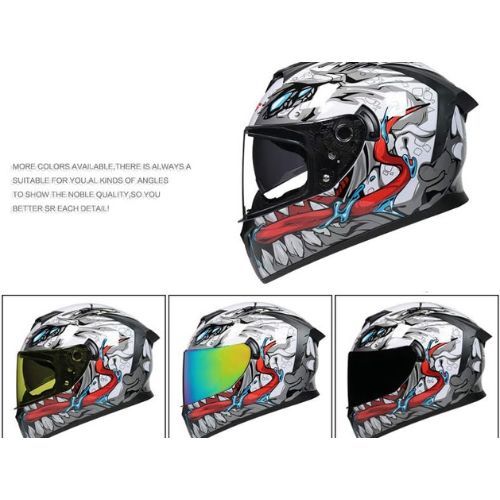 ---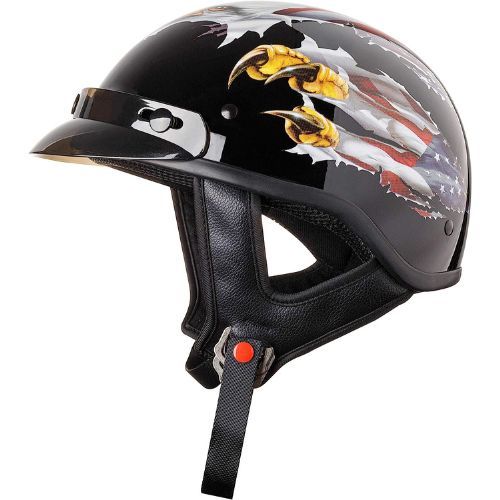 Cartman Cruiser Motorcycle Half Face Helmet
BUY ON AMAZON
Meets or Exceeds US Federal Motor Vehicle Safety Standard, DOT FMVSS No. 218 Certified.
Lightweight ABS shell with a thick, high density and fully vented EPS liner, brings you a better protection as well as comfortable wearing.
Quick release buckle allows motorists to quickly take helmet on and off, and also makes it easy to adjust the tightness of the helmet even with gloves.
Special graphic and classic look always attract attentions on the road.
Ideal for motorcycle riding, cycling and other outdoor sports.
Cartman Cruiser Half Helmet offers a combination of style, safety and comfortable off road experience. This skid lid is created with a top quality ABS thermoplastic resin shell that meets DOT standards.
Intelligent Density Layering core absorbs the force of impact instead of transferring it to the rider. And a combination of lightweight materials dissipates heat while protecting the rider.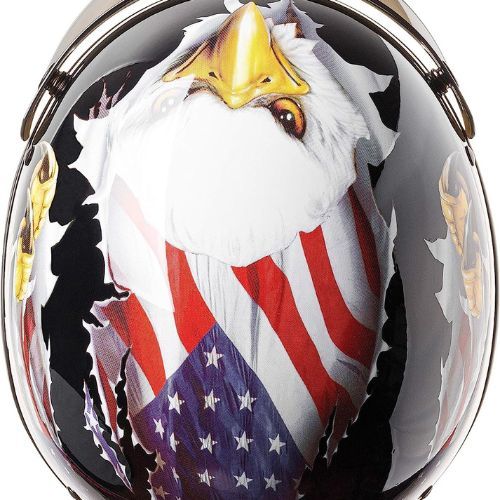 ---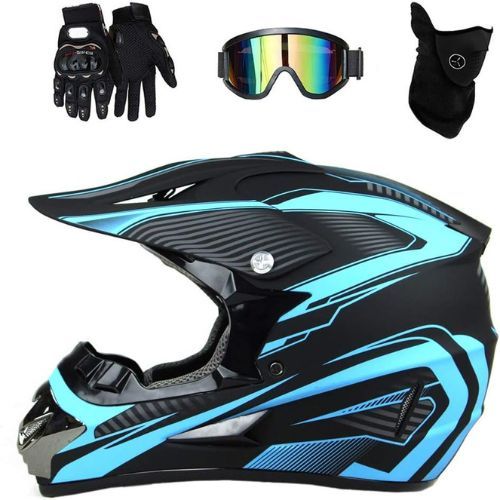 TRIPERSON DOT AVT Off-Road Motorcycle Helmets
BUY ON AMAZON
Lightweight advanced ABS shell,Lightweight, durable thermoplastic shell
Air intake and exhaust scoops for controlled air flow,Removable sun visor
DOT safety standard, DOT emblem is on the back of helmet and the certificate can be provided if you need
Removable and washable padding, new style design will make you look so cool and fashionable
Professional Grade Motorcycle Helmet: Meets or exceeds DOT FMVSS 218 standard. Exciting fashionable design with lots of advanced features. Exactly what you need for Street Bike, ATV, Dirt Bike, BMX and much more. For both boys and girls.
Outstanding Materials: Aerodynamic ABS Shell, Multi-Density EPS, Reinforced Chin Strap, Double D-Ring Buckle
Ventilation System: Fully adjustable intake and exhaust vents to create a constant, light flow of air helping to keep the rider cool and comfortable.
Comfortable Liner and Pads: Fully removeable and washable liner and pads to keep helmet clean, fresh.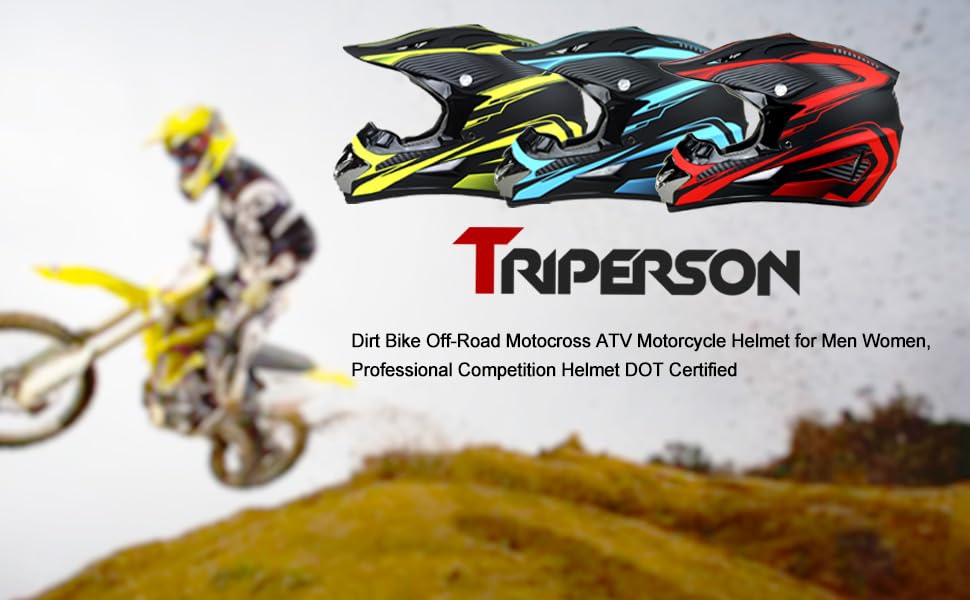 ---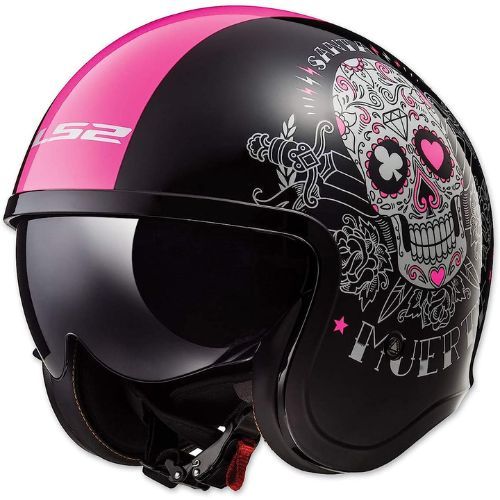 LS2 Motorcycle Helmets for Women Open Face Spitfire
BUY ON AMAZON
Moisture-Wicking
Built-in two-position sun shield
Full removable and washable hypoallergenic padding is 3D laser cut for comfort
Secure full metal latch and DOT approved quick-release chin strap is easy to open with a gloved hand
DOT approved. Meets the FMVSS 218 Standard
---
Most FAQs about Motorcycle Helmets:
What is the Most Important Feature to Consider When Buying a Motorcycle Helmet?
There are several features to consider when buying a motorcycle helmet, however the most important is safety. A good quality helmet should be certified by either the Department of Transportation (DOT) or Snell Memorial Foundation (Snell).
The certification ensures that it meets certain criteria for impact resistance and other safety requirements set by those organizations, providing assurance that you won't suffer serious head injuries if you're in an accident.
Another important consideration is fit. Helmets come in various sizes and shapes and it's essential to find one that fits your head properly - otherwise it can shift during an impact, decreasing its effectiveness.
Buyers should also check how comfortable the helmet feels on their heads; look for helmets with a soft lining which help absorb shocks during impacts while providing comfort while wearing them over prolonged periods of time.
In addition to these two key aspects, buyers should make sure they purchase a helmet with adequate air flow; this is especially important for warm climates as inadequate ventilation can make wearing them uncomfortable due to excess heat build up from long rides.
A quick test would involve pressing down gently on both sides of the chin bar - if there's no movement then hopefully the vents are sealed firmly enough to keep out airflow!
Finally, don't forget about visibility - riders should try out different visors or face shields before settling on one so they have maximum visibility even at night when weather conditions may get worse without warning!
How to Measure my Head Before Buying a Motorcycle Helmet?
Measuring your head properly when buying a motorcycle helmet is an important part of choosing the right protective gear. A proper-fitting helmet can help protect you from serious injury in the event of an accident. To get the best fit, here are some steps to follow:
Use a cloth measuring tape and measure around your head one inch above your eyebrows and ears. Make sure the tape fits snugly around your head but is not too tight; write down this measurement in centimeters or inches for reference when selecting a size range.
Measure again at the widest point of your skull; typically, it's located just above one's neckline in the back of their head where their skull begins to narrow towards its base - remember to hold that same shape fixed!
Again, note down this measurement for reference against available sizes on helmets you're considering buying online or trying on at retail stores/dealerships near you.
If possible, try on several types and models from different brands before making a final decision as some may fit differently than others due to internal padding configurations & manufacturing materials (sometimes even sizes!).
Ensure that whichever model offers optimal protection should be accompanied by comfort & stability - the cheek pads should be flush against both cheeks without being constricted too much yet still providing adequate retention so that it stays secure during movement/vibration while riding motorcycles/scooters etcetera...;
if it shifts more than 3-5 cm when shaking one's head then it might indicate a poor fit which may warrant reevaluation or exchange with another size accordingly to optimize safety standards!
Finally, please keep in mind various certifications specific manufacturers require (DOT approved specifically here in US) as well as any regional laws governing particular types so that desired results can be achieved responsibly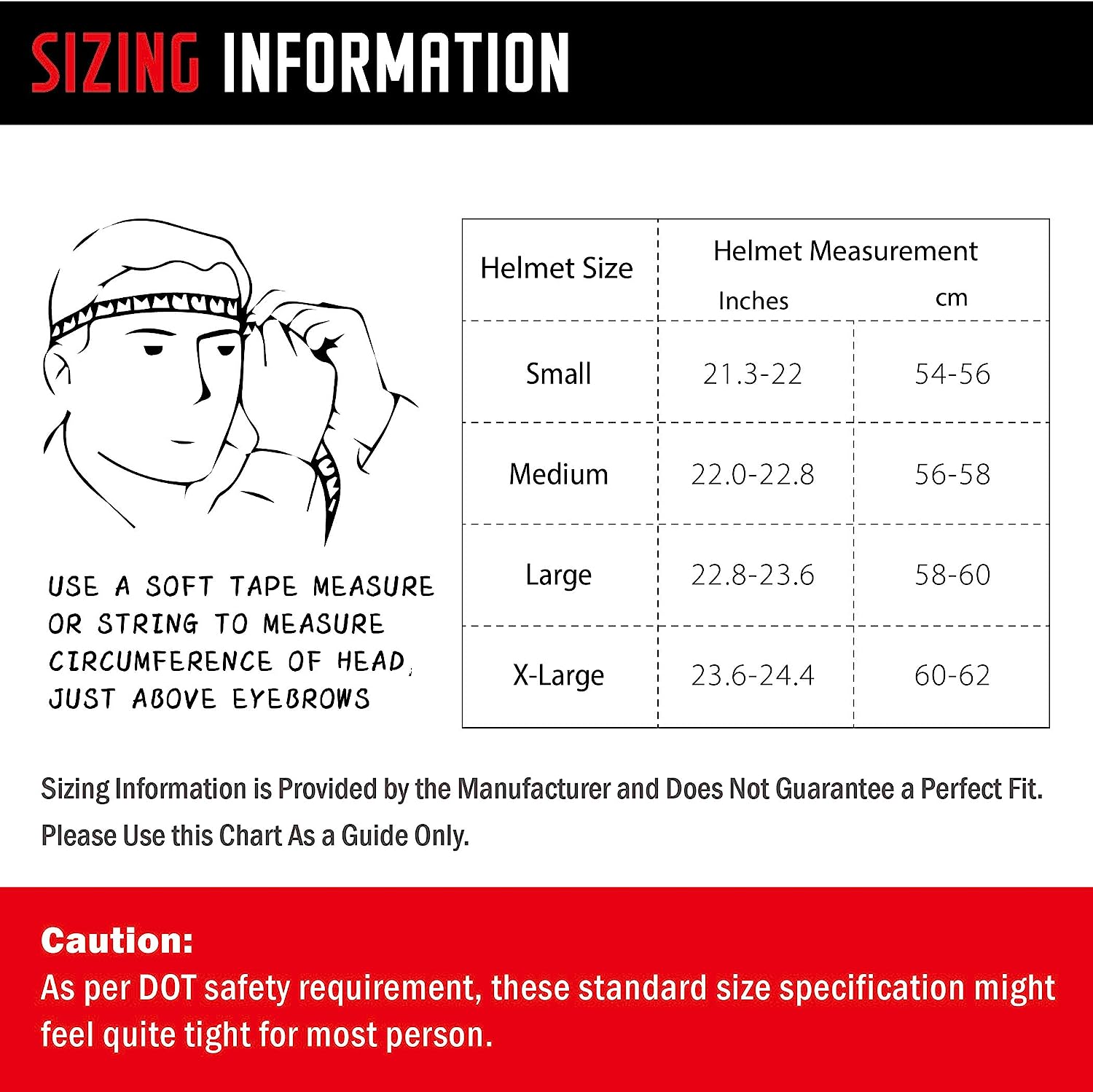 What is Bluetooth Motorcycle Helmet?
A Bluetooth Motorcycle Helmet is a modern piece of riding equipment that integrates both safety and convenience. This helmet provides riders with the ability to communicate with other riders in their vicinity as well as listen to music without wires or cords getting in the way.
In addition, a Bluetooth Motorcycle Helmet offers increased safety features such as built-in speakers and microphones for communicating with each other without taking your hands off the handlebars, access to GPS systems for easy navigation, phone connectivity for receiving calls on the go, plus a variety of intercom capabilities.
These helmets provide riders with more freedom than ever before while maintaining an impressive level of protection from impacts and debris. Ultimately, they're designed to make long rides more comfortable while staying connected with others when traveling farther distances.
How Much Should I Pay for A Good Quality Motorcycle Helmet?
Deciding how much you should pay for a good motorcycle helmet is a critical decision that ultimately boils down to personal preference and budget. When shopping around for the perfect helmet, consider things like weight, ventilation, fitment and construction in order to find something that fits your needs.
The most important factor when choosing a motorcycle helmet is safety. A good quality helmet should be approved by either the Department of Transportation (DOT) or Snell Memorial Foundation (Snell). This means it has gone through rigorous testing to be able to protect you from head injuries during an accident or crash.
Generally speaking, helmets that meet higher standards tend to cost more than basic ones due to additional features such as advanced materials used in its construction and design. So if safety is your top priority then it's worth investing in one that meets higher standards of protection.
In terms of price range, generally speaking motorcycle helmets begin at low entry-level prices of $50-$100 and can go up into hundreds or even thousands depending on what kind of features they have like Bluetooth system integration with fancy graphics etc..
However most riders who are looking for basic protection usually opt for mid-range models which typically cost between $150-$300 offering both style & comfort along with adequate protection against common hazards like wind, dust and debris while riding their motorcycles.
What is the Safest Motorcycle Helmet Shape?
A motorcycle helmet's shape plays a big role in its effectiveness at protecting the rider. The most important factor is that a helmet fits snugly and securely on top of the head.
Generally, there are two main shapes when it comes to motorcycle helmets: full-face and open-face.
Full-face helmets provide the most protection by covering more of the head and face, while still allowing riders to breathe without obstruction. They typically come with built-in visors which add extra shielding from sun, wind and debris, but may also limit your vision depending on how well they fit.
Open-face helmets don't protect as much of your face as full-face styles do, but have plenty of ventilation for air circulation and feature convenient chin bars for easy access when speaking or eating food.
Although all motorcycles helmets should meet safety standards (Snell M2015 or Snell 2020 for example), tests have shown that full-faced models tend to be one of the safest shaped helmets available because they offer coverage to both sides of your head which helps reduce injury from side impacts during an accident or collision;
unlike open faced models which leave you more exposed - particularly around cheekbone area where protective facial padding tends not to be as thick in comparison.
No matter what helmet shape you choose, make sure it fits properly so that you get optimal safety benefits out of it!
---
Conclusion
There are many different types of motorcycle helmets out there with varying levels of ratings and features, so it is important to take all factors into consideration before making a purchase decision.
Hopefully this guide has given you some insight into what makes up a great motorcycle helmet so that you can make an informed decision and find one that meets all of your needs!
Remember, safety comes first - so make sure that whatever type of riding style or environment you're planning on doing, having a quality motorcycle helmet with adequate safety ratings should always be at the top of list!
Happy Riding!
Check Out Our Relevant Reads>>>