Underwater scooters are specialized tools designed to provide underwater propulsion. They typically consist of a battery-powered electric motor linked to a propeller, allowing divers to effortlessly explore challenging underwater environments.
Underwater scooters are becoming increasingly popular among recreational and professional divers alike due to their convenience, ease of use, and power efficiency; modern watercraft can be up to four times as powerful as standard swimming with fins! In addition, these devices often come equipped with LED lights for illuminating the depths below.
Moreover, underwater scooters have countless practical applications in both commercial diving operations and scientific research projects that involve deep dives into uncharted waters.
From assisting in collecting specimens or retrieving lost objects from the ocean floor to mapping terrain in greater detail than ever before – the use cases for these types of devices are truly limitless!
With advancements in technology leading the way forward, we are seeing new underwater gadgets entering the market each year offering an even more immersive experience while exploring our oceans' secrets.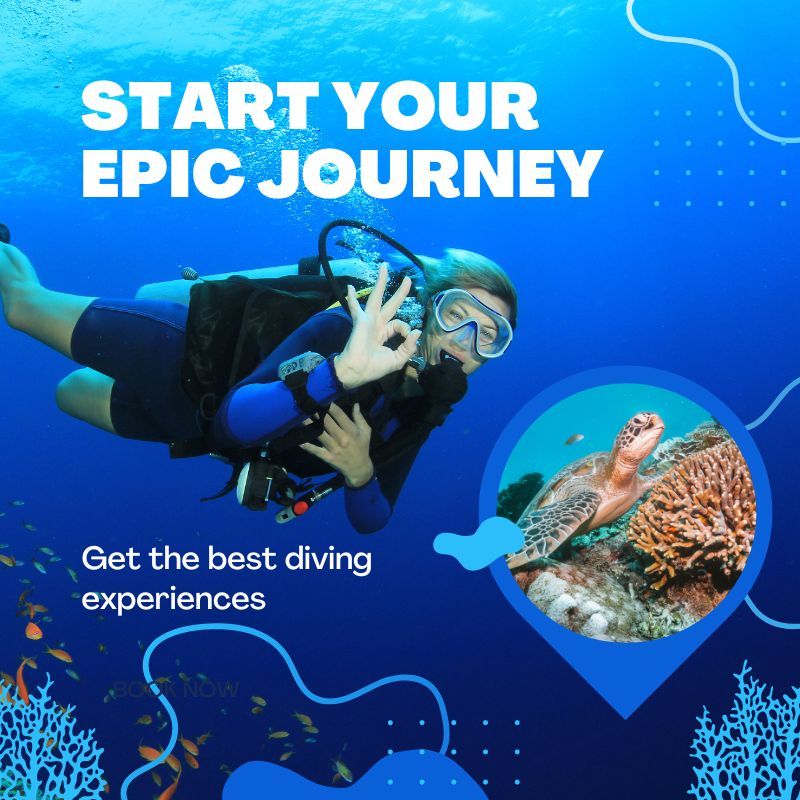 The Benefits of Underwater Scooters
Underwater scooters offer many advantages over traditional fins when it comes to exploring the underwater world. For starters, these devices are up to four times more powerful than standard swimming with fins, allowing you to cover more ground in less time.
In addition, most modern watercraft come equipped with LED lights for illuminating the depths below. This allows you to see further into the darkness without having to use a flashlight or other light sources.
Another benefit of using an underwater scooter is that it can reduce fatigue caused by extended periods of swimming. The device can do much of the work for you, allowing you to focus on enjoying your dive rather than expending energy unnecessarily.
Finally, these devices often come with a variety of accessories such as cameras, compasses, and even depth gauges—allowing you to customize your diving experience!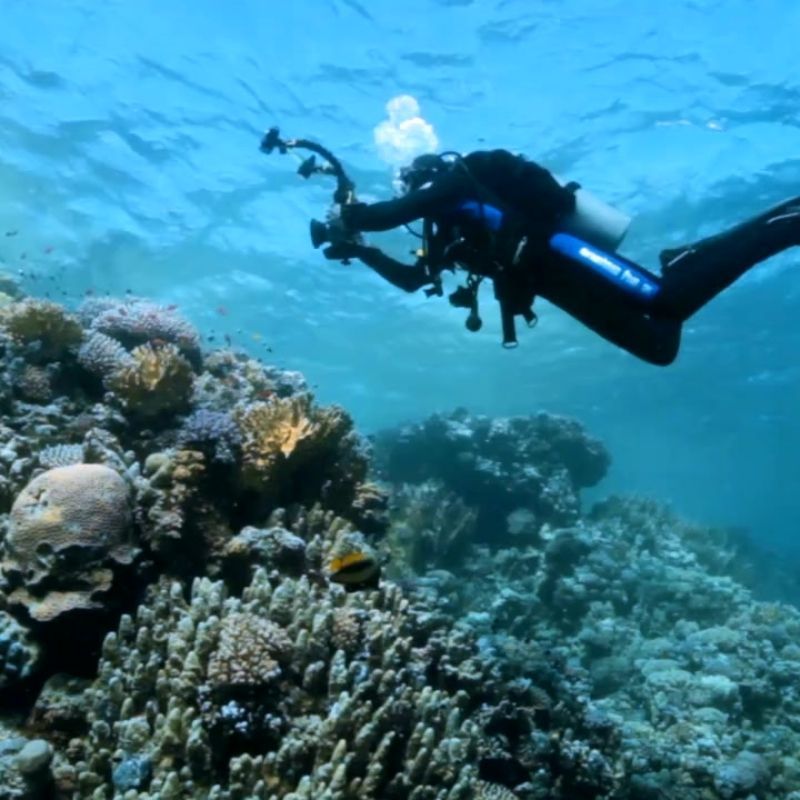 Safety Considerations when Using Underwater Scooters
When using an underwater scooter, there are some safety considerations that should be taken into account. First and foremost is avoiding contact with coral or other sea life while gliding along the ocean floor.
It's also important not to exceed maximum speed limits; although some watercraft are capable of reaching speeds in excess of 5 knots (approximately 9 km/h), it's best practice not to travel any faster than 3 knots (5 km/h). Additionally, be sure not to venture too far away from shore; if something were to happen out at sea, help could be far off!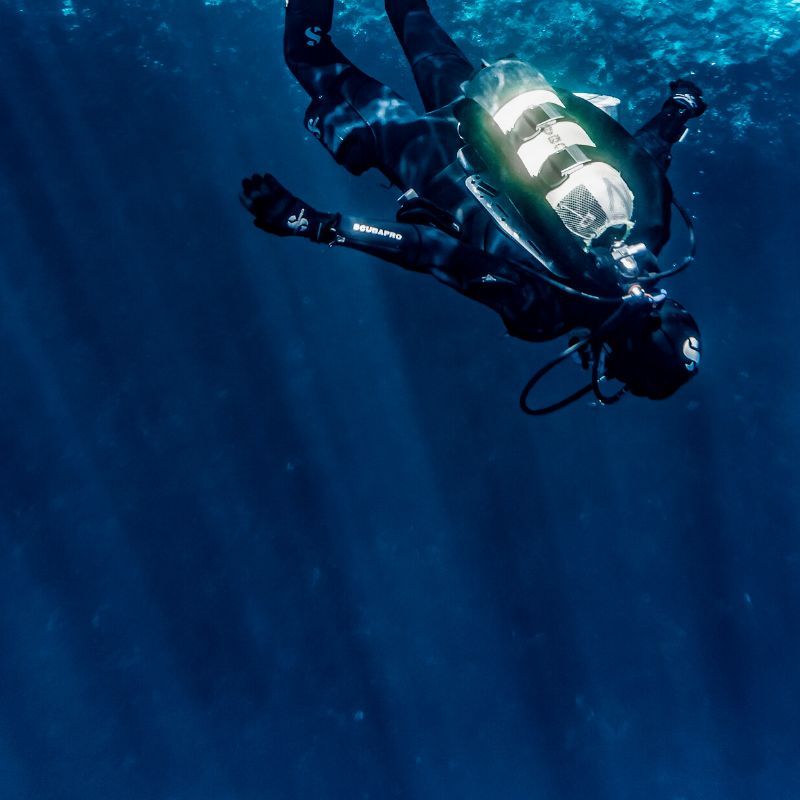 Durability & Longevity
Most underwater scooters are designed to last for several years even when used regularly in tough conditions. They are also built to withstand high pressures and extreme temperatures.
This makes them perfect for anyone who enjoys diving frequently! The device should be regularly checked for any signs of wear and tear, and it is recommended that it be serviced every year or two by a qualified technician to ensure its longevity.
---
Check Out Our Selection of the Best Underwater Scooters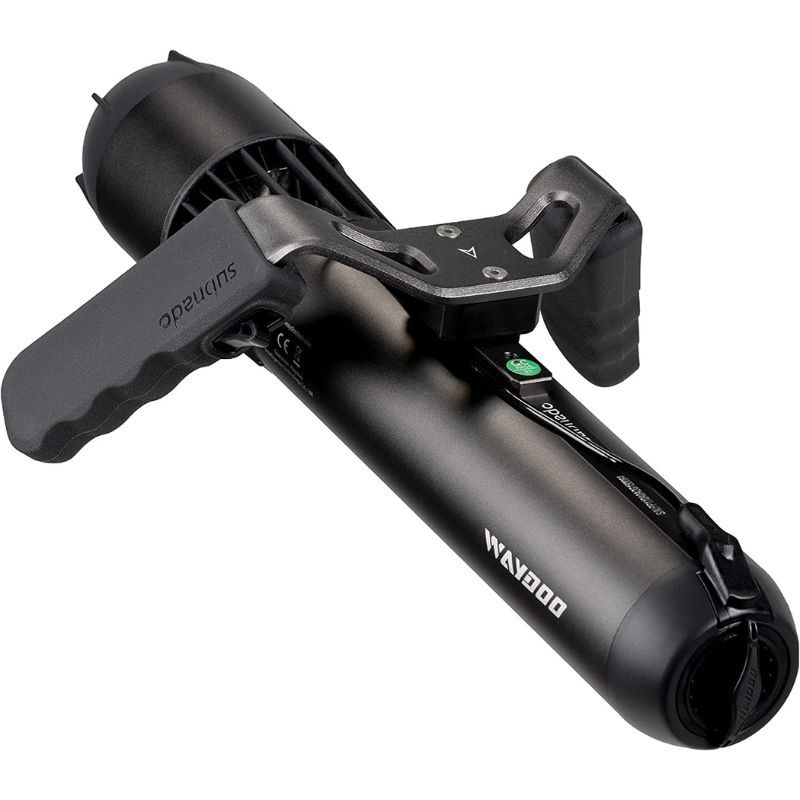 Subnado Underwater Scooter
CHECK PRICE ON AMAZON
Why Should You Choose This Underwater Scooter>>>
Subnado Underwater Scooter is the perfect combination of portability and performance that enables users to experience maximum freedom in their hands. With a unique and intuitive finger-ring controller, controlling the Subnado has never been easier – you only need one finger to do it!
For those who prefer to travel light, don't worry – the wide range of accessories and quick-release design allows you to attach the Subnado anywhere you like. Whether it's on your arms or legs, or even a gas cylinder, with just a simple click you can lock into gear with its cruising mode.
Get ready for an exhilarating journey as you explore every corner of the ocean like never before! Its portable design without sacrificing performance will have any water sports lover get hooked instantly. Subnado Underwater Scooter is ready for adventure away from your imagination!
---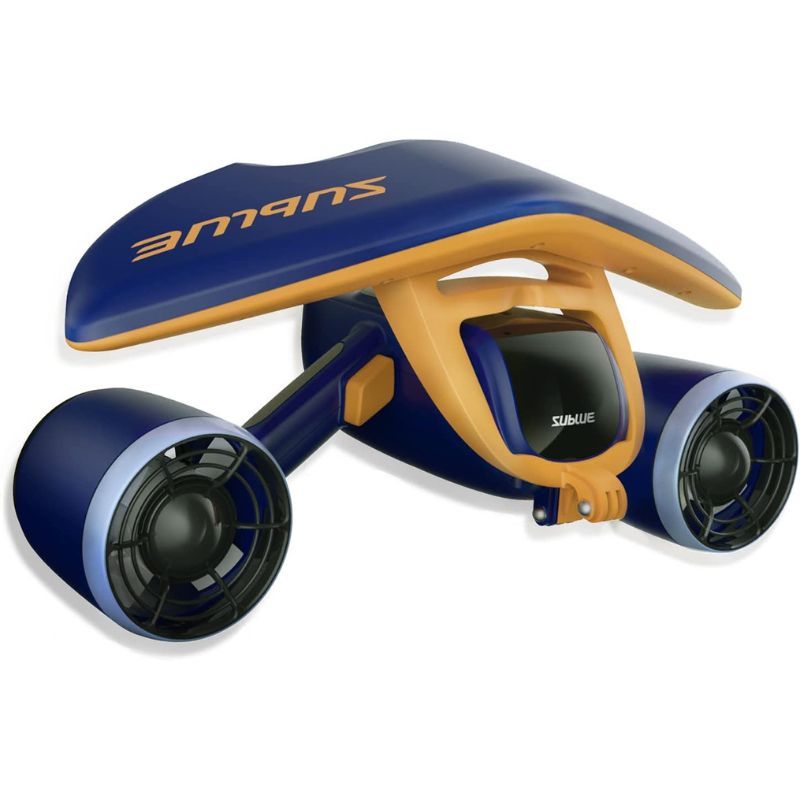 Underwater Scooter White Shark Dual Motors
CHECK PRICE ON AMAZON
Best Underwater Scooter with Dual Motors and Camera
The Underwater Scooter White Shark Dual Motors Mix Action Camera is one of the most advanced underwater scooters on the market. Its small and lightweight design makes it easy to use and transport, ideal for both experienced aquatic adventurers and novice explorers alike.
With two powerful motors and a large energy output, take your explorations to the next level! This cutting-edge scooter also features a floater that ensures zero buoyancy when submerged, allowing you to effortlessly move through the water. Plus, its propellers are designed with a safe protective net to prevent fingers from accidental injury while in motion. Perfect for days spent at the pool or ocean, this underwater scooter will bring your exciting underwater journeys and memories to life!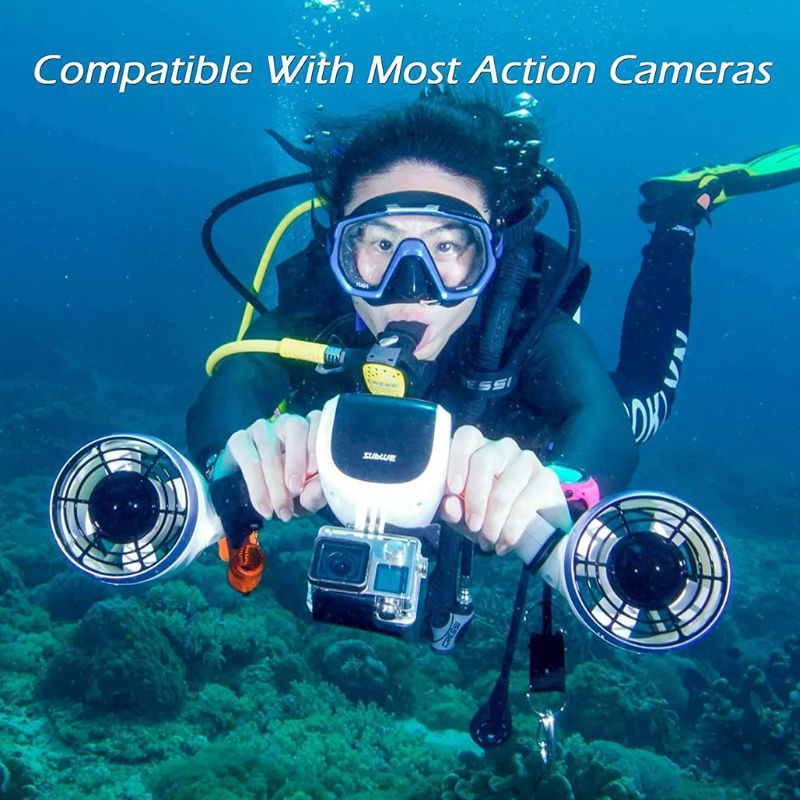 ---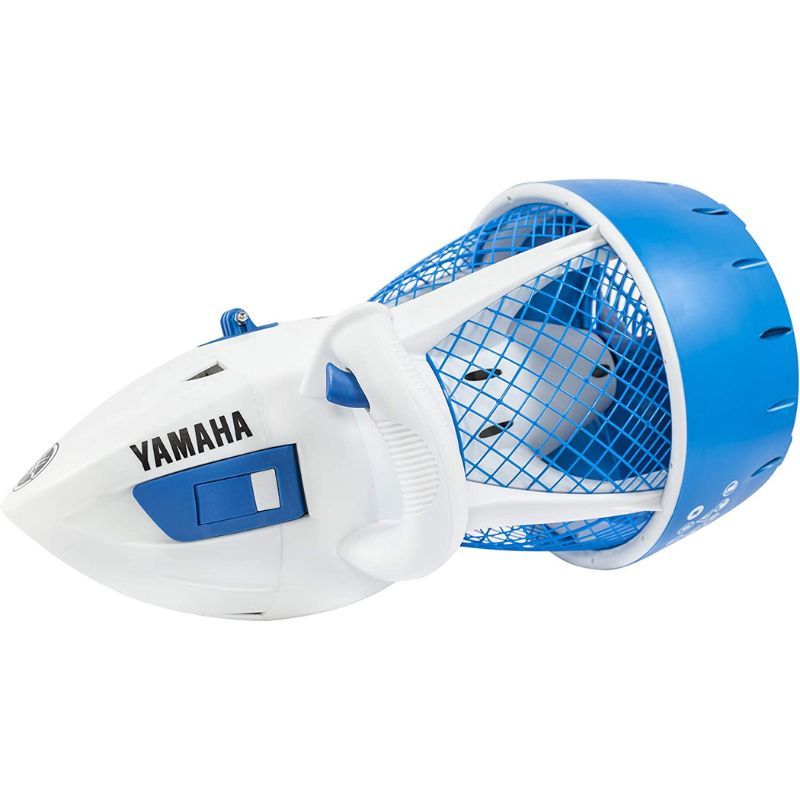 Yamaha Underwater Scooter Recreational Series
CHECK PRICE ON AMAZON
Best Recreational Underwater Scooter
Introducing Yamaha's entry-level Recreational Series Underwater Sea Scooter. With its easy-to-use design and 2.5 mph cruising speed, you can explore underwater like never before. Whether it's snorkeling, chasing fish or just out for a leisurely dive, the Yamaha Seascooter is the perfect addition to your underwater experience.
The depth rating of 30ft (10m) makes this scooter perfect for shallow dives, giving you ample time to discover all marine life within reach at a safe distance. The sea scooter is also equipped with a GoPro camera mount system so you can capture every moment underwater.
Equipped with several safety features such as an auto shut off mechanism which kicks in once the battery has discharged to 75%, ensuring maximum user safety and reliability. It is made frhigh-qualityity material that are not only durable but also anti corrosive and antibacterial so it won't get damaged by salt water immersion over long periods of time.
A must-have if you want to uncover all the mysteries and delights beneath the depths of the ocean! The Yamaha Seascooter is designed for saltwater use; however, it will have less buoyancy in fresh water and may slowly sink if used in freshwater bodies.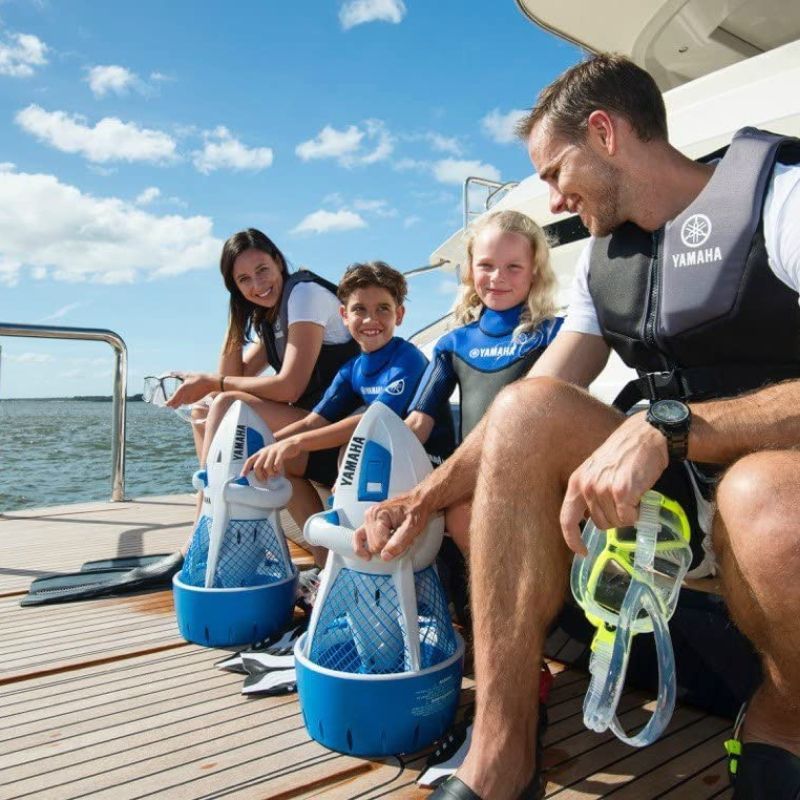 ---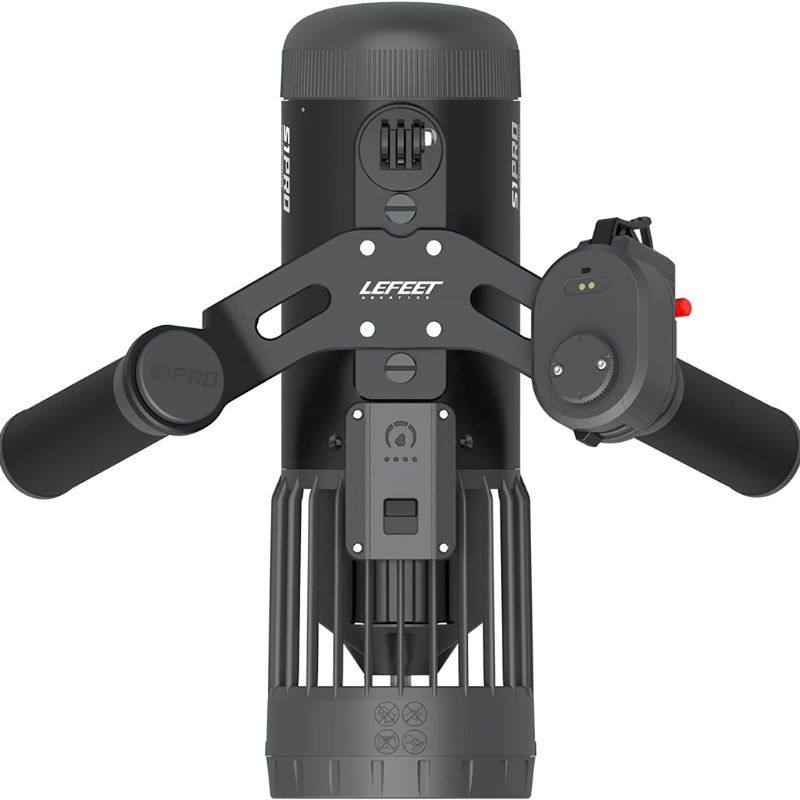 Lefeet Underwater Scooter
CHECK PRICE ON AMAZON
Best Underwater Scooter for Its Speed
The Lefeet Underwater Scooter is the ultimate deep sea adventure accessory that every diving enthusiast is sure to love. This versatile scooter not only provides a truly immersive experience, but it is also designed with modularity and portability in mind.
Its compact size allows for easy storage and transportation, making it ideal for long trips where you need to take your dive gear with you. Plus, its wireless control system and numerous speed settings let you customize your dive to suit any type of diving environment. All of this and more make the Lefeet Underwater Scooter the perfect companion for divers on the go!
The Lefeet  Underwater Scooter has an array of comprehensive features to make your adventure even better. The modular design makes it simple to set up and transport safely without worrying about complicated assembly or bulkiness. Furthermore, its light weight ensures that it complies with airline policies so you can take it nearly anywhere without hassle. With these benefits plus its multiple speed settings, it is no secret why the Lefeet Underwater Scooter is a must-have item for every dedicated diver out there!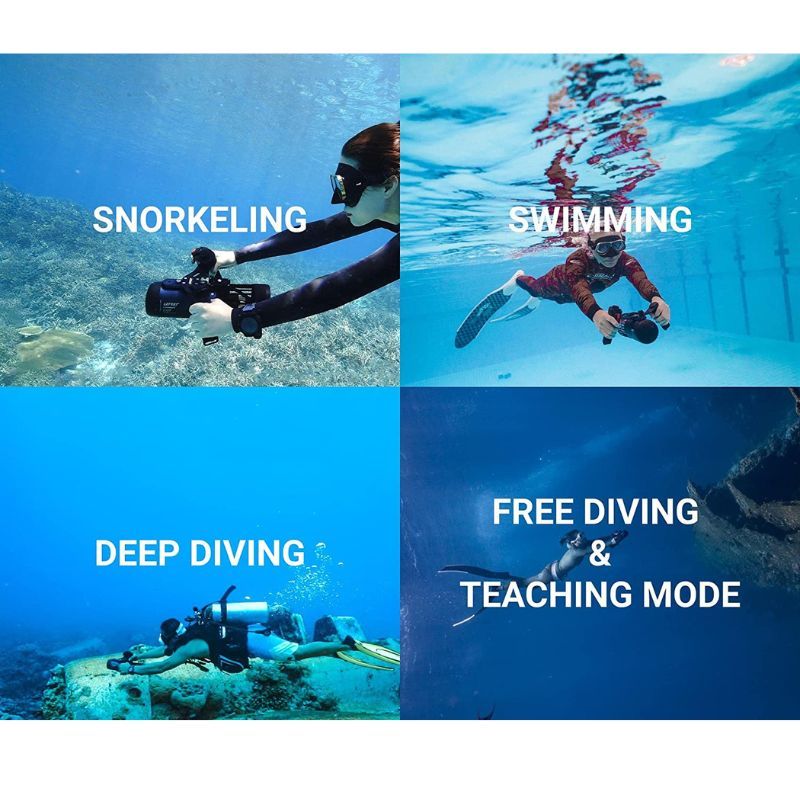 ---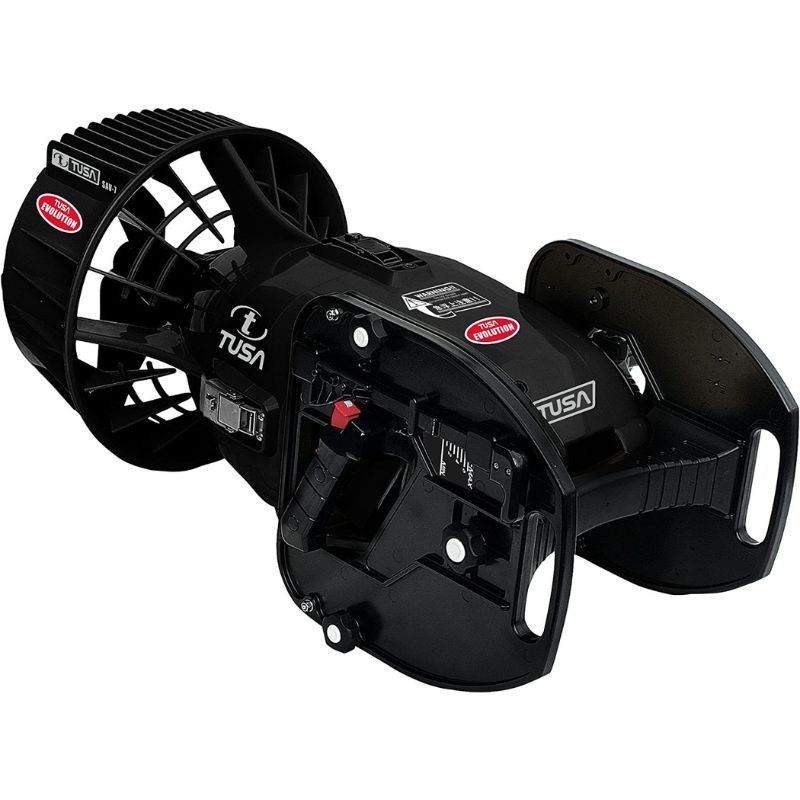 TUSA SAV-7 EVO 2 Underwater Dive Propulsion Scooter
CHECK PRICE ON AMAZON
Best Underwater Scooter for Professional Scuba Divers
Introducing the underwater dive propulsion scooter Tusa Sav-7 Evo is your perfect companion for diving deep! This scooter puts a practical spin on your underwater adventures, allowing you to stay longer and explore further with its high performance, rechargeable lithium-ion battery that offers up to two hours of runtime.
Saving air consumption is easy with its hands-free riding saddle that keeps both hands available to check gauges, prepping equipment, and more. Plus, the lightweight design accompanied by a quick and smooth-responding variable speed control provides an effortless and fluid ride when exploring through the depths. So go forth and make even greater discoveries with the Tusa underwater scooter today!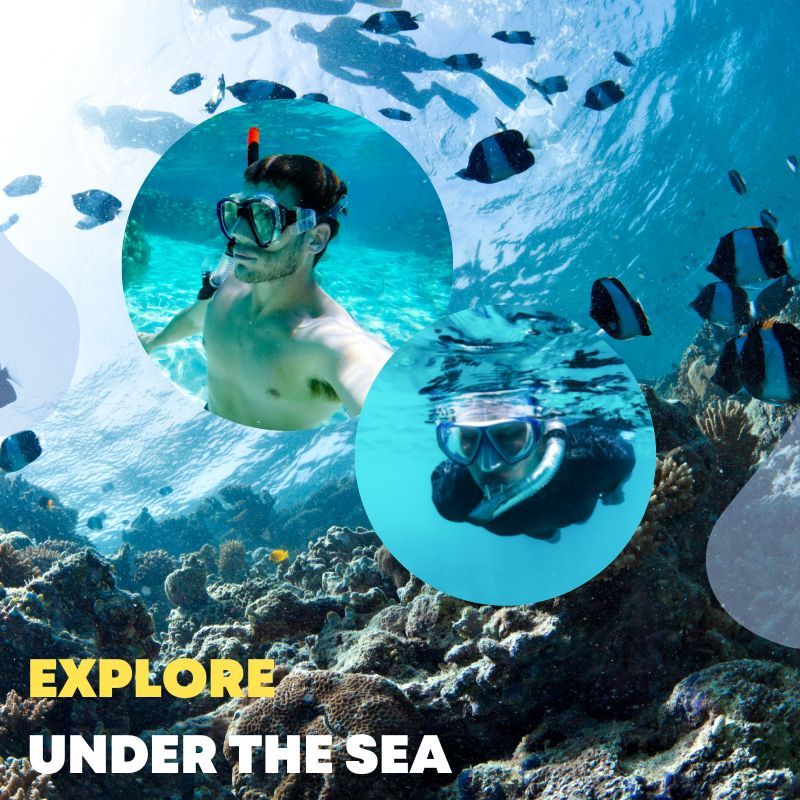 ---
Conclusion
Underwater scooters are becoming increasingly popular among recreational and professional divers alike due to their convenience, ease of use, power efficiency, safety features, durability and longevity! With an underwater scooter at your disposal, you'll have no trouble diving into the depths of the unknown—allowing you to explore like never before!
Happy Scuba Diving with Your Underwater Scooter!
Check Out Our Relevant Reads>>>