Embarking on a road trip is an exciting and adventurous way to explore the world around us. It gives us the opportunity to travel to new destinations, meet people from different walks of life, and create unforgettable memories along the way. However, road trips can also be unpredictable, and unexpected situations can arise at any point on our journey. That is why it is crucial to know how to stay safe and be prepared in case of any emergency.
What You Should Know Before Going on a Road Trip
Safety is the most crucial concern when it comes to road trips. You never know what might happen, and being prepared can make all the difference in ensuring everyone's safety. It is imperative to have a first aid kit, a spare tire, and other essential supplies that might come in handy in an emergency.
Also, make sure to check your car's fluids, brakes, and tires before you depart to reduce the likelihood of encountering a problem during the trip. A well-maintained vehicle is one way to guarantee your safety on the road.
Besides, being prepared can also help you save money on unexpected expenses. For example, carrying a spare tire can prevent the need for a costly tow truck or repair service. Therefore, it's crucial to have a detailed plan in place, including a budget and an itinerary. This will ensure that you're not caught in an expensive situation during your journey.
Having the necessary supplies and equipment can make your road trip more convenient. For example, carrying a GPS system or a map can help you navigate unfamiliar terrain while having snacks and drinks on hand can save you time and money from stopping at a convenience store. It also ensures that everyone riding with you has access to what they need and reduces the chances of making frequent stops.
Most importantly, being prepared can provide peace of mind. Knowing that you have everything you need to handle any situation that arises can immensely reduce stress and anxiety, making your trip more enjoyable. You'll be able to relax and appreciate the sights, sounds, and smells of your journey more.
Lastly, regardless of where or how long you intend to travel, it is essential to familiarize yourself with legal requirements, such as equipment and documentation based on the state or country, that apply to road trips. These requirements, such as a fire extinguisher, high visibility jacket, and reflective triangles, enhance safety and compliance with the law while reducing the likelihood of getting fined or detained.
15 Car Accessories You Need All Year Round
No matter what season it is, there are certain car accessories that you should always keep in your vehicle. From jumper cables to a first aid kit, these items can come in handy in all sorts of situations. Here are five car accessories that you need all year round.
1. Car Battery Jump Starter
Car Battery Jump Starter cables are one of the most essential car accessories, and yet they are often overlooked. If your battery dies, battery jump starter cables can be a lifesaver. They allow you to jumpstart your car and boost the battery. Be sure to keep a set of jumper cables in your trunk at all times so you're never caught without them.
NOCO Boost Plus GB40 1000 Amp 12-Volt UltraSafe Lithium Jump Starter Box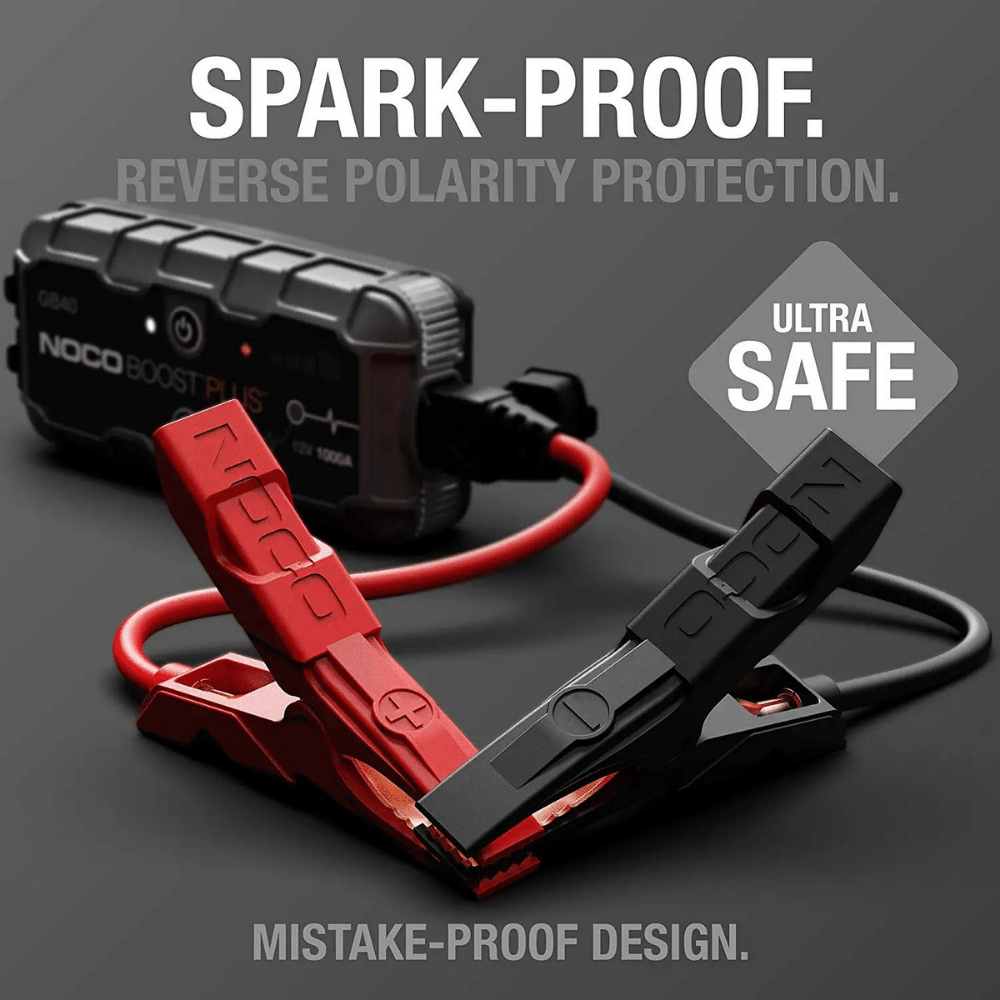 If you're looking for a reliable, powerful jump starter box, then look no further than the NOCO Boost Plus GB40 1000 Amp 12-Volt UltraSafe Lithium Jump Starter Box. This handy little device is perfect for jump starting your car's battery in a matter of seconds, and it's small enough to fit easily in your glove compartment or trunk.
---
2. Car First Aid Kit
Another essential item for your car is a first aid kit. You never know when you might need it, but it's always better to be safe than sorry. A first aid kit can come in handy for minor injuries like cuts and scrapes, as well as more serious medical emergencies. Be sure to keep your kit well-stocked and up-to-date so you're always prepared.
Car First Aid Kit, Heavy Duty Roadside Auto Emergency. This complete emergency kit is perfect for road trippers, commuters, and families, and makes an ideal travel emergency kit for women, men, adults, and teens. Keep yourself and your loved ones safe on the road with all-inclusive emergency survival kit.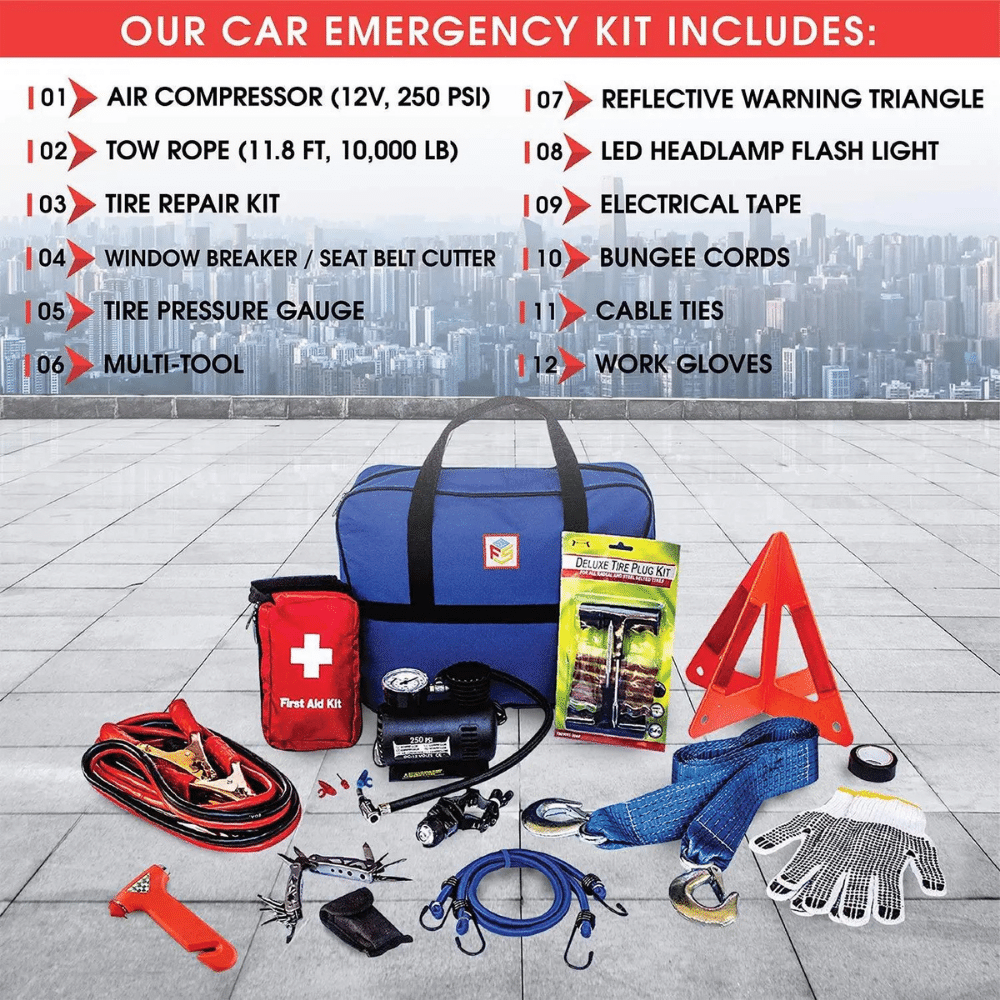 Perfect for winter weather driving emergencies, our car emergency kit includes a portable air compressor to easily inflate tires in case of a flat. The jumper cables and tow strap are perfect for getting unstuck from snow or ice.
The tire pressure gauge will help you keep tabs on your tires air pressure in both hot and cold weather conditions. This first aid kit ensures that you're prepared for any injuries or unexpected problems.
---
3. Fire Extinguisher
A fire extinguisher is another important accessory to keep in your car, especially if you live in an area with wildfires like California or Colorado. If a fire starts in your car, a fire extinguisher can help put it out before it spreads and causes serious damage. Be sure to check the expiration date on your fire extinguisher and recharge or replace it as needed.
When it comes to safety, nobody does it better than First Alert. With over 60 years of experience in protecting homes and families, First Alert is the natural choice for Fire Extinguishers for Cars. This extinguisher is durably built with a metal head designed to withstand heavy use and features a corrosion-resistant metal gauge for accurate measurement.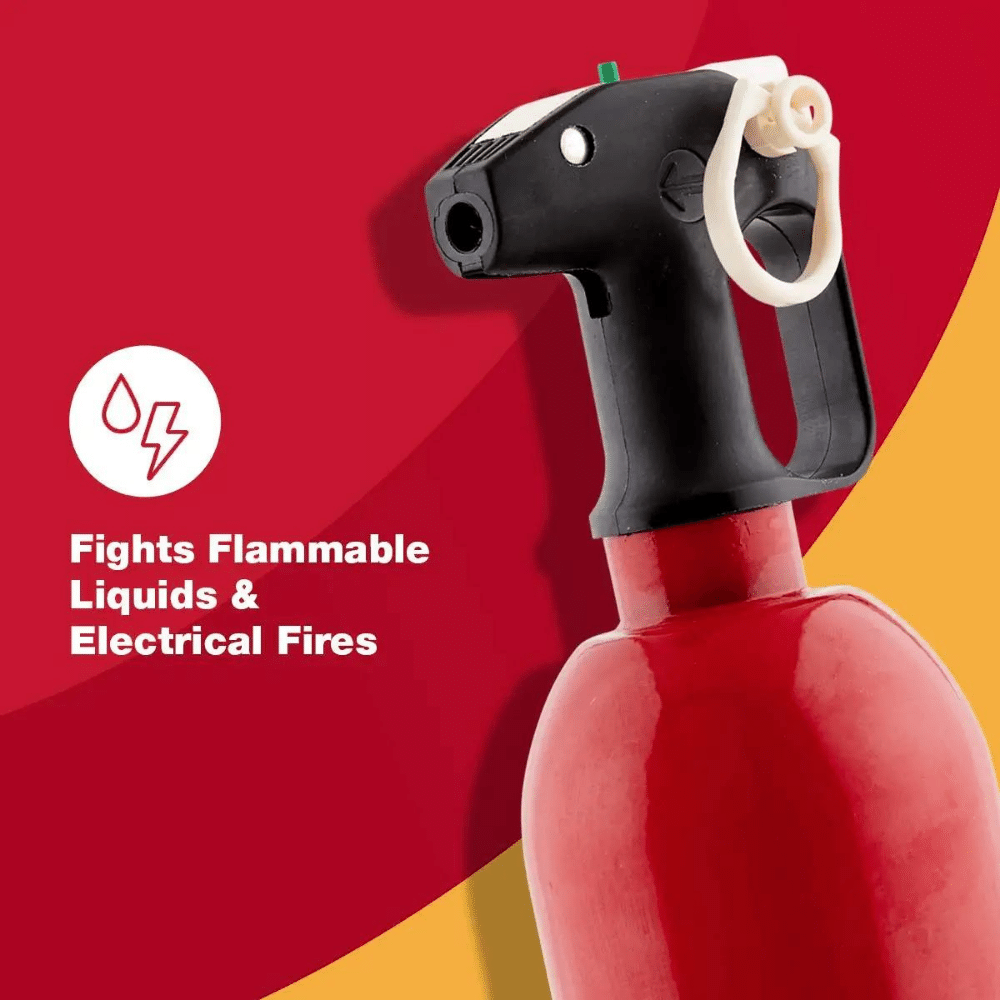 The metal pull pin has a safety seal to help prevent accidental discharge, and the secure extinguisher mount, bracket, and strap make it easy to keep this extinguisher within reach. Easy instructions with a chemical-resistant and waterproof label make it simple to use in case of an emergency. Don't take chances with your safety trust First Alert for peace of mind.
---
4. Tire Pressure Gauge
It's important to keep an eye on your tire pressure, and a tire pressure gauge is the perfect way to do that. Low tire pressure can lead to decreased fuel efficiency and dangerous blowouts. A tire pressure gauge helps you ensure that your tires are always properly inflated, keeping you safe on the road.
Keep your car's tires properly inflated with the AstroAI Air Compressor Tire Inflator. This high-quality tire inflator can pump up your car's tires with 35 L/Min, quickly and easily inflating them to the proper pressure. It is professionally calibrated to always return a reading within 1.5% of the pressure of your tire, ensuring accuracy.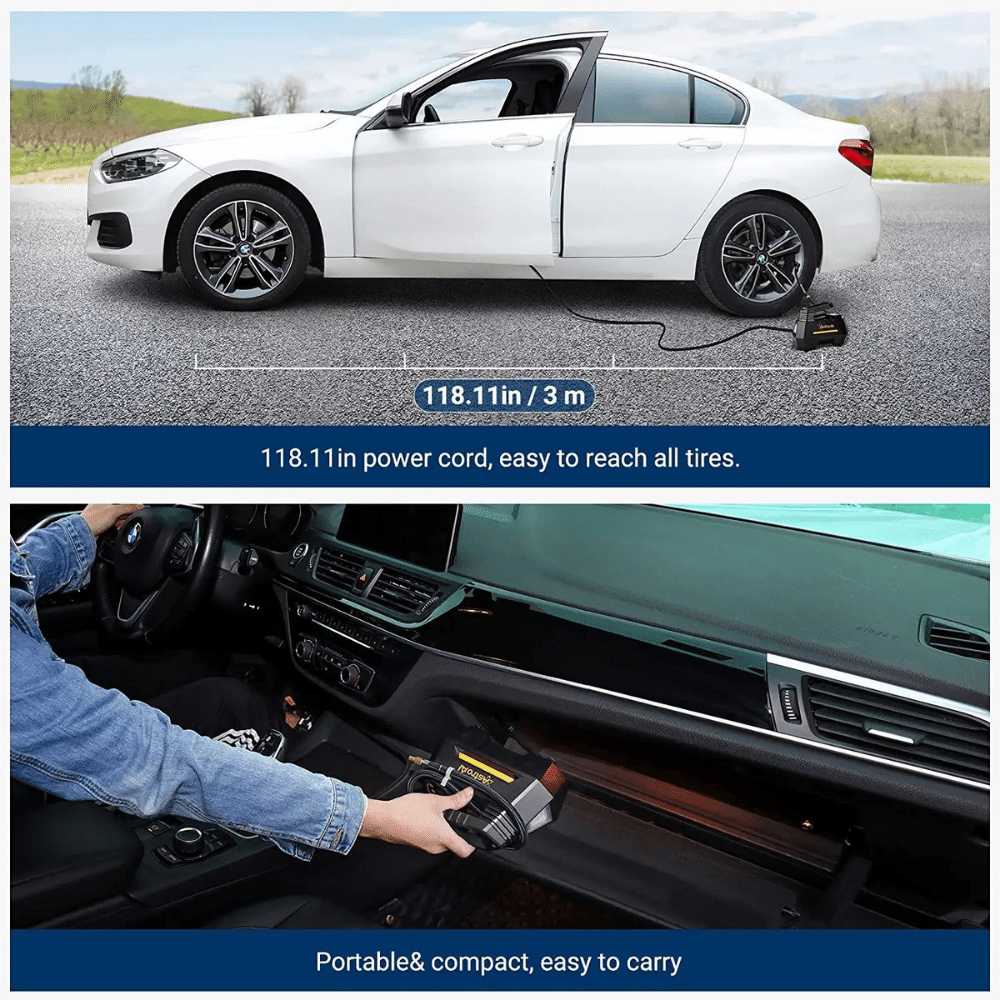 The LED light on the compressor illuminates your work area in low-light situations or in case of an emergency. With its compact design, this air compressor is easy to store in your trunk.
---
5. Deicing Sprayer
If you live in an area where snow and ice are common in the winter months, then a deicing sprayer is a must-have accessory for your car. Deicing sprayers help clear ice and snow from your windshield quickly and easily, so you can get on with your day without any delays.
When winter weather hits, don't get caught unprepared with a dangerous ice-covered windshield. Drive safely with Melt it! Windshield De-Icer.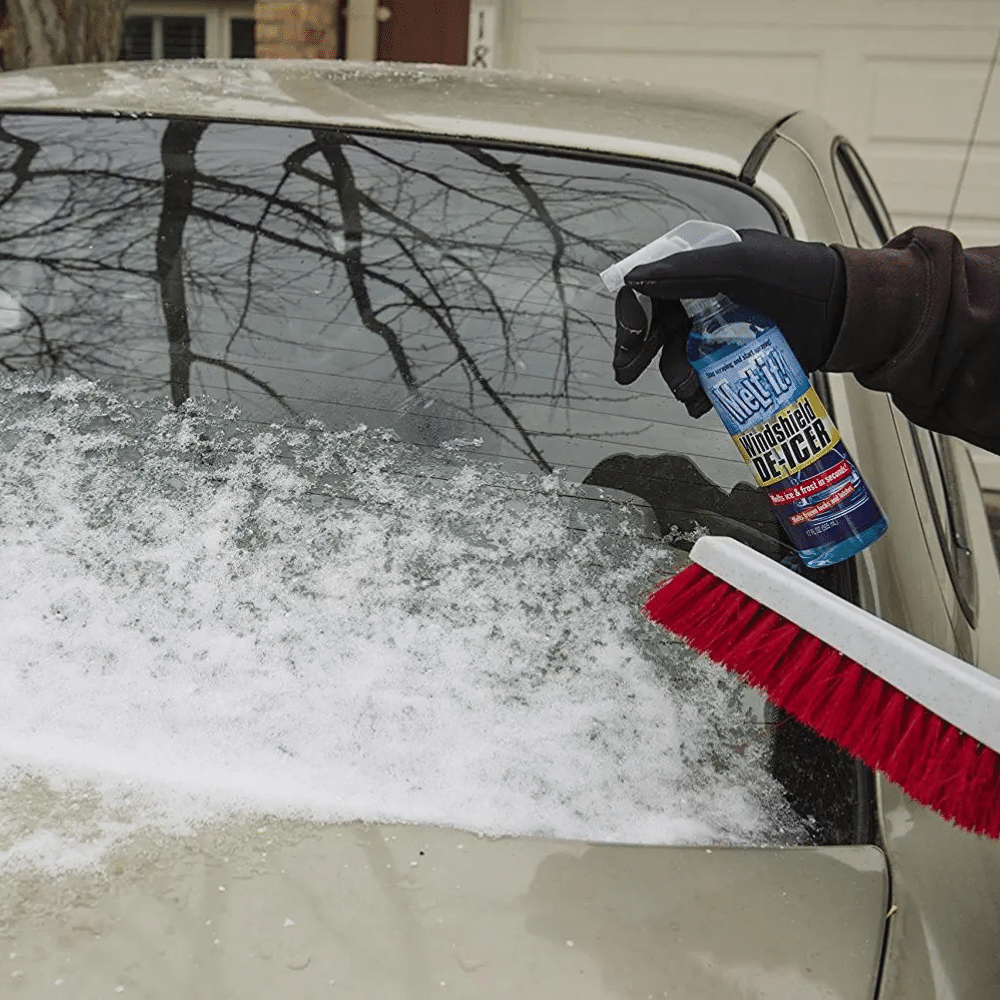 This easy-to-use spray instantly melts ice and frost in seconds, so you can quickly clear your windshield and get on your way. It's perfect for removing icy buildup from windshields, windows, mirrors, key locks, latches, and more. No scraping or chipping is required - just spray on the frozen area and wipe away the water as needed with a soft cloth. Made in the USA.
---
6. Wihdshield Wiper Blades
If you are looking for a top quality pair of wiper blades that will keep your windshield clean and streak free in all weather conditions, then you need the Rain-X Latitude 2-IN-1 Water Repellency Wiper Blades.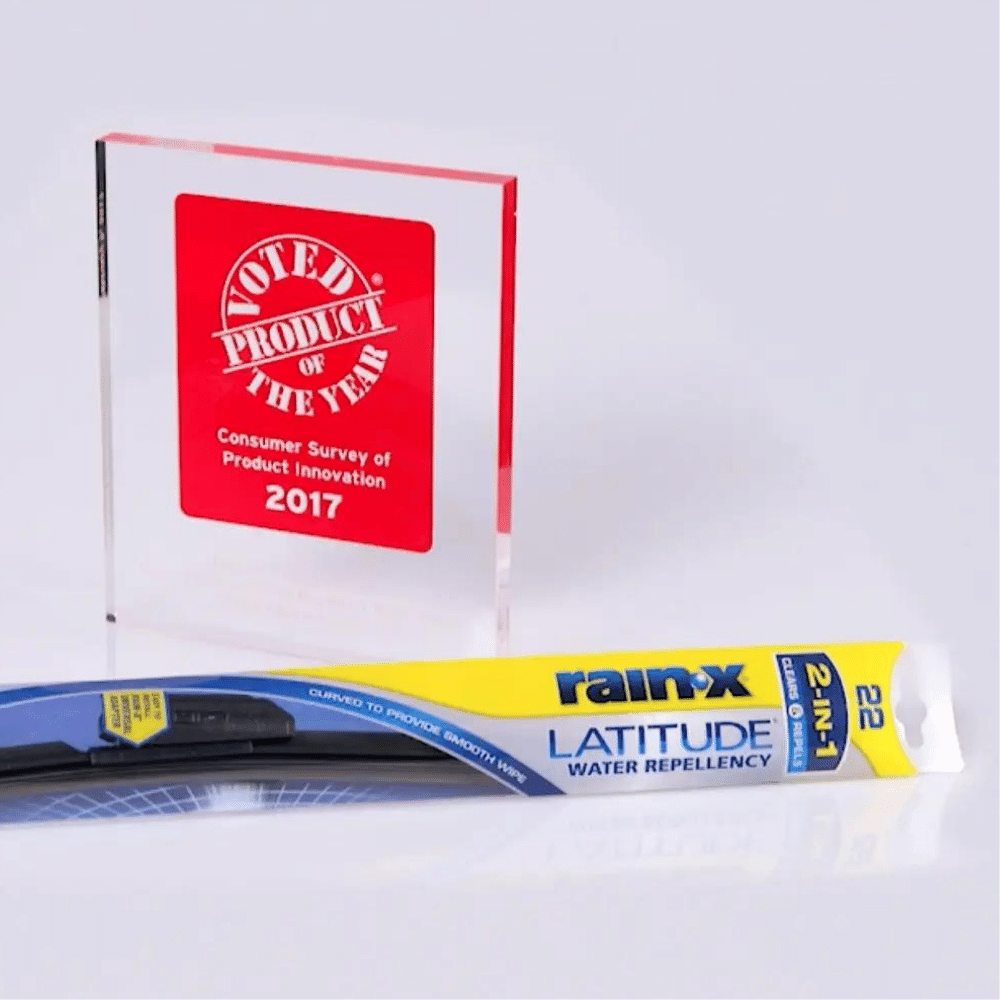 The advanced beam blade technology contours to the curvature of your windshield for a smooth, virtually streak-free wipe, and the synthetic blend rubber squeegee is designed to withstand extreme weather conditions.
The Rain-X water-repelling formula is applied to the windshield by the wiper blades and lasts for months, so you can be confident that your windshield will stay clean in even the heaviest rainstorms. The pre-installed universal adaptor makes installation quick and easy, and the wiper blades fit 96 percent of all vehicles.
---
7. Car Vacuum Cleaner
Powerful and portable car vacuum cleaner that can handle even the toughest jobs. The Worx Car Vacuum Cleaner. This small but mighty vacuum is perfect for cleaning up after a day at the beach, dealing with pet hair, or reaching those hard-to-reach spots in your car.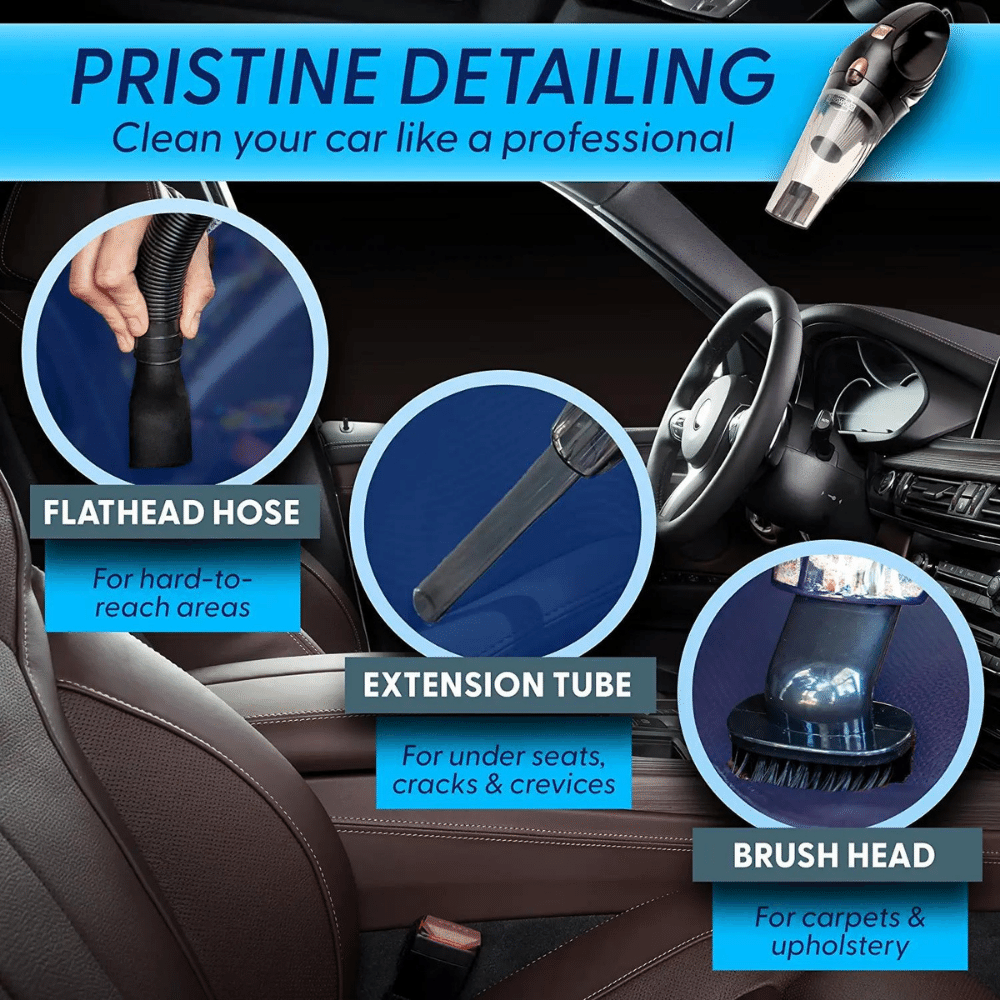 The 106w motor provides strong suction, while the HEPA filter ensures that even the smallest particles are caught. Just 2.4lbs, this compact vacuum is easy to use and easy to store. Don't let a little mess get in the way of a good time - pick up a Worx Car Vacuum Cleaner today!
---
8. Car Phone Holder Mount
This car phone holder will stay put no matter how bumpy the road gets. The Andobil Car Phone Holder Mount is made with aviation material "PTFE" and a metal vent clip for a stronger and tighter grip.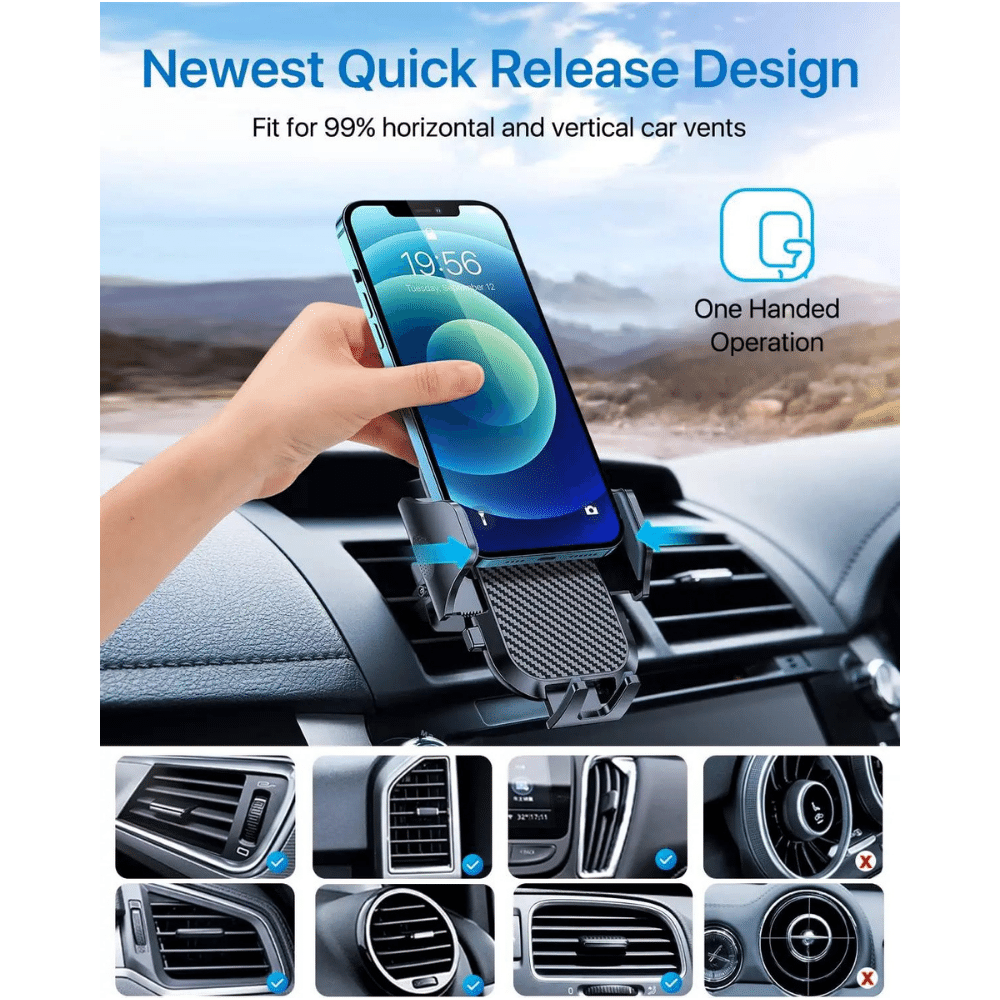 The screw-on clamp and rubber clip hook will catch one of the car air vent blades tightly, so you can rest assured your phone will stay in place, even during sharp turns or bumps. The upgraded switch button, you can operate the holder with one hand for quick mounting and removal of your phone. Drive without distractions knowing your phone is securely mounted within easy reach.
---
9. Car Windshield Sun Shade
EcoNour presents the perfect solution to keep your car cool and comfortable in the hot summer sun with Car Windshield Sun Shade! This effective sun shade is made of durable 240T material, providing excellent protection against UV rays and sun heat.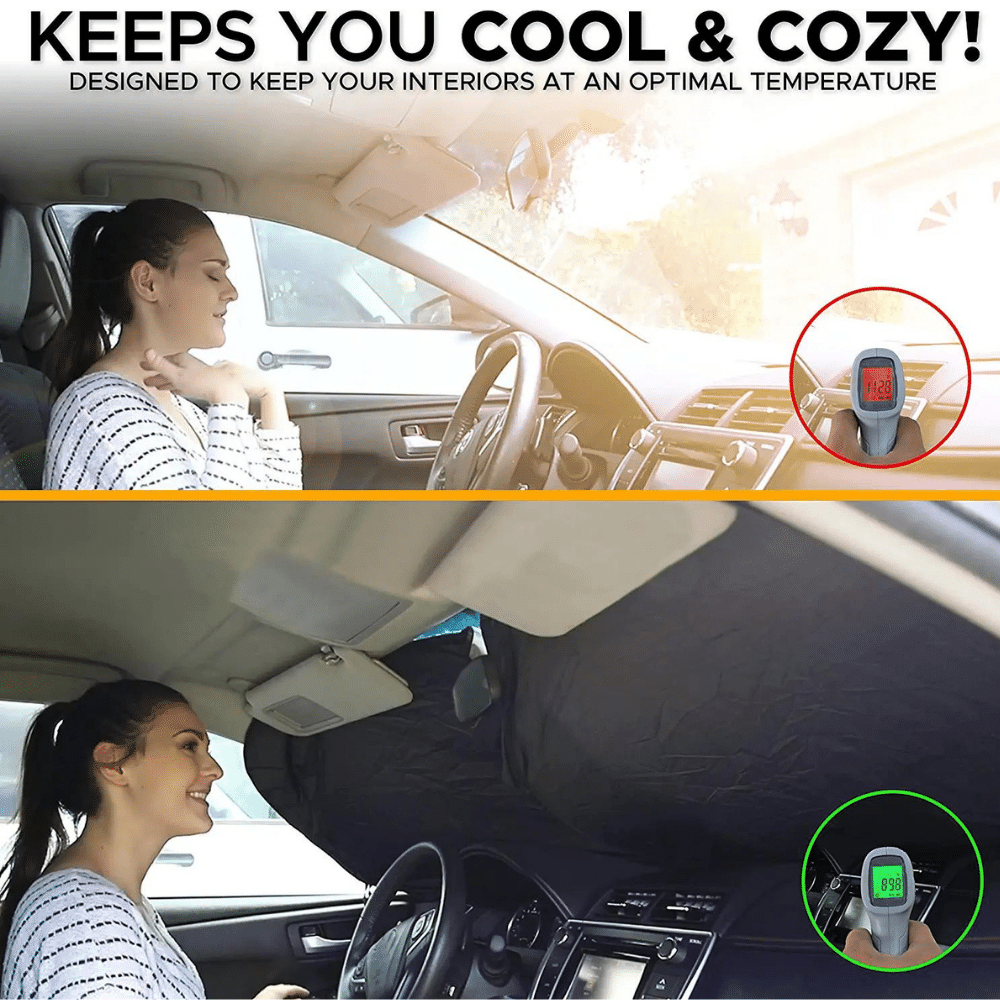 It's easy to use and fold, making it a great choice for busy people on the go. The included storage pouch makes it easy to store away when not in use. Keep your car's interior looking good as new with the EcoNour Car Windshield Sun Shade!
---
10. Car Seat Covers

Introducing the BDK PolyPro Car Seat Covers Full Set in Red on Black. These seat covers are perfect for protecting your car's seats from wear and tear, and they're also stylish and comfortable.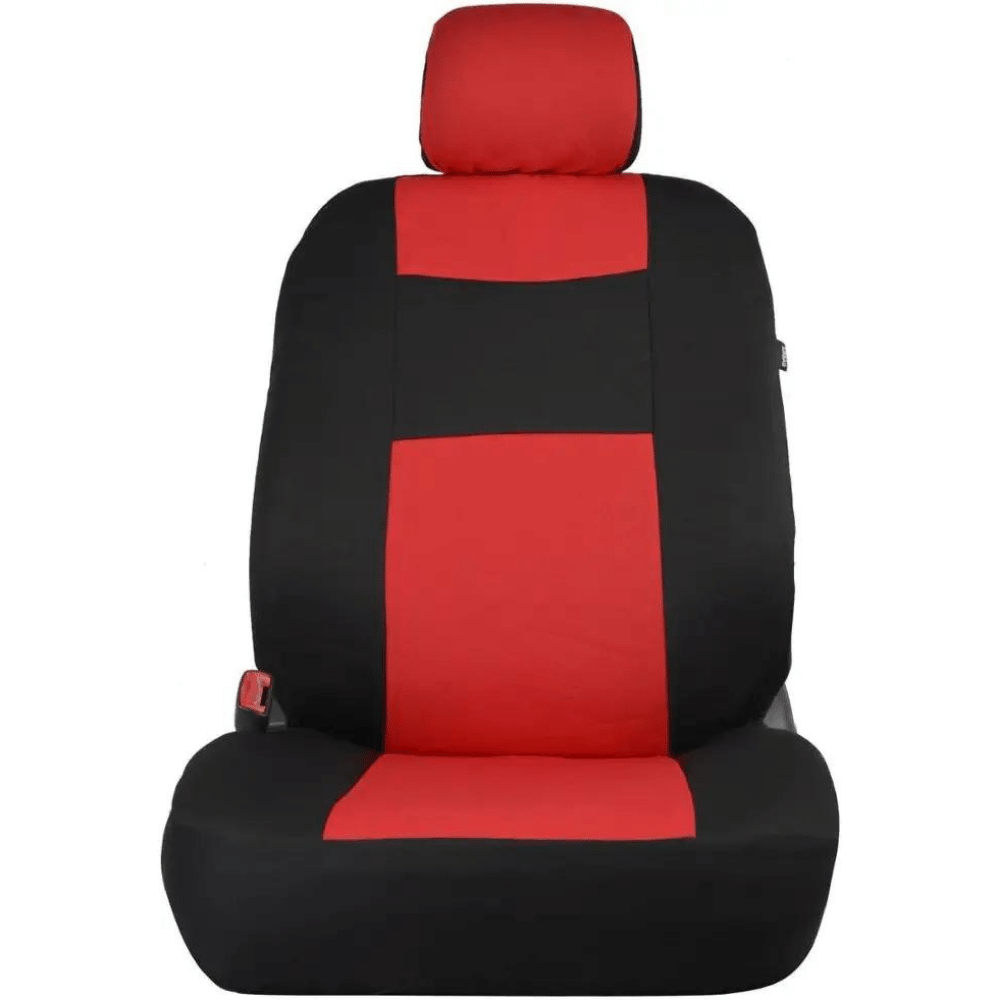 The high-quality poly outer layer is breathable and cool, making it ideal for use in hot weather. And the two-tone design with stitched accents is sure to turn heads installation is quick and easy.
---
11. Car Air Freshener
Introducing the Car Aromatherapy Essential Oil Diffuser Stainless Steel Locket with Vent Clip! This innovative diffuser locket is made of premium 316L stainless steel material and comes with two diffuser lockets and 12 felt pads in different colors.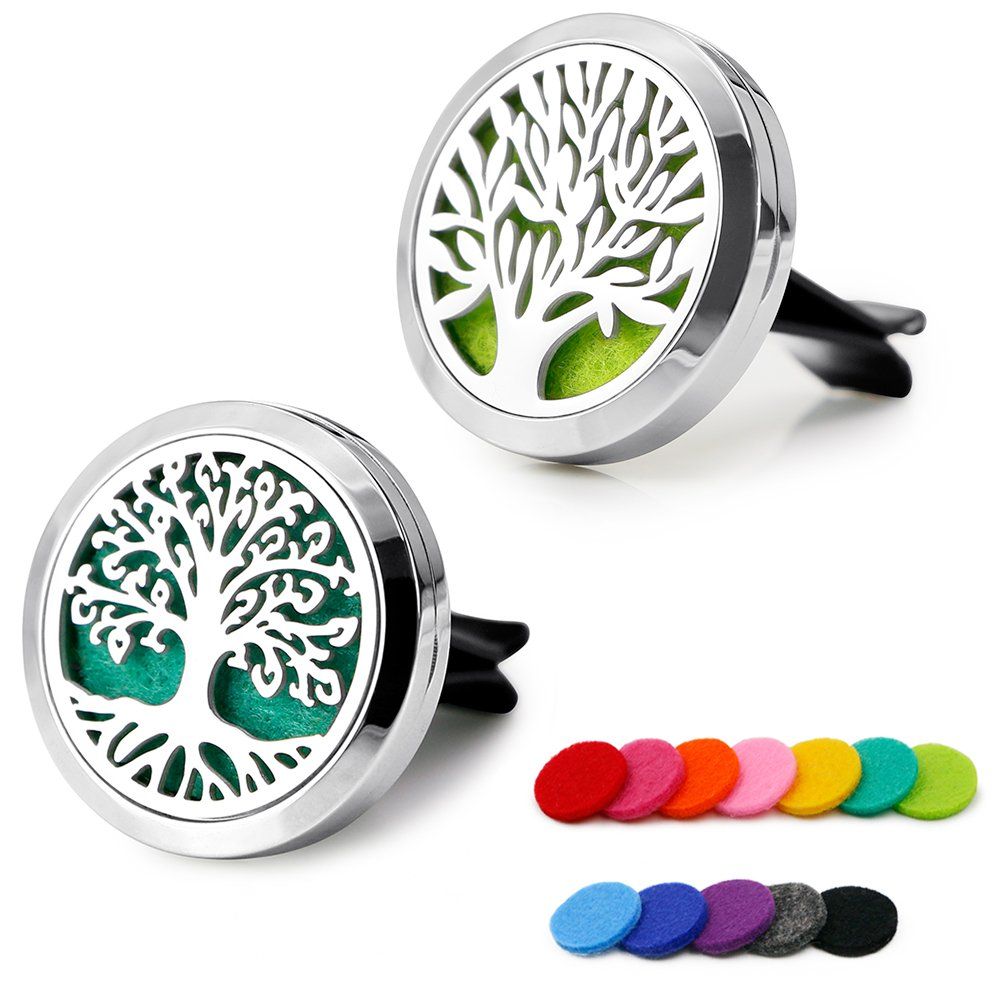 The strong magnetic closure ensures a long lifetime, while the thickened pads easily absorb essential oils. The locket can be hung on your car's vent to relieve stress and keep you alert while driving. It also makes a great decoration for your car or small space. Simply add your favorite essential oil to enjoy the benefits of aromatherapy anywhere, anytime.
---
12. Escape Tracks Tire Traction Device for Cars
The TRACGRABBER Tire Traction Device is a quick, simple, and effective solution when your vehicle is stranded in all types of terrain and adverse weather conditions. With these must-have Trac-Grabber traction devices, you can rescue yourself no need for expensive tow trucks!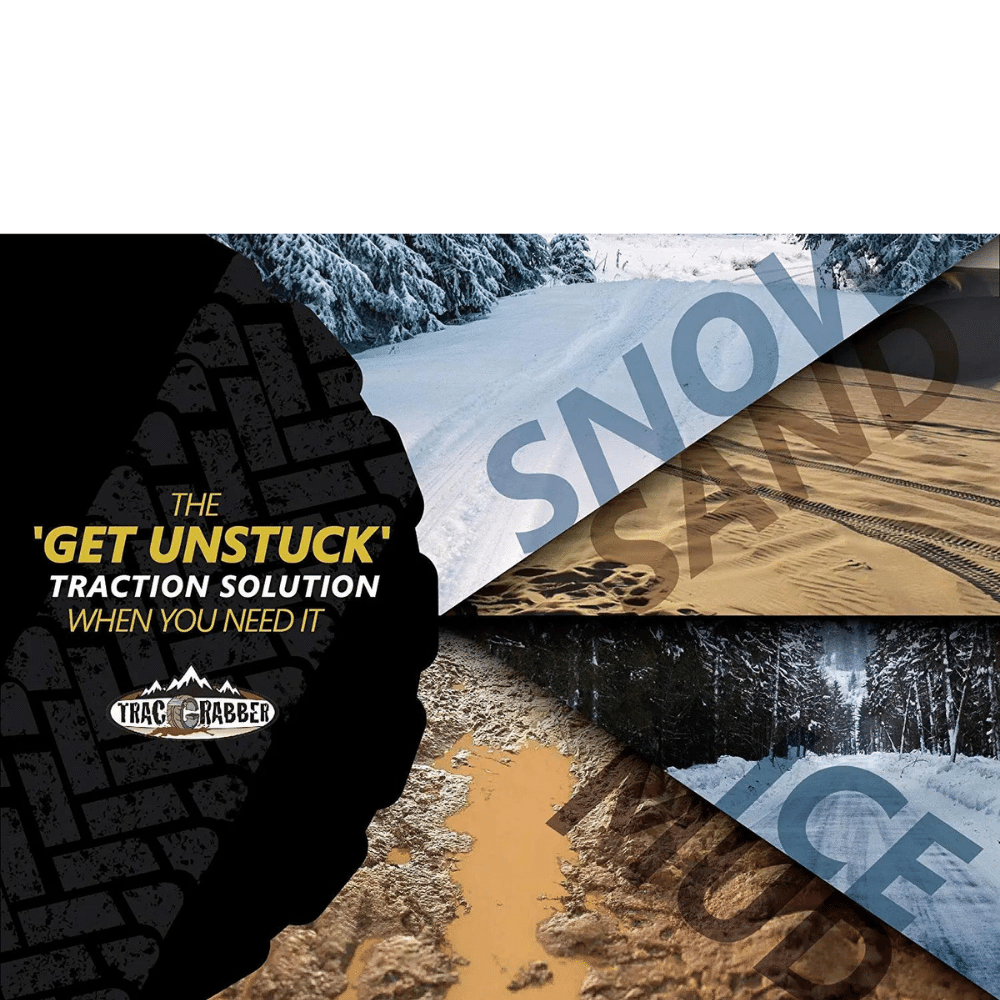 The Trac-Grabber straps help your slipping tires get unstuck from poor traction situations such as snow, ice, sand, or mud. They're a perfect car emergency kit item for winter weather and a must-have device for hunters and outdoor adventurists.
To use, simply install at the first sign of losing traction. Secure one heavy-duty grabber to each driven wheel and attach the ratchet strap to a solid part of the vehicle frame. Drive slowly and steadily until you are free from the dangerous situation.
---
13. Blind Spot Mirror
Do you hate it when you're driving and you can't see what's in your blind spot? Well, worry no more! The Ampper Blind Spot Mirror is here to give you a wider view of your surroundings while you're on the road.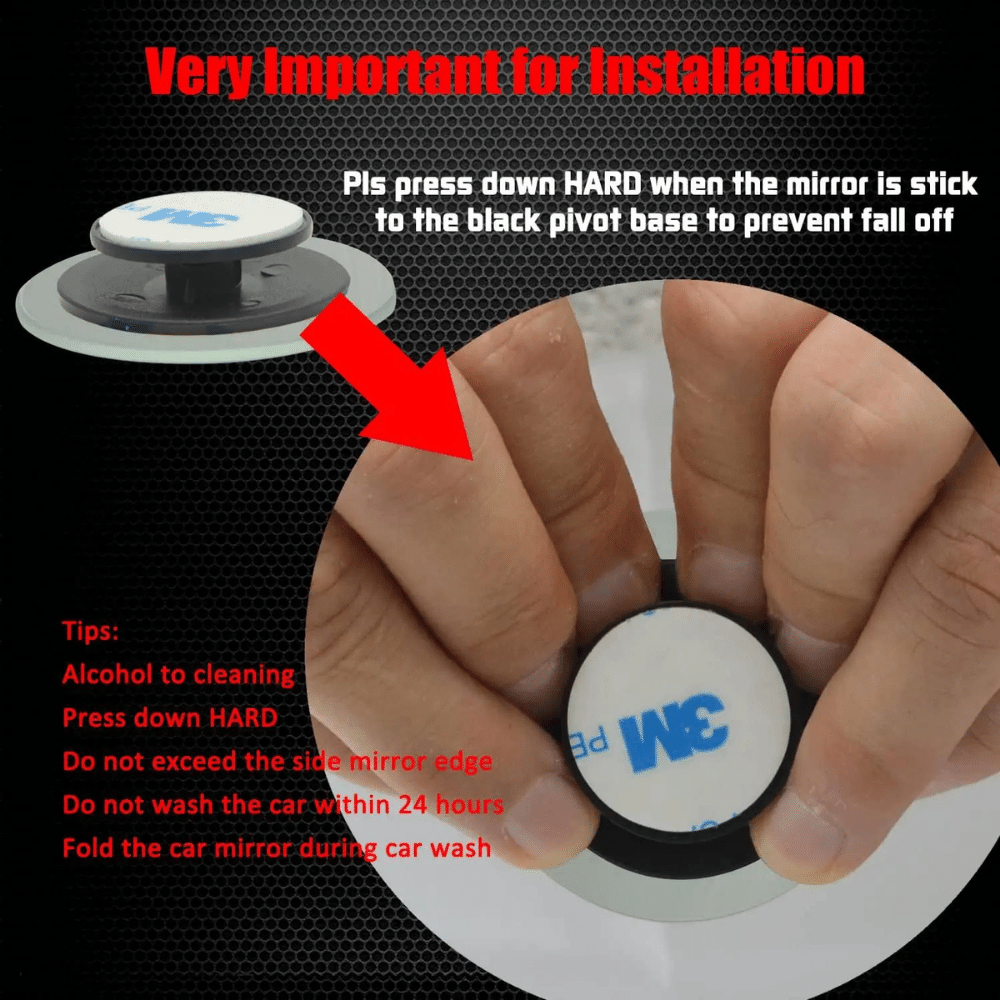 This 2" round HD glass mirror is frameless and convex, so it gives you a clear view of what's behind you. It's also easy to install, with a pressure-sensitive adhesive that can be affixed to your car in seconds.
And it's built to last, with a rust-resistant design that will stand up to the elements. So don't take chances on the road make sure you can see what's coming with the Ampper Blind Spot Mirror.
---
14. Car Seat Cushion Back Support
Everlasting Comfort's Car Seat Cushion Pillow is the simple solution to your uncomfortable chair problem. Made with pure memory foam, this pressure relief seat cushion uses your body heat to adapt to your curves, giving you the support your current office chair or car seat lacks.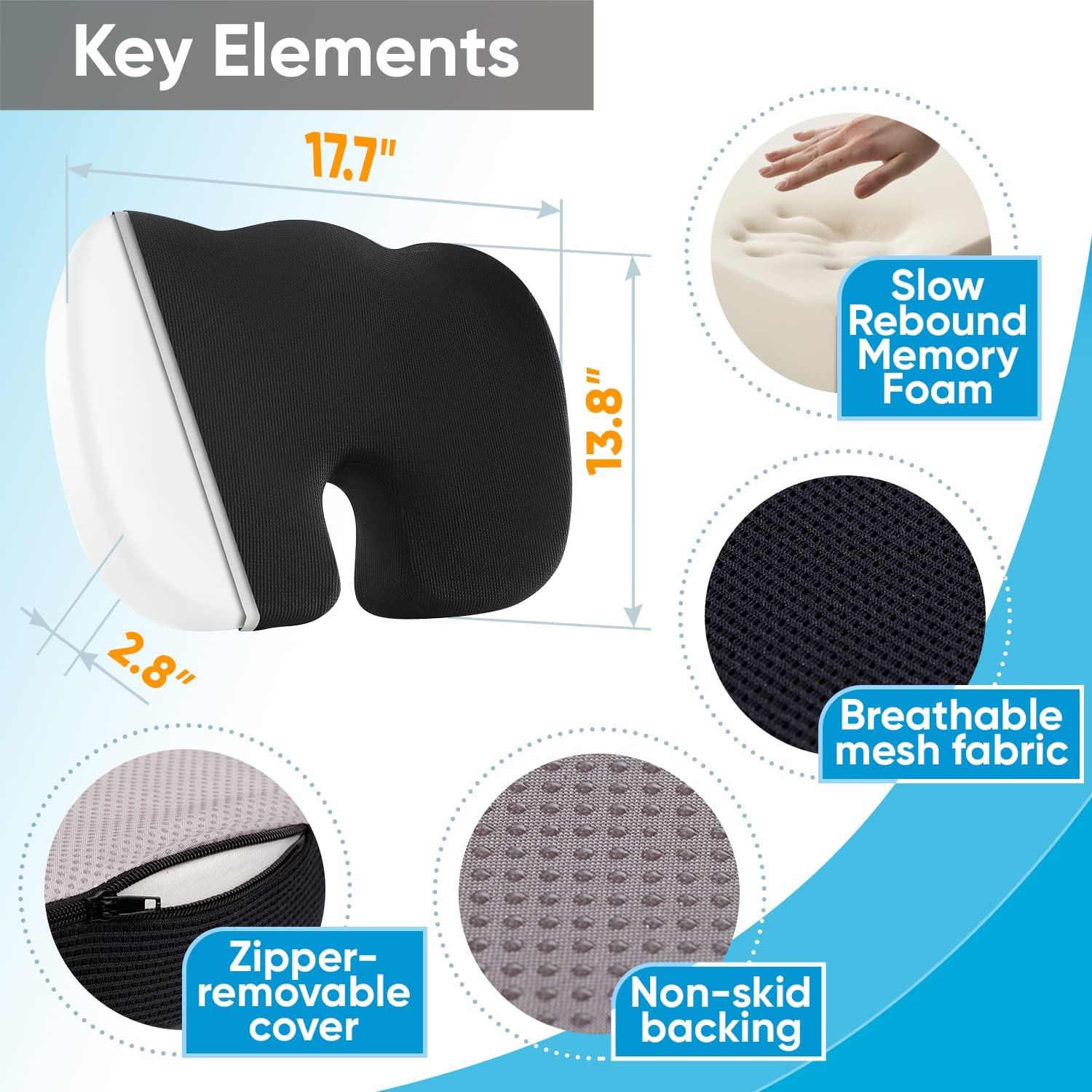 You'll be able to work or drive in total comfort, not pain! Hard seating surfaces lead to pressure points in your lower body; this seat cushion for car seats or office chairs cradles your bottom, reducing pain and fatigue in your lower back, hips, and sciatic nerve.
This car seat cushion is also designed with an ergonomic "U" shaped cutout that suspends your coccyx above hard seating surfaces, relieving pressure and improving posture. This seat cushion is made with certified safe materials and comes with a Lifetime Replacement Guarantee, unlike other seat cushions on the market. Don't suffer from uncomfortable chairs any longer.
---
15. Anti Theft Lock
The Club CL303 is the perfect way to keep your car, truck, van, or SUV secure. This pedal-to-steering wheel lock attaches the steering wheel to the brake or clutch pedal, making the vehicle impossible to steer and/or stop. It features a bright red finish for high visibility, and the self-locking feature locks with one pull. The CL303 is a universal fit for all vehicles and is made of sturdy tempered steel construction.
---
Conclusion
To have a safe and successful road trip, it's essential to stay prepared at all times. The reasons listed above show that staying safe and prepared will give you the confidence and reassurance necessary to handle all unforeseen situations. It is always better to be safe than sorry, and with a little preparation, you can be sure to make the most of your road trip while enjoying memorable moments with loved ones.
Happy and Safe Travel!
Relevant Reads>>>