As more people are choosing to forgo expensive gym memberships and instead invest in a home gym, it is important to know how to choose the right equipment. With so many choices available, from all-in-one machines to individual pieces of equipment, it can be difficult to decide which will best suit your needs. In this blog post, we'll discuss how to choose the right home gym equipment for you and your goals.
All-In-One Machines
All-in-one machines are great for saving space and money as they typically combine several different types of exercise equipment into one machine. They generally take up less space than individual exercise equipment and weigh much less than their counterparts.
When considering buying an all-in-one piece of exercise equipment, think about your goals and whether or not this particular piece of equipment is suited for them.  For example, if you're looking to build muscle mass then an all-in-one machine may not be suitable as it won't provide enough resistance or weight training options.
What Is An All In One System?
An all-in-one system is a piece of exercise equipment that offers multiple types of exercises in one machine. For example, some machines may offer both weight lifting and cardio exercises like running or rowing.
This type of equipment combines several different pieces of exercise equipment into one machine which makes it easier to switch between different exercises while still getting a full-body workout. It can also save space since it takes up less room than if you had bought each type of exercise equipment separately.
Why Invest In An All In One System?
Buying a single piece of all-in-one exercise equipment can be cheaper than buying each type of exercise machine separately. Furthermore, it can help save space as these machines usually take up less room than if you had bought each type of exercise machine individually.
Additionally, having all types of exercises in one place makes it easier to get a full-body workout since you don't have to keep switching between different machines. Lastly, these systems may also come with additional features such as calorie counters or pre-programmed workouts that can help make your workout more effective and enjoyable.
How To Choose The Right All In One System For You?
When choosing an all-in-one system for your home gym, there are several factors that should be taken into consideration such as size, weight capacity, cost, and features offered.
You should also think about what types of exercises you want to do and how often you plan on using the machine before making your purchase. Additionally, research the quality and durability of the machine as well as any warranties that may be provided before investing in an all-in-one system for your home gym.
Investing in an all-in-one system
For your home gym can be a smart way to save money while still getting a full body workout from the comfort of your own home. When looking for this type of equipment, consider factors such as size and weight capacity along with any additional features that may come with the product before making your purchase decision.
By taking these things into consideration when selecting an all-in-one system for your home gym, you can ensure that it meets your needs now and well into the future!
---
Bowflex and Total Gym All-in-One Exercise Systems
Right now, the two most popular types of all-in-one exercise systems are the Bowflex and Total Gym brands.  The Bowflex system uses resistant bows
that bend instead of the traditional weights that simply lift.  Bowflex is designed to fit a wide variety of budgets and needs, it's widely adaptable and extremely popular as well.
Bowflex PR1000 Home Gym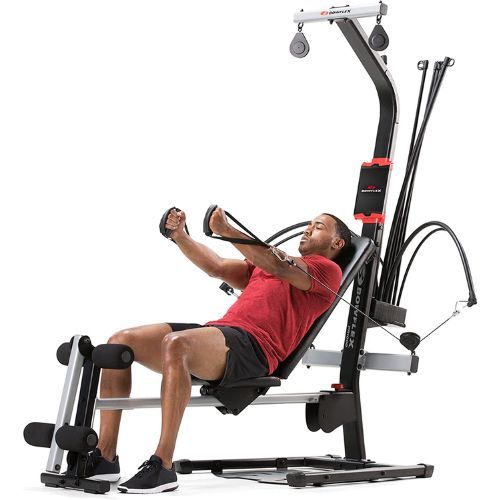 To make things even better, you can store the basic Bowflex system in small and tight places, even under a bed if you choose.  The larger and more expensive Blowflex system competes with the types of professional equipment that you can
find in gyms, which allow you a quality workout on quality equipment.
---
Total Gym APEX Versatile Indoor Home Workout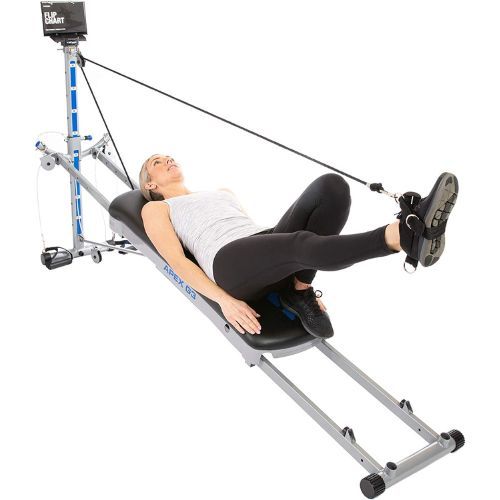 The Total Gym system is great as well, as it is advertised by martial arts legend Chuck Norris and supermodel Christie Brinkley.  It is less expensive than the Bowflex and uses gravity and resistance instead of traditional weights. By using this system, you have the ability to adapt the machine to a wide variety of exercises that will work in many different areas of your body.
Individual Pieces of Exercise Equipment
Individual pieces of exercise equipment such as treadmills, stationary bikes, ellipticals, etc., are great if you want more specialized exercises or can dedicate more space in your home for your workout regimen. While these types of exercise machines may cost more than an all-in-one machine upfront, some models come with additional features that make them worth the extra cost down the road.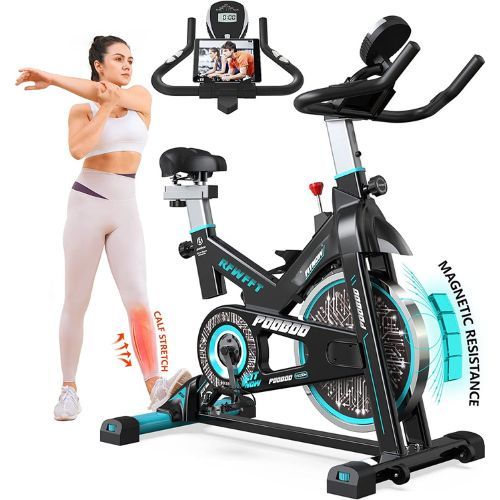 These features include adjustable speed settings, heart rate monitors, calorie counters, and more. Be sure to do your research when picking out individual pieces of exercise equipment so that you get something that meets your fitness needs and budget.
---
Multi Station Equipment
Multi-station gyms are similar to all-in-one machines but they offer even more flexibility in terms of exercises that can be performed with one machine. These types of gyms typically have multiple stations where different exercises can be performed using weights or resistance bands.
If you're looking for a comprehensive workout routine without taking up too much space in your home then multi-station gyms are definitely worth considering!
FITURE Core Smart Workout Mirror Home Gym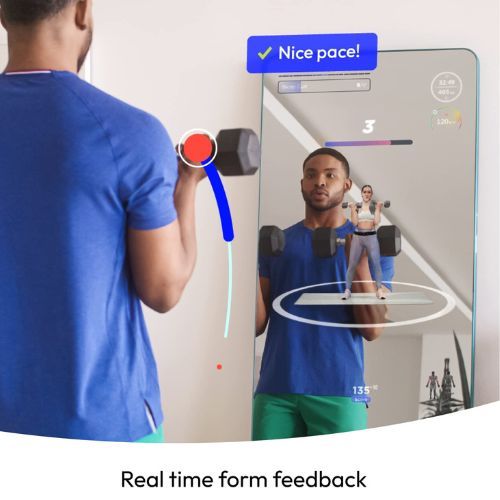 PERSONALIZED TRAINING FOR YOUR FITNESS JOURNEY. FITURE's innovative Motion Engine technology tracks key movement points on your body to provide real-time form feedback and correct your technique, improve your workout, power seamless gesture controls, and reduce the risk of injury.
FITNESS CLASSES YOU'LL LOVE from elite instructors available on demand. Explore popular classes including Strength, Boxing, Yoga, Cardio Sculpt, Pilates, Barre, HIIT, Stretching, Meditation, and more. Customize your workouts, learn new skills, and find workouts that fit you.
A HOME GYM THAT FITS YOUR HOME. Turn any room into your fitness studio with FITURE's tiny footprint, sleek design, and five stylish colors to match your space.
TRACK PROGRESS AND STAY MOTIVATED. Chase your goals with rep counting, pacing, and more from FITURE's Motion Engine technology, and see your progress with in-class leaderboards and global challenges.
Conclusion
No matter what type of home gym setup you choose – whether it's a single piece of exercise equipment or an entire multi-station gym – always consider what kind of exercises you plan on doing before making a purchase decision. Remember that investing in quality exercise equipment now will help keep you motivated over time and will also last longer than cheaper alternatives!
With the right knowledge and understanding about how to choose the right home gym setup for your needs, you'll be well on your way towards achieving success with any fitness goal!
Thank You for Reading!
Stay Fit and Healthy in the Comfort of Your Home!
Check Out Our Relevant Reads: